This bucket list item was completed on 4th February 2019 in Tokyo Japan.
This story picks up where my last blog #31 Eat Blowfish left off. On our way to the restaurant we found the popular alleyway with tiny bars, called Shinjuku Omoide Yokocho. We kept the location in mind for later. When we left the restaurant we had been on our feet for 12 hours, solid. Remembering the alleyway I suggested that we go check out one of the bars to relax and get some sake.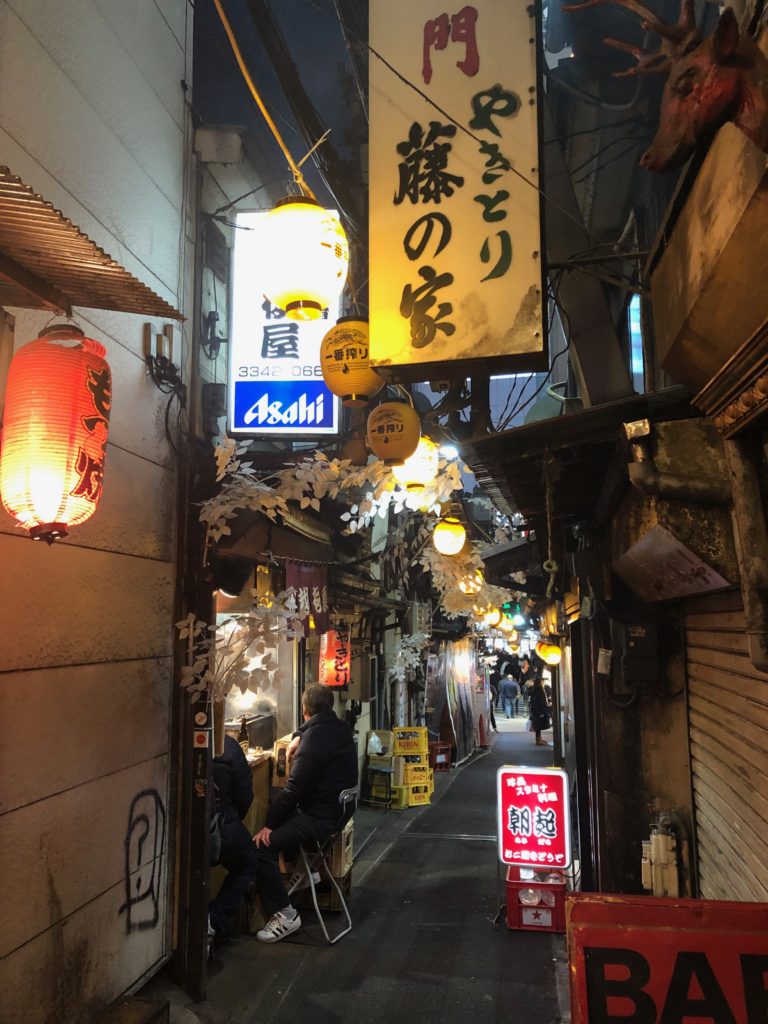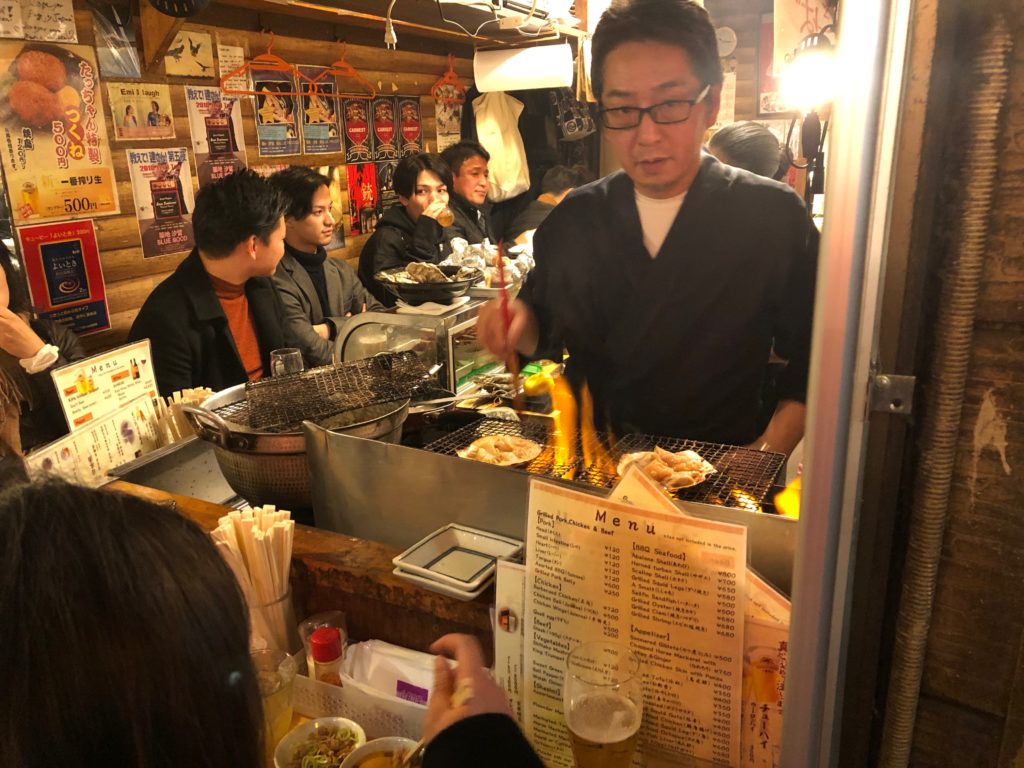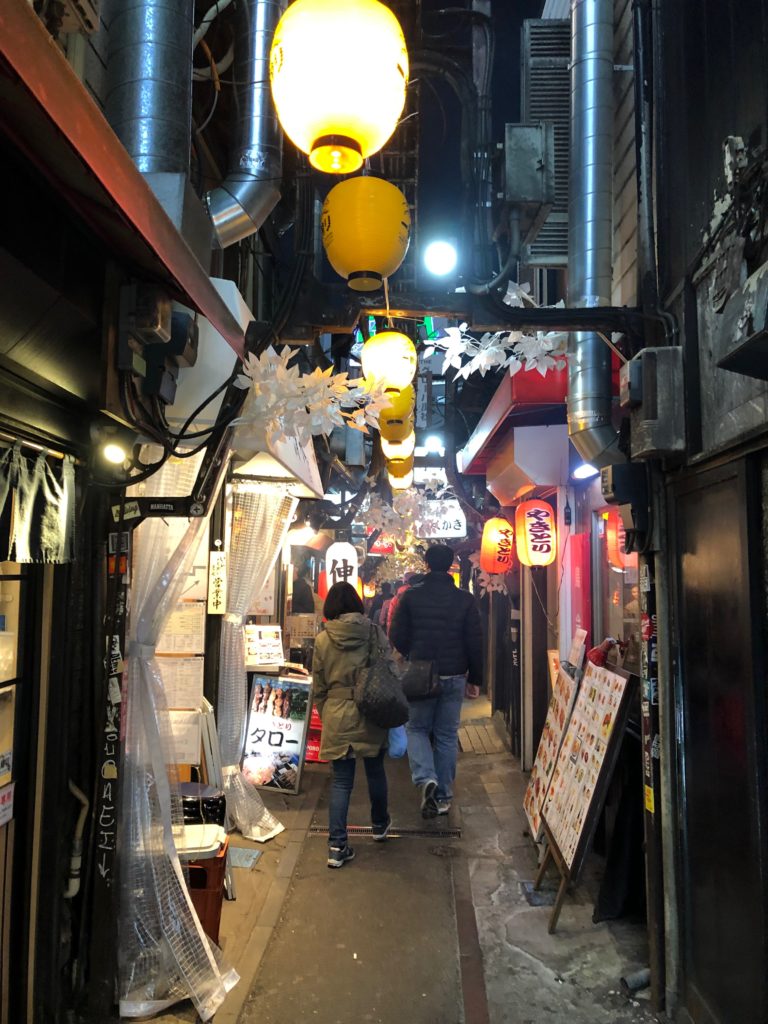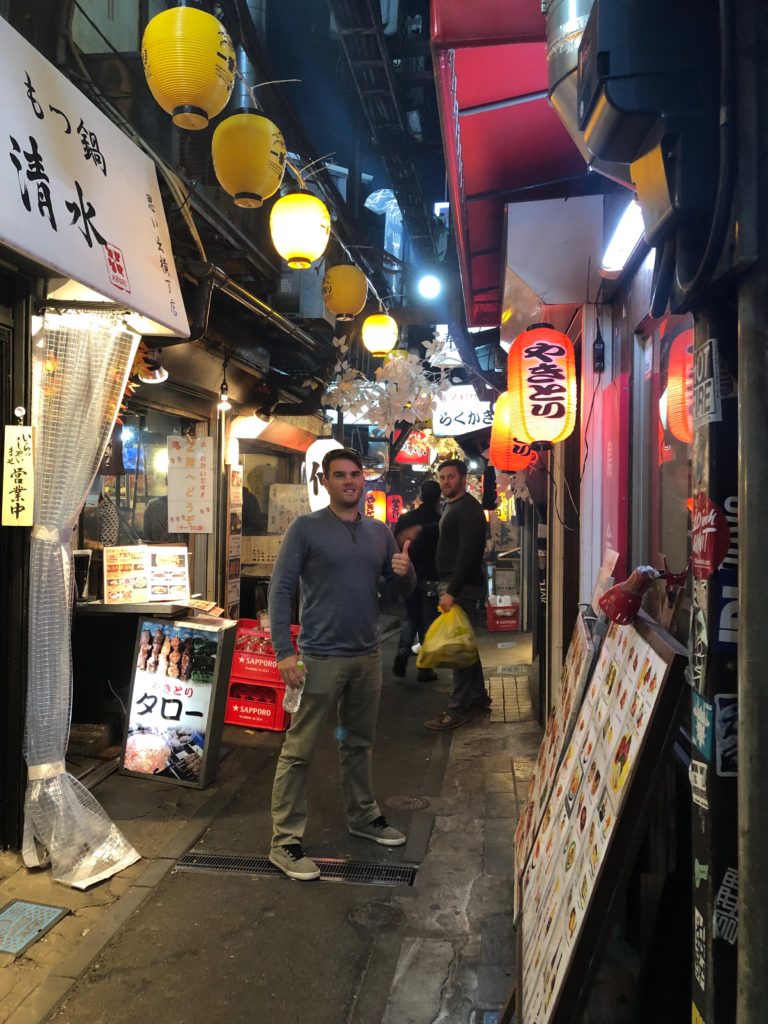 The bars are very popular with tourist and locals and it's hard to find one with open seats, especially when you have a group of four. We walked up and down the alley once before we found a nice spot with open seats. Each bar is different but the one we chose had a minimum cover charge. Each person was required to order a drink and either two skewers or one dish of food. The fugu was not very filling so we had no problem ordering more food. And of course, Toby and I had to get some sake so that we could cross another one off my list.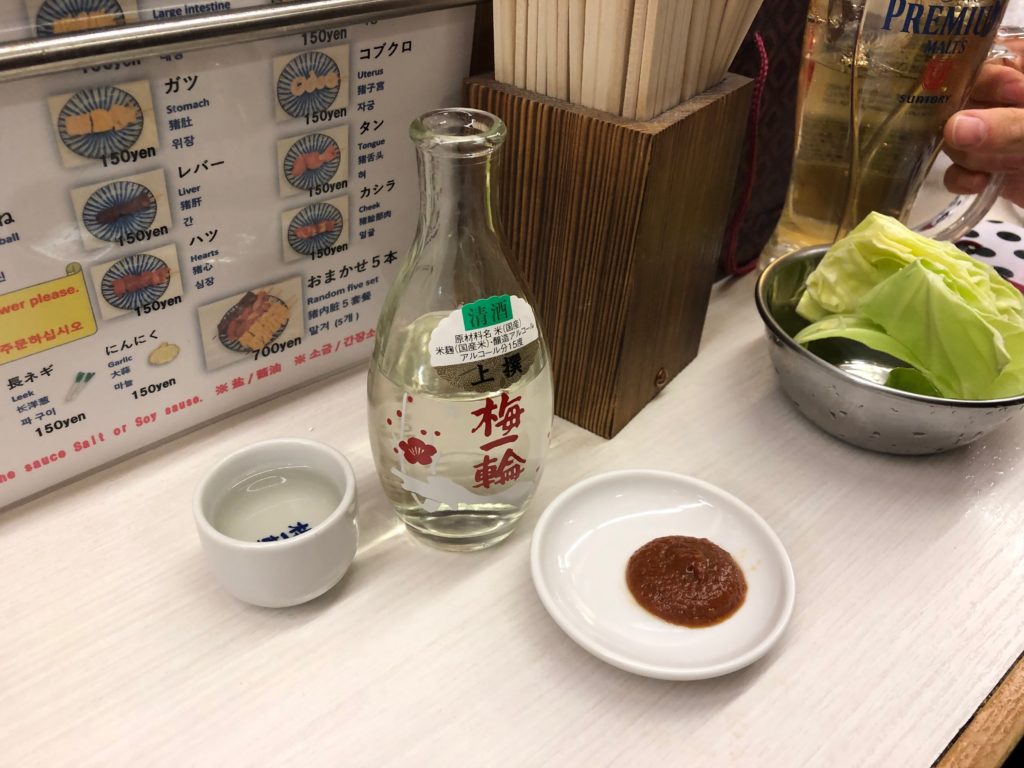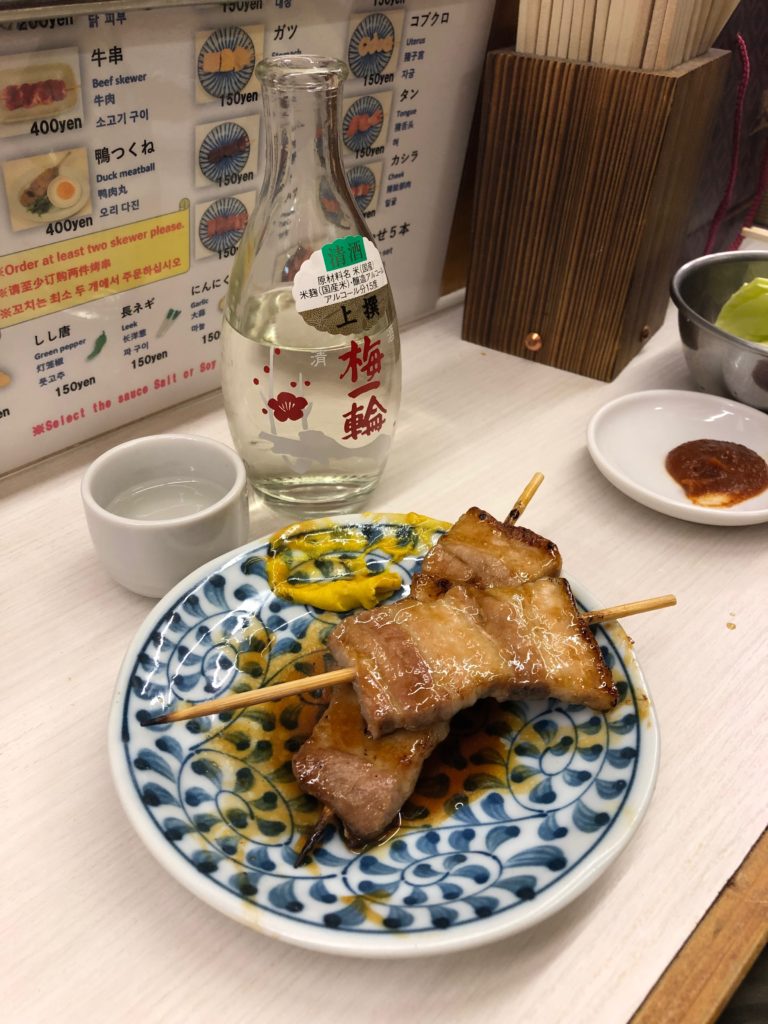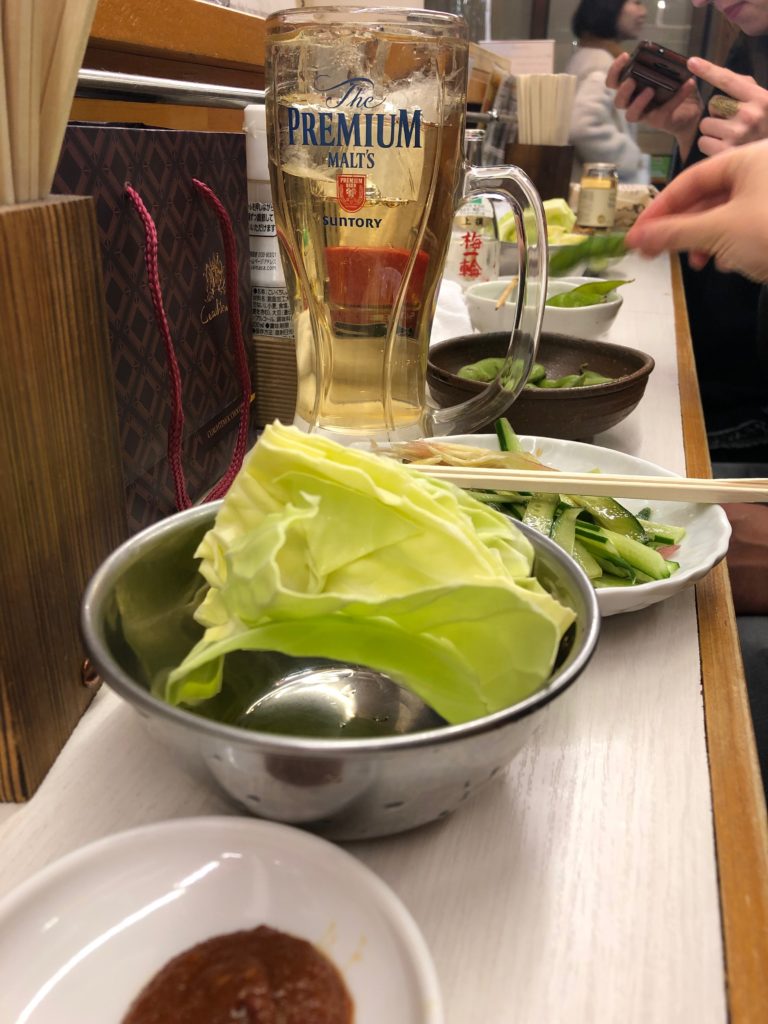 I had drank sake before but not in Japan. I would not consider myself a connoisseur but I know good sake and bad sake. We had no clue what we were ordering but Toby pointed at one on the menu and we went for it. We said kanpaii (cheers) and tipped back the shot… I'm pretty sure they gave us petrol instead of sake. It was terrible.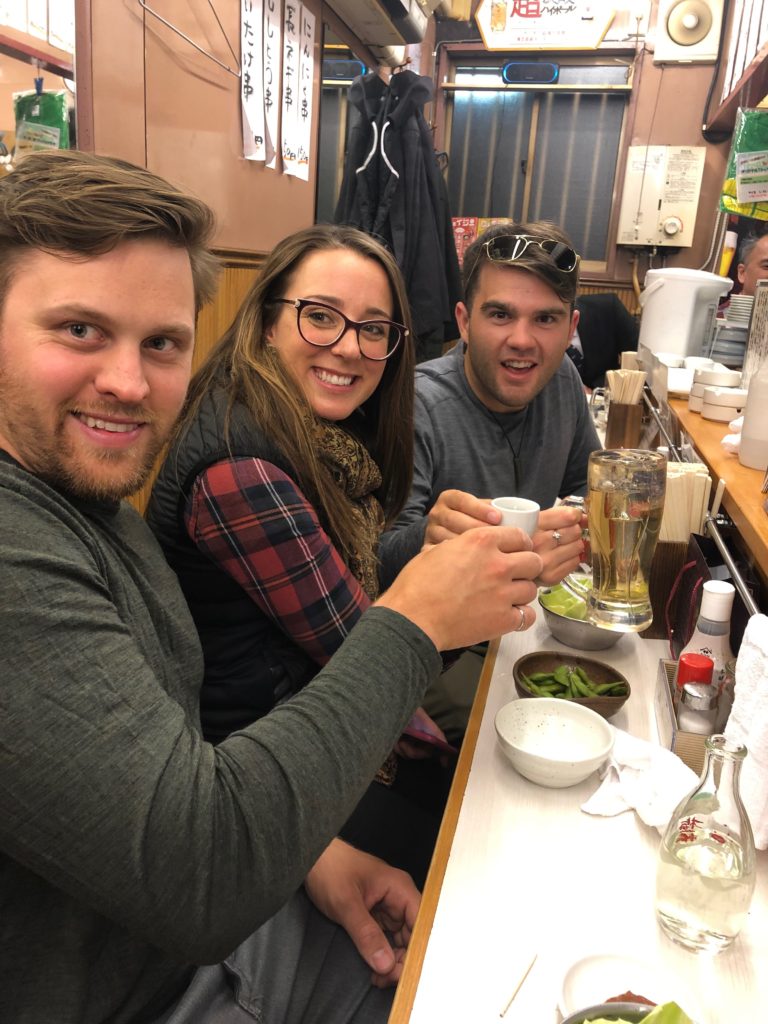 Not quite what I had in mind for my first Japan sake experience but sometimes that's what happens when you're in a new country. I think that was the quickest I had ever complete two items from my list.
We knew there was better sake to be found in the alleyway so after we managed to finish our sake from the first bar (I don't know how we did), we made our way to another one. The next one we found was absolutely packed but the people at the bar were waving us in. This one was even smaller but had twice as many people inside.
When I opened the door they started pointing and said the bar is three floors. At the back of the bar was the ricketiest set of steps I had ever seen. They were barely big enough to fit a person. There was no room on ground level so I led the way up to the next level and had a look. There was no room on the second level either so I continued up to the top level. The top level had a balcony with funky couches and decor.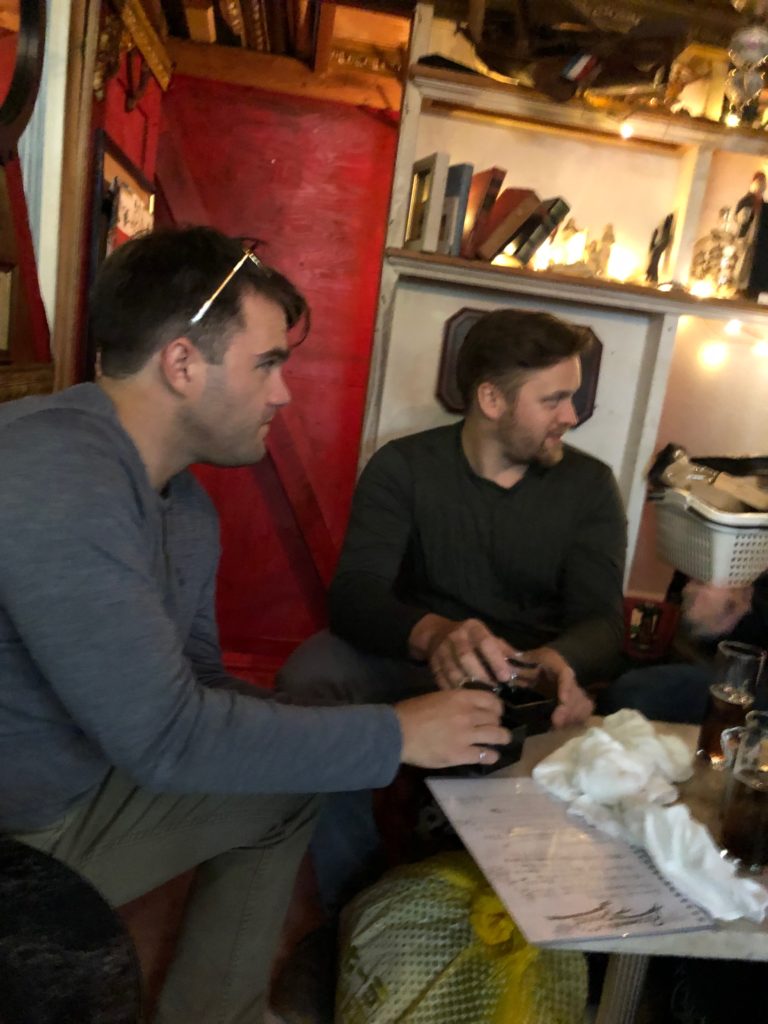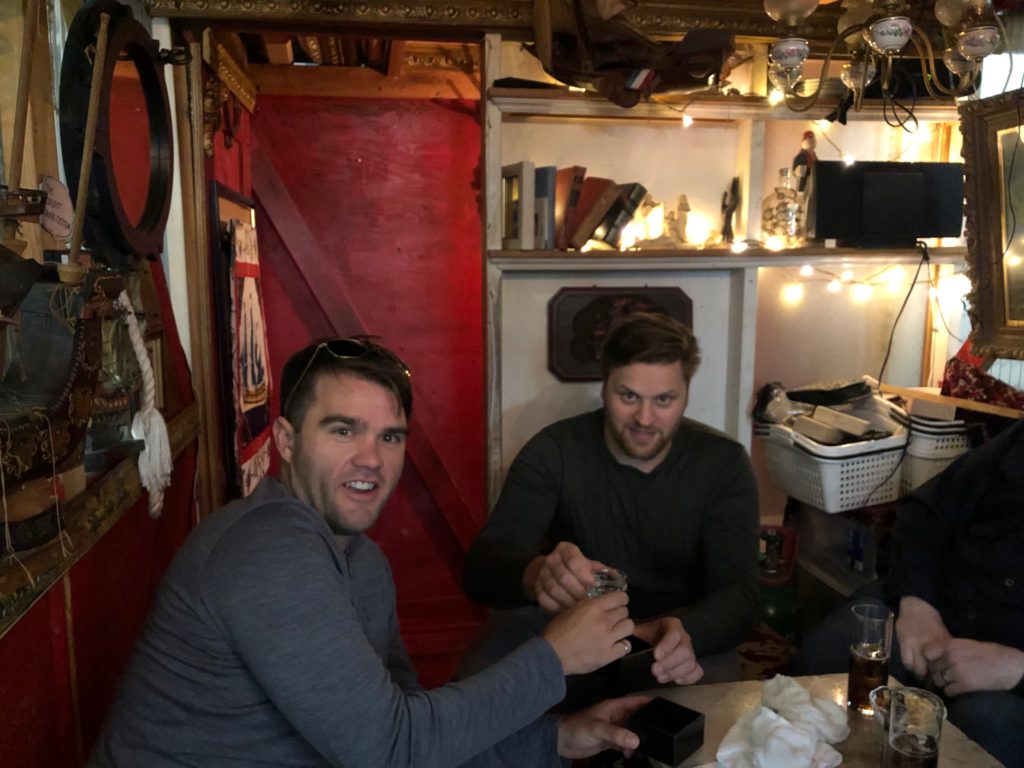 We made friends with a few other Canadians who had been drinking at the bar for a while. They were drinking bourbon and colas but Toby and I wanted sake redemption. This time we asked the waiter what he recommended and went with that. It was a much better idea because this time we received a delicious sake that went down smooth.
Since the stairs are so precarious, each floor had a video intercom installed that links down to the bar, which can be used to order drinks. This became known as the "sake phone" for the rest of the night. The sake phone became quite useful as we ordered sake after sake after sake. After their first drink the girls were starting to fade so they hooked a train home.
Toby and I were still having a great time so we decided to keep going. At this point we had been non-stop for about 15 hours and running purely on sake. The night really got away from us as Tokyo took control. We plunged into and endless sake crawl, which took us through many different nightlife districts. It wasn't until 5:30 am that we arrived back to the accommodation. As it was our last night in Tokyo I think it is safe to say that we made the most of it. Until next time Tokyo.
Have you experience the craziness of Tokyo before? Let me know in the comments below.Make sure to read my next post, [#32 Lesson] Language Barriers Make Travelling Interesting, which discusses the lesson learned by completing this item. Want to be notified when new blog posts are uploaded? Subscribe below.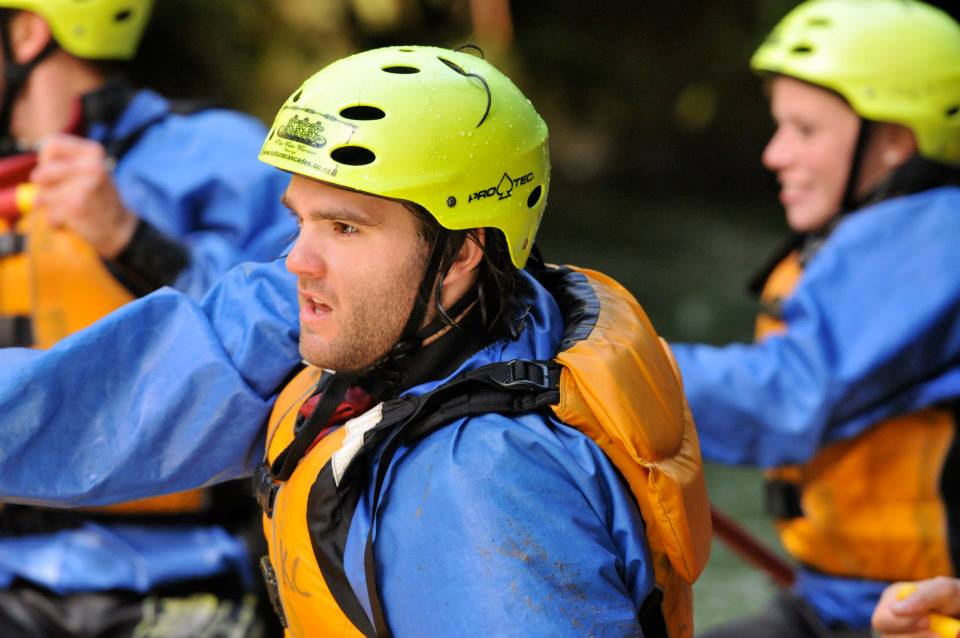 Dave has been on a mission, since 2010, to cross off the 100 items on his bucket list. The stories of his adventures are complimented by life lessons learned along the way and his travel tips are unique to his experiences.