This bucket list item was completed on 26th August 2011 in Green Brook Township, New Jersey, USA.
The idea for this bucket list item came directly from the 2004 movie, Harold & Kumar Go to White Castle. For those of you who are not familiar with this movie, I will elaborate. The movie follows the epic journey of two party animals who spend their night in search of their next fix, White Castle hamburgers. White Castle is known for being open late and their $1 sliders. The movie is filled with humour and life lessons and has become a bit of a cult classic for my generation.
When I added this item to the list I thought it would be a funny achievement to eat at a White Castle restaurant one day. I did not think I would end up on an epic journey like Harold and Kumar did in the movie… but that is exactly what happened. My journey did not unfold the same as theirs but it did involve driving a black BMW M3 with tinted windows and no licence plate up the eastern seaboard of the United States while avoiding the police and being chased by a Category 3 hurricane. I experienced this journey with two of my best friends and it is a journey I will never forget. Here is how it happened.
During my summer semester (May-August) in 2011 I was enrolled in university classes and then I was lined up to start a cooperative education work term in September. My classes ended in the first week of August, which meant I had three weeks to relax before starting my work term. I contacted my friends, Dave and Branden, and asked whether they would be free to go on an overseas trip. I did not have anything particular in mind, I just needed a break.
Branden had mentioned that he was in the market for a BMW and knew he could buy one in Florida that would be cheaper and in better condition than he could find in Halifax. One thing led to another and we found a cheap timeshare condo in Orlando for one week. Then we found cheap flights to Orlando via Newark, New Jersey.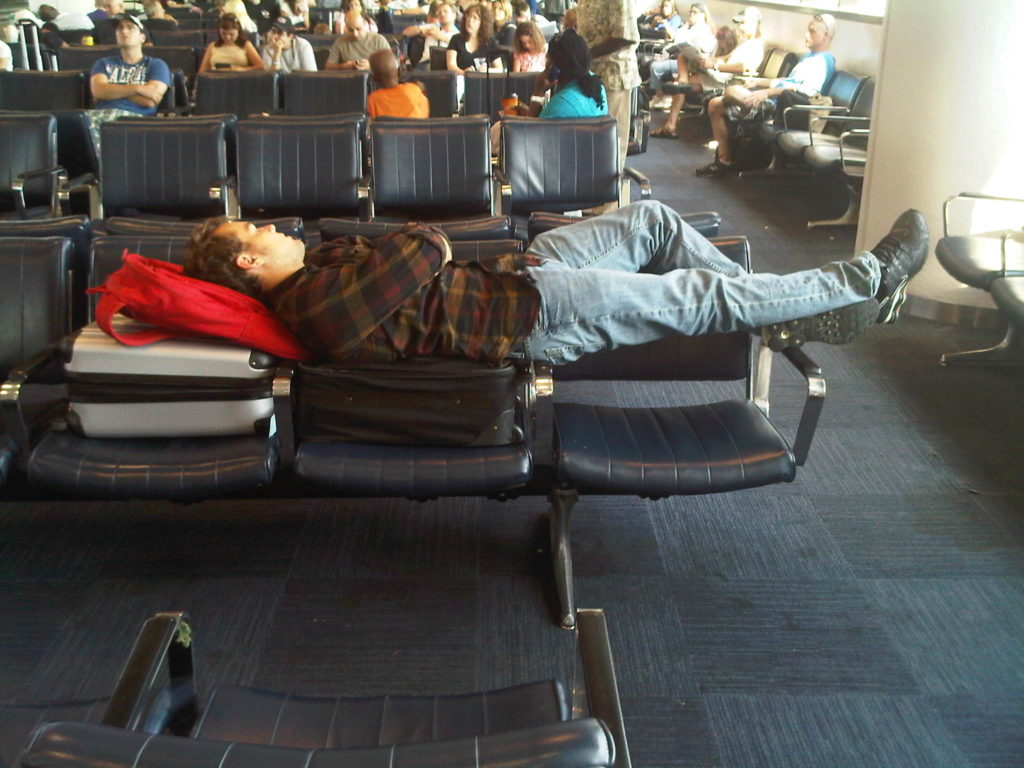 The trip started off a bit rough as we had a unexpected 24-hour layover in Newark due to crew issues on Continental Airlines. However, since it was not our fault, the airline put us in a hotel for the night and gave us meal vouchers. Since New York City was on the other side of the river we decided to spend our day sightseeing and being tourists. We were even able to catch a comedy show at Comic Strip Live. This venue is known for great comedy acts and is the place where Jerry Seinfeld performed in front of a brick wall, which was the opening scene to many episodes of his show Seinfeld. Our flight to Orlando left the next day and we checked into our timeshare on 21st August and spent the rest of the day checking out the theme parks for which it is famous.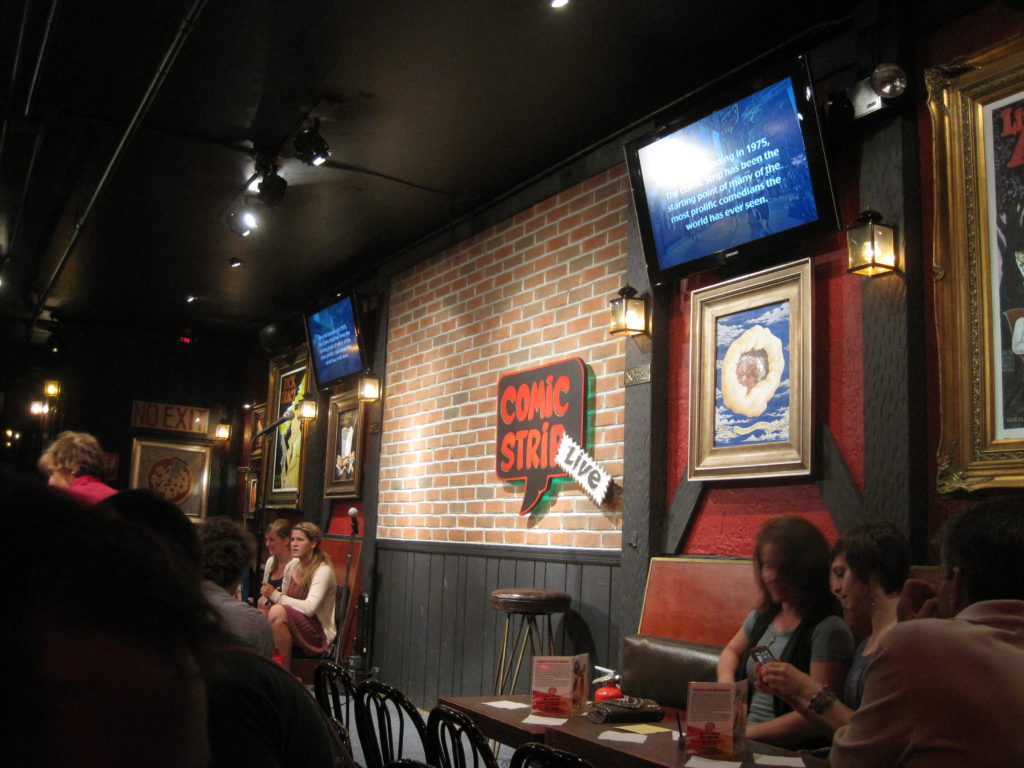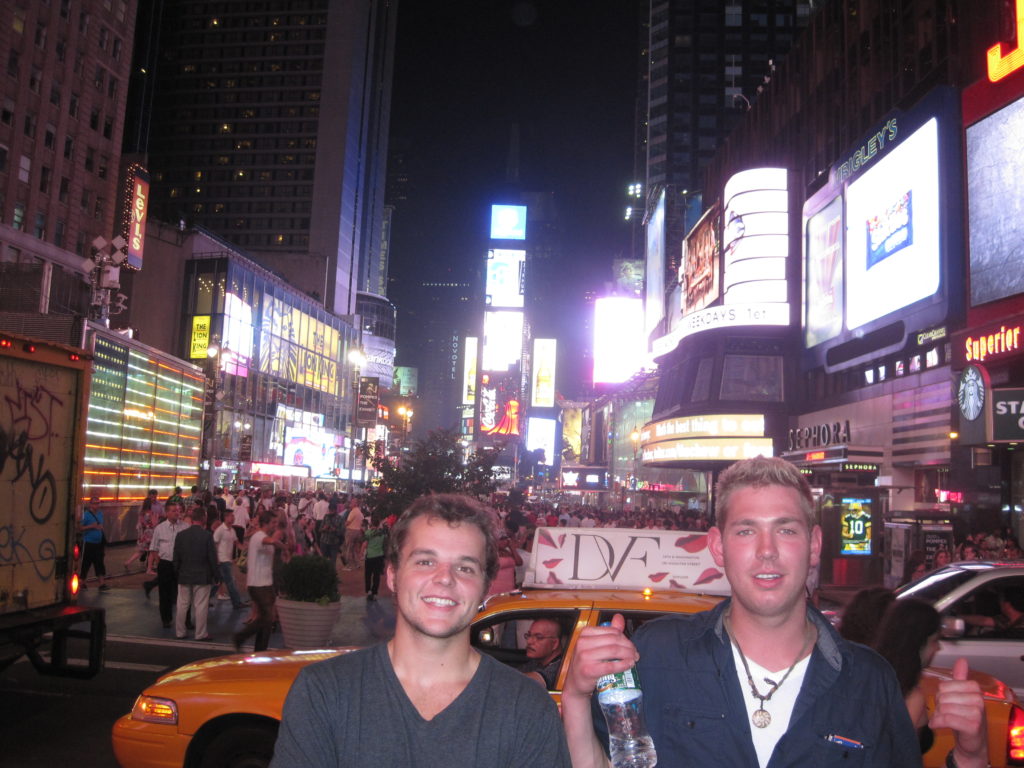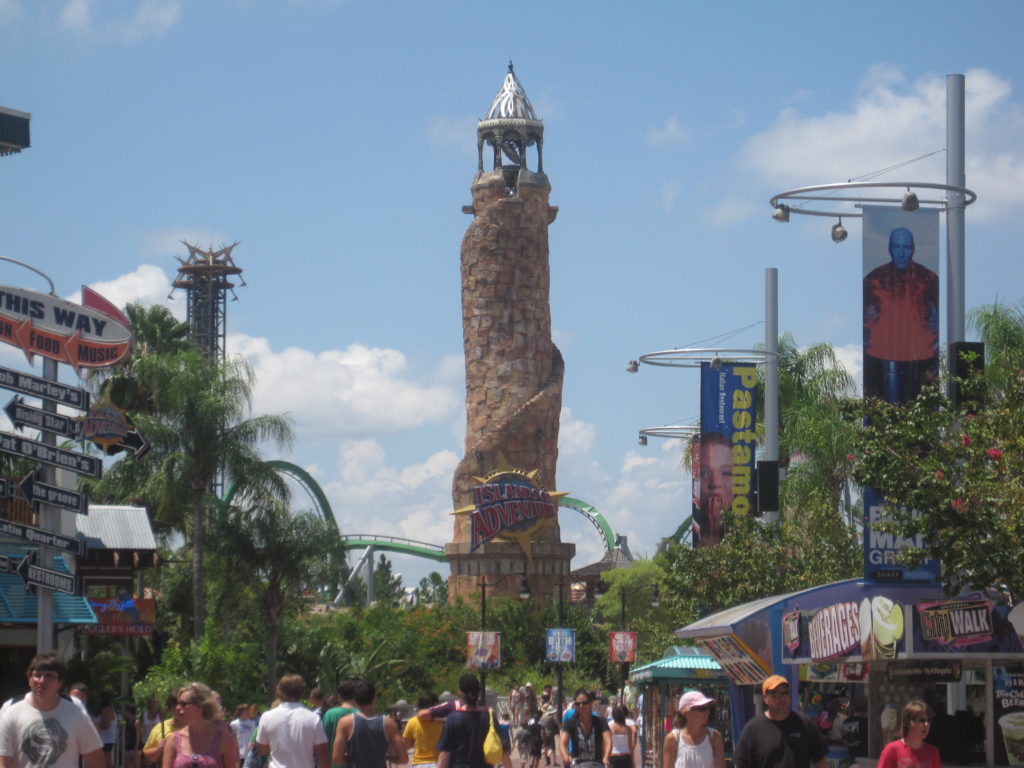 After an enjoyable weekend it was Monday morning and it was time to find a BMW. Branden had done his homework a week before we left on our trip and had about 12 listings in the Orlando area for us to check out. Branden called his top listing to enquire about the car only to find out that it had already been sold. He then called his second and third listings and received the same response. It did not take long for Branden to call all of the listings and they all had the same response. The cars were all sold. This is when we realised things were not going to happen according to plan.
This realisation put a damper on our moods and we began to question whether we would be able to find a car before we had to return home. We did not have return flights booked as we were banking on driving the car back from Florida. We realised that our best option was to go back to the listing websites, research what was currently available and hope that we could find something in the next five days. Luckily the resort had a business centre, which was fully equipped with multiple computers, telephones and a printer. The reception staff was kind enough to direct us to the small room, which we would convert into our workspace for the next eight hours.
During those eight hours the environment was a cross between a military war room and the New York Stock Exchange trading floor. We were each stationed at a computer, with our own telephone and a shared printer. We divided our efforts across, Autotrader, Craigslist and any independent dealership we could find that had a website. We made several email inquiries and phone calls to ask if the cars were available and to find out more details. We were shouting over top of each other as there were hundreds of ads we had to filter through and time was against us.
As one person would confirmed whether a car was still available they would cross reference with the other two. We had the printer working overtime and pieces of paper were flying around the room as the ads were being tossed in the "sold", "available" or "waiting to hear back" piles. The dialogue between the three of us was so fast paced and based on the criteria we were looking for such as, model, year, mileage and location. It did not take long for us to realise that cars moved pretty fast in Orlando but we managed to line up a couple to view the following day.
On Tuesday we drove around to the dealers in our convertible Ford Mustang that rented. We inspected the cars but the prices did not fit with the model, year or condition of the cars so we had to pass on them. Again, our spirts were lowered so we had to go back into the war room and try again. This time we decided to spread our search further, so we included Miami. We found a few potential cars and made contact with one of them who said we could view the car if we could get there by 6 pm. It was 2 pm and it takes four hours to drive between the two cities. The seller told us we would never make it but we had a Mustang and a disregard for speed limit signs on our side.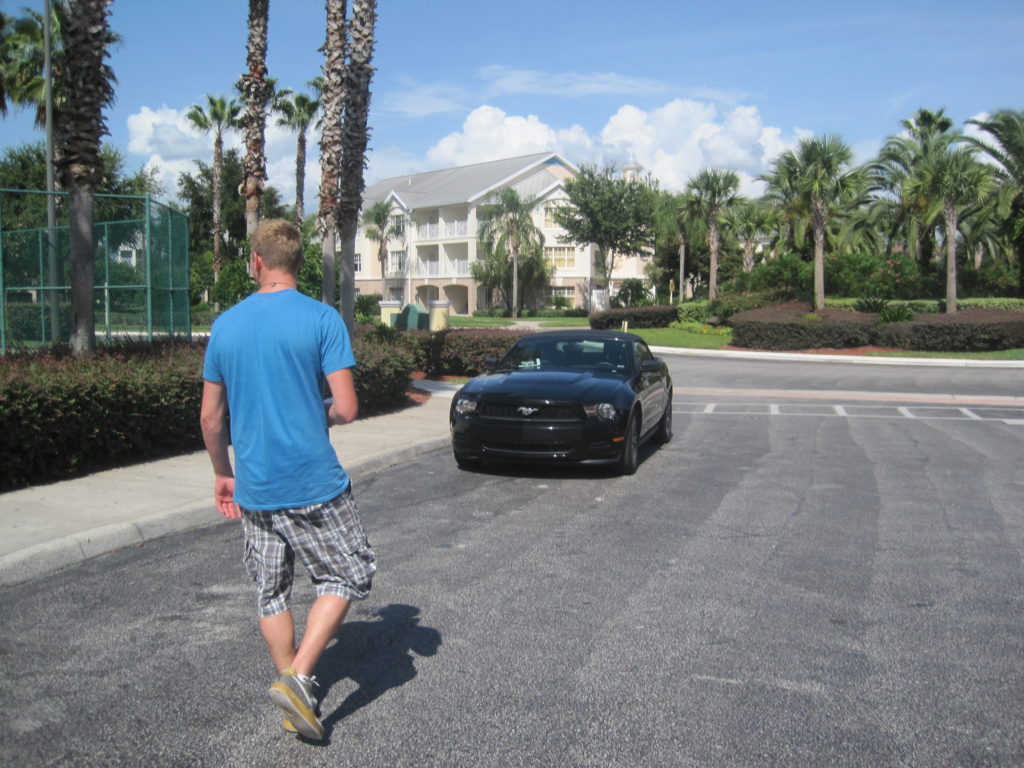 We made it to the seller before 6 pm and inspected the car but again, the asking price did not suit the condition of the car. However, there were more cars available in Miami so we booked into a hotel room for the evening.
On Wednesday we looked at a couple cars before finding a university student who was selling a BMW M3.We were able to agree on a price and spent about an hour in the bank sorting out the logistics of paying Canadian dollars from Branden's bank account to American dollars into the seller's bank account. Once the transaction was complete, I hopped into the Mustang, Dave and Branden hopped into the BMW and we made our way back to Orlando in record time.
The day we landed in Orlando, Hurricane Irene formed in the Atlantic Ocean. With every day we spent searching for a car and driving around Florida it slowly edged closer towards us. It grew in strength from the warm tropical waters of the Caribbean, up to a Category 3 hurricane. We arrived back at our timeshare on Wednesday evening and looked at the weather report and realised the hurricane was less than 24 hours away. The drive from Orlando to Halifax is no small task. It takes 30 hours of driving and is best spread over 2-3 days. We also had a baseball game at Fenway Park schedule for 27th August to watch the Red Sox take on the Oakland Athletics. With all these things considered we decided we could not spend another night at our timeshare. We had to get on the road and start putting space between us and the hurricane.
When a vehicle is purchased in North America, the licence plate stays with the person. Therefore, when we purchased the BMW it was handed over to us with no licence plate. Also, it was black, had tinted windows and an aftermarket exhaust kit, which we knew would make us a cop magnet. Oh well, we were only worried about hitting the road at this point.
The sun was going down as we left Orlando and began making our way up the I‑95. There are numerous toll sections along the I‑95 and you are required to have an activated toll sticker on your windscreen to continue through the free-flowing scanner system or pull off the highway and pay the fee. Since we were in a car with no licence plate, there was no way for the cameras to identify the car and issue a ticket if we passed through the scanner system without an activated toll sticker. This made the decision to continue through the scanner system an easy one and it also significantly reduced our travel costs, considering how much time we spent on the I‑95.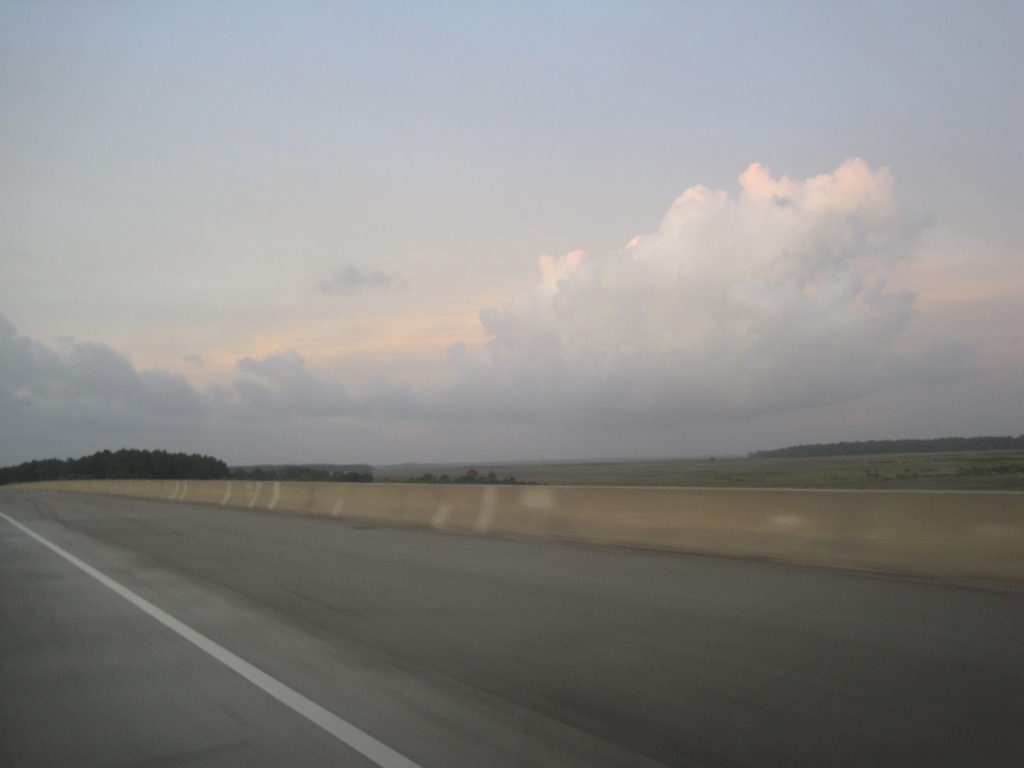 We drove into the night and stopped at a rest area near the border of North Carolina and South Carolina to sleep in the car for a few hours. We were woken up by the sun in the morning as it began to heat up the inside of our black car. While we slept, the hurricane kept moving and narrowed its gap on us once again. The weather reports were projecting that Irene would make landfall in North Carolina in a couple days so we knew we had to keep moving.
We had some breakfast at the rest stop and then drove straight to Washington D.C. The plan was to spend a bit of time exploring the city as there were so many iconic sights we wanted to see. Since we were working on a reduced time schedule we hired bikes to help us get around. We managed to see the Pentagon, the Lincoln Memorial, the Washington Monument, the Capitol Building, the White House and a few other sites before it was time to go.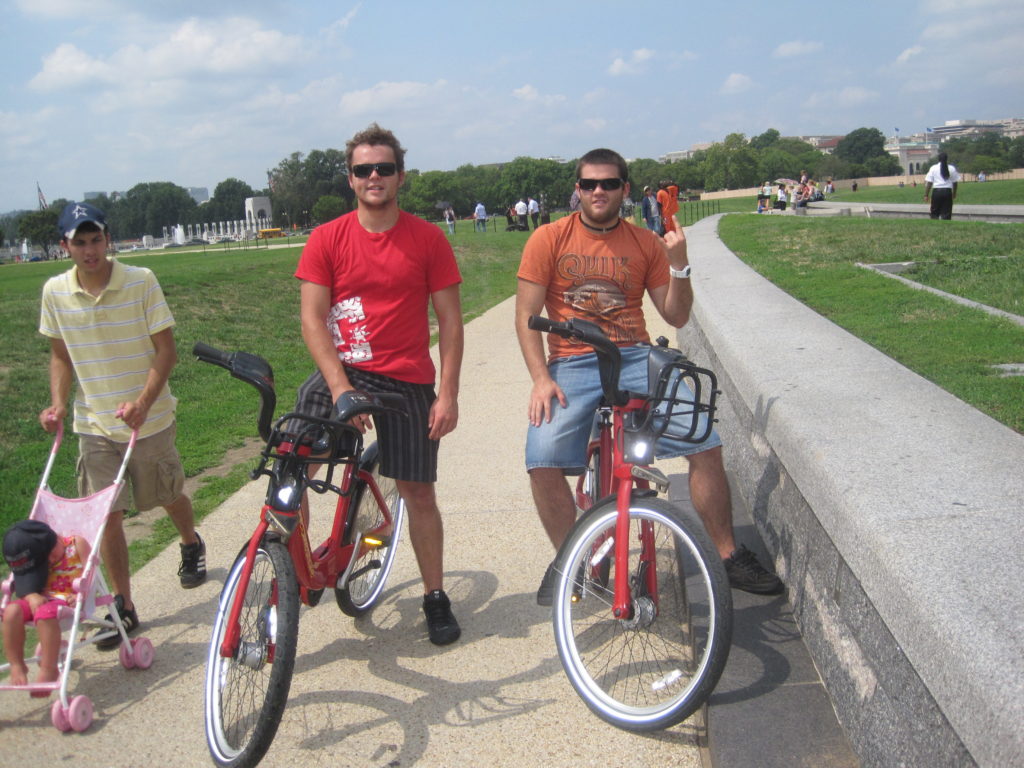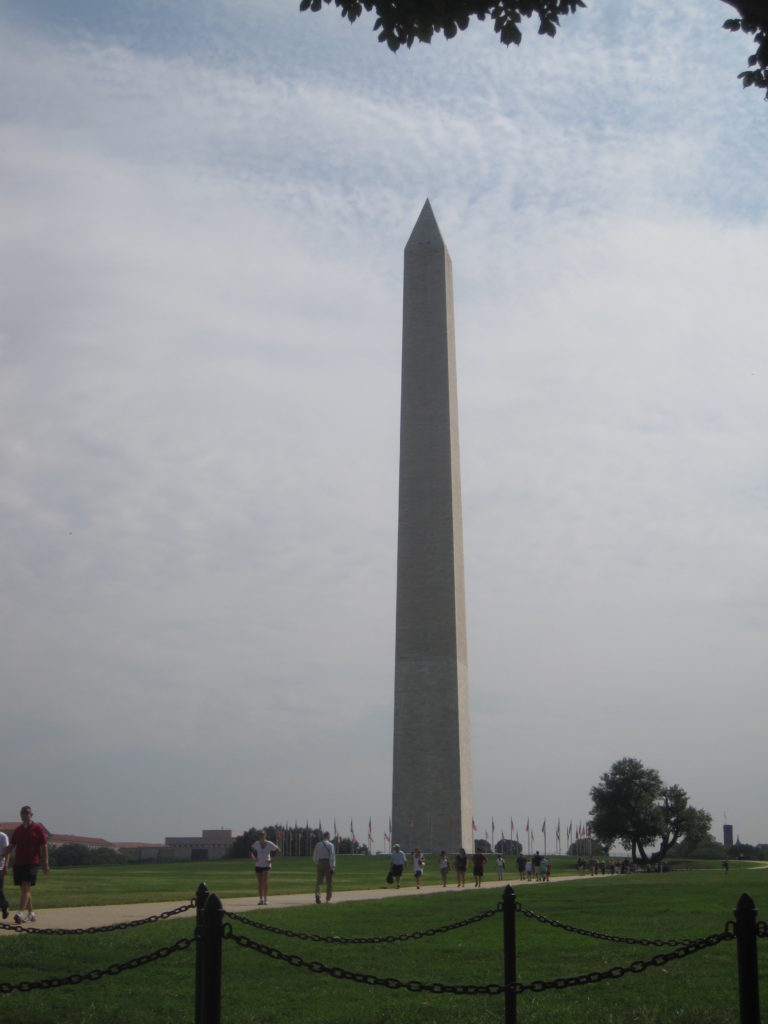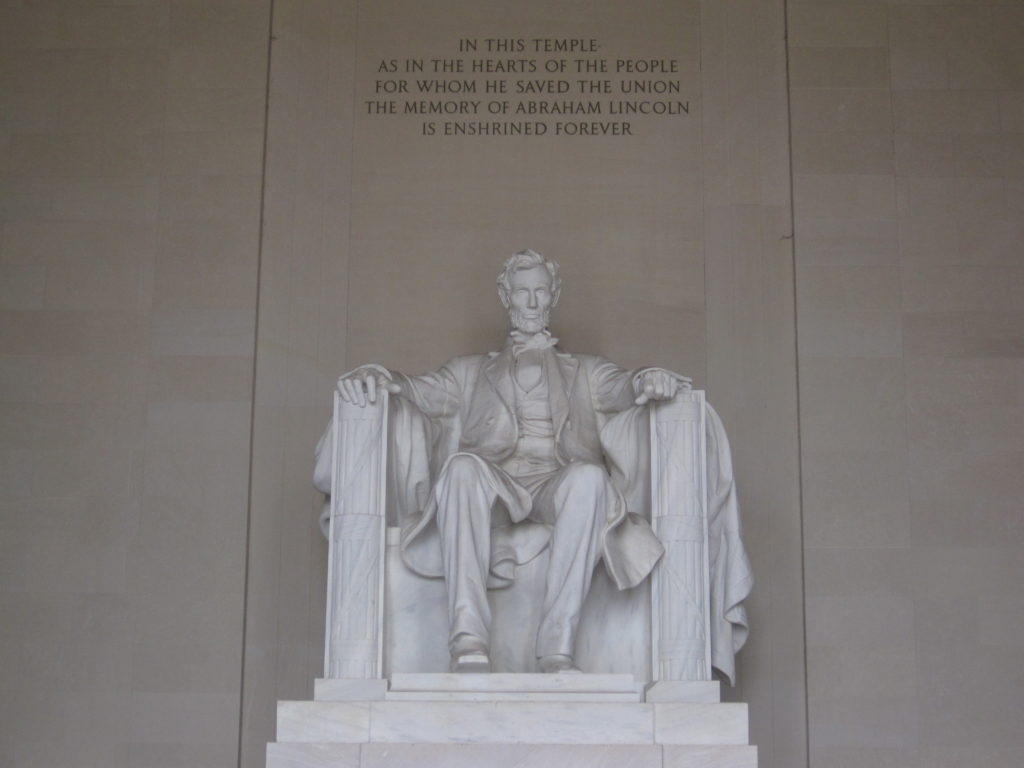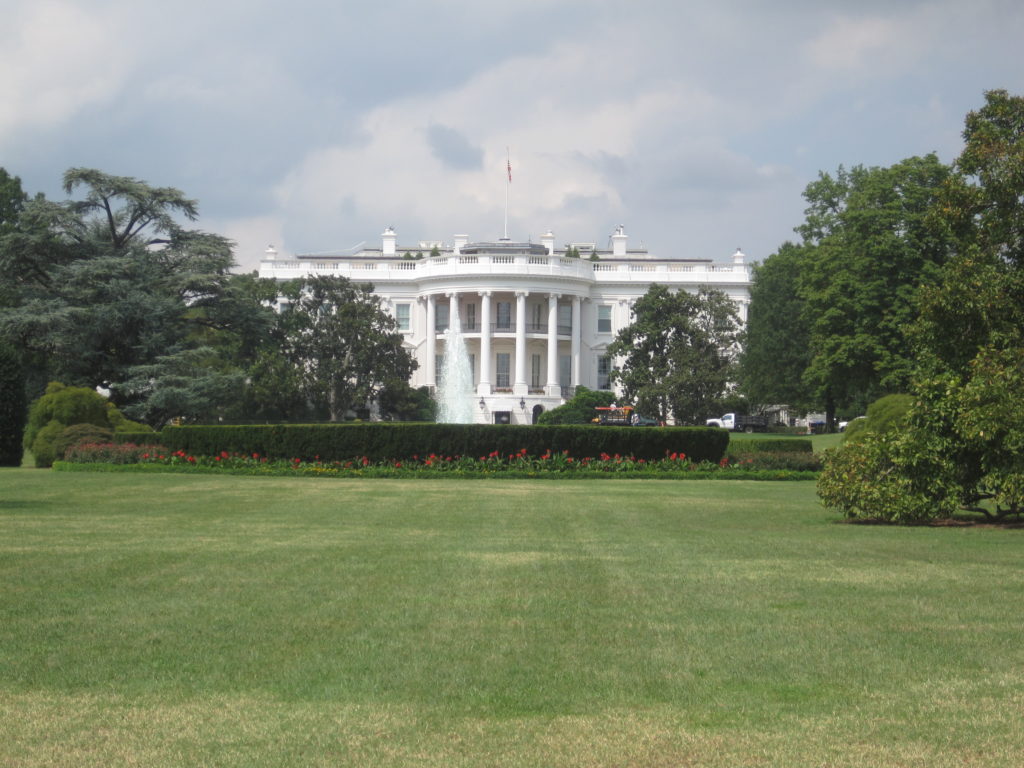 The city had issued a state of emergency and was urging people to evacuate. The mass exodos was causing the northbound highways to back up so we had to leave sooner rather than later.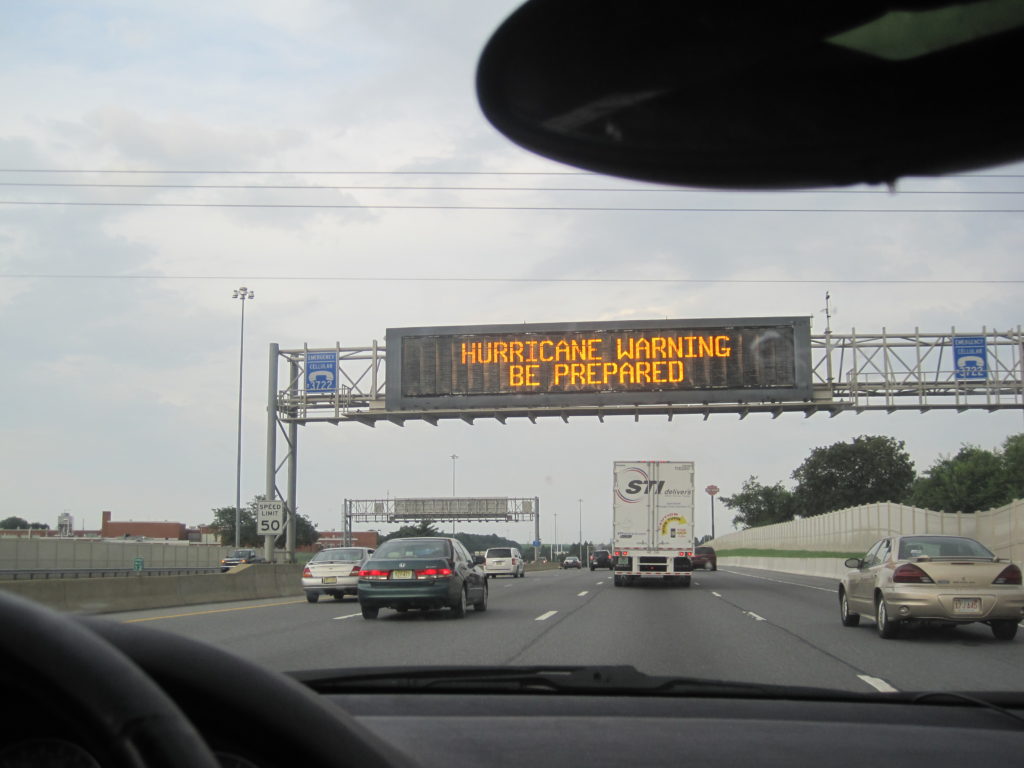 We hit the highway and began to put some distance between us and the hurricane, again. Branden's newly purchased BMW had a 7" LCD screen in it, which was capable of playing DVDs. Every time we stopped for gas we would buy a couple DVDs from the $5 rack near the checkout counter. These would keep us going until the next gas stop and made the driving time seem to fly by. Maryland and Pennsylvania disappeared in our rear-view mirror as we made our way into New Jersey in the early hours of the morning on 26th August.
At around 1:30 am we were feeling hungry and Branden asked me to use the GPS to find a place to eat. This is when I thought of the possibility of finding a White Castle restaurant, just like Harold and Kumar. I typed my search into the GPS and found that there was one about 40 minutes away, in Green Brook Township. I added the restaurant as a waypoint and we continued driving. Upon arriving at where the restaurant was supposed to be, we found a different restaurant and it was closed for the night. We were starving at this point. I opened up the search on the GPS again and started over. On the second attempt, it found the White Castle restaurant and indicated that it was 5 minutes back in the direction from which we had come. We turned around, followed the GPS and eventually found the restaurant at 2:30 am.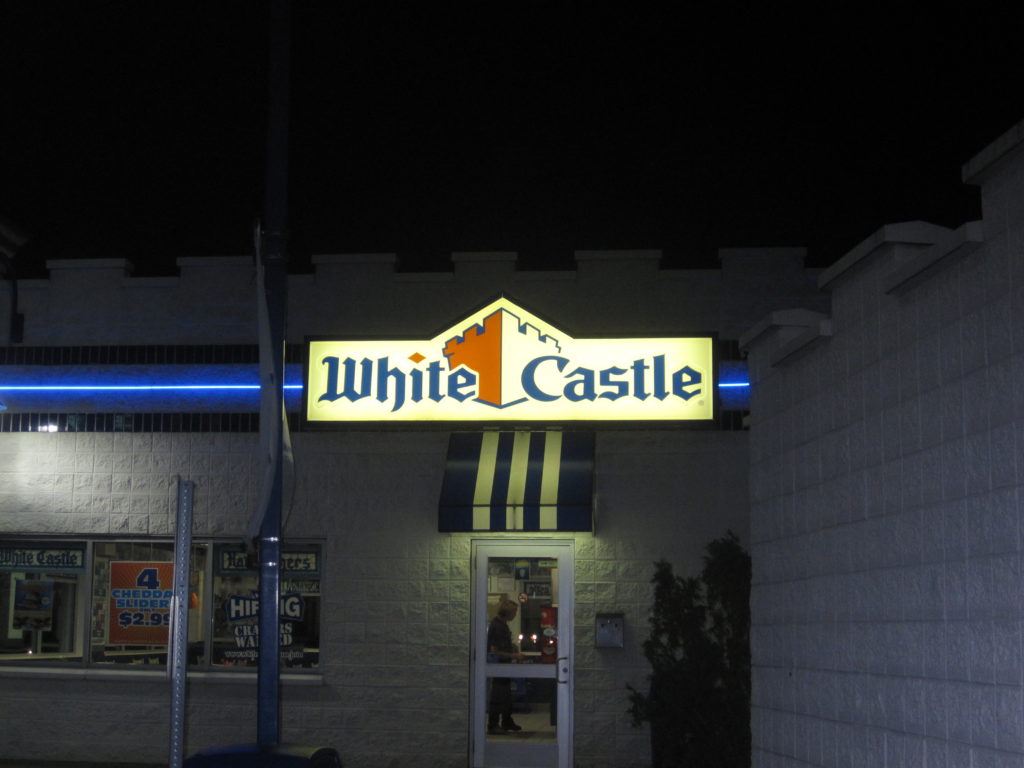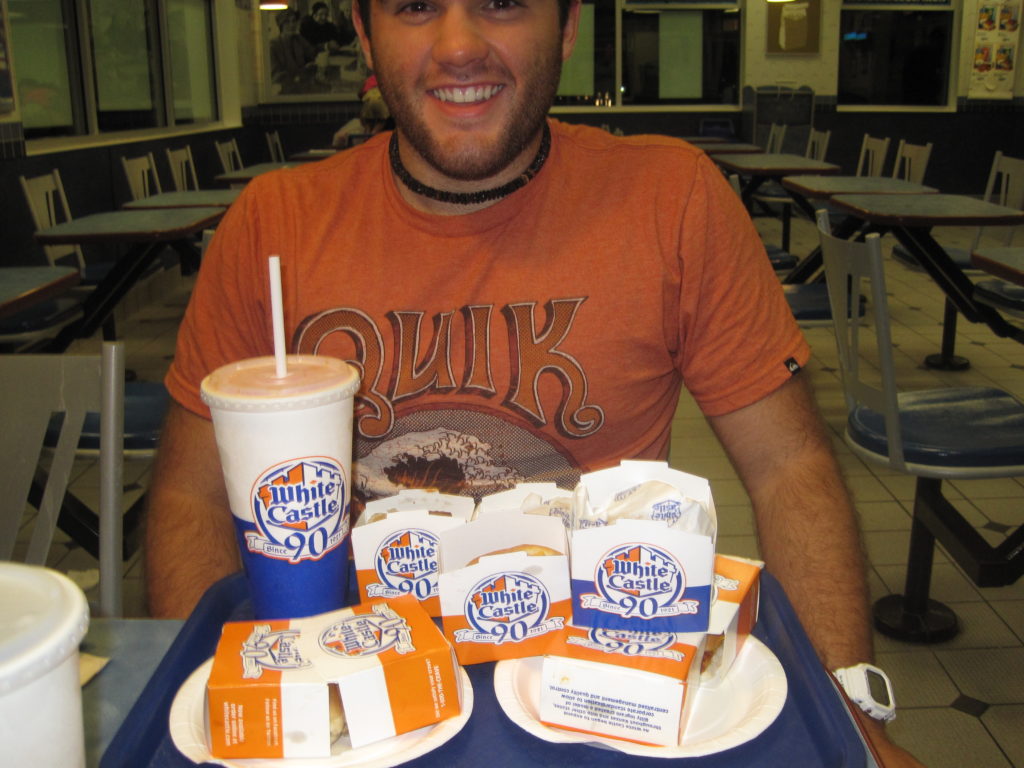 I ordered eight sliders and a large drink for under $10. Dave and Branden also ordered numerous sliders, fries and a couple drinks. We were exhausted and had been driving for several hours so the food tasted extra delicious. I felt the same satisfaction as Harold and Kumar did when they finally enjoyed their feast. As I mentioned previously, I did not think I was going end up on a wild journey just to taste a White Castle slider but sometimes our expectations are exceed in our adventures.
Although we had finally eaten at White Castle, the adventure was not over. We drove for another hour before parking at rest stop and sleeping in the car again. As with the previous morning, the greenhouse effect slowly warmed the inside of the car until we woke up. Our journey that day was short; only a few hours to bring us into Boston. We were still exhausted so we booked into a hotel for a night to get a proper sleep. The Red Sox game was schedule for the next day at 12:00 pm. With minimal driving and spending the night in Boston, Irene had nearly caught up to us, again.
At this point we were getting used to Irene making ground on us as we slept, and then, we would make the ground back through the day to keep a safe buffer. However, our contact with our parents was minimal so they did not have the same level of comfort that we did. Due to roaming charges between the United States and Canada we were trying to avoid using our phones at all costs. I have a rule with my parents that no news is good news when on holiday. Neither Dave nor Branden had been in contact with their parents either. Dave had only been checking in to our various locations on Facebook, such as Orlando, Washington D.C. and White Castle.
My mum had Dave on Facebook and although she had not heard from us, she was tracking our progress through Dave's checked in locations and knew we were staying ahead of the hurricane. However, Dave's dad did not have Facebook and was panicking because he did not know our whereabouts. He called my mum one day and asked if she had heard from us. My mum explained the situation and told him that our last check in was at White Castle. She did not know what White Castle was but after a quick Google search she determined that we were either in Pennsylvania, New Jersey or New York. That was enough to keep them from worrying.
On Saturday, 27th August we got ready for the game and headed to the stadium just before noon. It was the first time we had been to the Boston Red Sox stadium and we were excited. The skies remained clear for the first hour and Boston pummelled Oakland through the first few innings. Then Irene, finally caught up to us.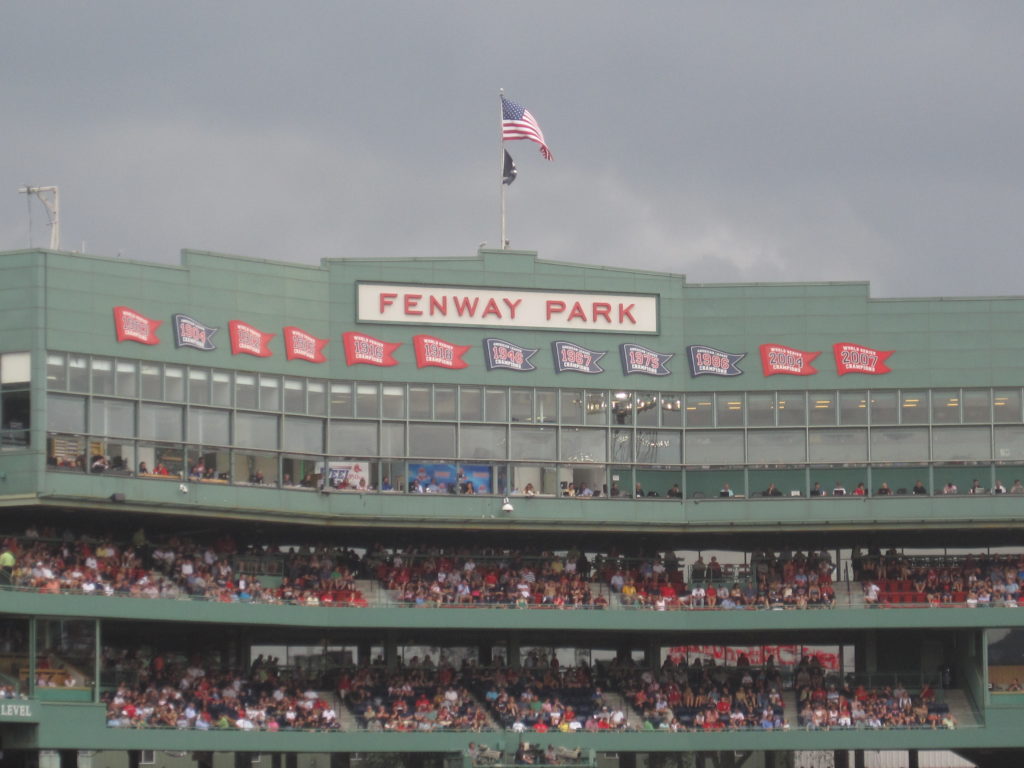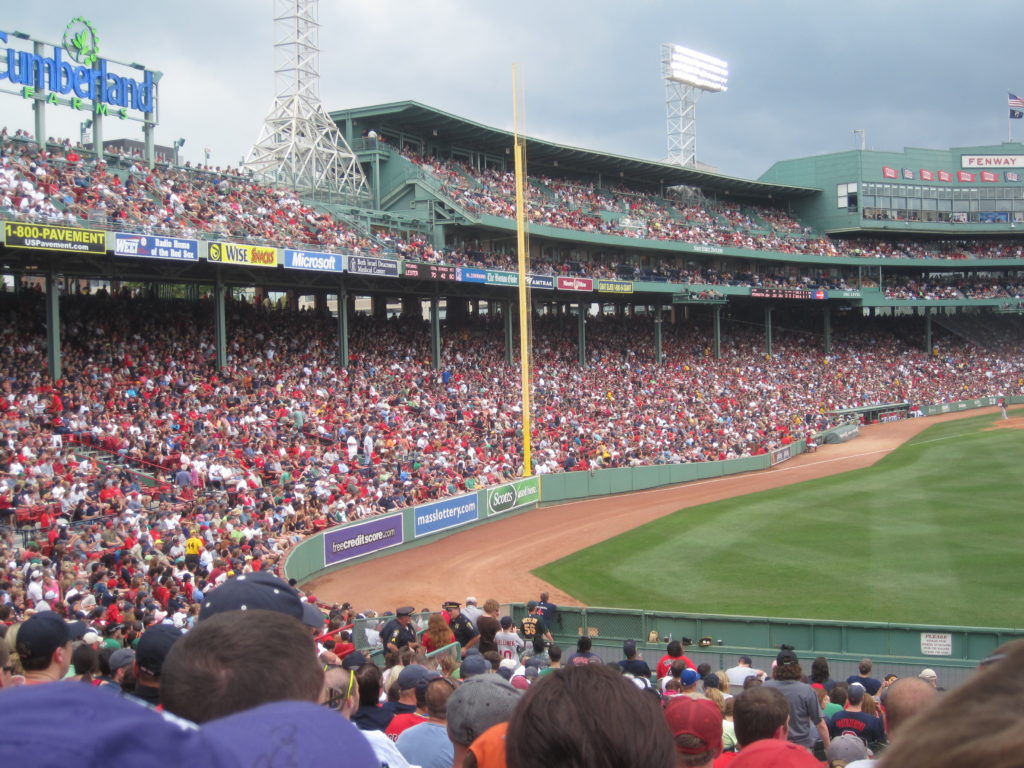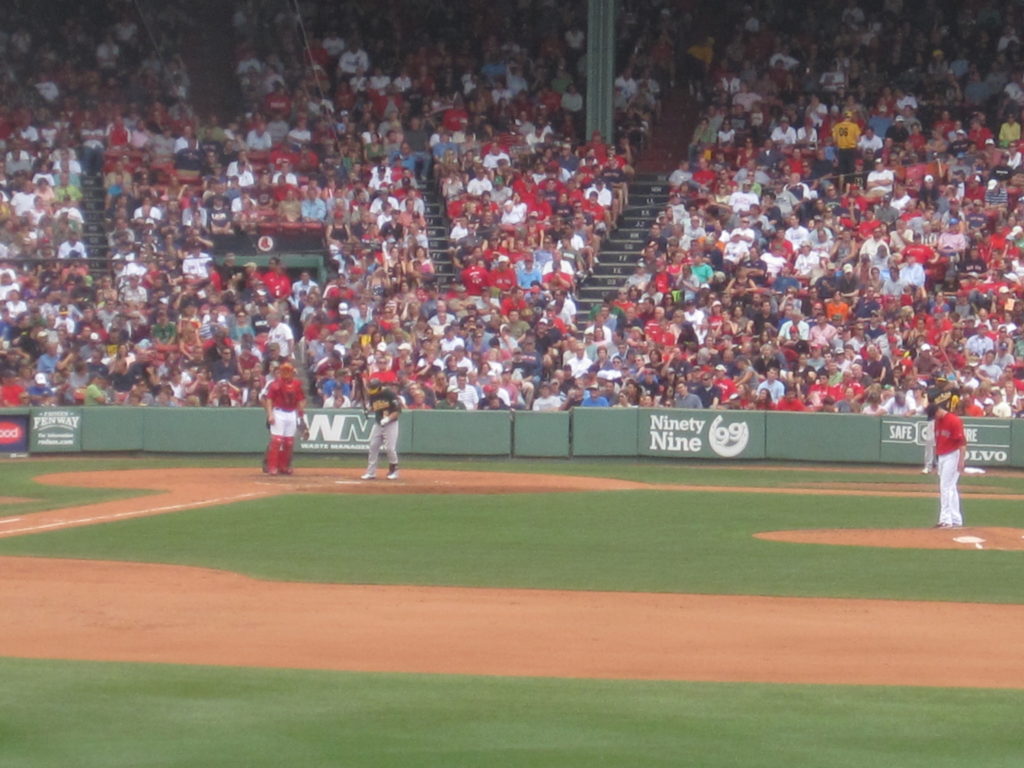 In the seventh inning the tarps were pulled over the field and the game was put on a rain delay. It was pouring rain and did not show any signs of clearing up. We waited under the bleachers for an hour before we decided that we had enough of the hurricane and decided to make one last run back to Halifax.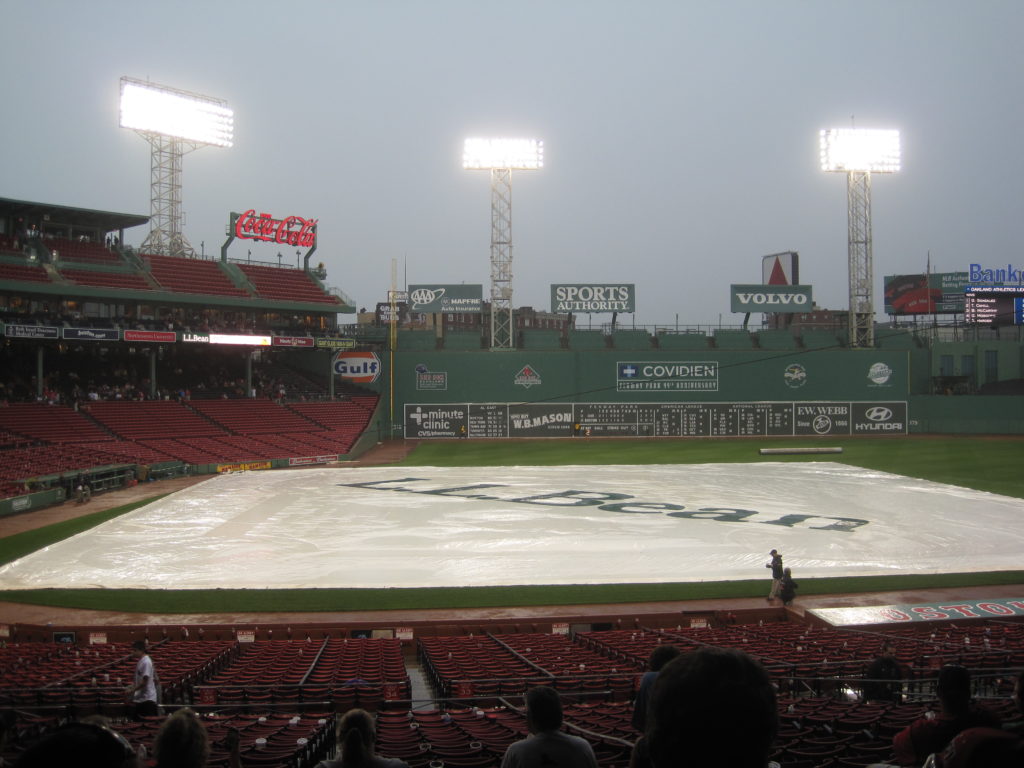 We left Boston in the late afternoon and drove through the night, crossing the border in the early hours of Sunday morning. We still had not spoken to our parents and arrived unexpectedly, not long after they had finished breakfast.
The trip was a whirlwind. When I arrived home on Sunday I was shattered. We had managed to purchase a BMW for Branden and drove more than 30 hours, up the eastern seaboard of the United States while being chased by a Category 3 hurricane. These are memories that I have shared with my close friends and I will never forget them.
Have you eaten at a White Castle restaurant? Do you have a good story from your adventure? Let me know in the comments below.
Make sure to read my next post, [#38 Lesson] Cherish Adventures with Your Close Friends, which discusses the lesson learned by completing this item. Want to be notified when new blog posts are uploaded? Subscribe below.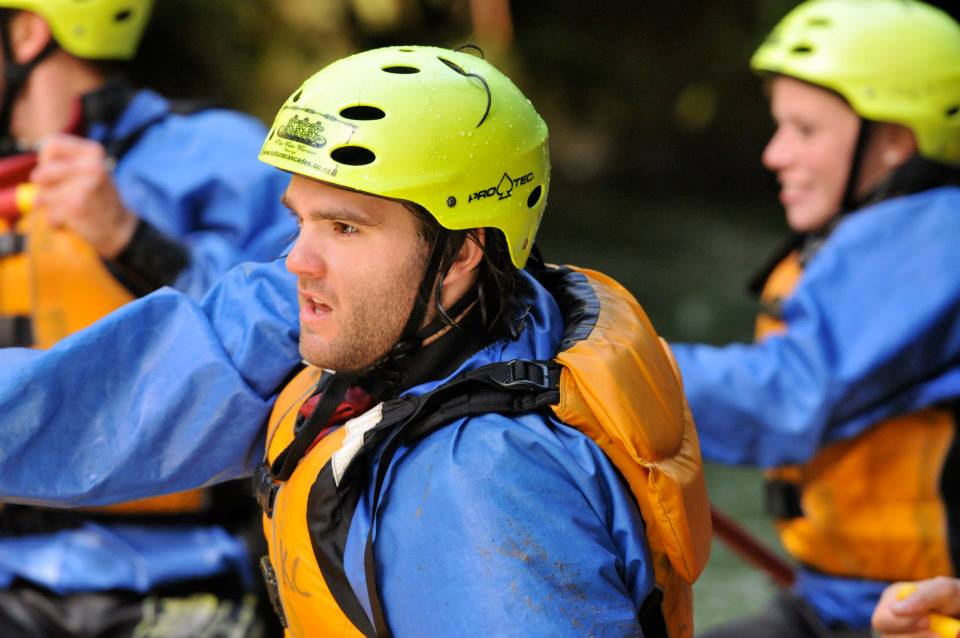 Dave has been on a mission, since 2010, to cross off the 100 items on his bucket list. The stories of his adventures are complimented by life lessons learned along the way and his travel tips are unique to his experiences.