The Old Ghost Road is one of New Zealand's top multi-day mountain bike rides and one of the adventures in New Zealand all together. At 85 km, it is the longest single track mountain bike ride in New Zealand. It goes up over mountains, meanders along rivers and traverses steep cliffs. I have done many adventure activities in New Zealand and a few other multi-day activities but this is one I will remember forever. If this has not been on your radar up until now… it should be.
My friends and I began planning for our trek along the OGR nine months in advance to ensure we could get bunks in the cabins before they sold out. We were aiming to start 16th December, which is in the high season. For the months leading up to this date, we booked our bunks, flights to Nelson and shuttle pick up/drop off with Helibike Nelson.
Five of us (Jesse, Emma, James, Emma and I) caught a flight from Auckland to Nelson on the 15th December and arrived at James' friend's house, where we had arranged to stay the night before starting our journey along the OGR. Jimmy and Sacha also took the ferry over from Wellington and met us in Nelson. Out of the five of us who flew in from Auckland, my bike was the only one that did not arrive with the rest of our baggage. While everyone else was prepping their bikes for the epic journey the following day, I was busy calling Air New Zealand every hour to see if my bike had arrived on one of the later flights.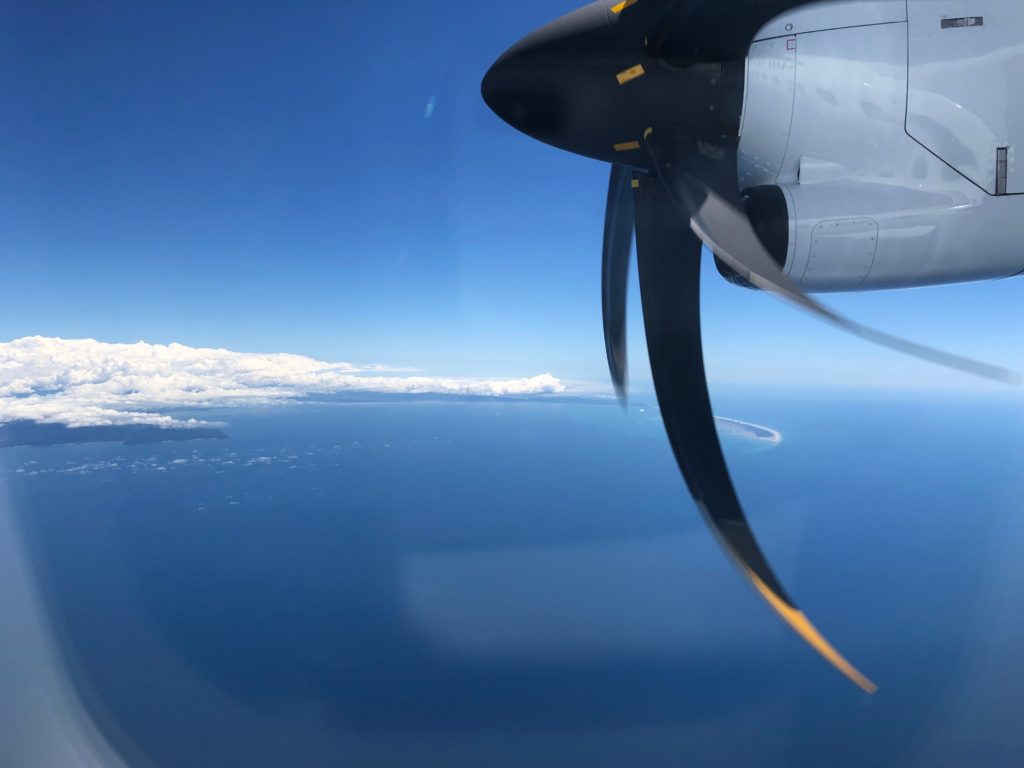 We arrived into Nelson at 2:30 pm but it wasn't until 6:40 pm that I received confirmation… that my bike was not going to make it in that day. Luckily, while I was dealing with Air New Zealand, Jesse was calling every bike shop in Nelson to see if they had rentals left. When I got off the phone at 6:40 pm, Jesse told me I had 20 minutes to get from our accommodation outside of town to Torpedo7 to get the last bike they had in my size.
Our local friend knew the roads well so he drove me there as quick as he could and we manged to get to the shop just as they were closing up. They let us in and quickly got the bike set up for me. Despite nine months of planning, there is always curve balls that get thrown your way.
I joined the rest of the crew that evening as we finished off getting our bikes ready to ride then we all went to sleep early for a much anticipated next day.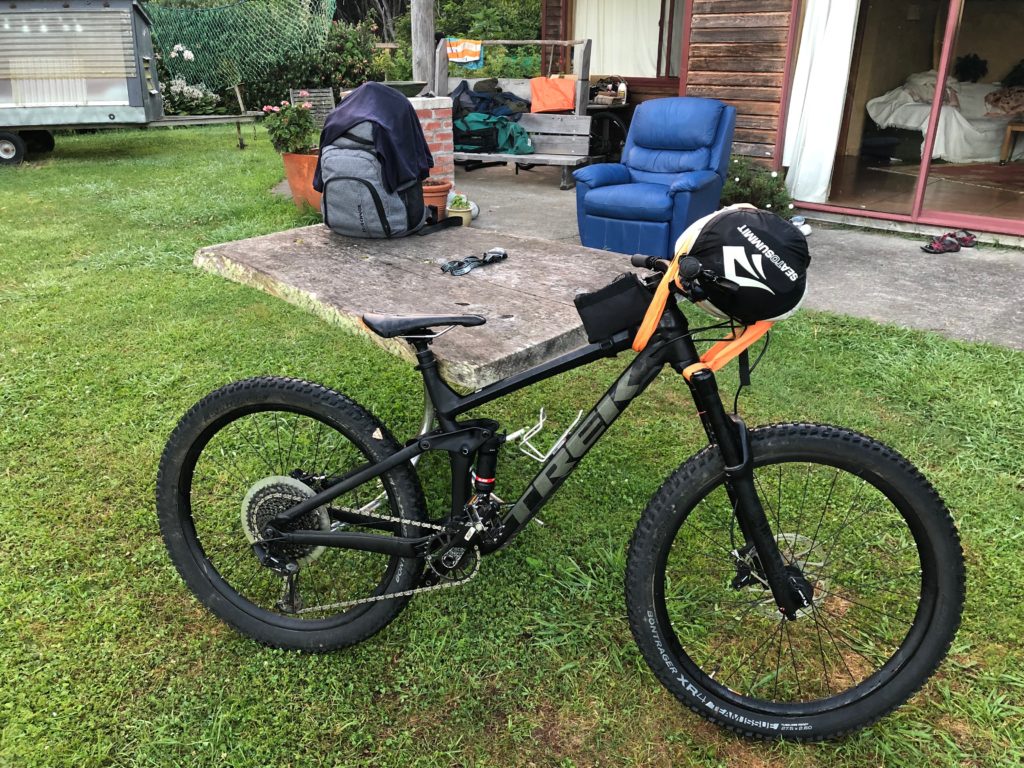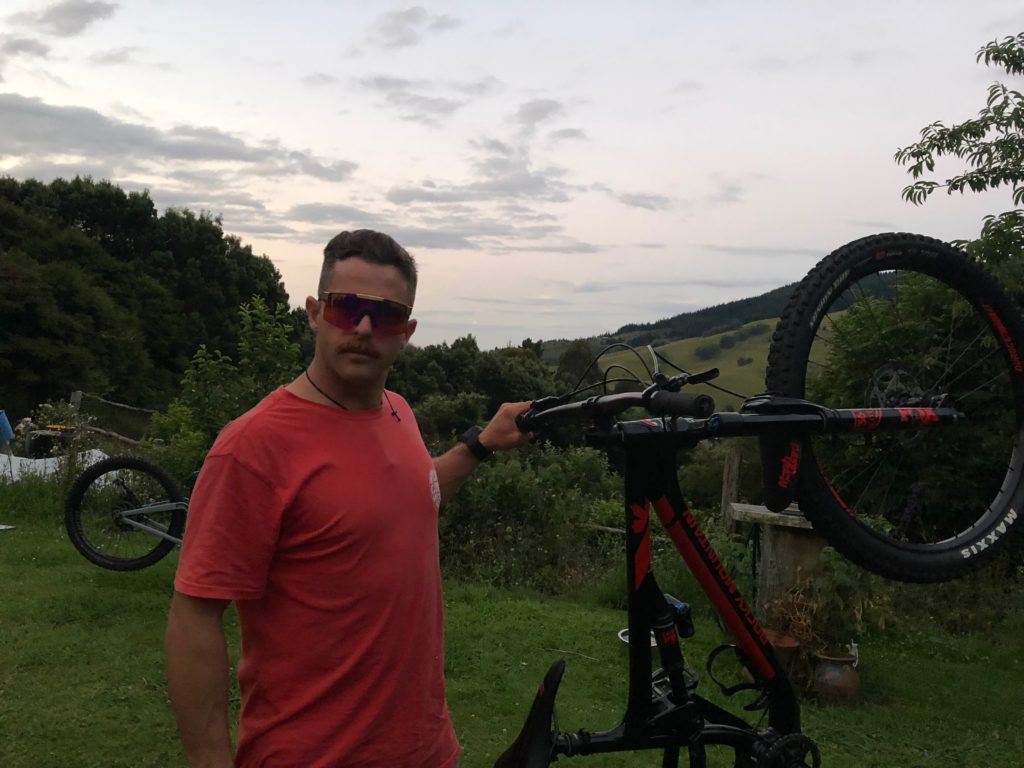 Steve from Helibike Nelson picked us up bright and early the following morning and began driving us to Lyell, where the OGR begins. Lyell was once a bustling stop-through town with bars, brothels and hotels, for people heading into the mountains to mine for gold. However, it is now simply a parking lot with a couple public toilets. All of the mining establishments along the trail are now abandoned and overgrown, which leads to the trails name.
During our drive to Lyell, Steve offered some amazing facts about the trail. He also offered some great info on the local mountain biking scene in Nelson, which we were already planning to check out after we returned. Thanks Steve for such great service and advice!
When we arrived in Lyell we did some last minute tweaks to the bikes before we started. Steve said good luck to us and told us that he would meet us at the end of the trail, in Seddonville, in two days' time.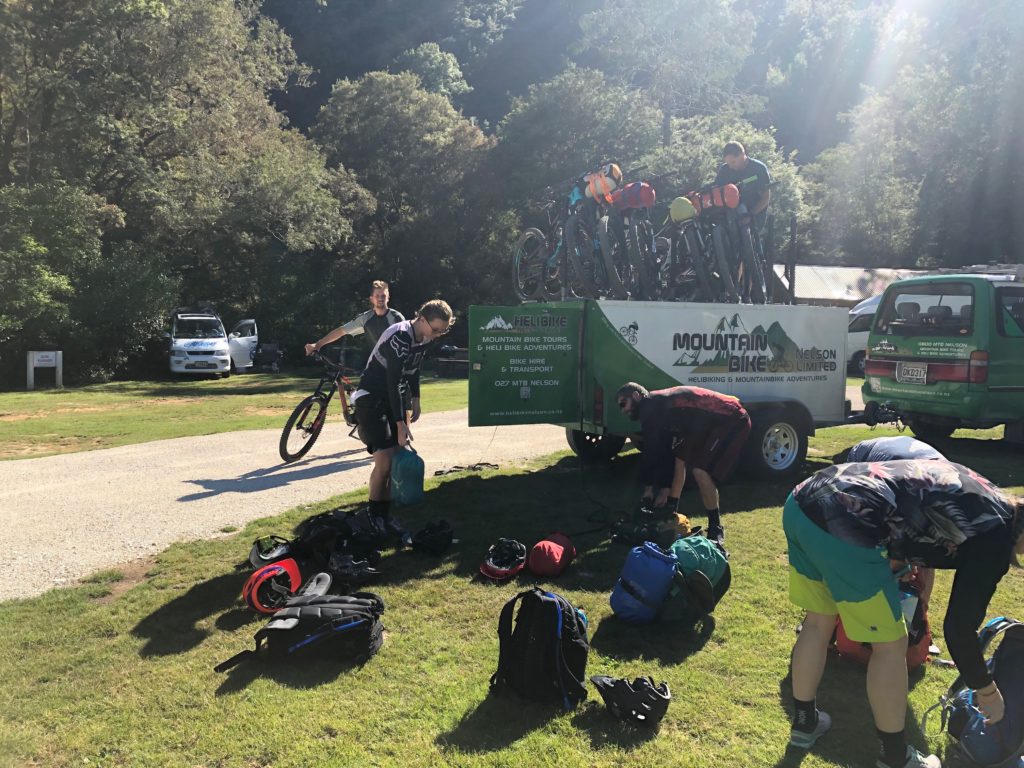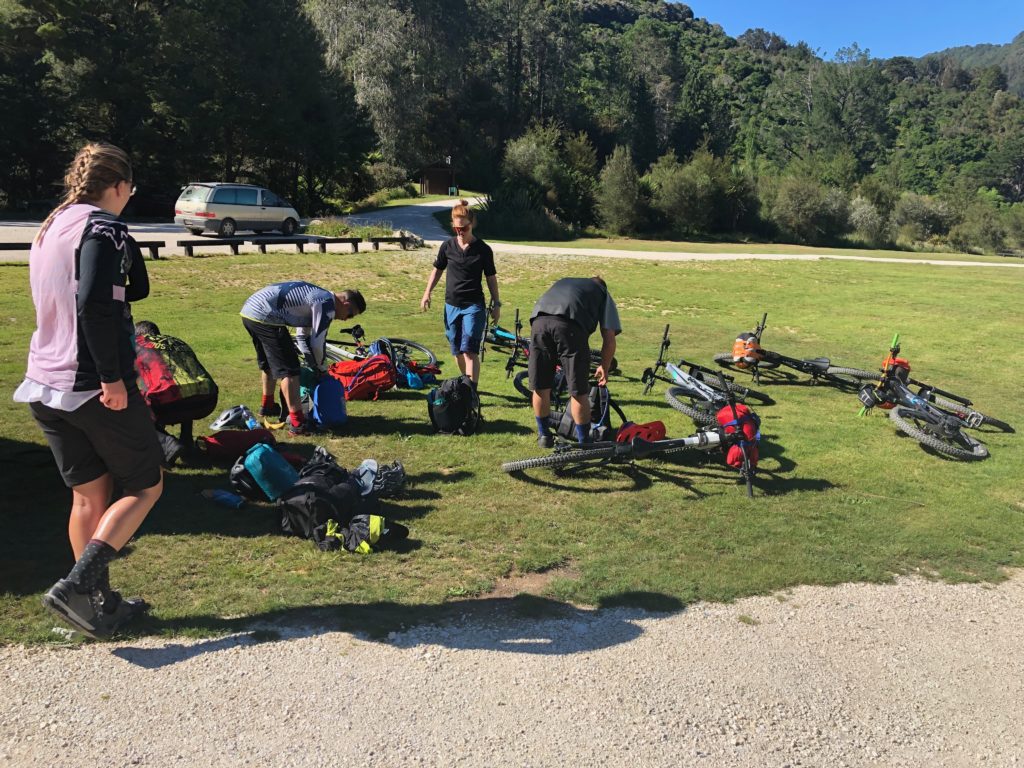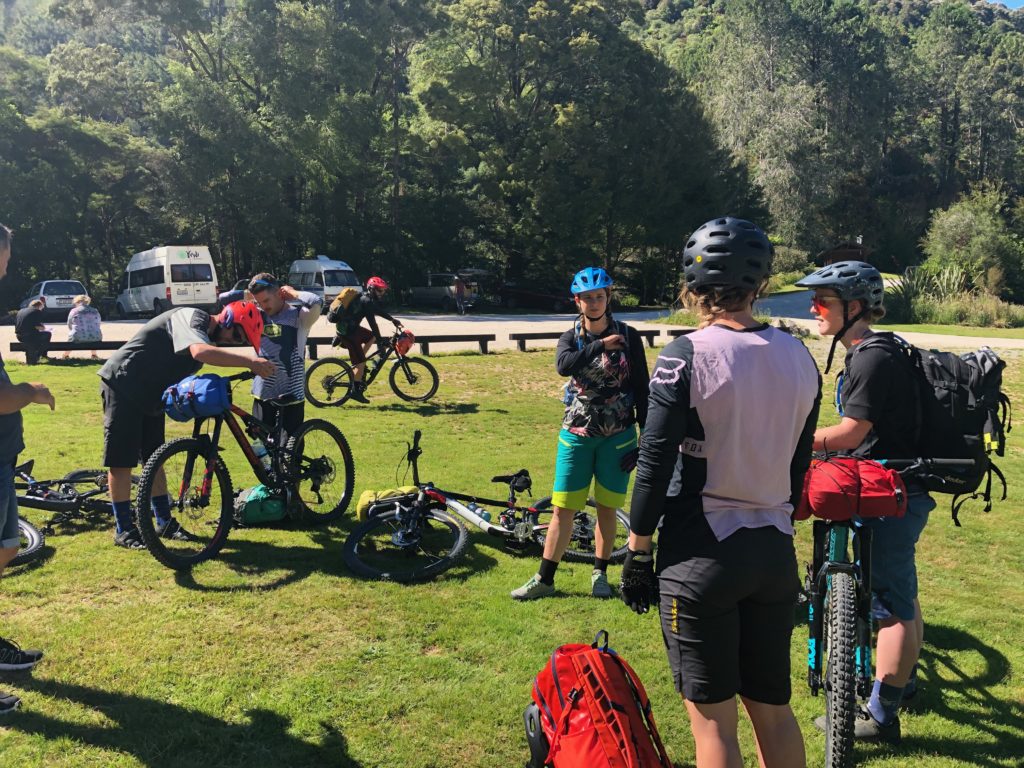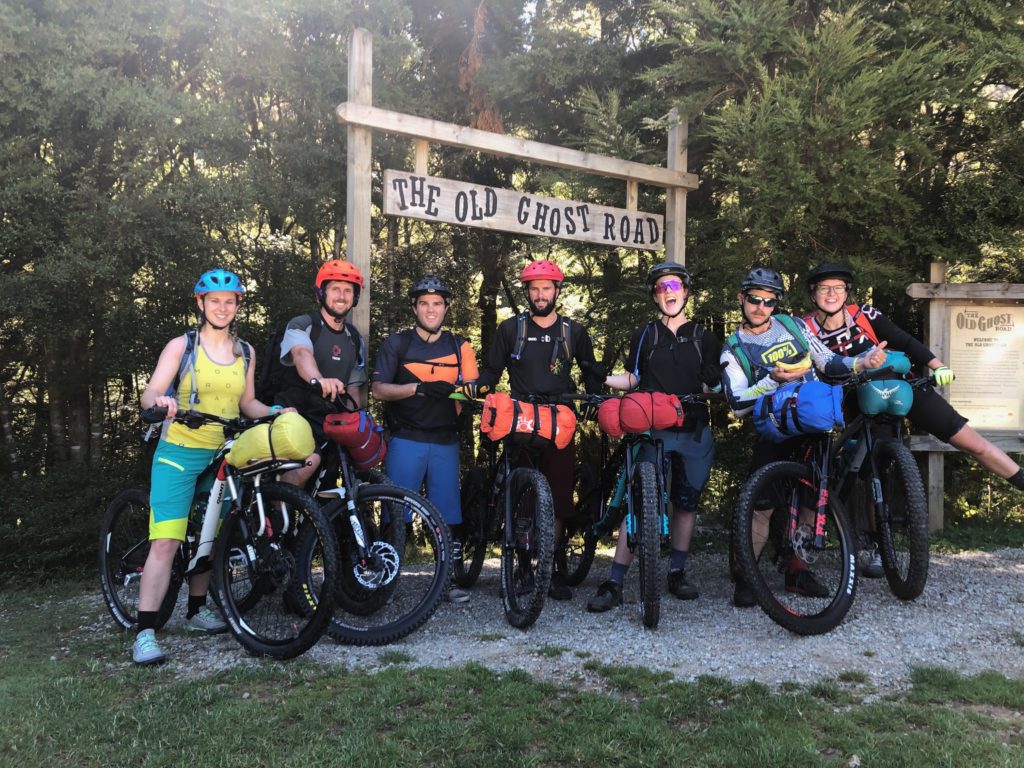 We had all looked at the route plan and elevation profile for the first day and it was by far the worst. Basically 27 km of uphill riding to the peak of the trail, followed by 3 km of downhill to the Ghost Lake Hut. The uphill was pretty steady for the first 12 km and then tapered off to what felt like flat trail for the next 6 km until we reached the Lyell Saddle Hut. Those 6 km of easy riding were a bit of a trick as the next 9 km to the peak were some of the toughest uphill sections of the whole trail.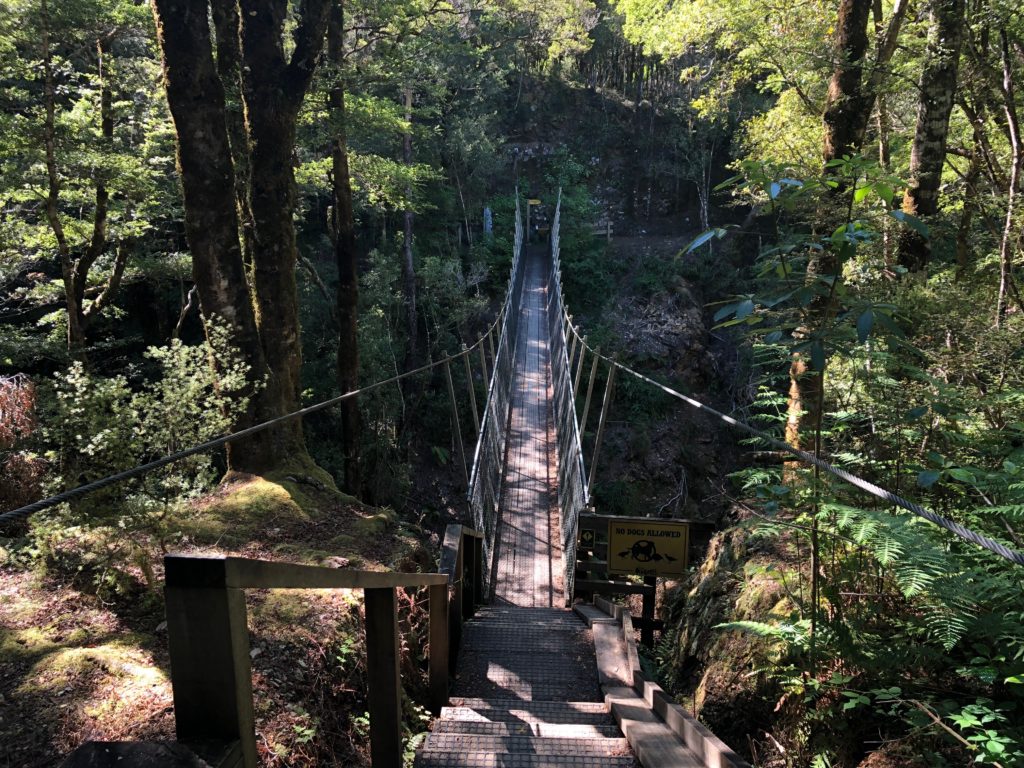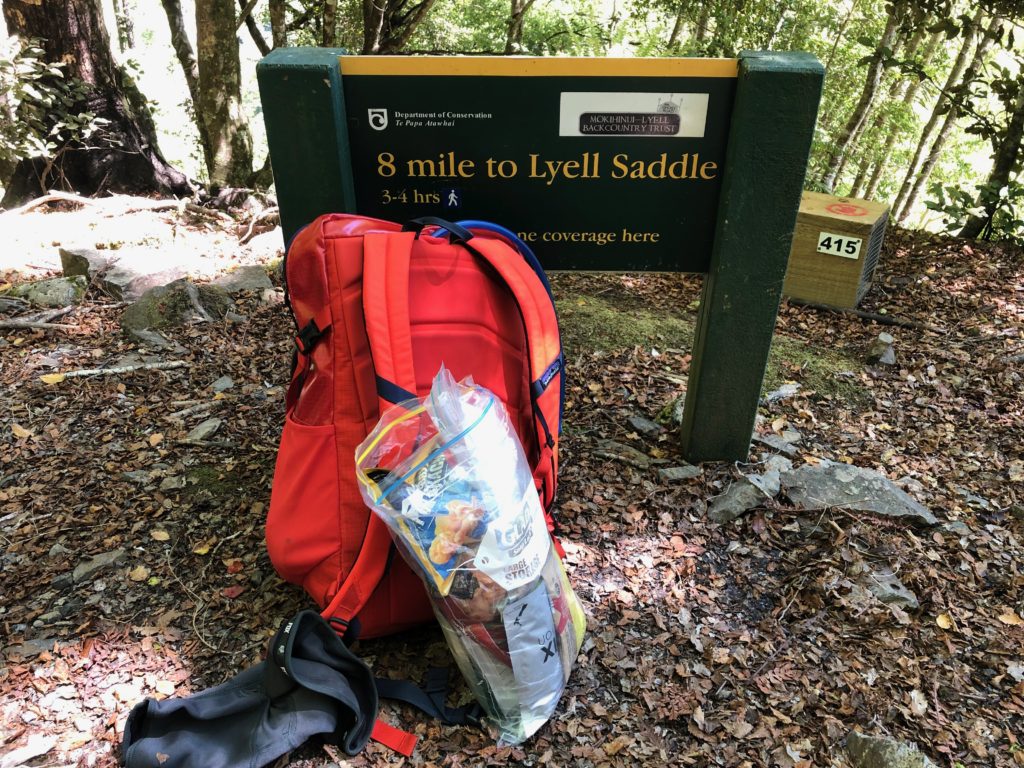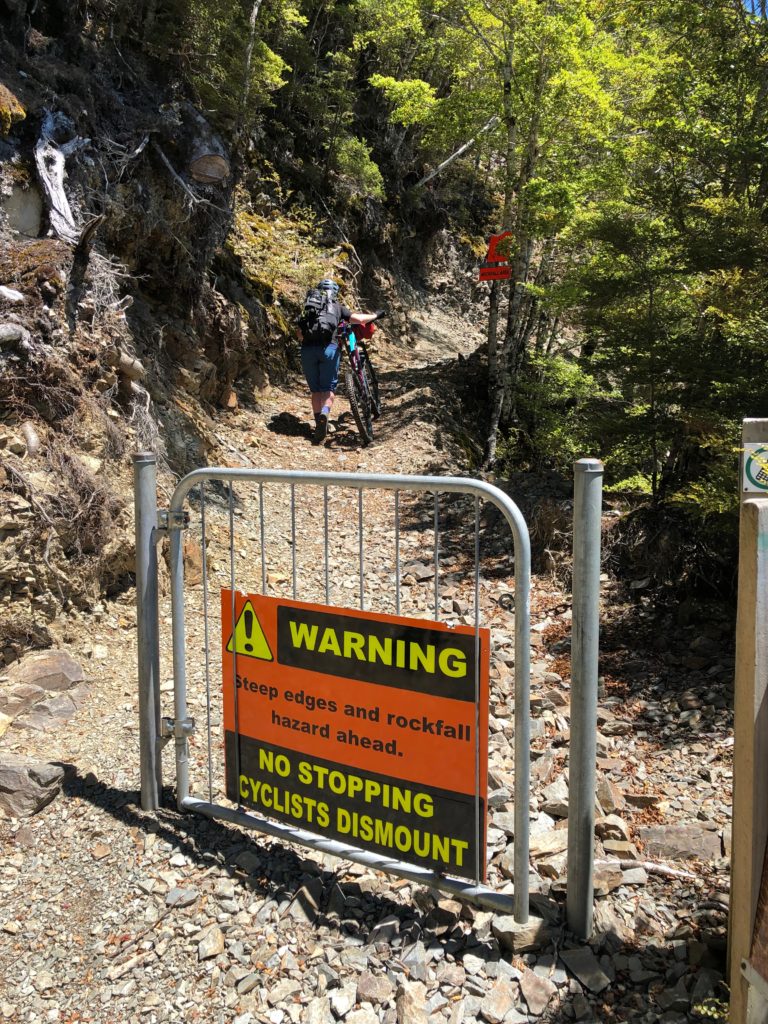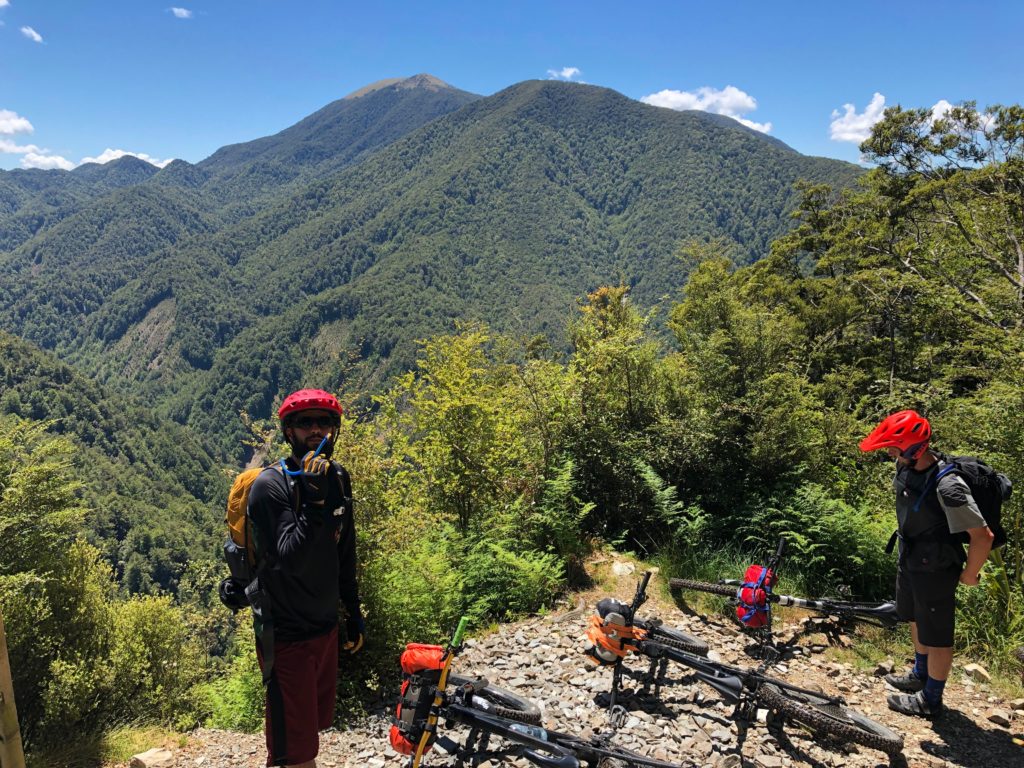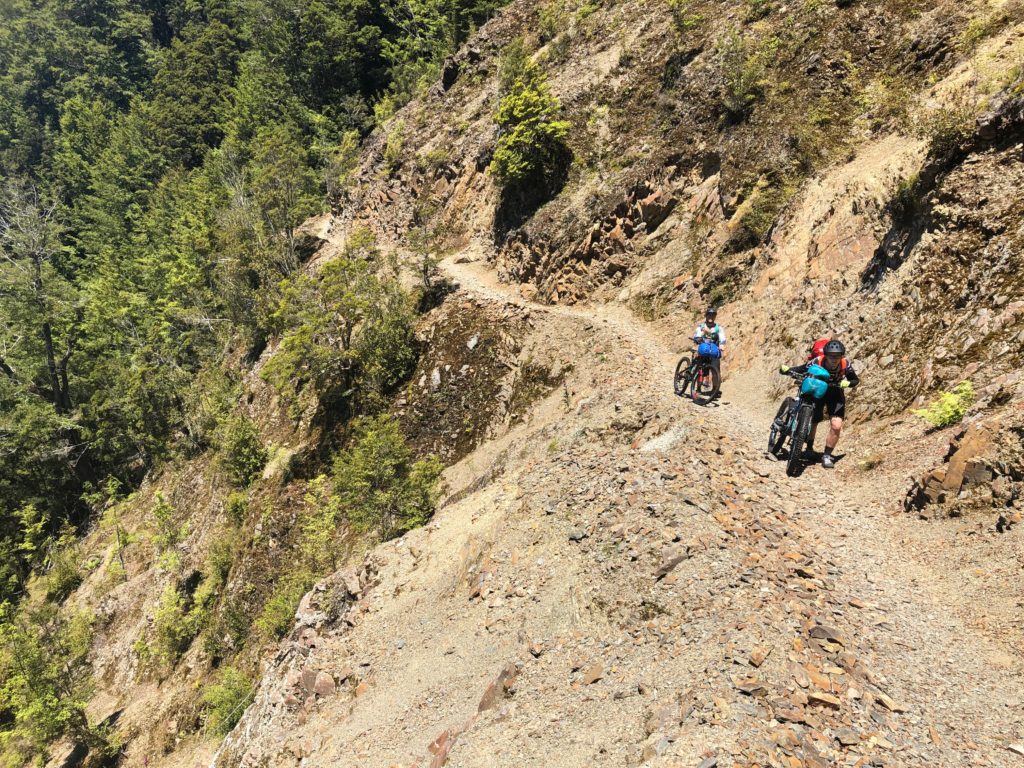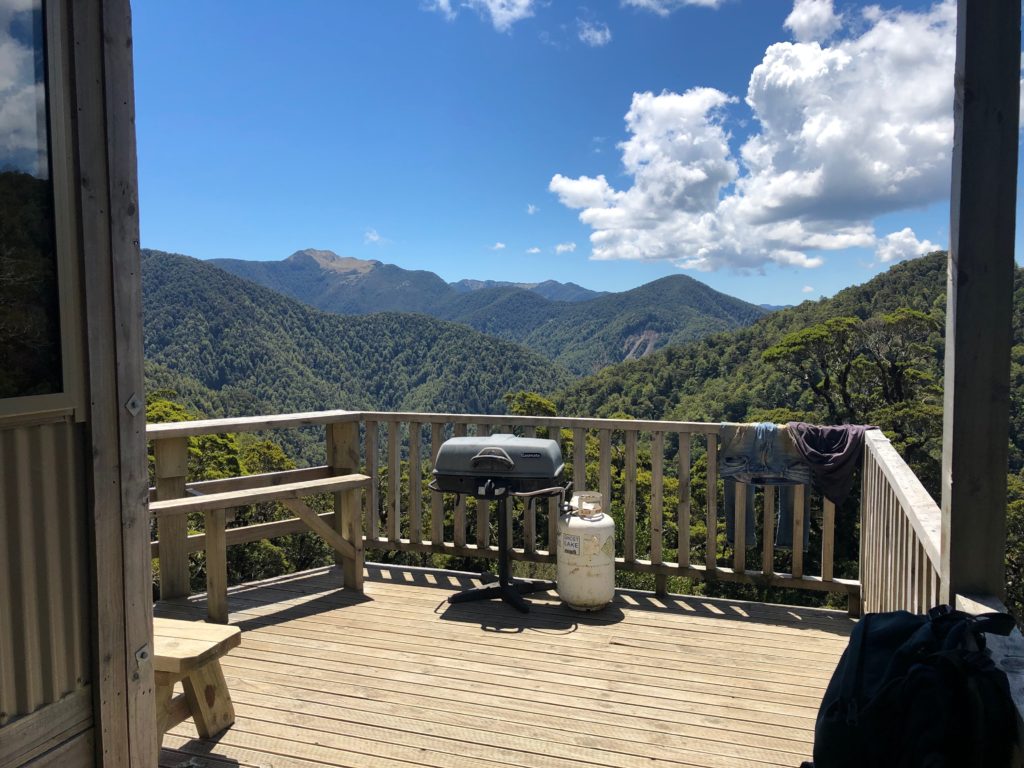 We were in the shade of the bush for most of the ride but it was a scorching hot day and it was hard to keep up our hydration and nutrition. The few kilometers leading up to the peak are exposed so I took a long break to rehydrate and eat some food before starting again.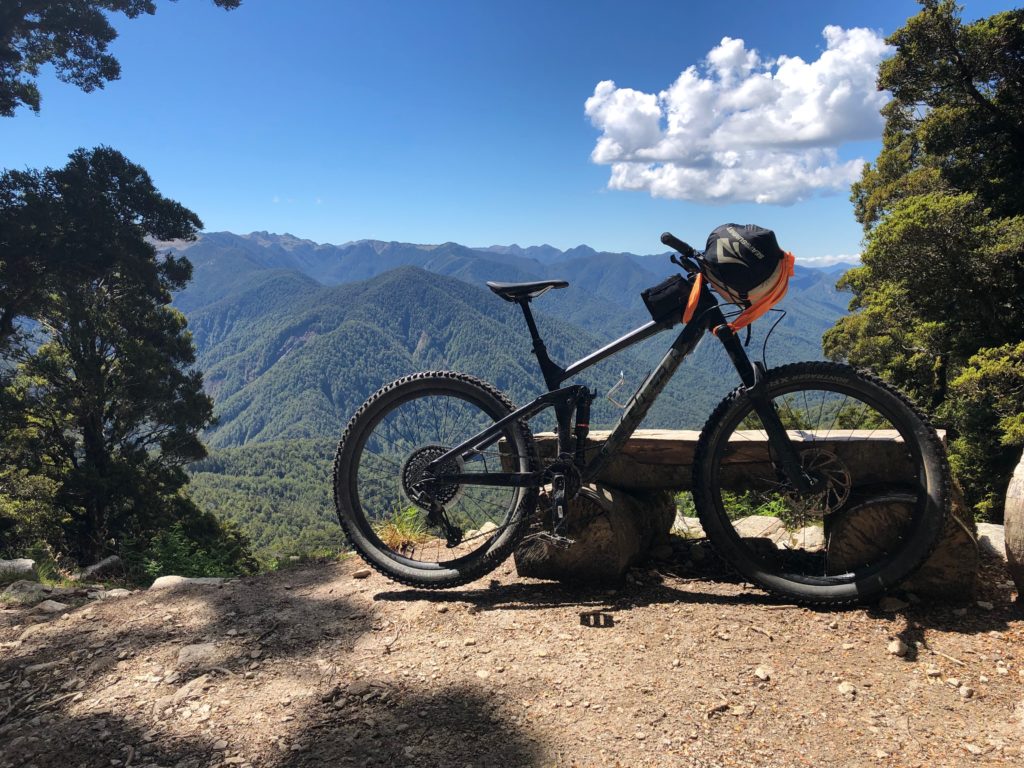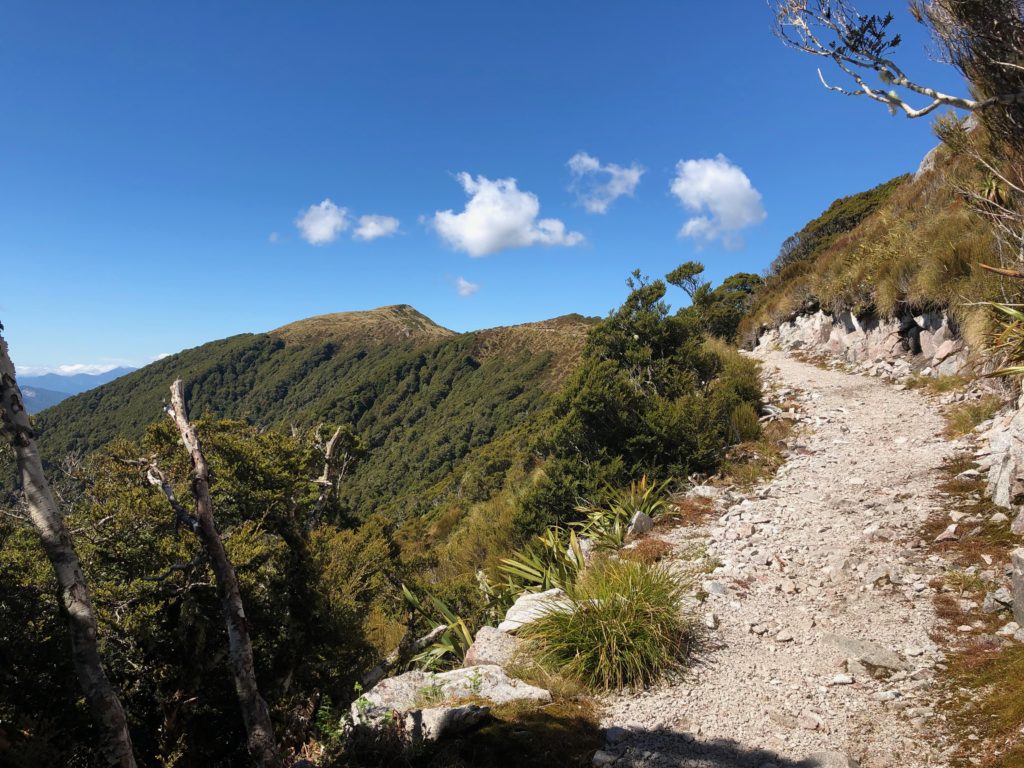 We reached the peak, at Heavens Door, and were greeted by some amazing views. At the peak of the range, we could see in every direction and the views were outstanding. We all took a short break here before beginning the downhill, which we most certainly earned.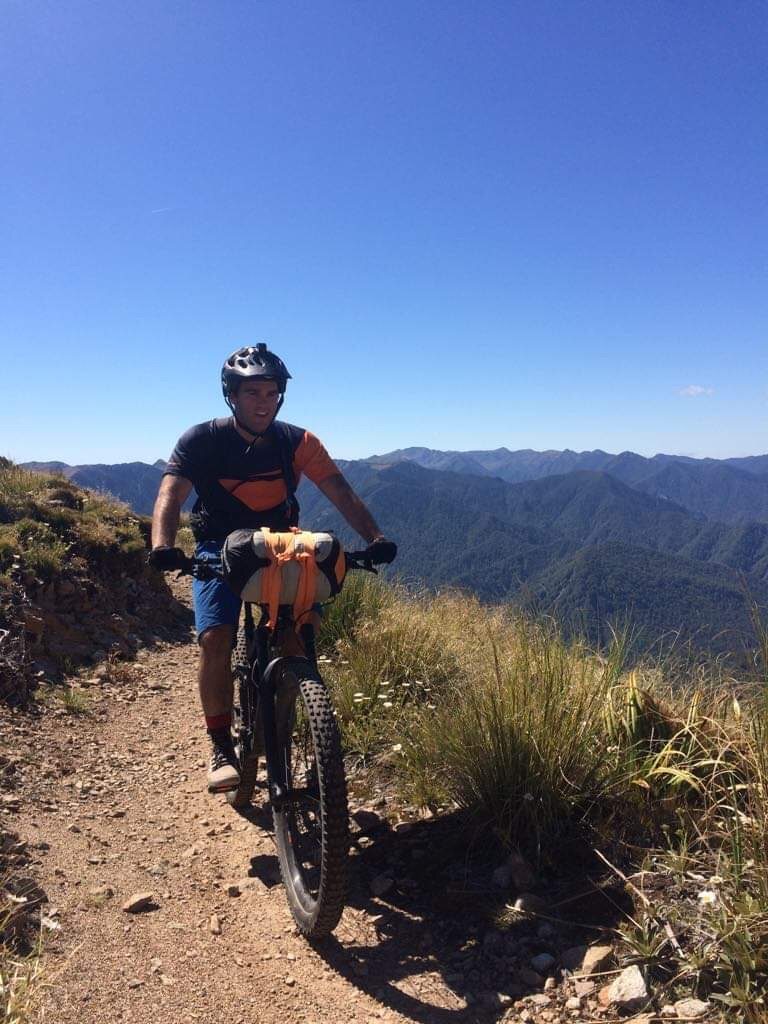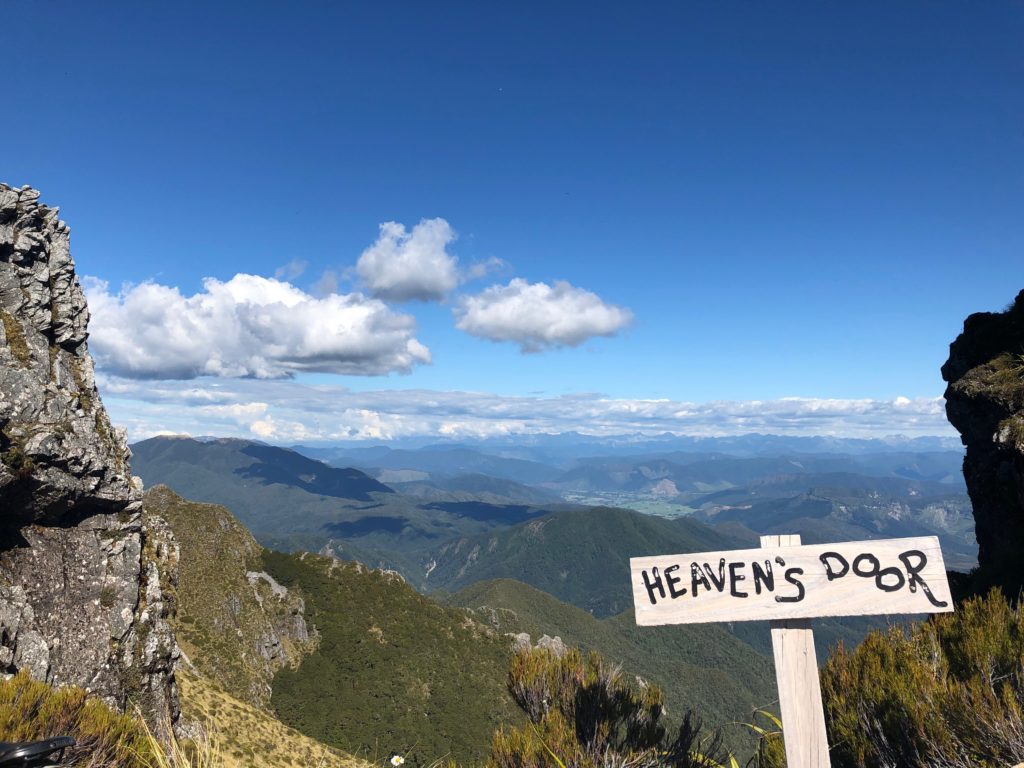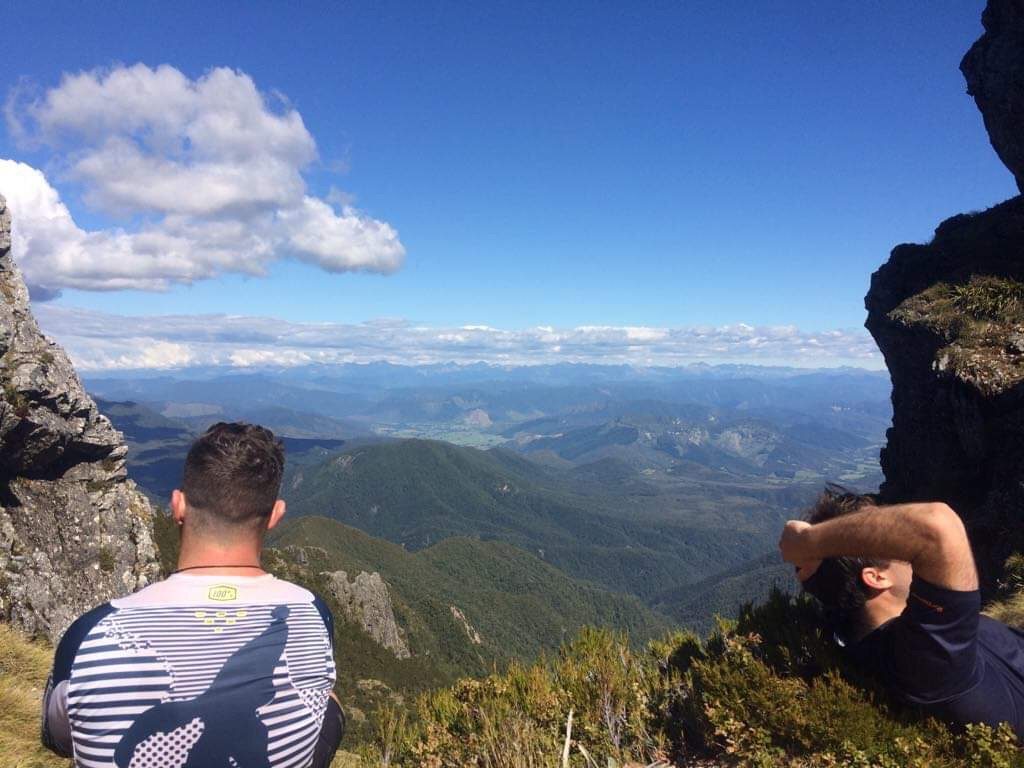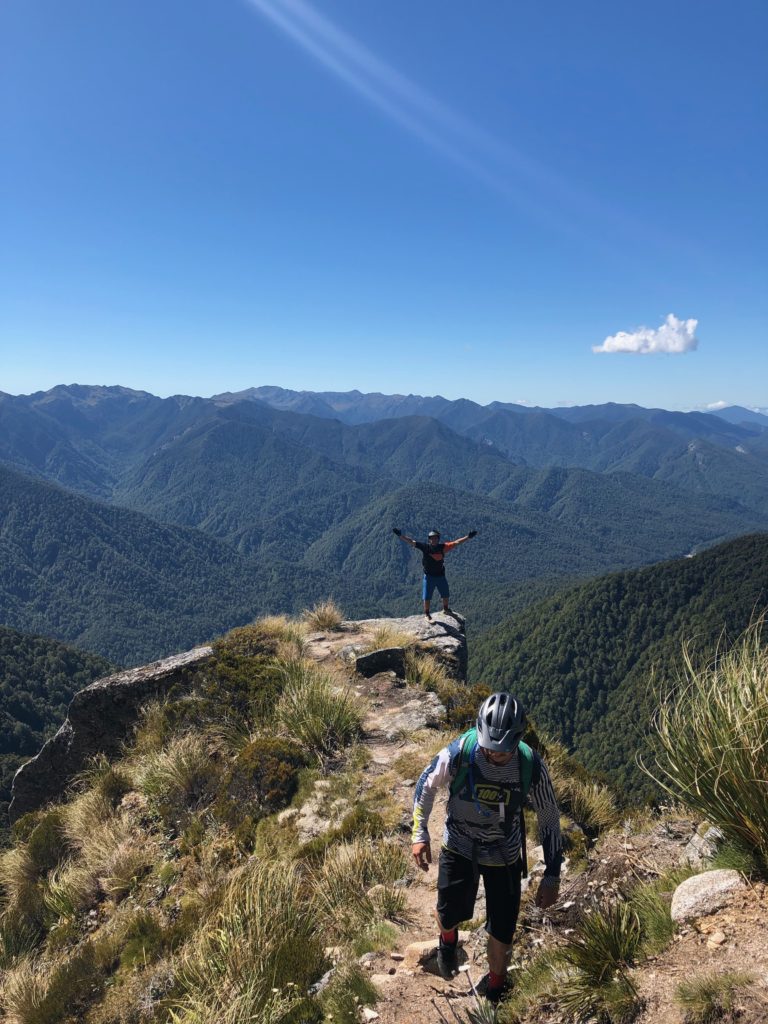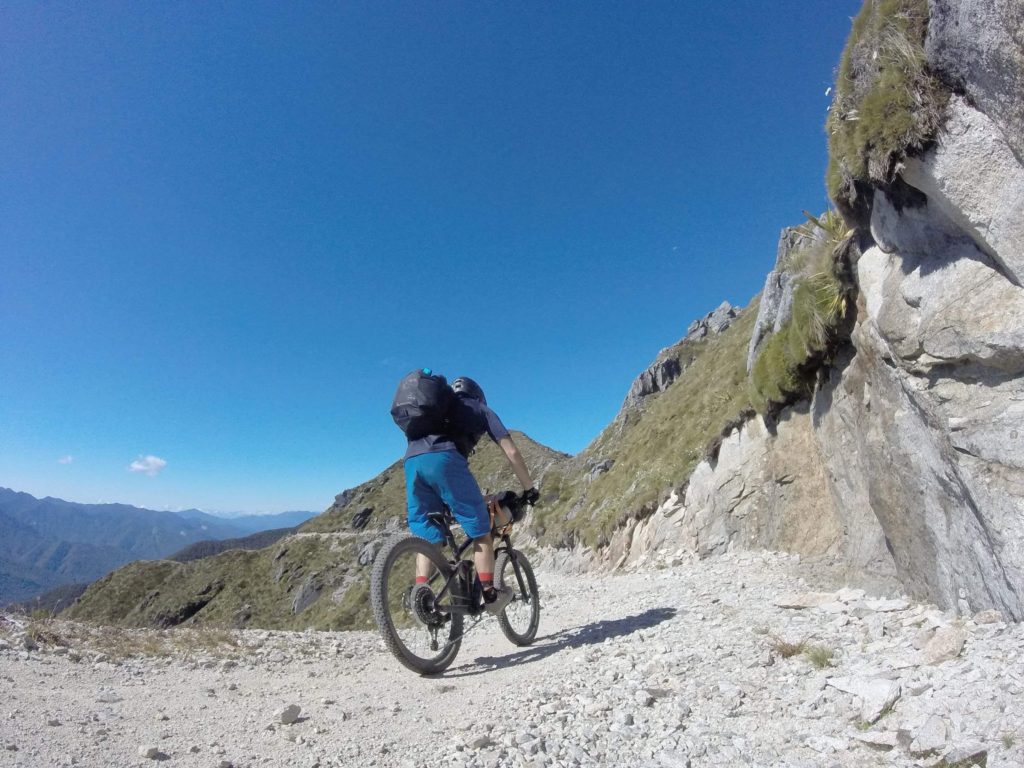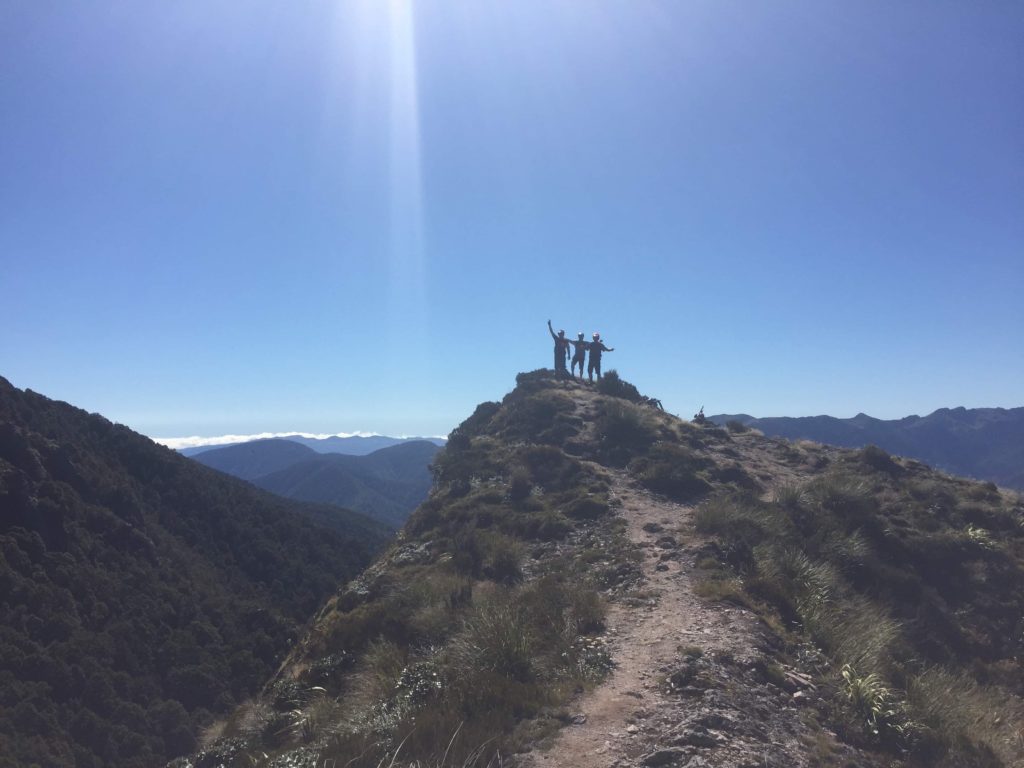 I had a smile on my face for the last 3 km of the day because I knew the hut was at the end and I had minimal pedalling left. When we finally arrived at the hut we dismounted our bikes, jumped out of our gear and took a break. The huts are incredibly well equipped, all you need to bring with you is clothes, food and a sleeping bag. A cold shower and freeze-dried meals were on the menu that night, along with a hard-earned beer. Everyone staying at the cabin that night was exhausted and I think everyone was in bed before the sun went down.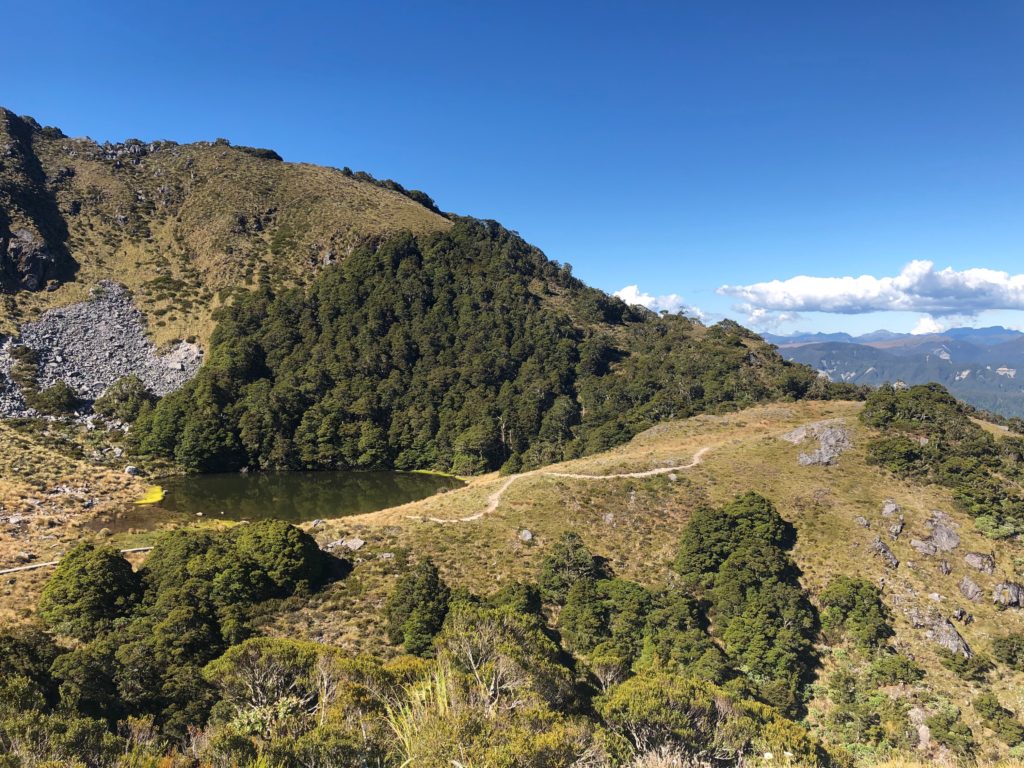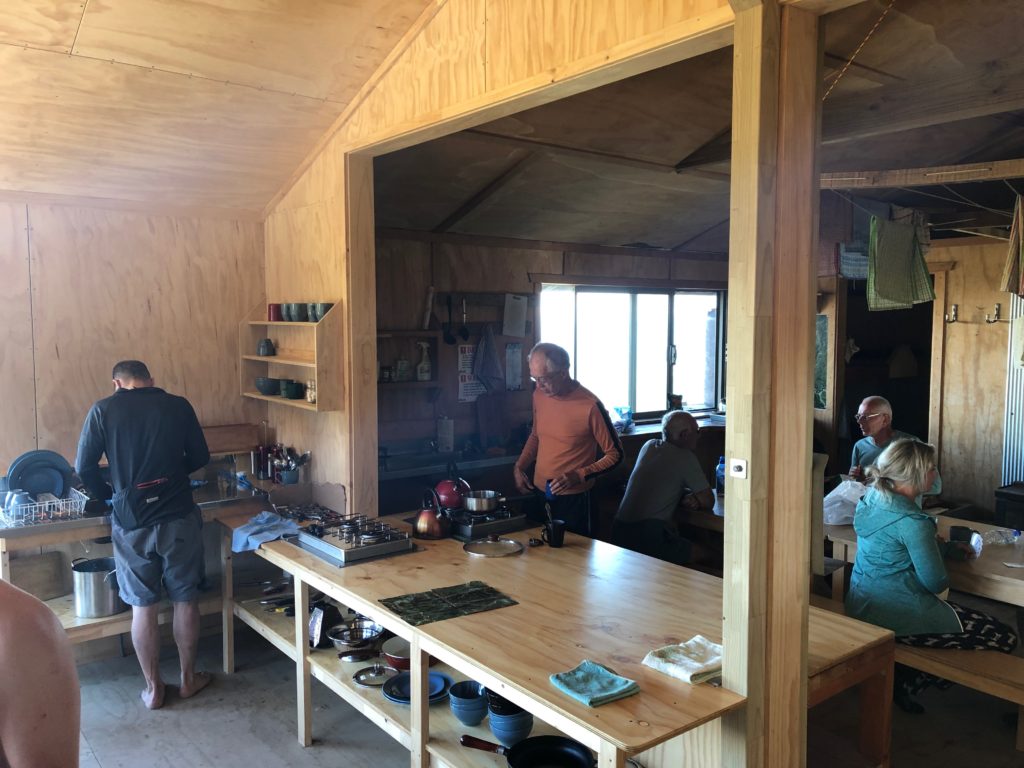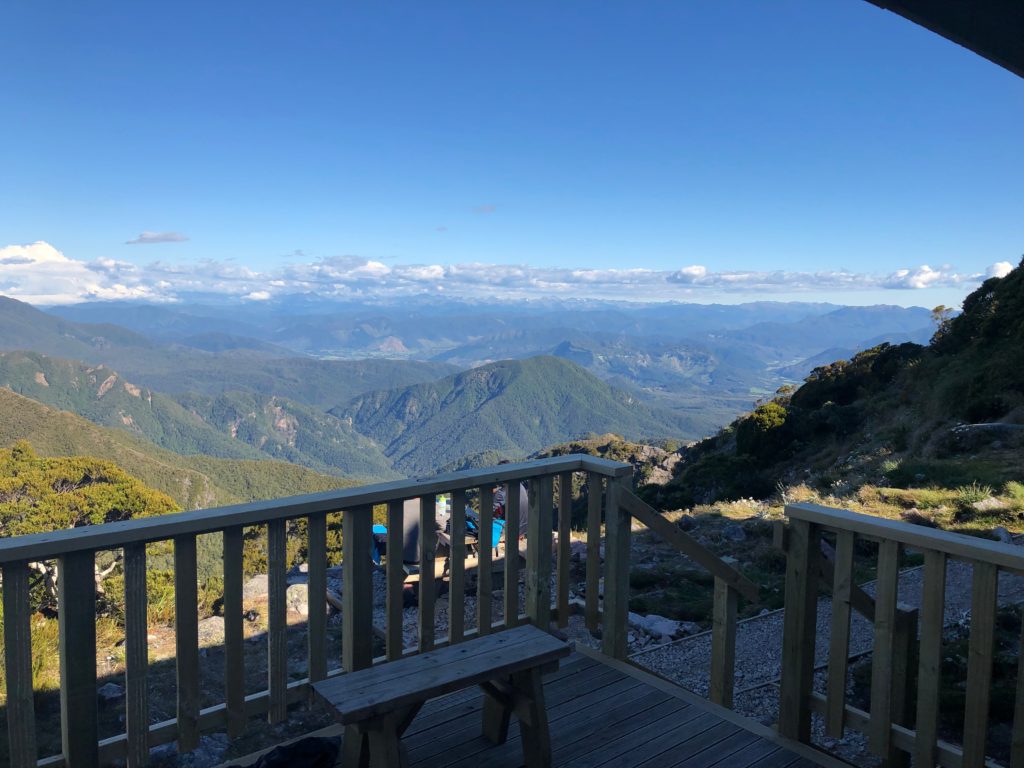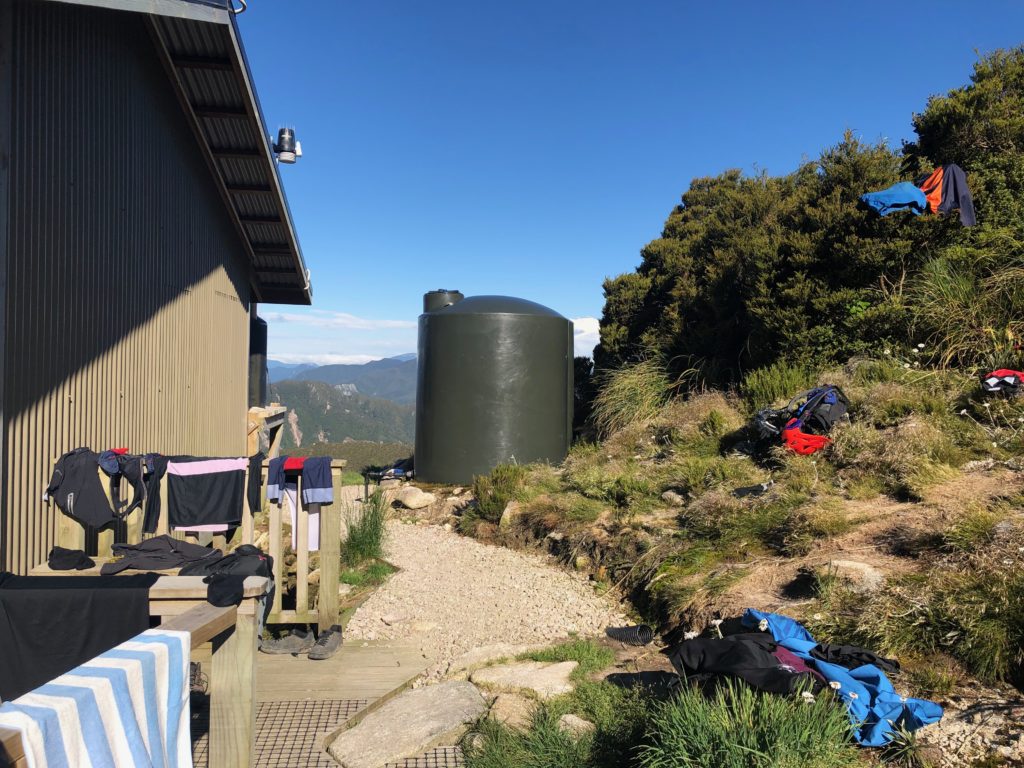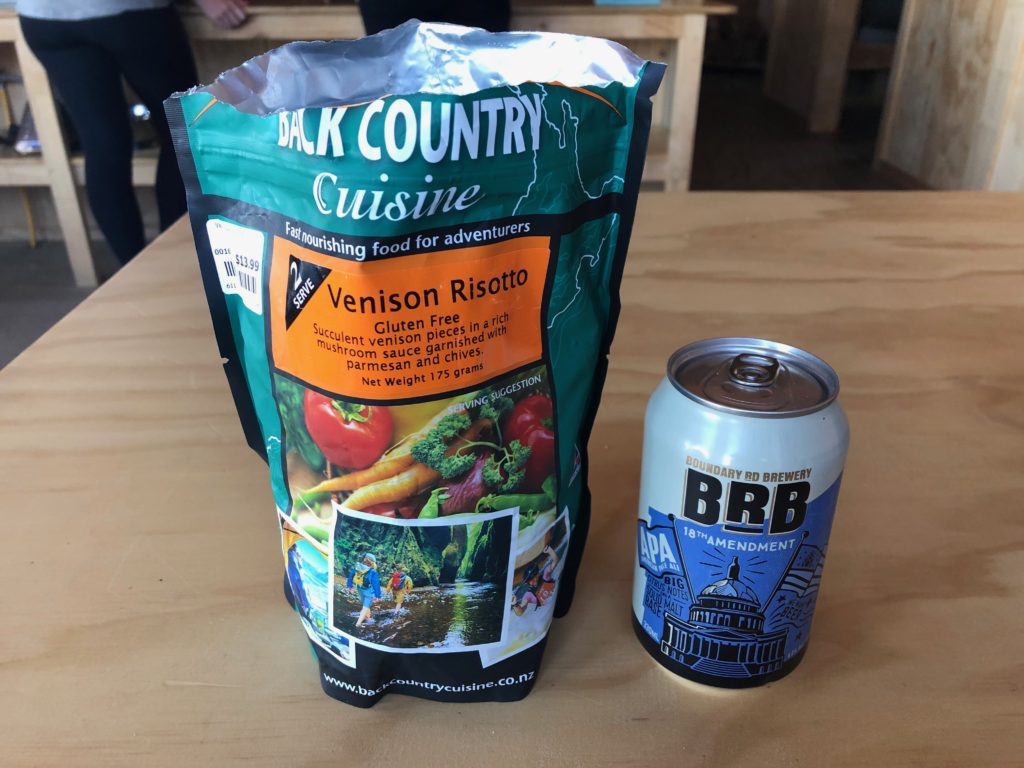 It was a good thing we got to sleep early because the keas were up at 4:45 am screeching until the whole cabin was awake. For those of you that don't' know, the kea is the world's only alpine parrot and they are little terrors. They have been known to steal car keys, wallets, passports and even pull the weather stripping out from around car doors. It was our plan to get up to watch the sunrise anyway, but it is a bit more pleasant to wake up to an alarm instead of a screeching kea. Regardless, we were rewarded by a beautiful sunrise, a great way to start the day.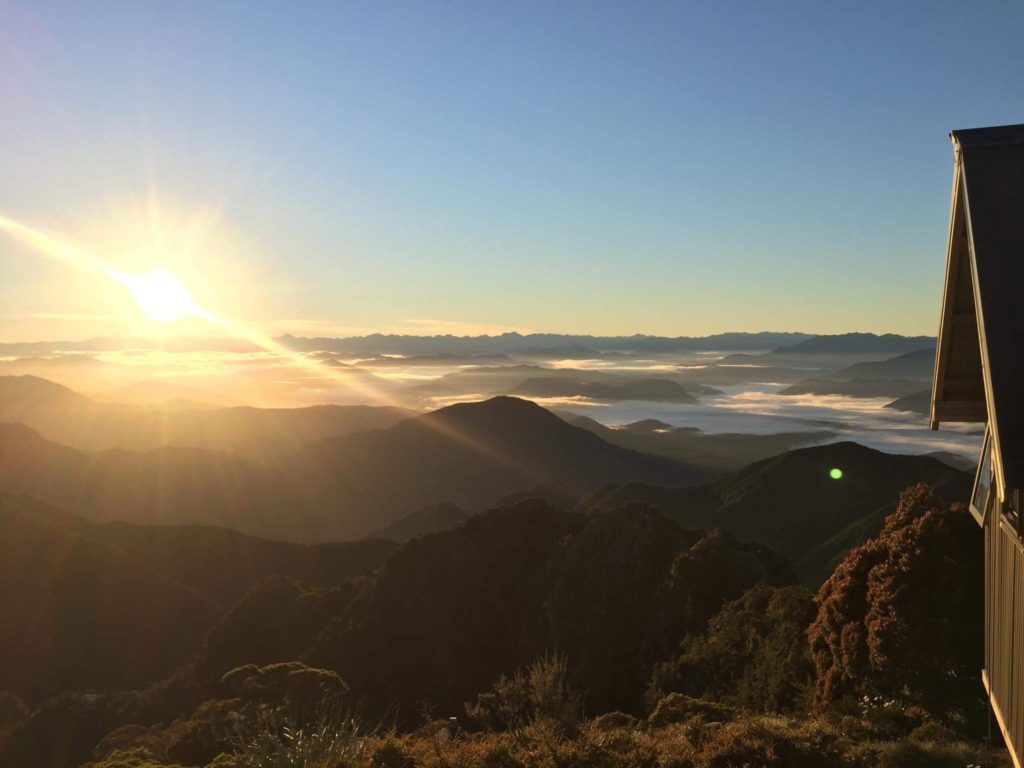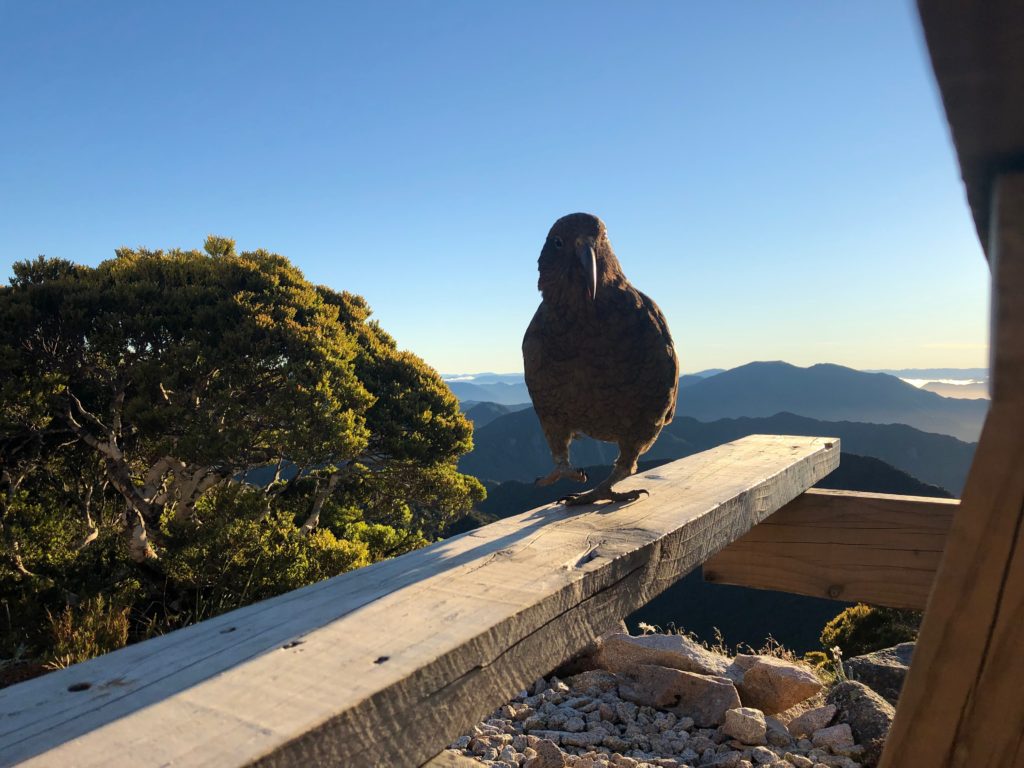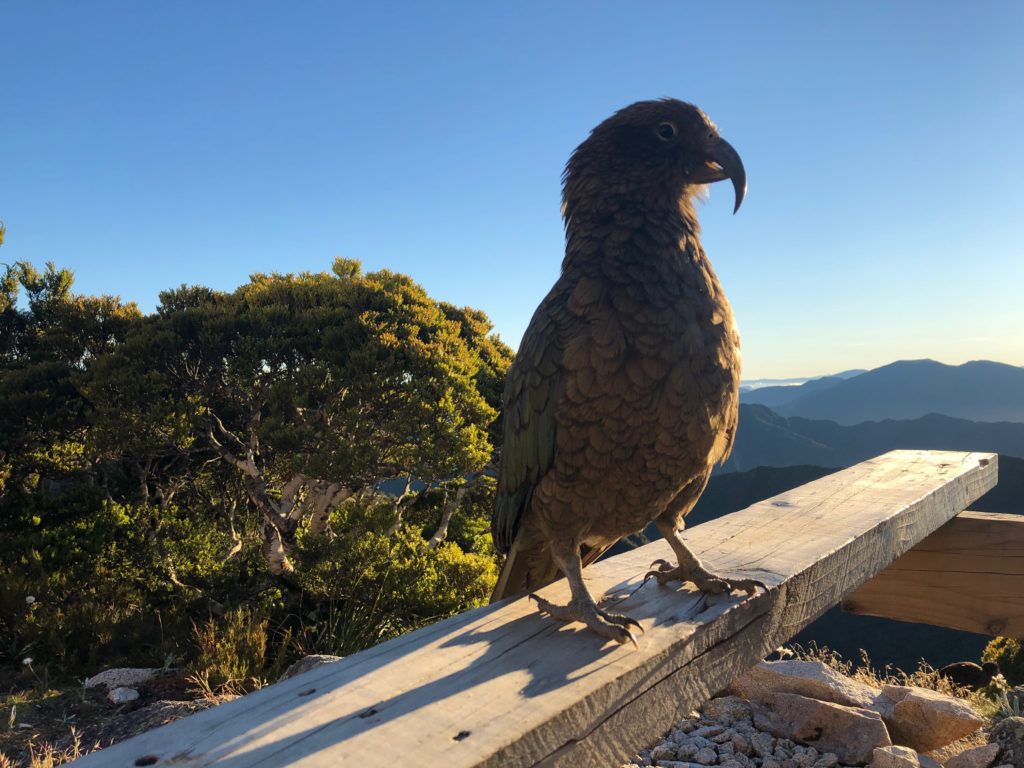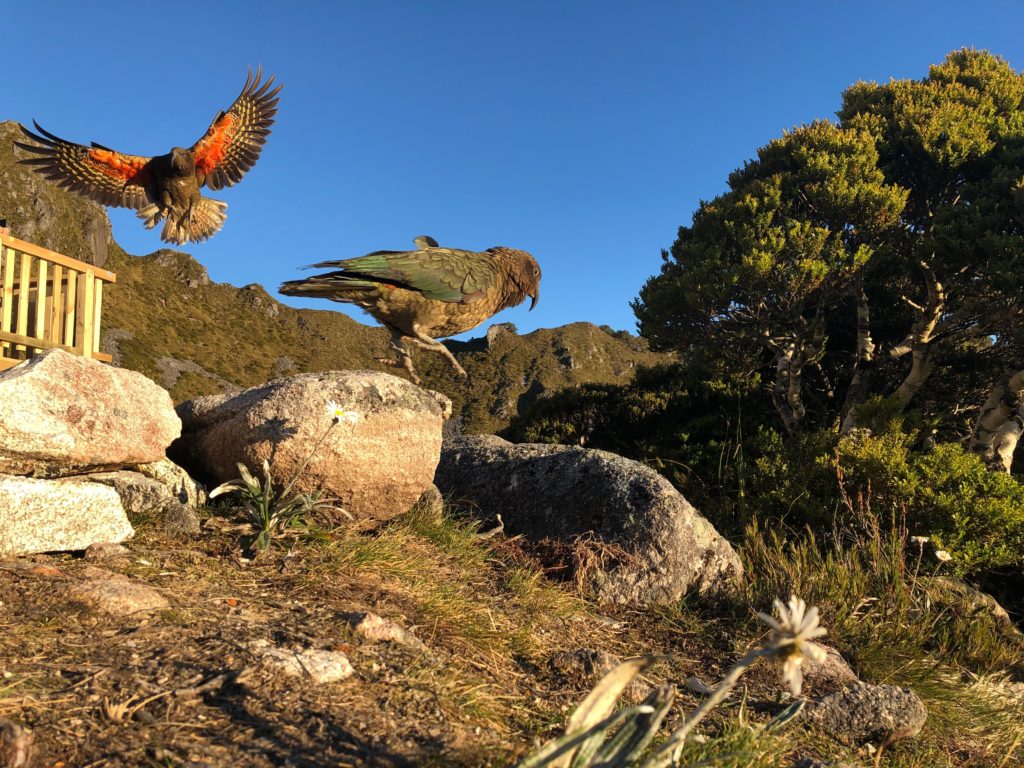 Day 2 was the longest day of the trek at 38 km. We left our hut at 8:30 am and started with a steep downhill switchback to wake everyone up. This was followed by a steep switchback uphill before we reach the steps that took us down the steepest section of the trail.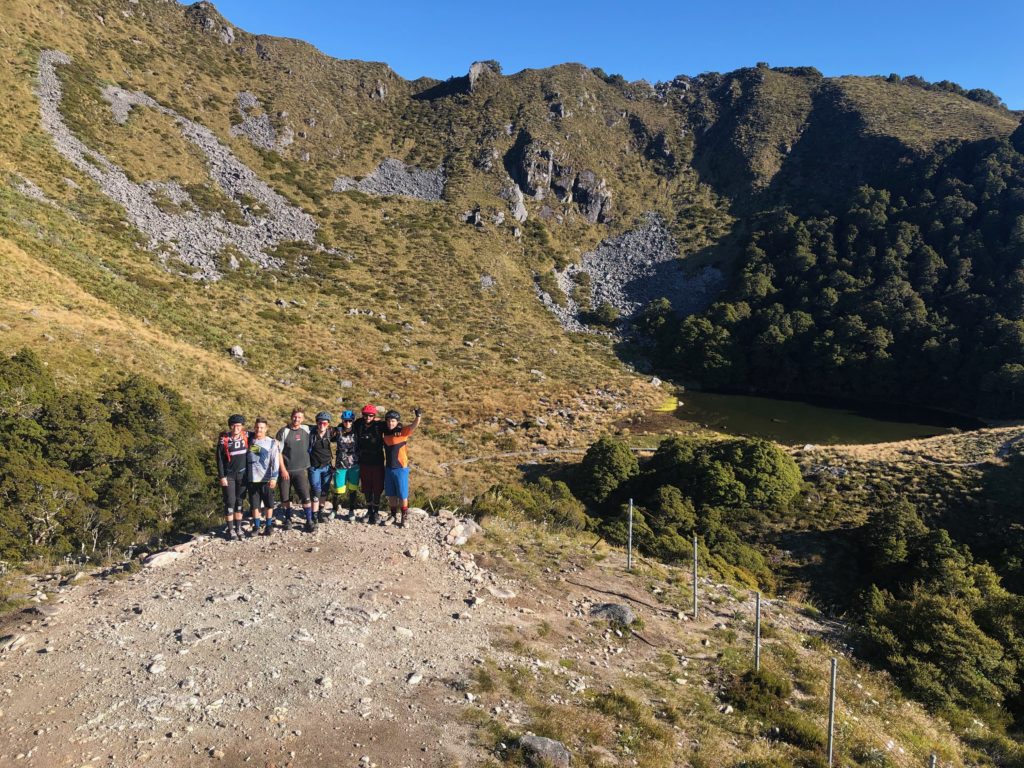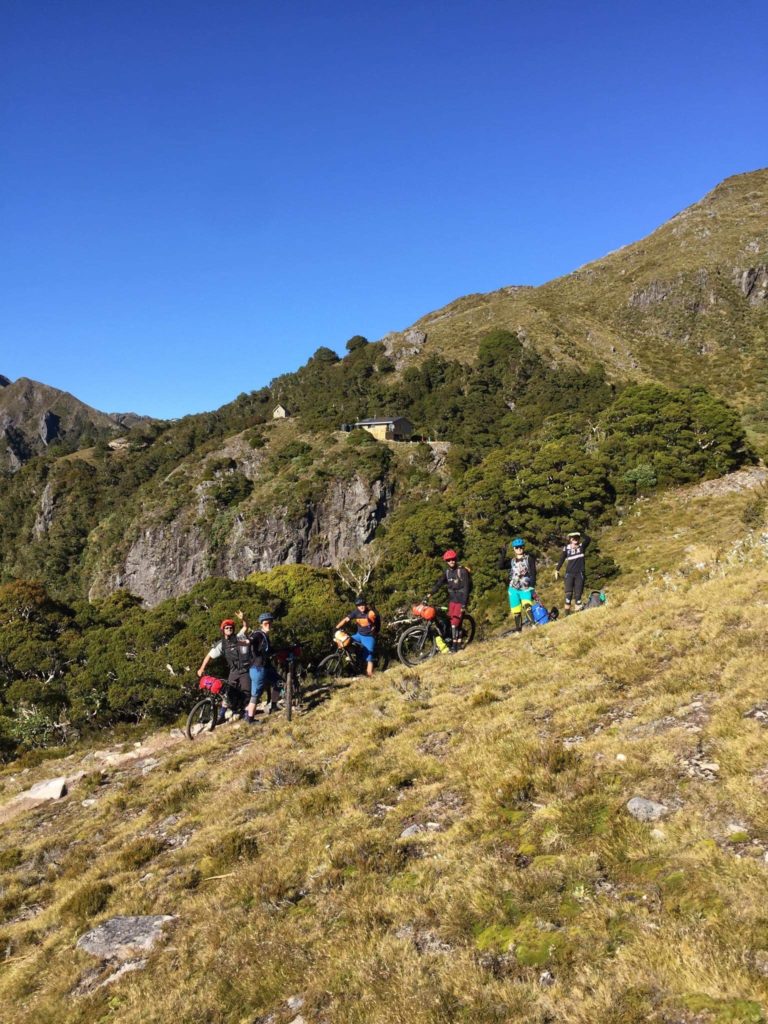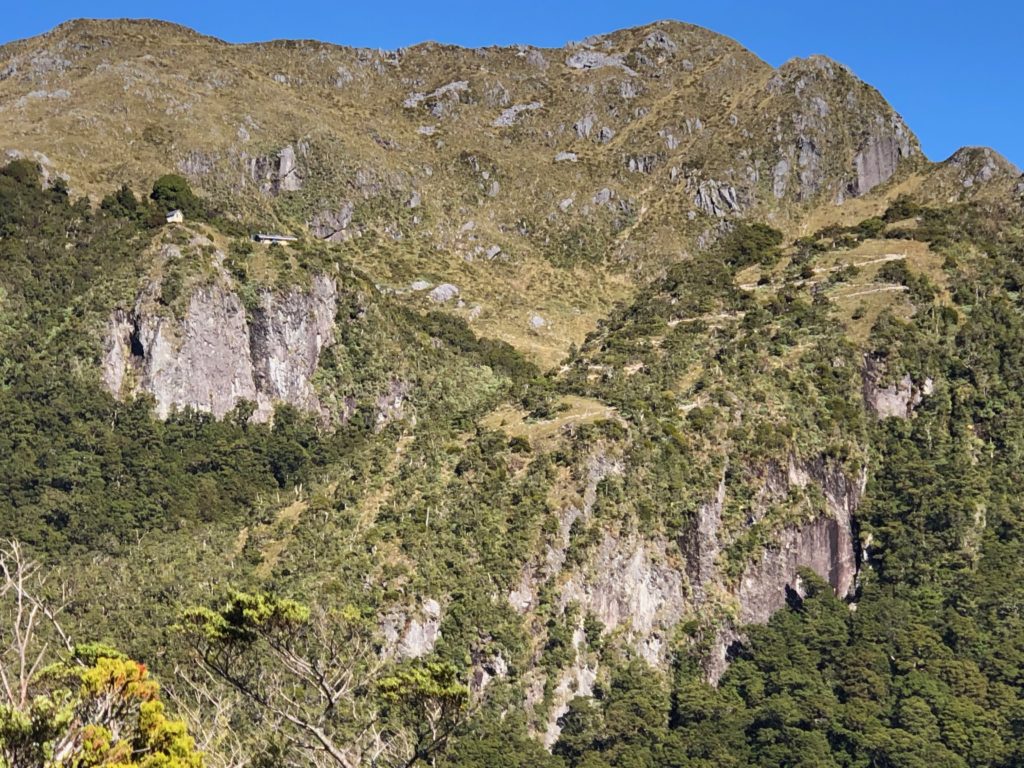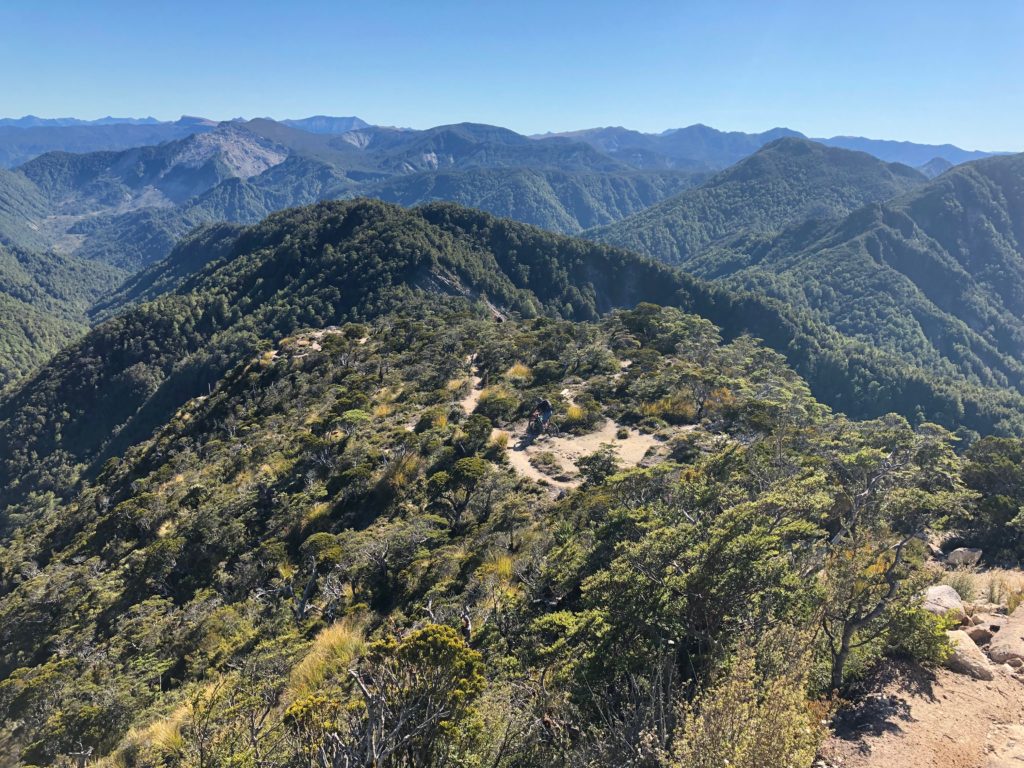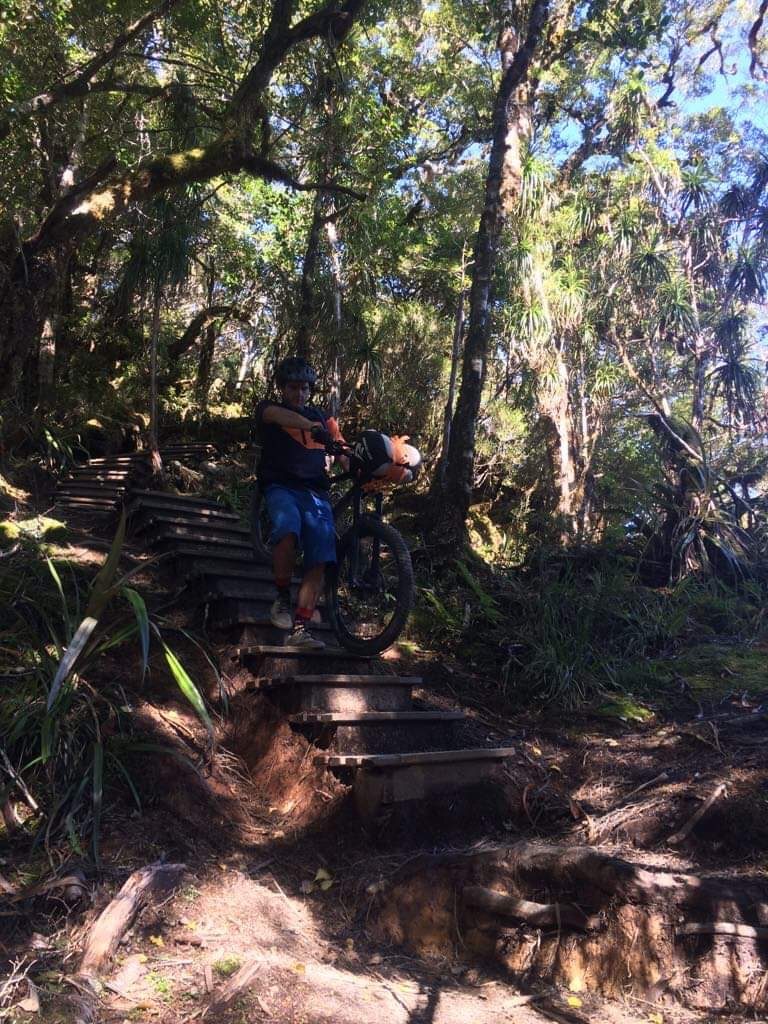 After all the switchbacks we enjoyed several kilometers of smooth flowy trail until we reached a swing bridge over a river. A few of us stopped to have a swim and a bite of lunch before continuing our ride. No matter where we stopped on the trail we were greeted by the local area weka who wanted to check us out and see if we had any food to offer. The wekas and slightly less pesky than the keas and also super cute.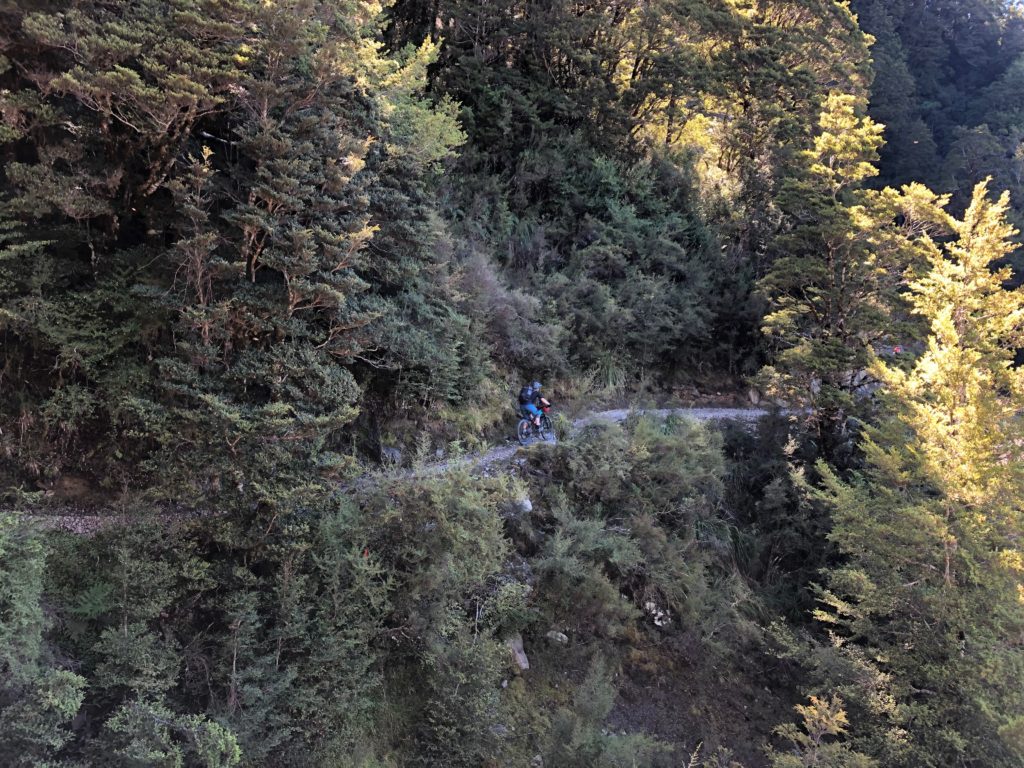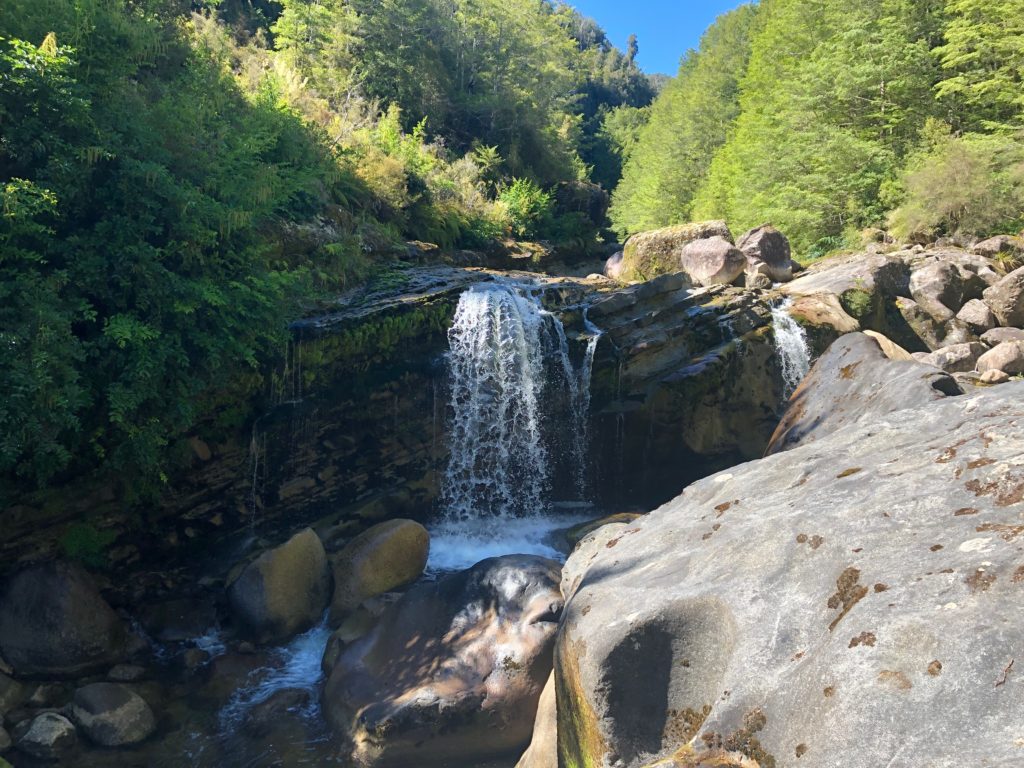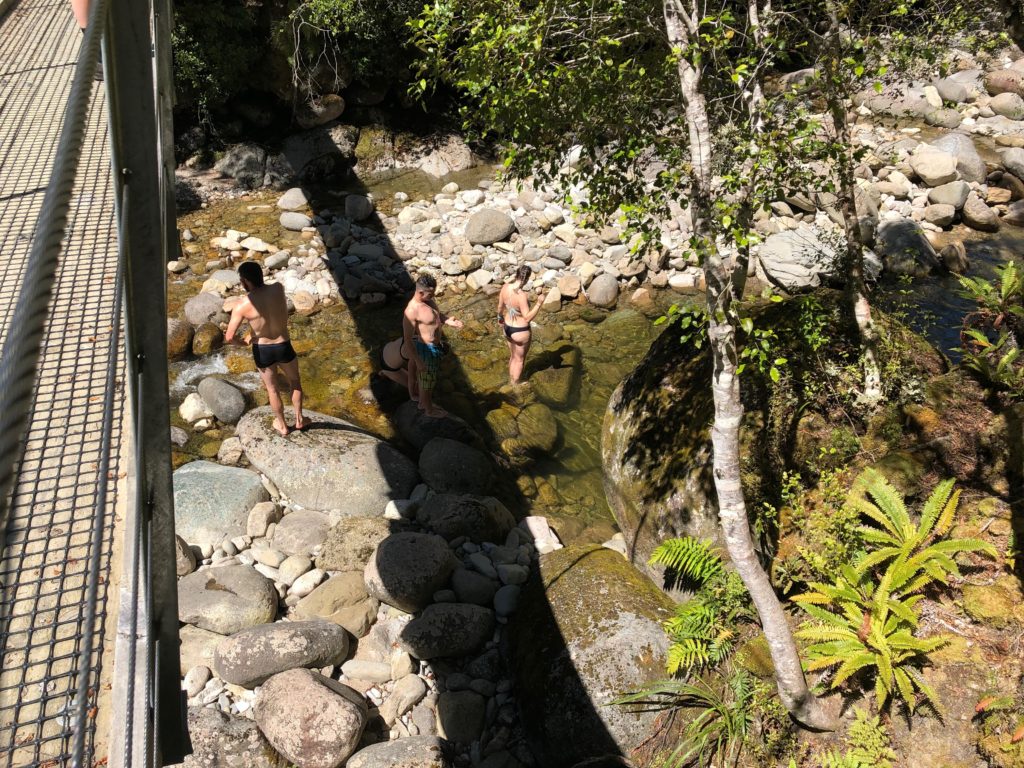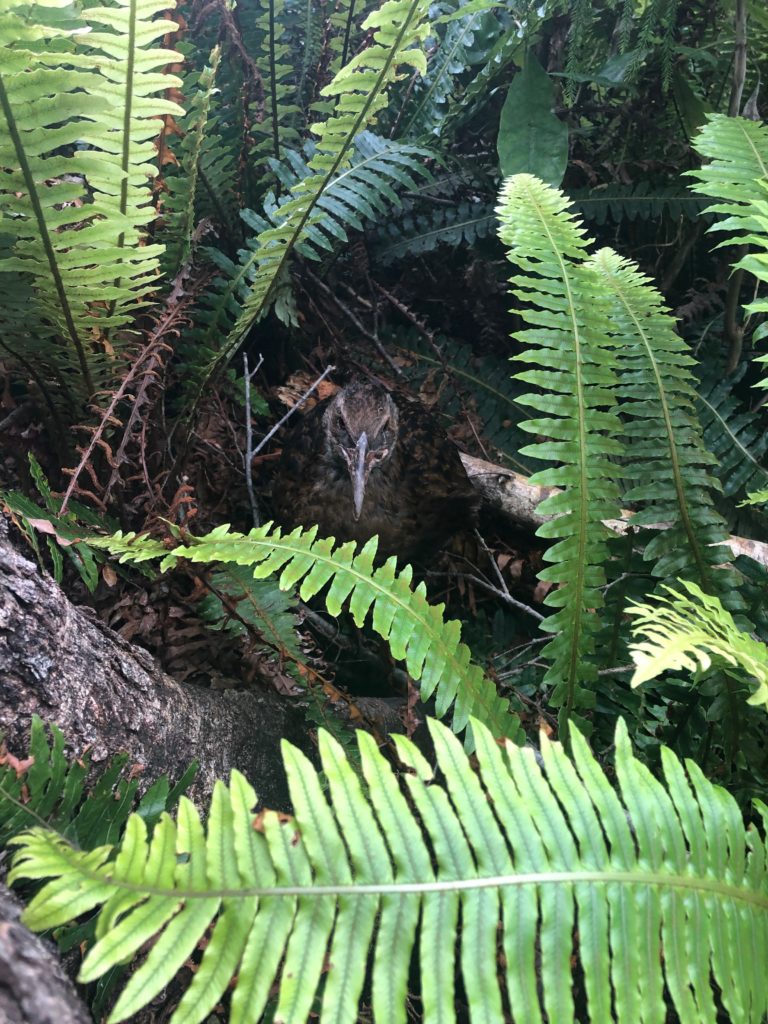 The toughest part of the day was The Boneyard, a switchback climb up an exposed rock valley in the baking sun. The trail was not that difficult but the heat coming of the rocks was draining. The Solemn Saddle sits at the top of The Boneyard and we decided to have a second lunch there before continuing on to some of the best downhill of the whole trail. The next 10 km of the trail was tight and flowy single track and lead down to the river, which we would follow for the rest of the second and third day.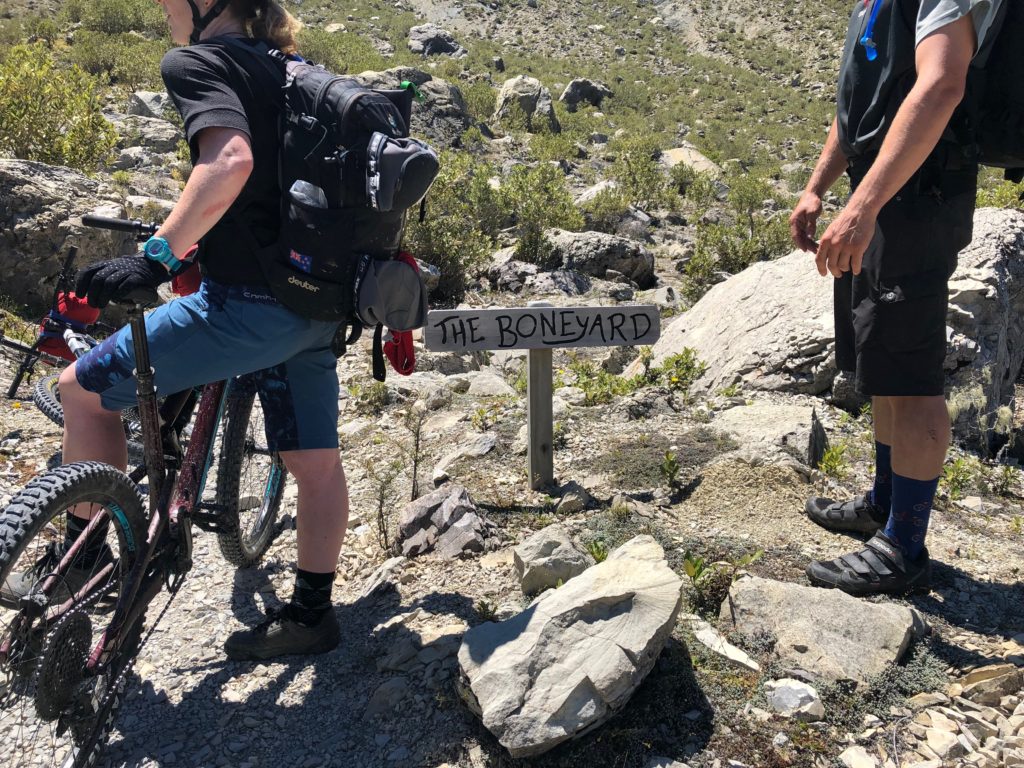 Our hut on Day 2 was located right beside the river and immediately after arriving we were inundated by sandflies. As they got worse in the evening we made sure to spend most of the time inside the hut with the doors closed. It was another long day so we relaxed and all shared the one last beer that I had with me. As with the first, night, we were all asleep fairly early.
We all felt less rushed on the morning of Day 3 because we only had 17 km of relatively flat trail, which seemed simple compared to the two days prior. It took us about 2 hours to get through the 17 km at a leisurely pace.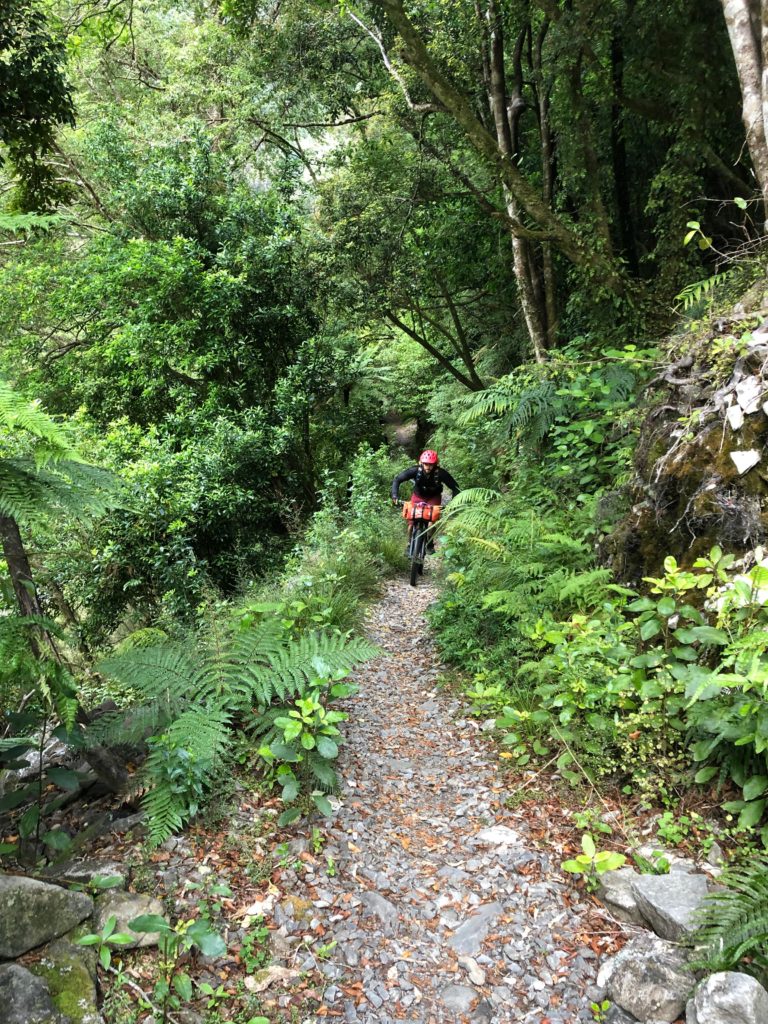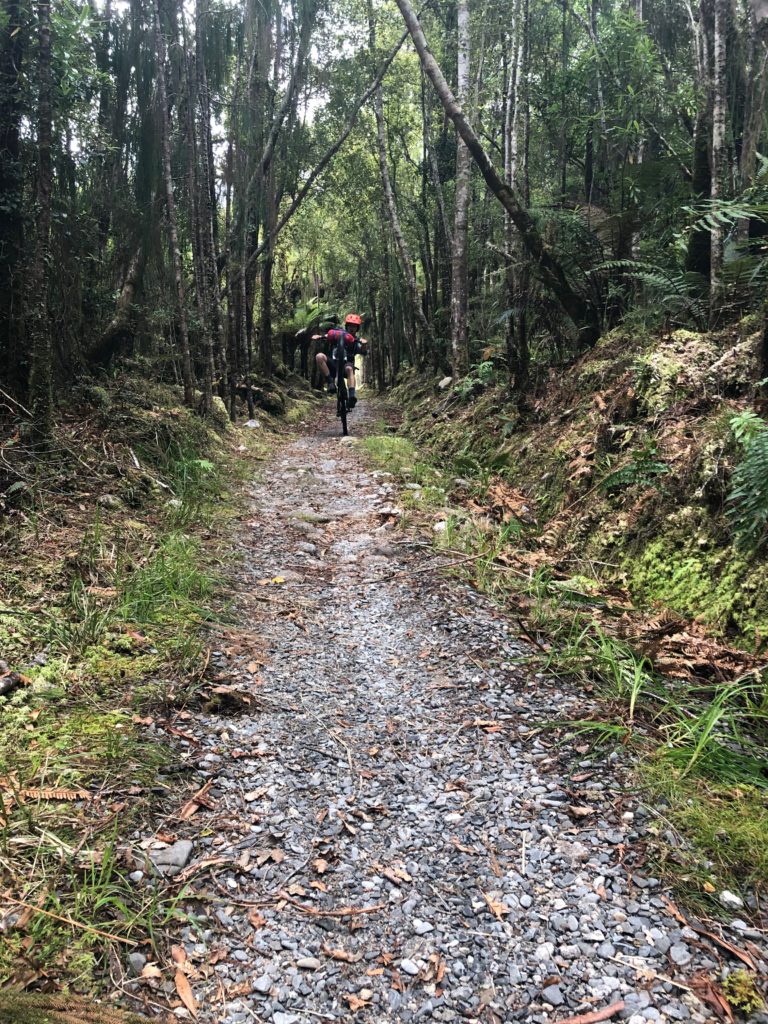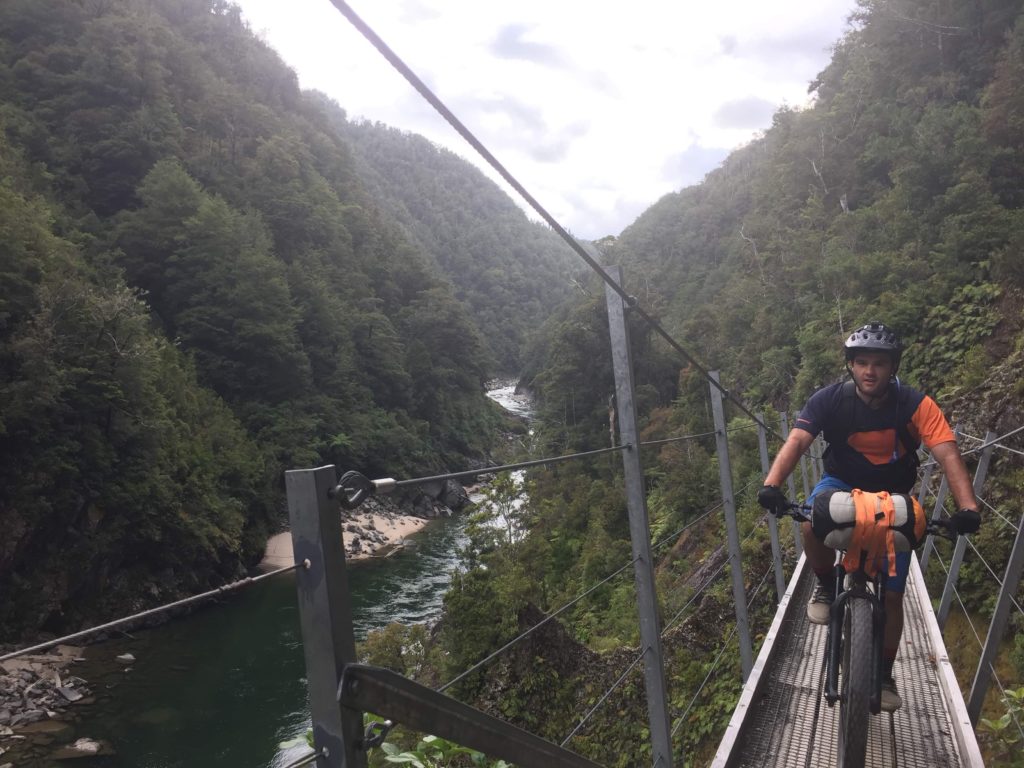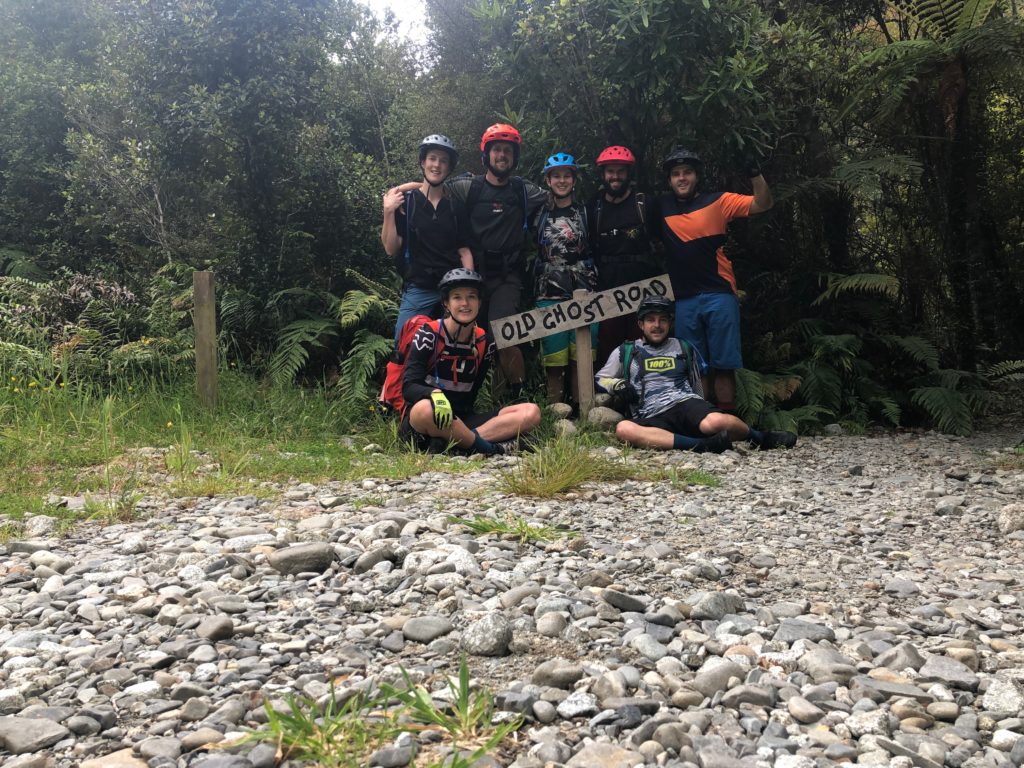 When we got to the end we discovered there was a newly build pub with cold beer, hand-made pizzas and hot showers. Yes, hot showers. We had all showered, ate some pizza and drank some beer when we began to feel some rain sprinkling down outside. We could not have timed it better. Steve arrived on time and we managed to get out of there and made our way back to Nelson before the weather worsened.
All in all, it was one of the best things I have done in my six years in this amazing country. A great crew and great memories, which I will cherish forever. Thanks guys for making it so memorable. Want to be notified when new blog posts are uploaded? Subscribe below.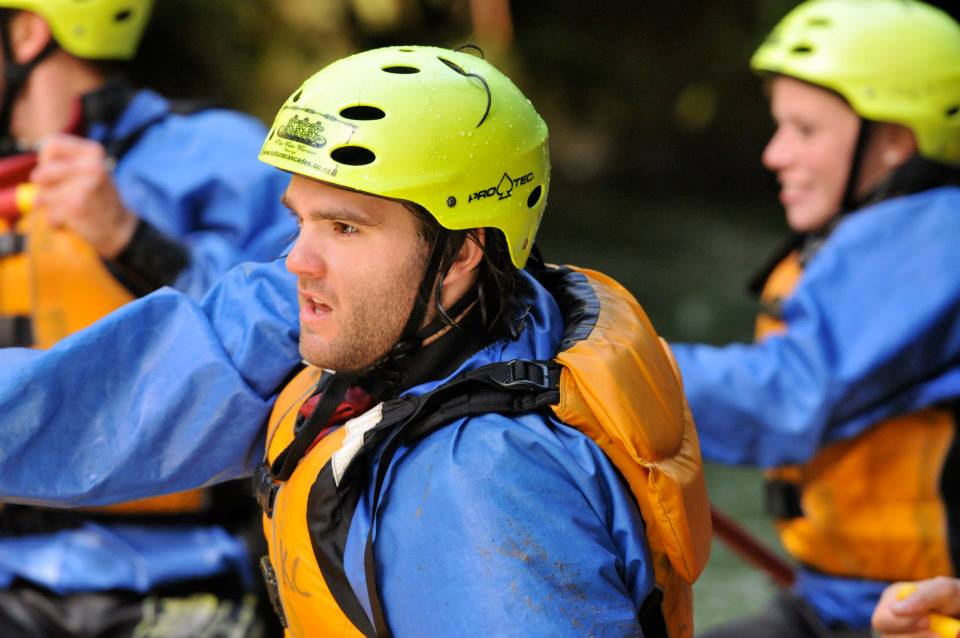 Dave has been on a mission, since 2010, to cross off the 100 items on his bucket list. The stories of his adventures are complimented by life lessons learned along the way and his travel tips are unique to his experiences.