This particular bucket list adventure was not from my list, it was actually from my girlfriend's list. When Lexi told me she wanted to go shark cage diving, I made sure to invite myself along. This was not an adventure I was going to miss out on.
It was getting late in the season when we decided to book it but we managed to get on the second last trip of the season, on 2nd June. We flew down to Invercargill the day before, where we had booked accommodation. It was a beautiful day across the whole country when we flew down to the tip of the South Island. As we were flying between Christchurch and Invercargill we were in awe of the incredible views of the Southern Alps and Mount Cook.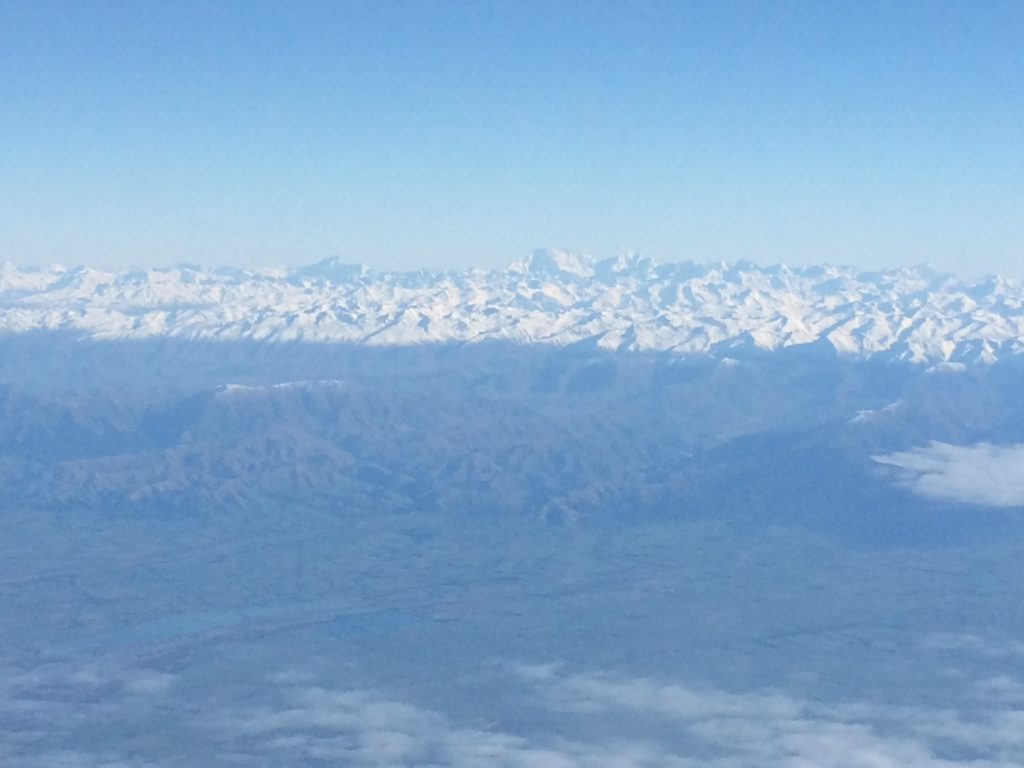 We landed in Invercargill just after noon and picked up our rental car. Although this trip was to fulfil something from Lexi's bucket list, she had done some research and found out we had a chance to cross something off mine as well. The Catlins Coast is known for its rugged beauty and unique wildlife. Porpoise Bay is known for a variety of animals such as Hector's dolphins, fur seals and sea lions. Just around the corner is Curio bay, which is home to several yellow-eyed penguins and blue penguins who nest in the hills along the bay. Seeing a penguin in the wild is on my bucket list so we were hopeful that we could make it happen.
We drove along the coast line, to the Catlins, and stopped at Waipapa Point Lighthouse to stretch our legs. It was a perfect day to capture the beauty of the area and, aside from one other tourist, we were the only ones there.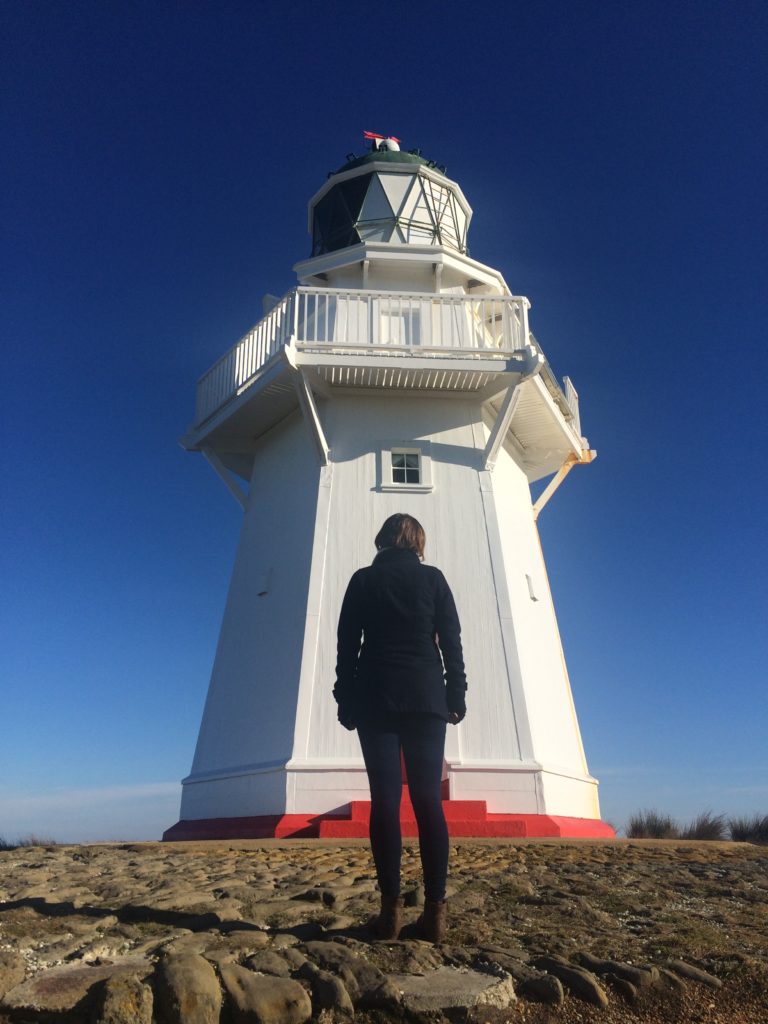 As we continued driving toward Porpoise Bay and Curio Bay the fog started to close in and made the area look gloomy. We pulled up to Curio Bay and were full of excitement to catch a glimpse of a penguin.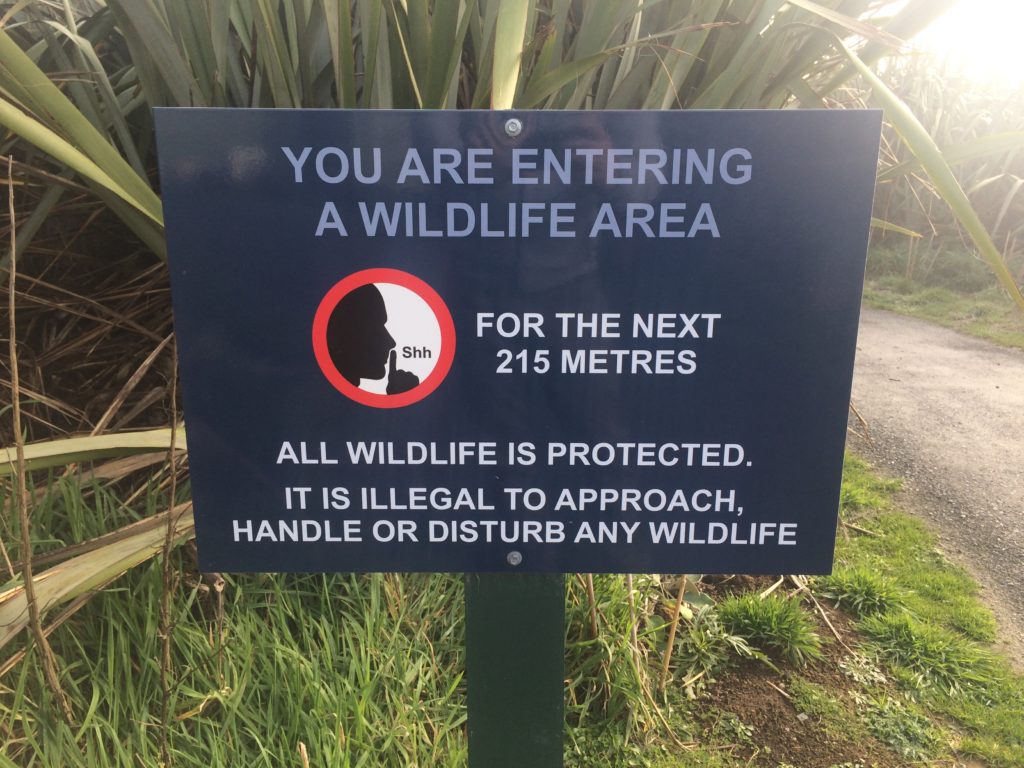 As we made our way down to the rocky shoreline there was little sign of life. We walked around the rock slabs and along the tree line, hoping to find a penguin walking around, but there were no signs. We walked around for about 40 mins before we accepted that I wasn't going to cross another item off my list.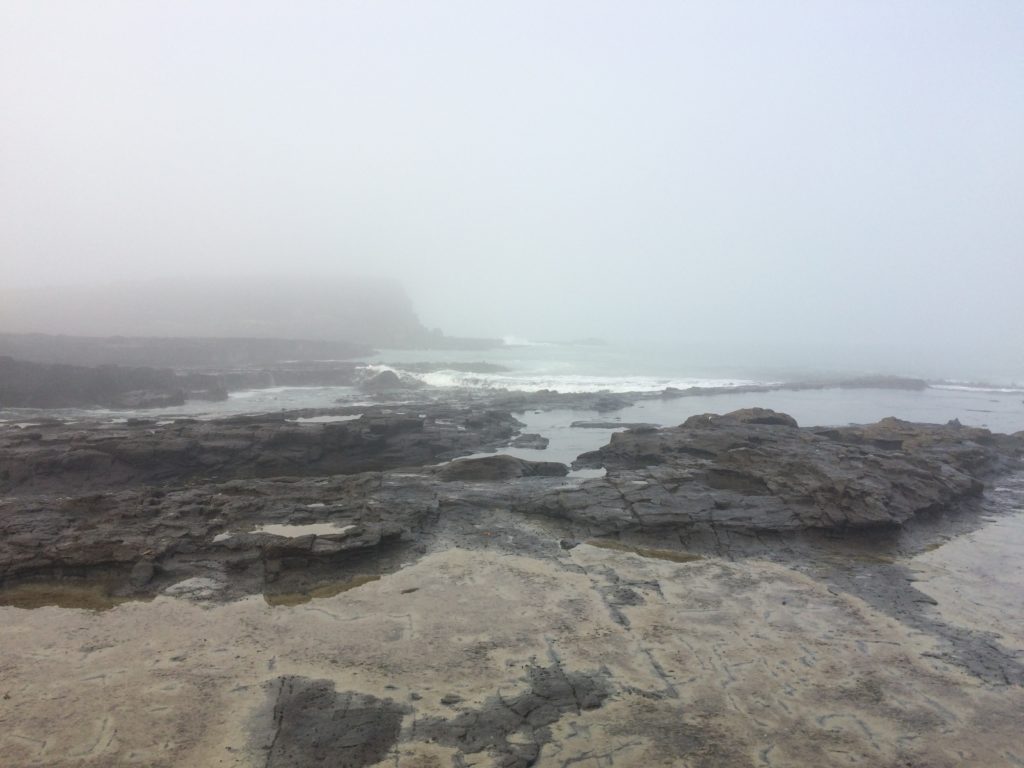 We decided to make our way over to Porpoise Bay to try our luck with the seals and sea lions. As we neared the edge of the cliff overlooking the beach, all there was to see was sand… not a single animal in sight. We began to feel like there was a damper on the weekend and were hoping that this lack of wildlife was not going to continue the following day. We had to make our way back to Invercargill without seeing any wildlife but at least we managed to take in some amazing views. Back in Invercargill, we grabbed some takeaway and returned to our accommodation for an early night before our much anticipated trip.
We woke up early and made the short drive down to Bluff to catch our boat for a 7 am departure with Shark Dive NZ. It was dark when we hopped on the boat, but the sun was just starting to peak over the horizon. The weather was forecasted to be great and the seas were meant to be calm, everything was lining up for us.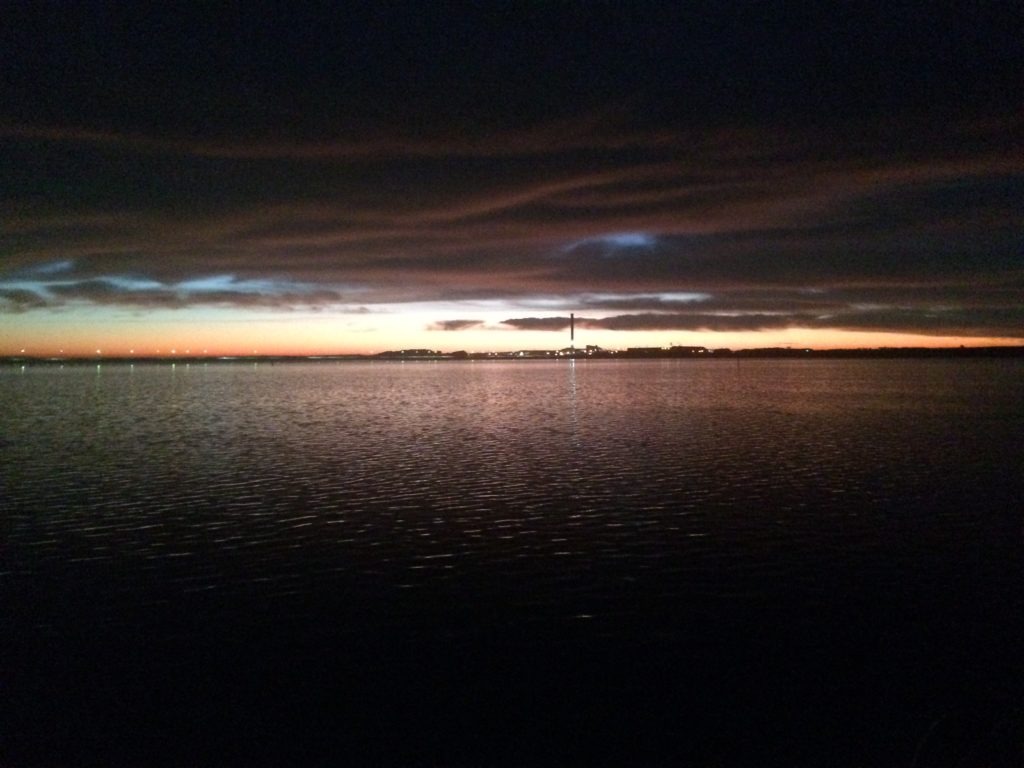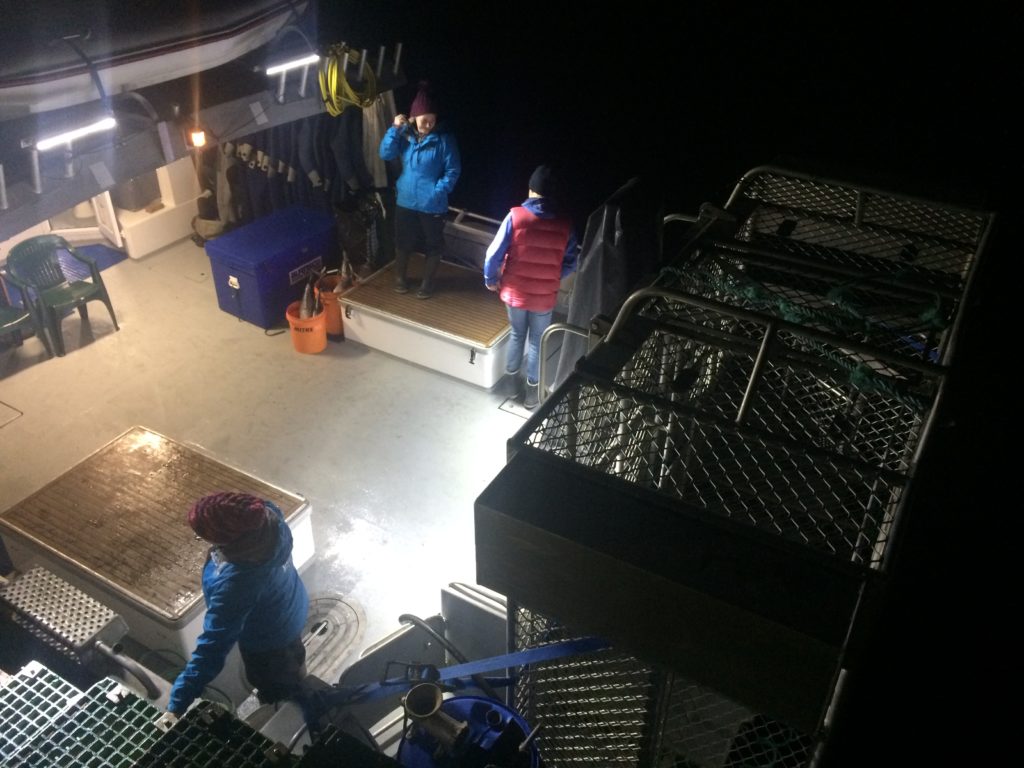 As we made the journey over to Stewart Island the sun began to rise behind us, which made for some magnificent colours across the sky.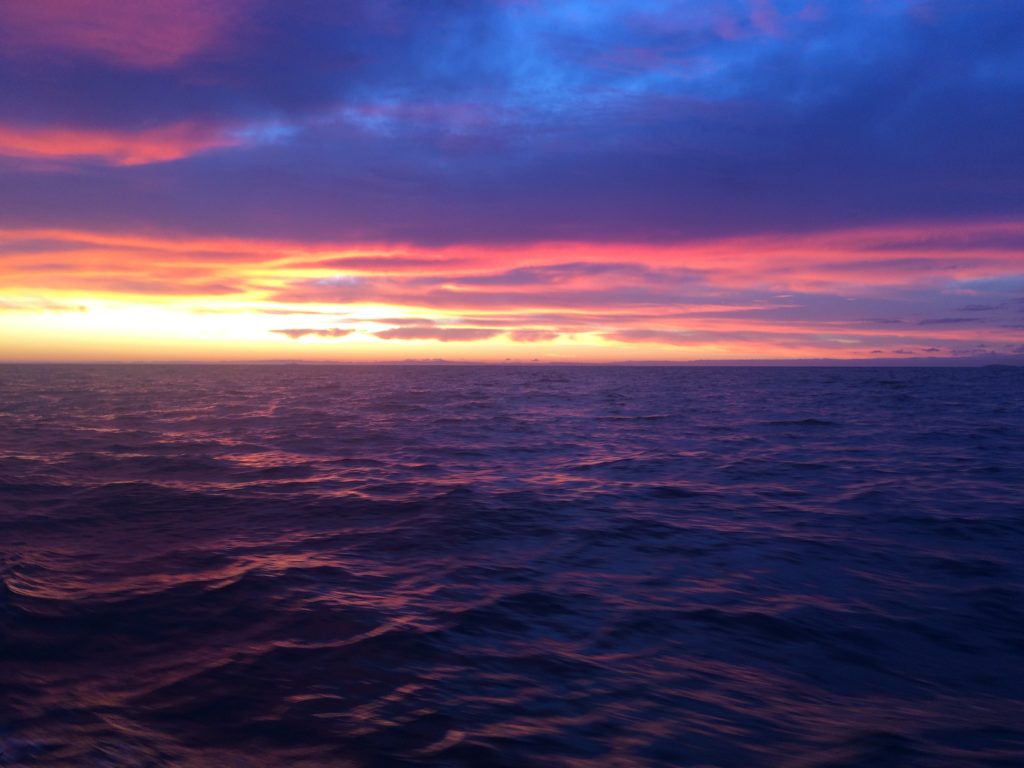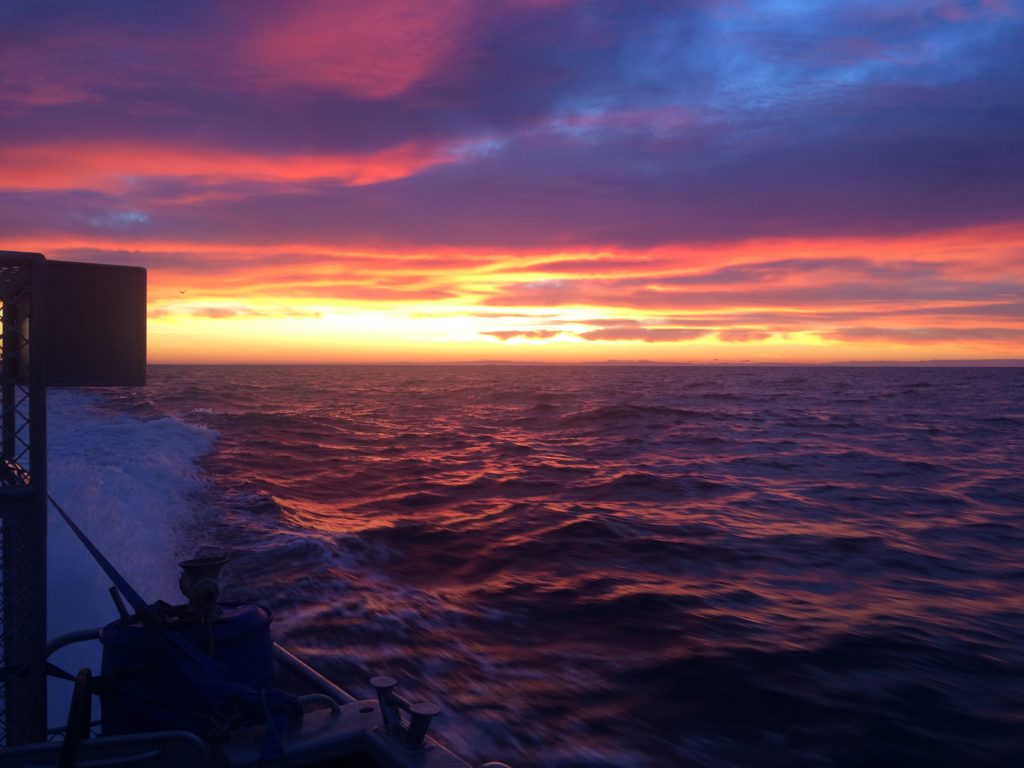 The boat ride took about 1.5 hours and the whole time we just kept getting more and more excited. I think Lexi was focusing more on the temperature of the water than any harm coming to her from a shark. The water temperature was down to less than 10 °C and we knew it was going to be a shock to the system.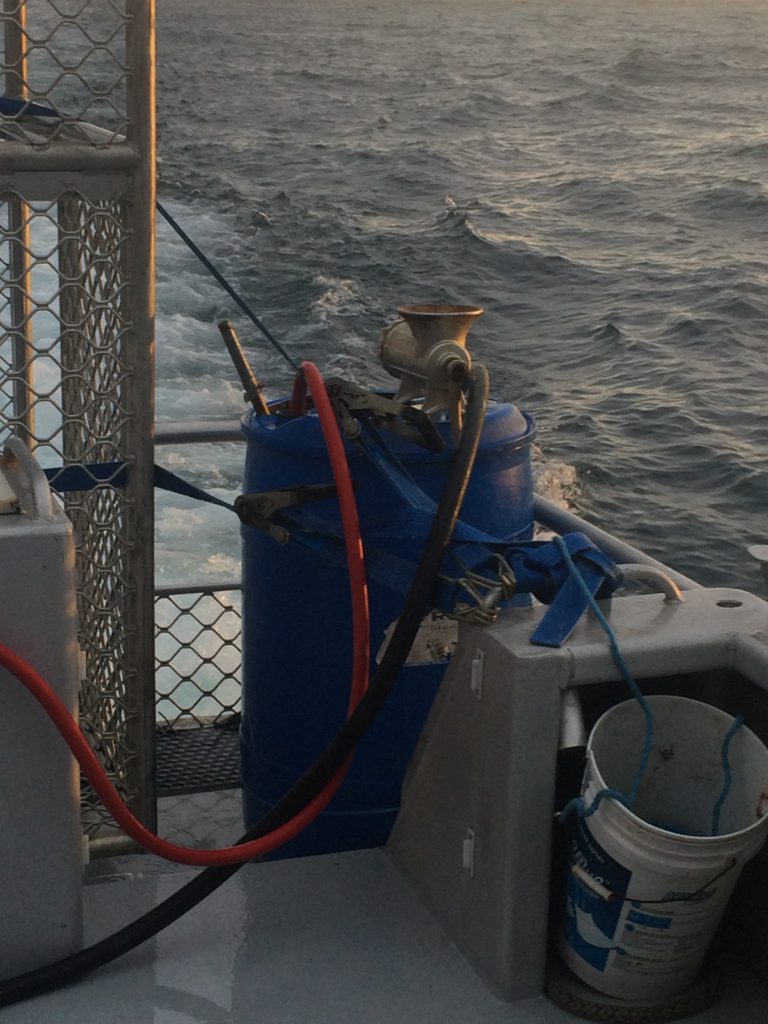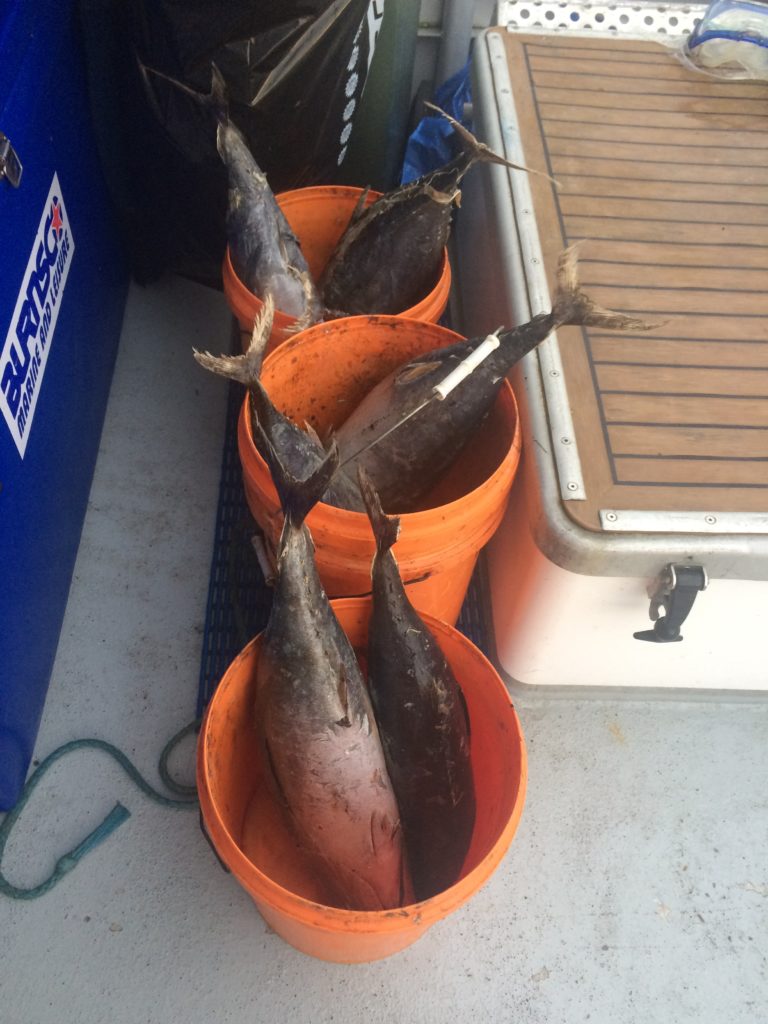 As the boat began to slow down at our location alongside Edwards Island, I began to feel concerned that we were going to have the same bad luck with wildlife as we did the day before. The boat stopped and the crew got busy dropping the anchor, unloading the cage and getting the chum ready. One of the crew members threw a few pieces of fish in the water to attract the sharks. We waited anxiously for about a minute, then BANG! A fin popped out of the water and the crew member yelled "Sharks are here"! I was elated that we were actually going to get in the water with these majestic creatures.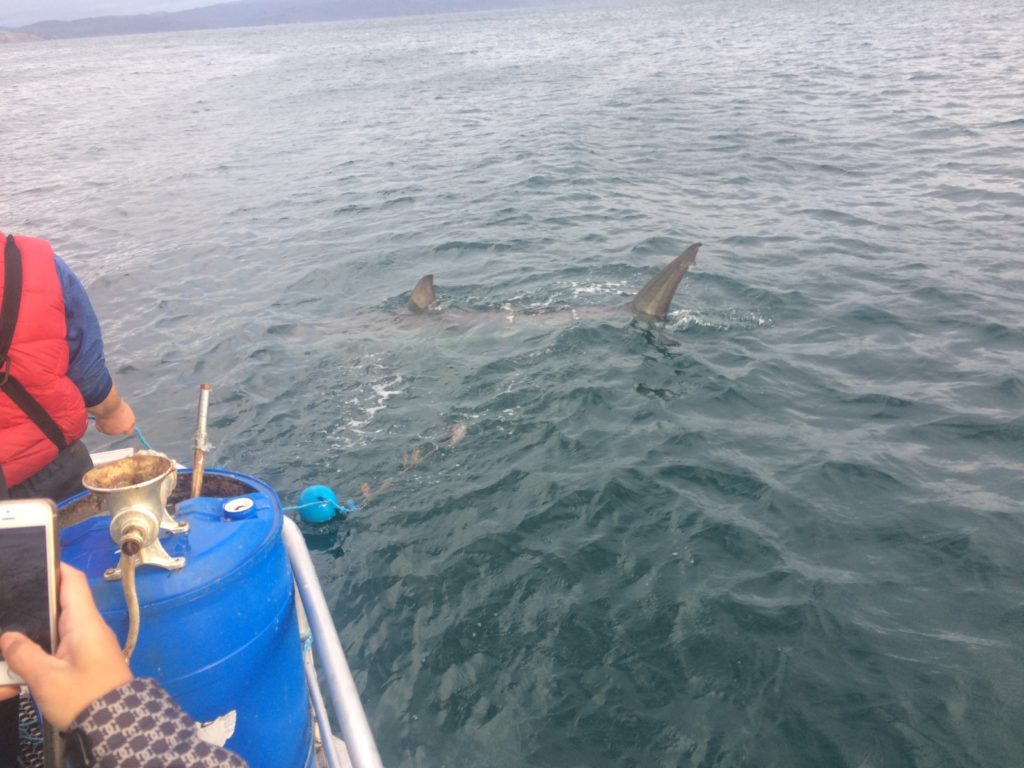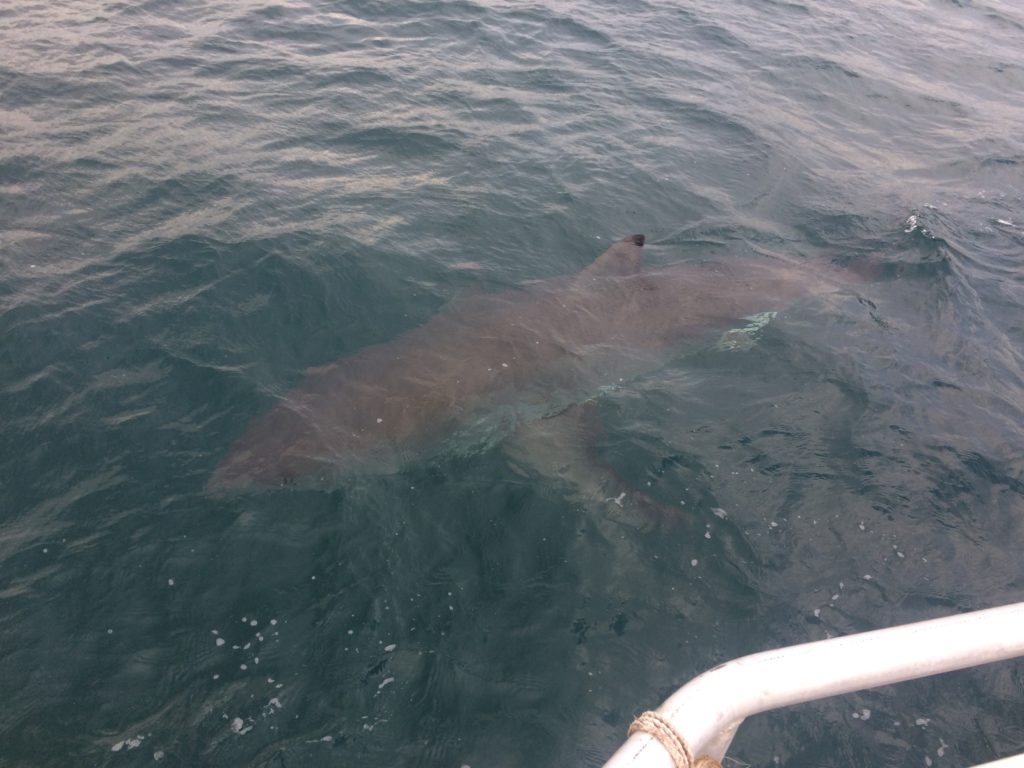 At first there was only one shark, a male great white, about 5 m long. He was swimming circles around the boat, checking it out. Lexi and I were put on the first crew to enter the water as we had prior scuba experience. We donned our 7 mm wetsuits as we prepared to get into the water. The cage was large enough for five divers: one on either side and three along the back. Lexi and I were positioned along the back so we had great views as the shark approached the cage from open water.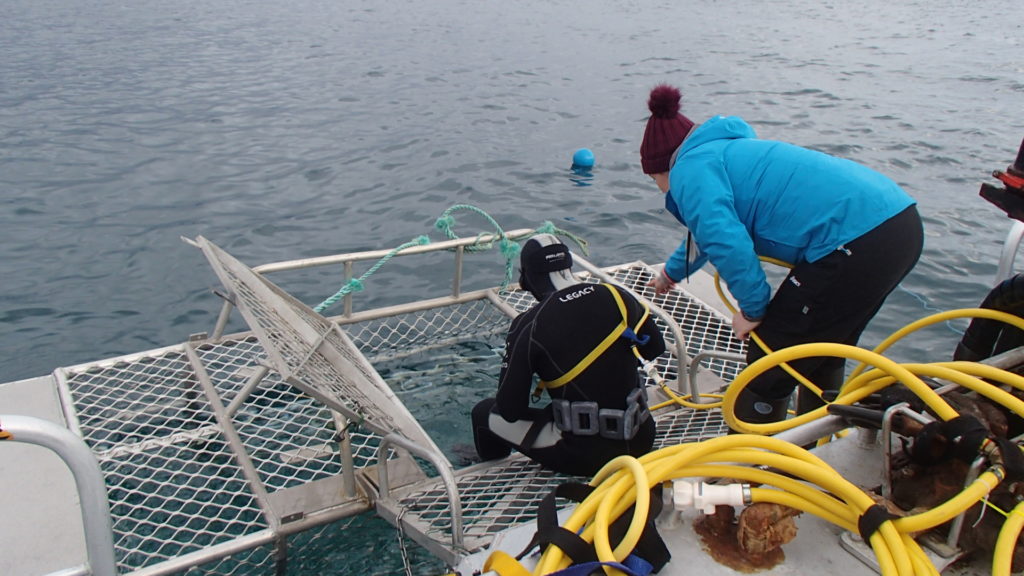 We spent 20 minutes in the water and I was absolutely fizzing the whole time. Lexi and I were getting chilly but I was too excited to even think about the water temperature. It was so amazing to watch this graceful creature up close. It appeared that he glided through the water without moving a muscle, so streamlined and purpose-built to be an apex predator in the ocean environment.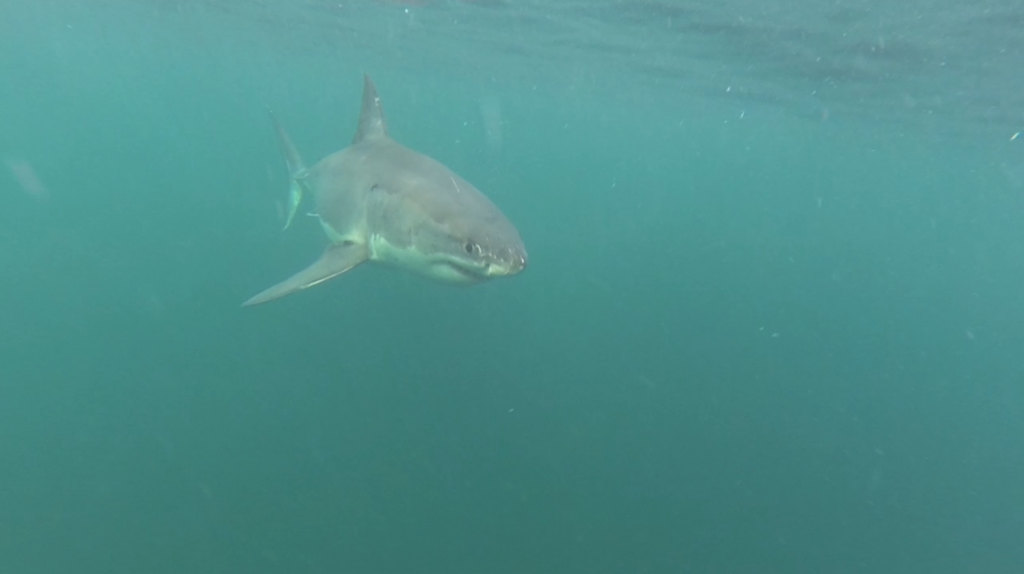 Most of the time he was gliding past us at a constant speed and having a closer look as he bumped up against the cage. But when a piece of chum was thrown in the water he covered a span of 10 m in a fraction of a second with one kick of the tail. This demonstration of power completely astonished me.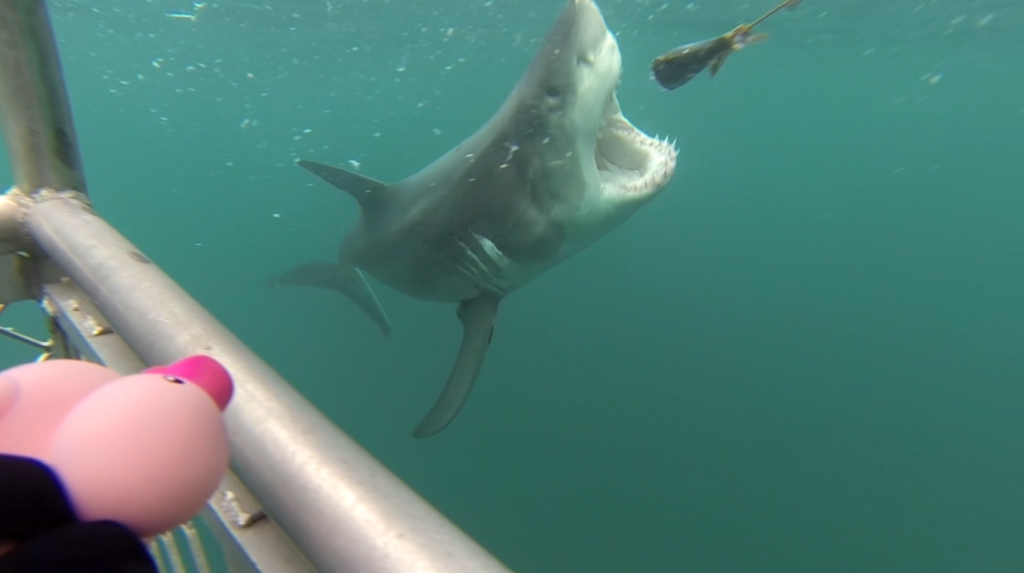 After 20 minutes, we received the signal to hop out of the cage and let the others have a chance to see the shark. When we got out of the water the crew had cheese toasties and hot drinks ready to warm us up. Lexi had a couple drinks and some warm food to raise her body temperature back to normal. I didn't think I was going to get her back in the water but she was just as excited as I was so when the second crew got out, it was our turn to go back in for a second dive.
By this time there were three sharks hanging around, all about 5 m long. There was one beefy male with a massive stomach. He was also the quick one. He was even faster than the first shark and I know the attack speed we were witnessing was still nothing like it would be out in the open ocean.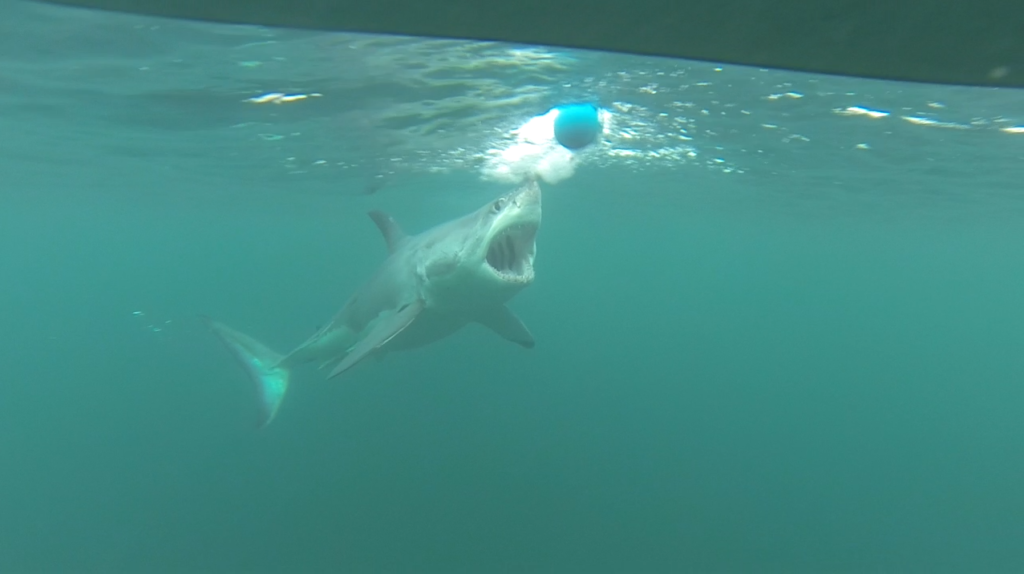 Once there were three sharks circling us, it became even more ominous. As I was focusing on one shark, another would come up and bump the cage behind me. I would turn my head for just a second to look at the other shark and by the time I turned my head back, the first shark had disappeared. You would think a 5 m creature would not be able to hide that easily but they disappeared and reappeared like a magic show. This proves why they are such effective predators.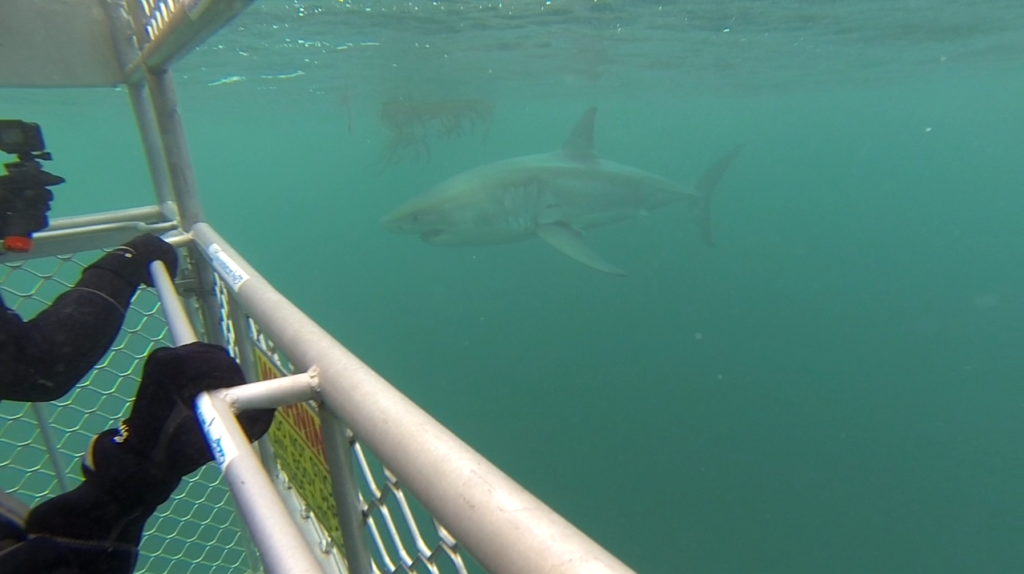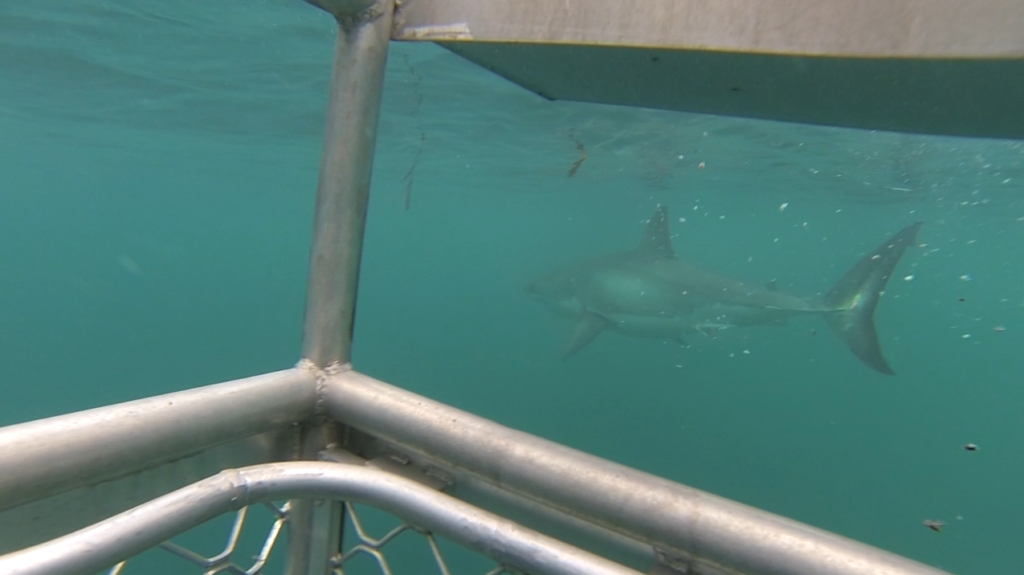 I wanted to bring something novel along with us to get a cool photo with one of the sharks. The night before, we picked up a couple rubber duckies to pose with us while we snapped selfies with one of the sharks. It took us a while to get some good shots but we finally got a few good ones.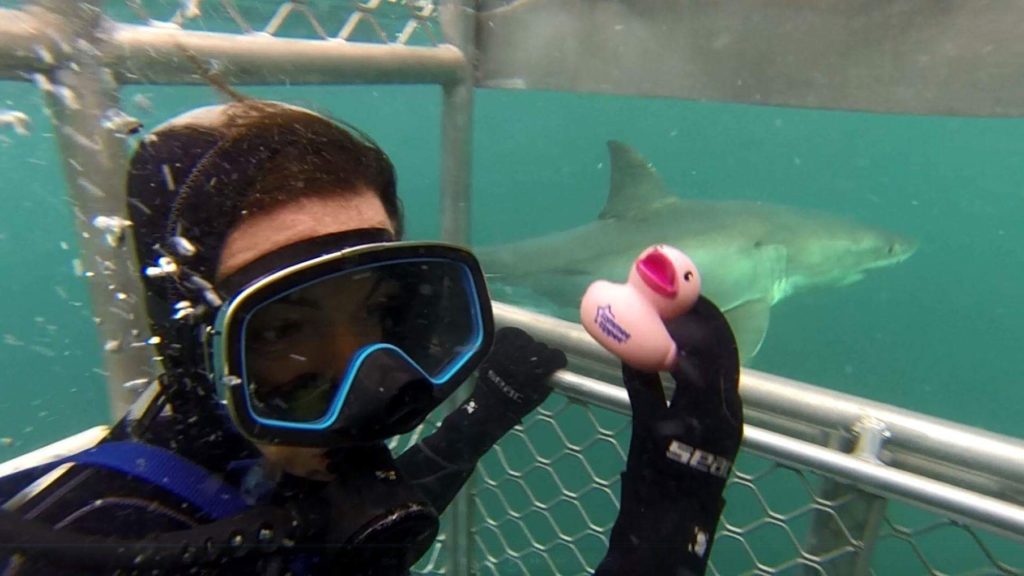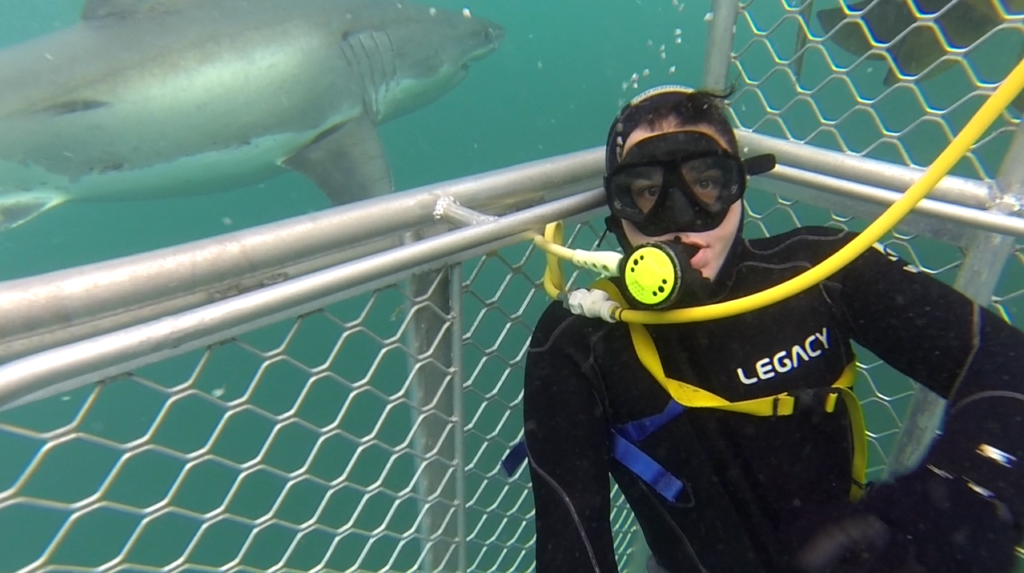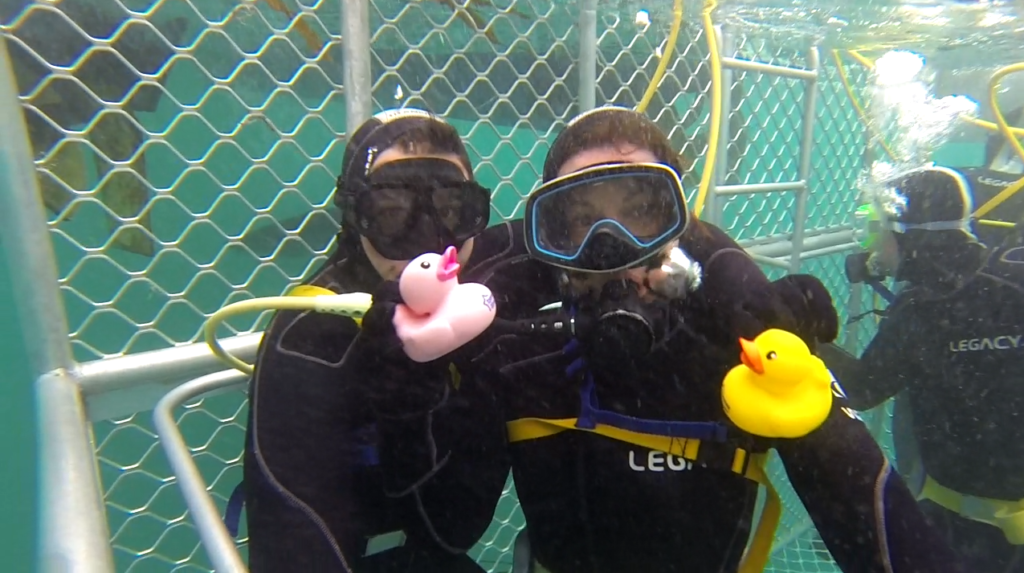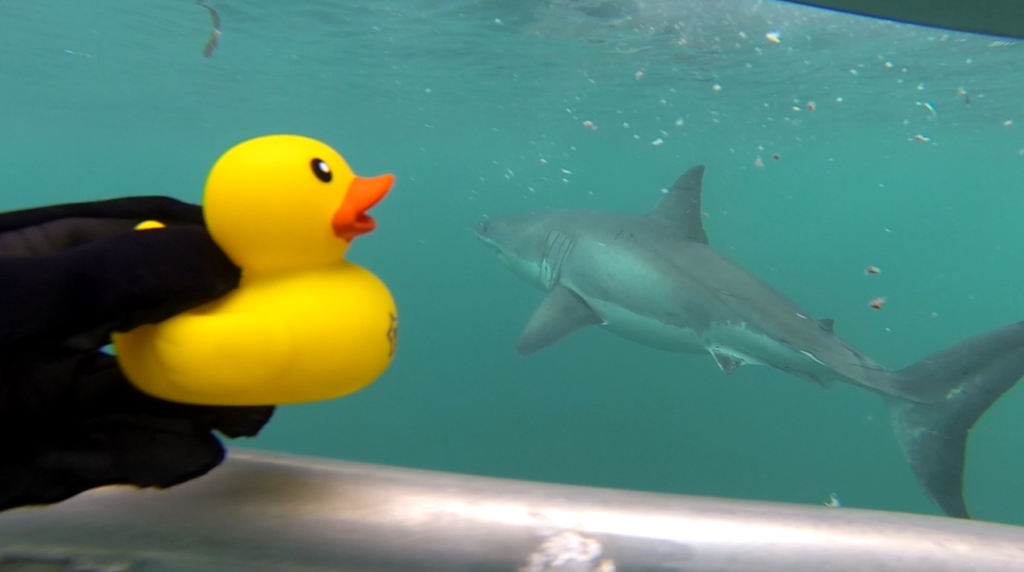 After about 30 minutes, the cold water was starting to cut through me and it was time to get out. I was cold enough that the thought of getting back into the cage was not appealing anymore. Lexi agreed so we got out of our cold wetsuits and into some dry clothes.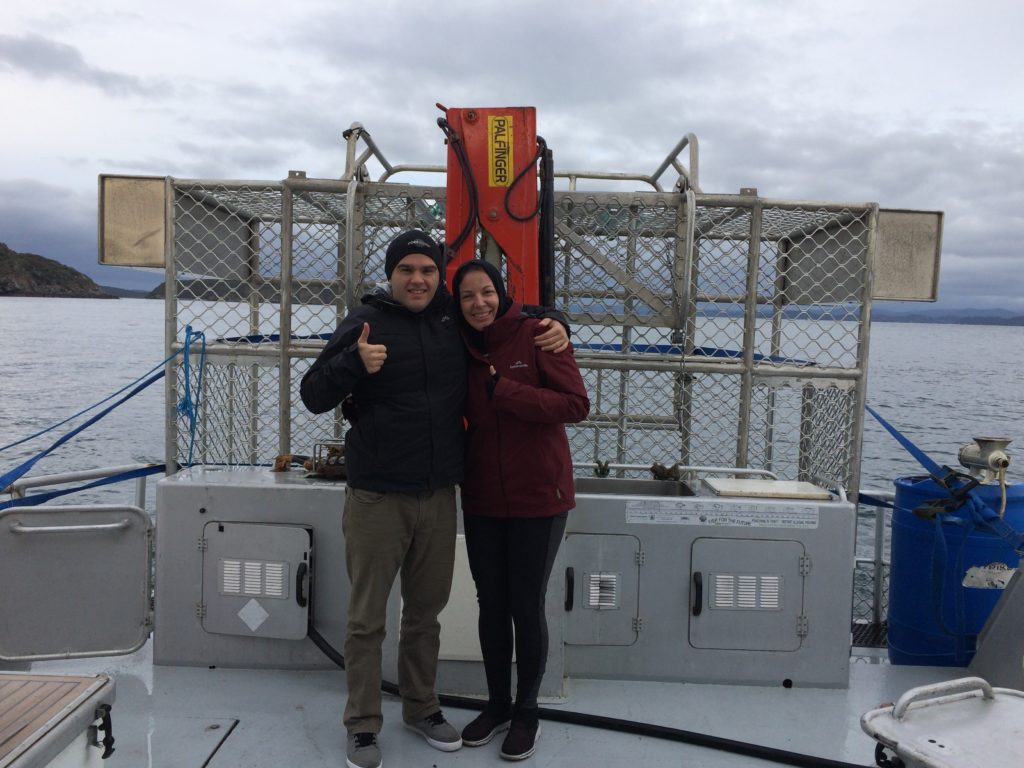 Being in the water with great whites was an amazing experience and one I will never forget. Sharks are very misunderstood creatures and it was so cool to see them up close and watch how they move. On the boat ride back I read one of the books that they had on board discussing all the research that had been conducted on great whites in NZ. It was very educational and I learned one cool fact: as great whites like cold water, no great white has ever been known to cross over the equator!!!
Both Lexi and I were thoroughly impressed with Shark Dive NZ and enjoyed our whole day. I definitely recommend them for anyone who wants to cross this experience off their bucket list.
When we got back to Bluff we were a bit hungry so we stopped at Oyster Cove Restaurant and Bar, for some famous Bluff oysters. We also did the touristy thing and got a picture at Bluff's famous signpost at Stirling Point, with locations and distances of places all over the world.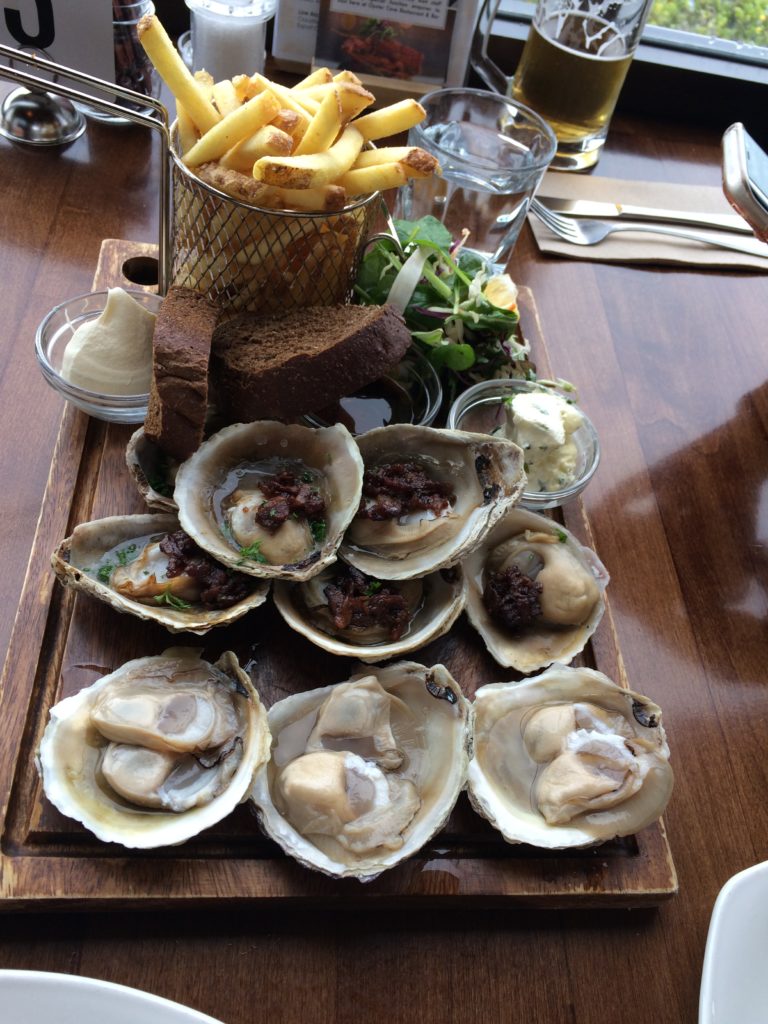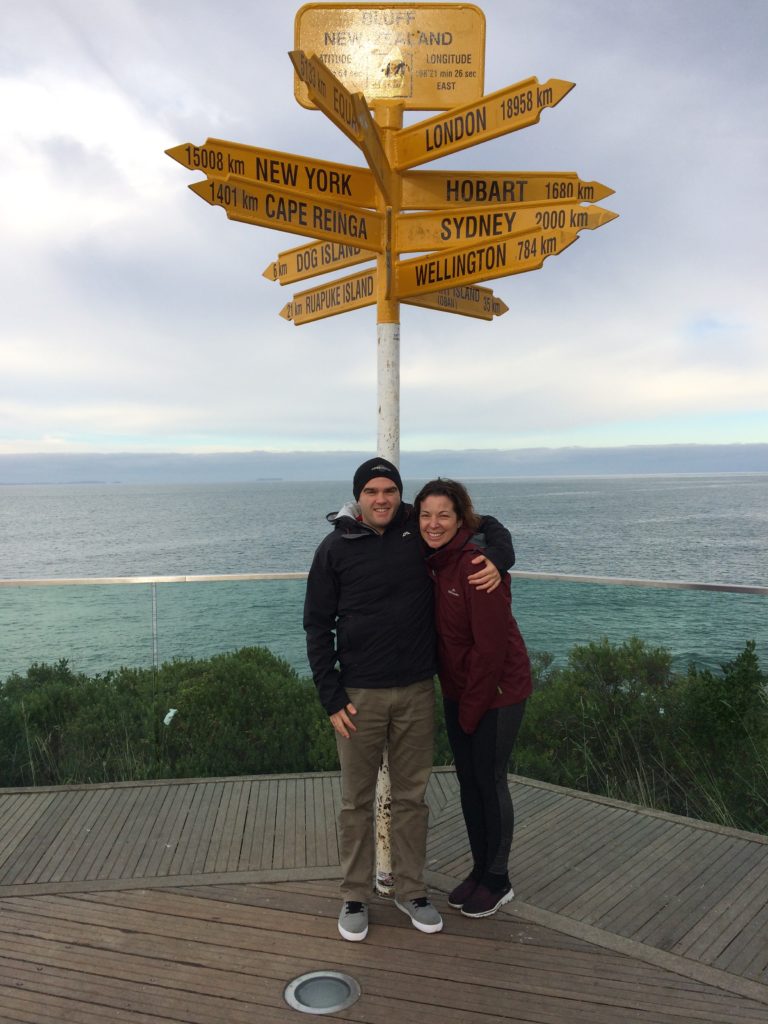 Have you been shark cage diving before? Where did you go? Let me know in the comments below.
Want to be notified when new blog posts are uploaded? Subscribe below.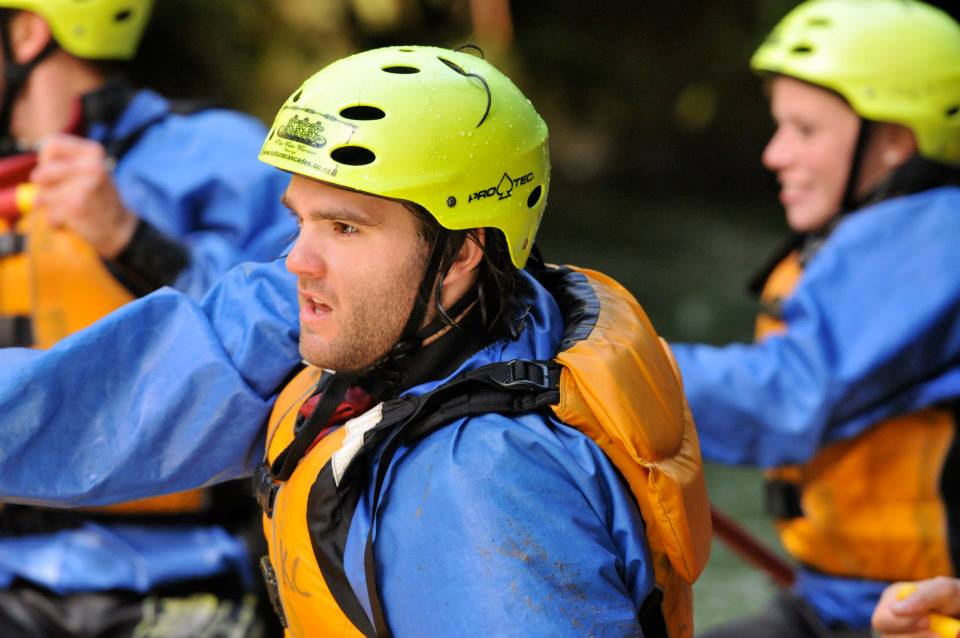 Dave has been on a mission, since 2010, to cross off the 100 items on his bucket list. The stories of his adventures are complimented by life lessons learned along the way and his travel tips are unique to his experiences.