This bucket list item was completed on 20th April 2015 from Cairns, Australia.
I had been living in New Zealand for almost two years when I planned this adventure. Everybody always asked me whether I had been to Australia yet, but the answer was always no. I decided it was time to stop neglecting this massive country floating off to the west of New Zealand. A 4-hour flight can land you anywhere on the east coast of Australia, so the options are endless.
One weekend I pulled up a map, got out my bucket list and began planning. The first stop would be Cairns to tackle the Great Barrier Reef. I had looked into liveaboard cruises that take you out over the reef and you live on the boat for a few days. I thought this was the best way to fully experience the Reef.
The next stop on my trip would be Brisbane. I had planned to rent a campervan from there and to spend the next week driving down to Sydney, checking out all of the smaller beach towns/cities in between. Sydney would be my final destination and then I would fly back to NZ.
I have always been a natural planner, so I usually get pretty detailed when I plan holidays. My two best mates, Dave and Branden, are quite the opposite… In March, they messaged me on our group thread and said they were bummed out from the winter in Canada and were hungry for an overseas adventure. They asked me if I had anything planned, which I did, but thought there was no way in hell that they were going to be able to get things sorted in just over a month.
It took all of 24 hours for them to come back to me and say that they had both got their annual leave approved for the trip. A couple of days later, they had flights booked. A week after that, I had them booked in on the same liveaboard as me and we had our campervan locked in for Brisbane. Booking anything less than a month out from an adventure stresses me out. For Dave and Branden, I think their threshold is more like 1-2 weeks. With three weeks remaining we were totally booked in and ready for our adventure.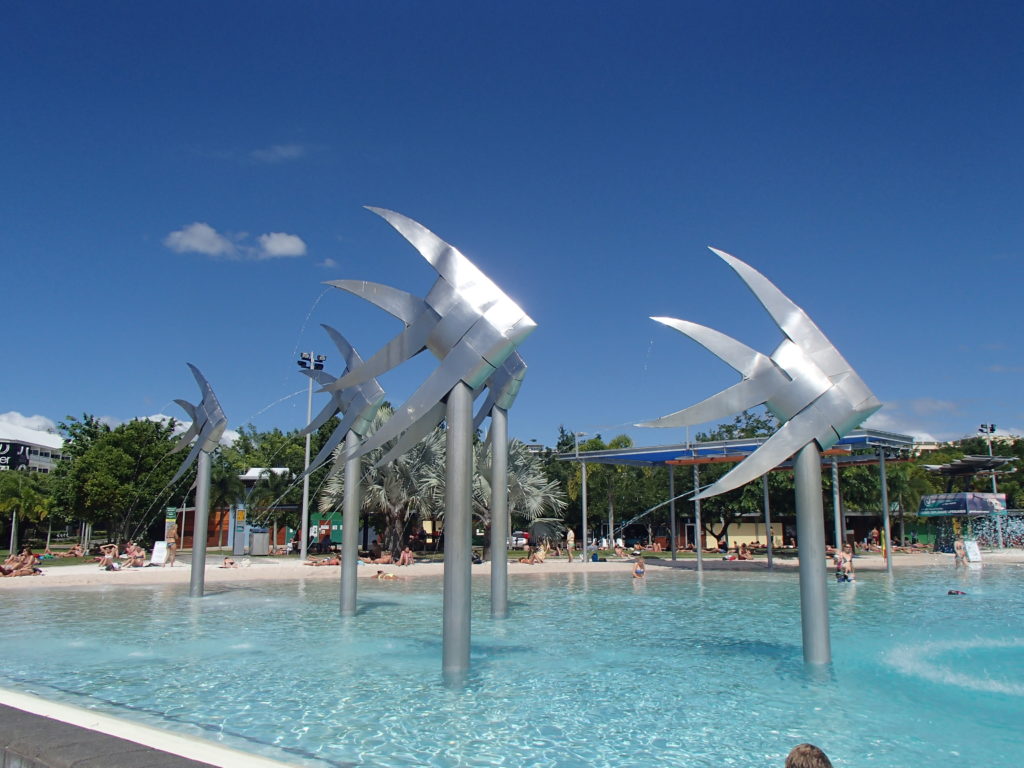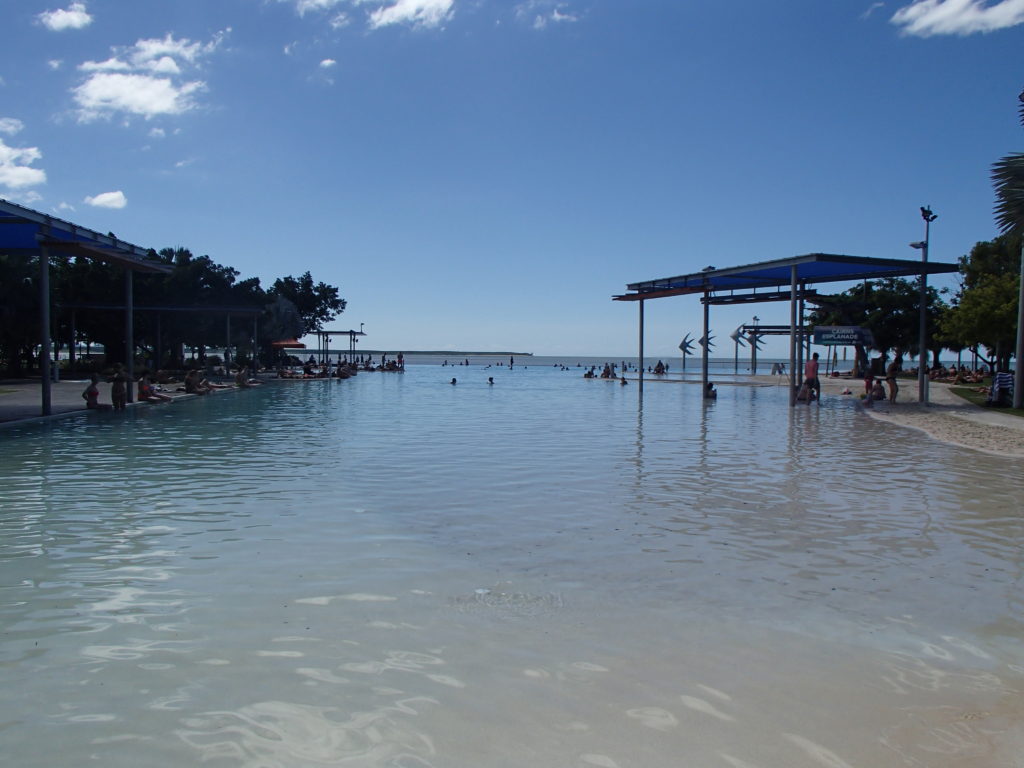 Dave and Branden did not have their open water certificates, so they arrived a day before me and started their pool training. When I touched down in Cairns I went straight to the hostel to drop off my bags. It was early in the afternoon, so I knew I would find them at the pool.
It was 30 seconds after I walked up to the pool that they surfaced after completing one of their underwater skills. We all looked at each other and smiled and laughed about the fact that we hadn't seen each other in two years and were meeting up in Australia. That night was like I had never left Canada. We picked up right where we left off and it was just like old times.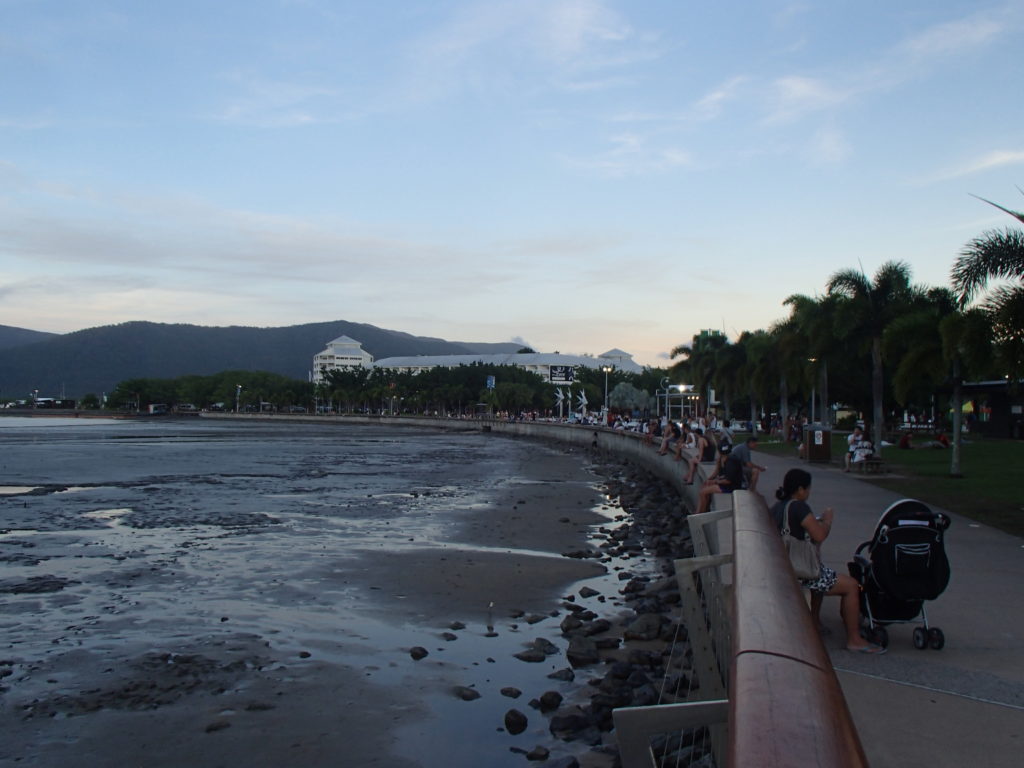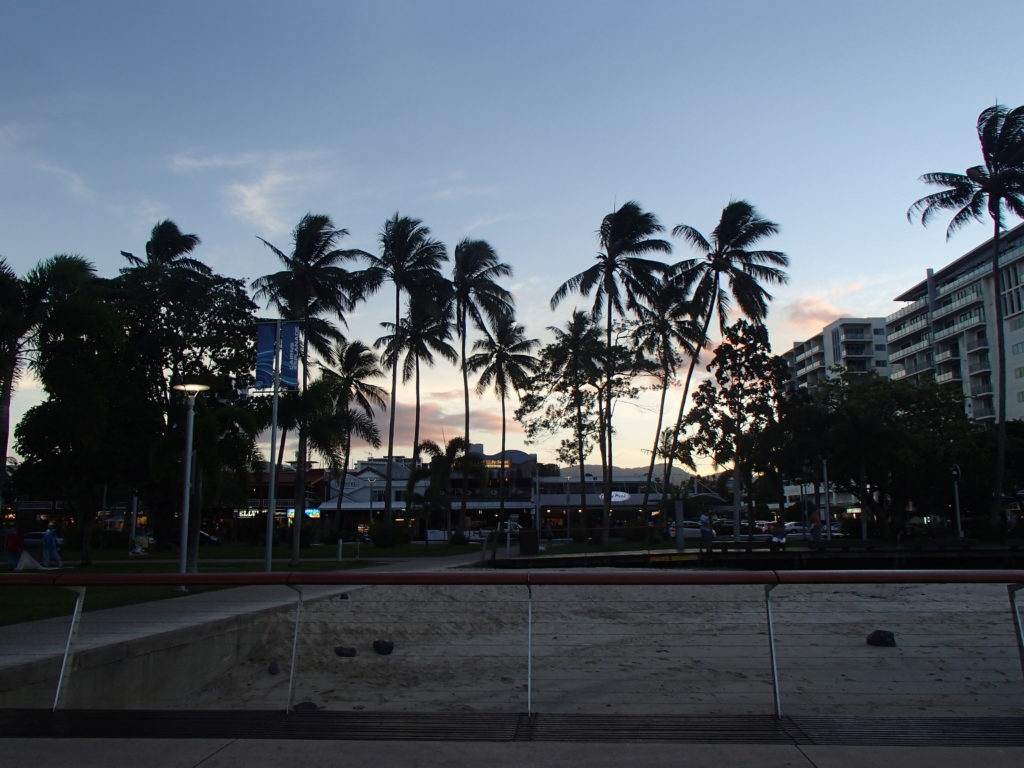 The next day, the guys finished up their open water pool training and I joined them to do some pool training for my rescue diver course. The following morning, we met at the dive shop and then they shuttled us down to the marina. The Great Barrier Reef is such a classic bucket list item that it wasn't just me who was excited. We were all so stoked that we were going to experience the beauty of the Reef.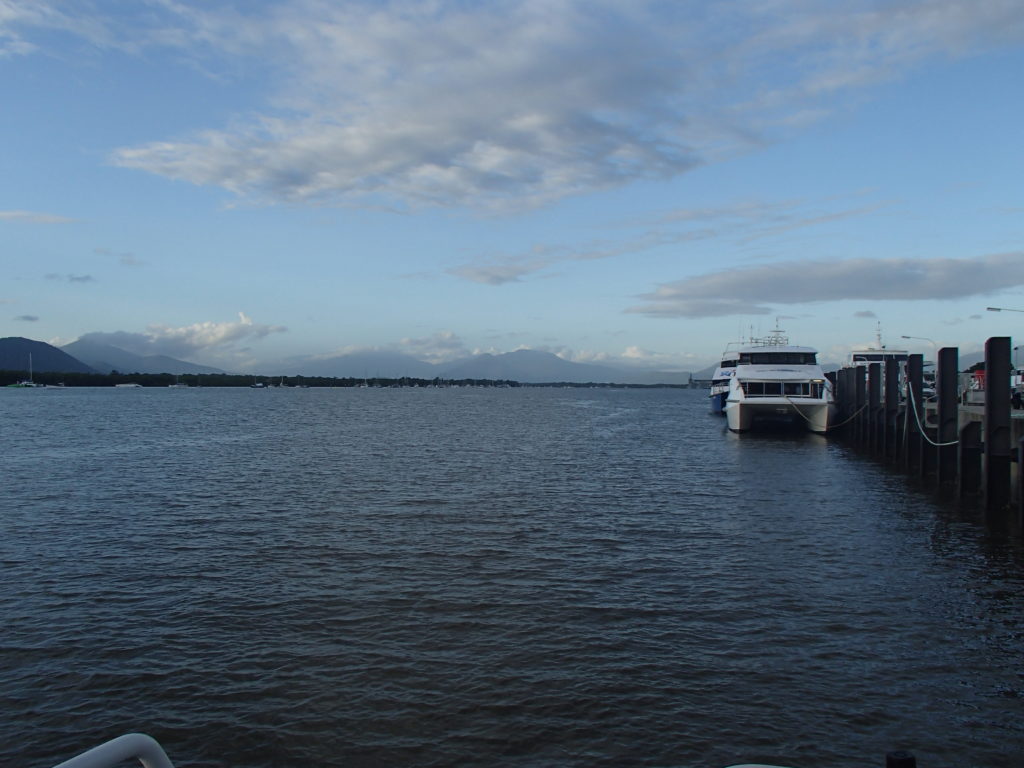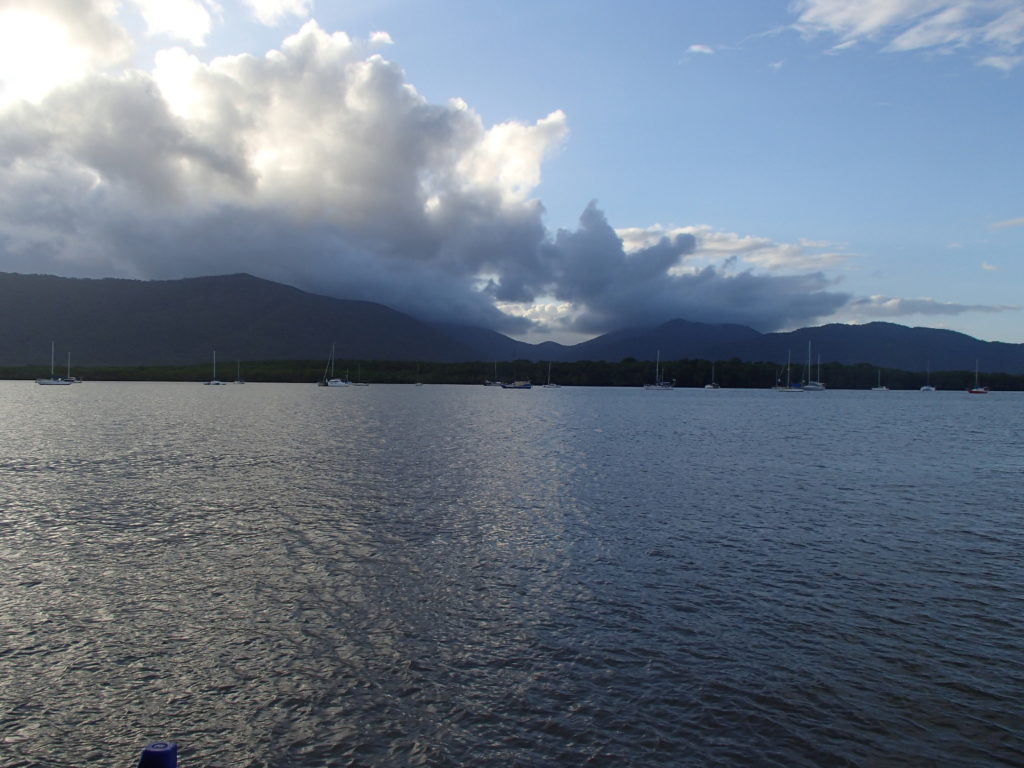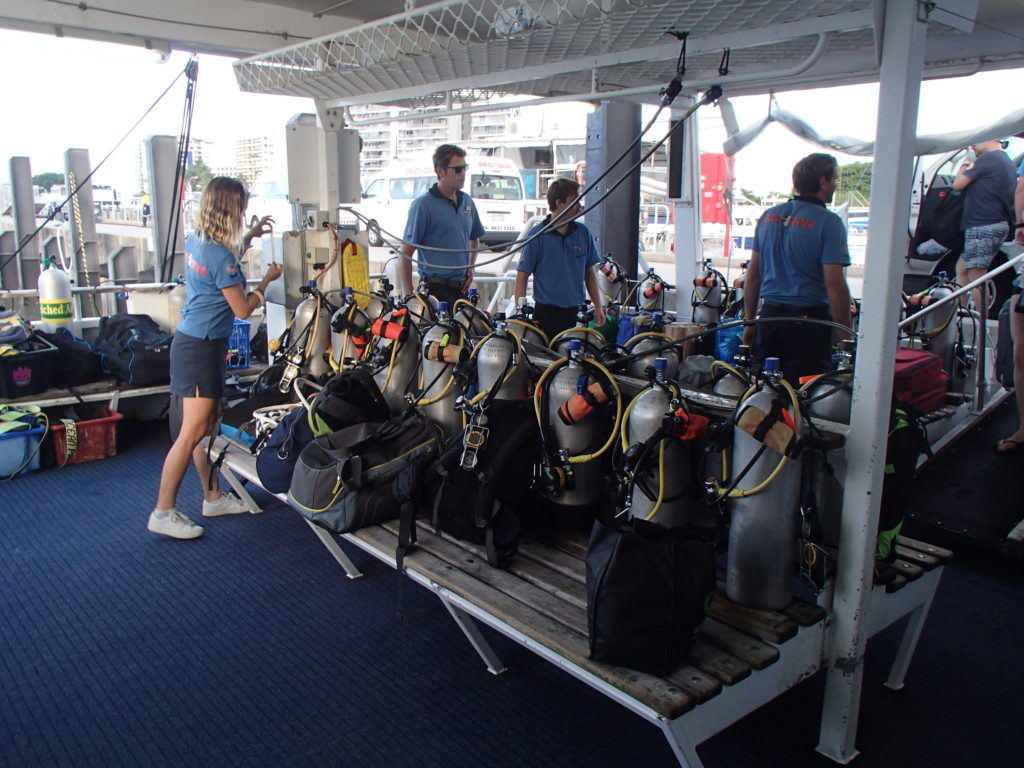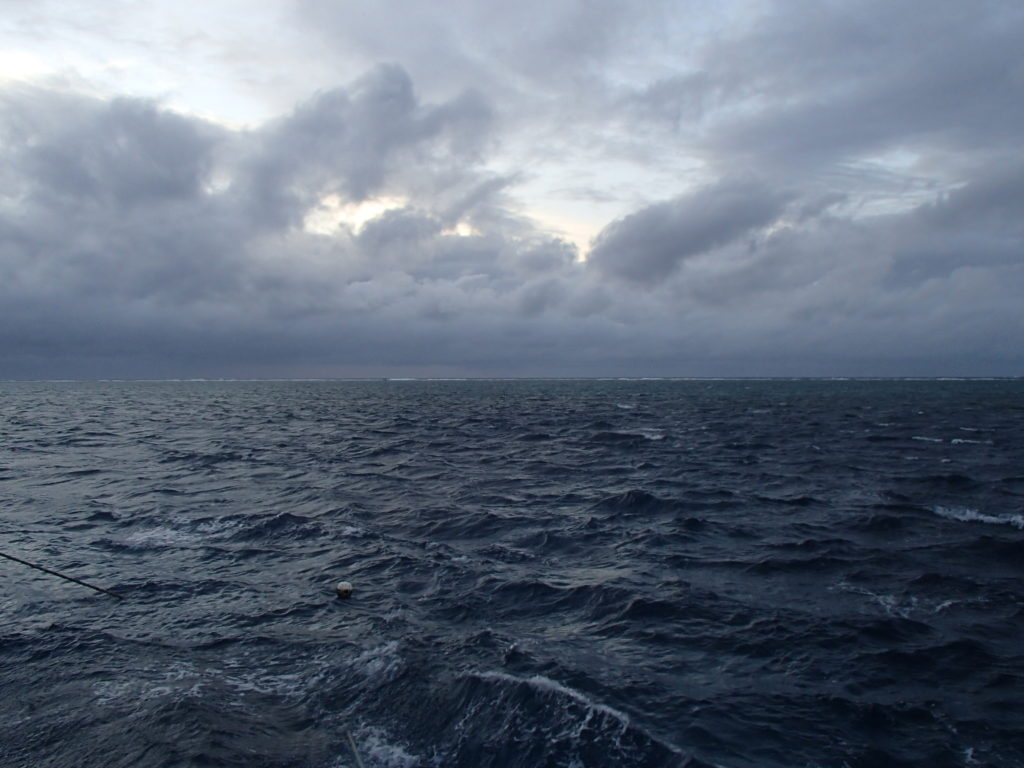 We made it to the first dive site by 11 am and got into it right away. This was the first open water dive for Dave and Branden, but it was the first time on the Reef for all of us. The first dive site was at the Petaj Bommie on the Milne Reef. A bommie is an Australian slang term for a big patch of submerged or partially submerged rock or reef.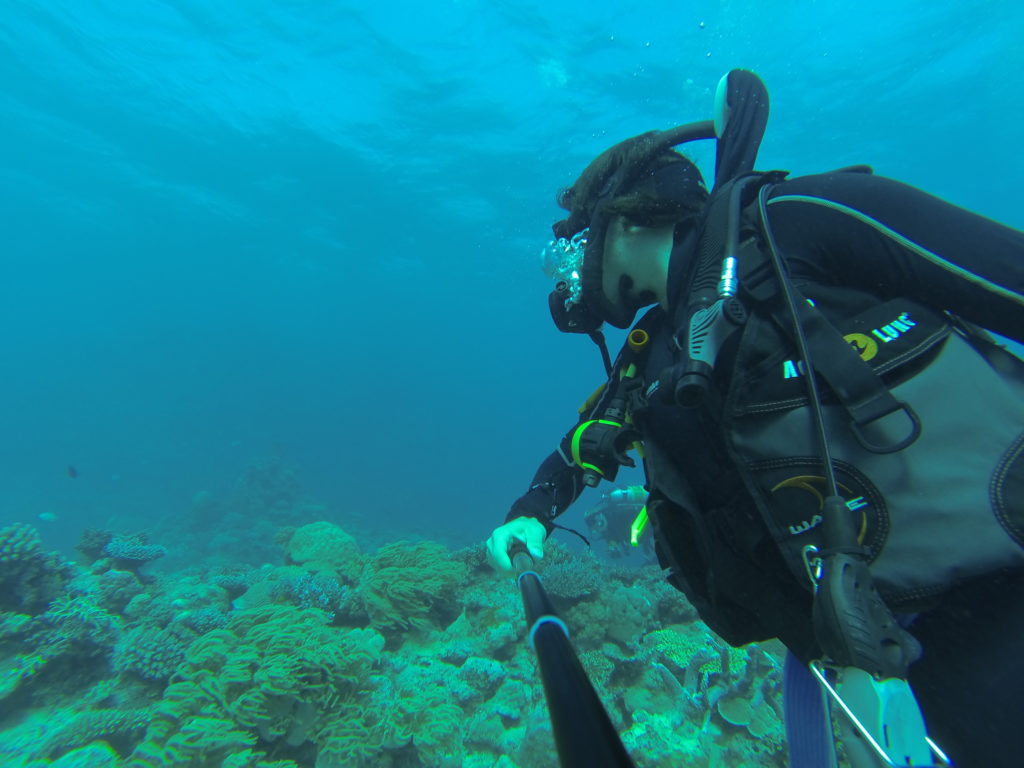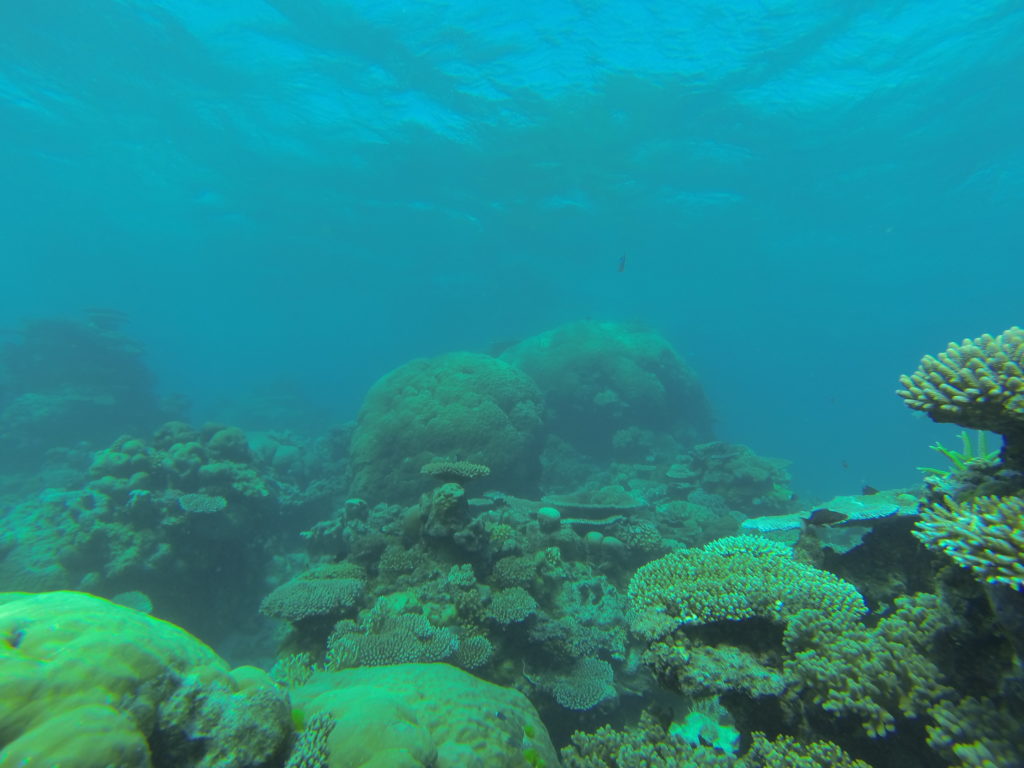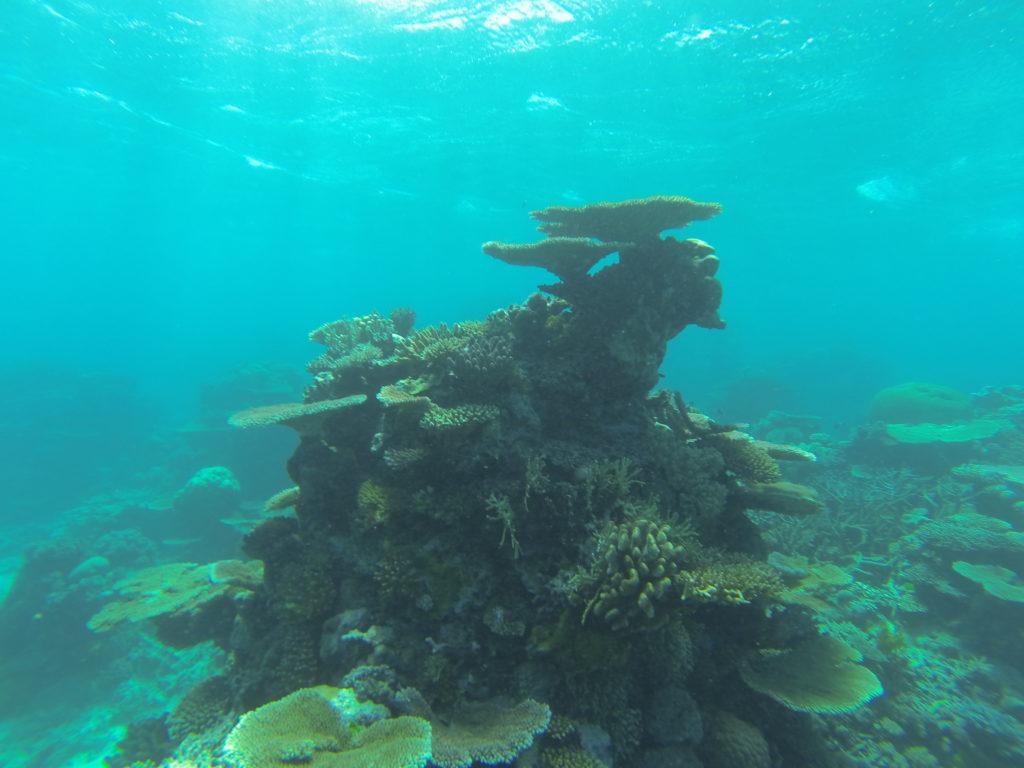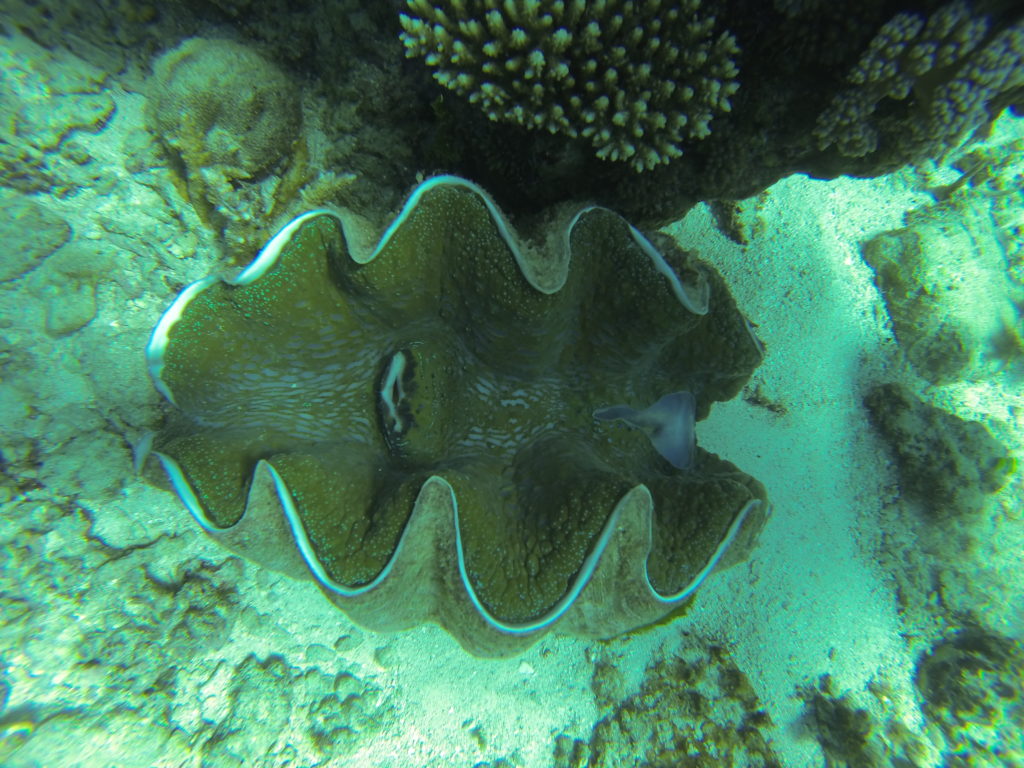 The water was so warm that we didn't even need wet suits, we only wore thin stinger suits to protect us from jellyfish. We dove for just under an hour and I saw heaps of life. There were stingrays, pineapple sea cucumbers, Christmas tree worms and coolest of all, the giant clams. The colours of these clams were stunning and some of them were a metre wide.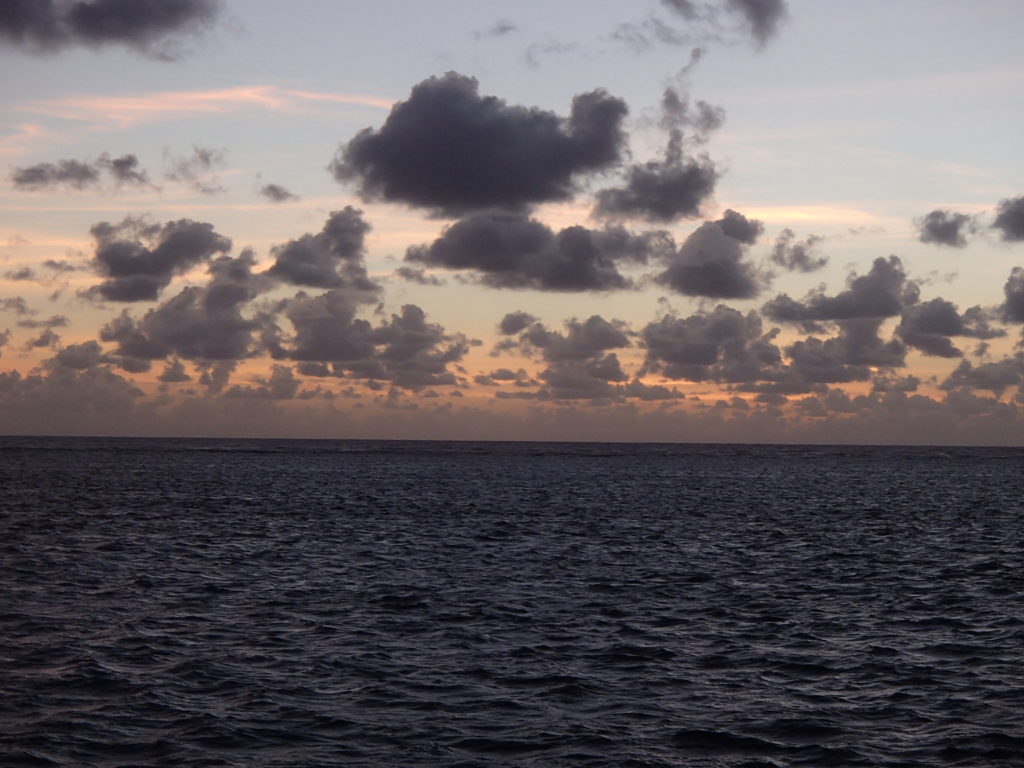 Dave and Branden did two dives that day, but they had me on four, including a night dive. The night dive was on Whale Bommie on the Milne Reef. It seems the big fish come out at night as we saw sharks and many other big fish out for a feed. The sharks weren't big enough to bother us, but they were amazing to see.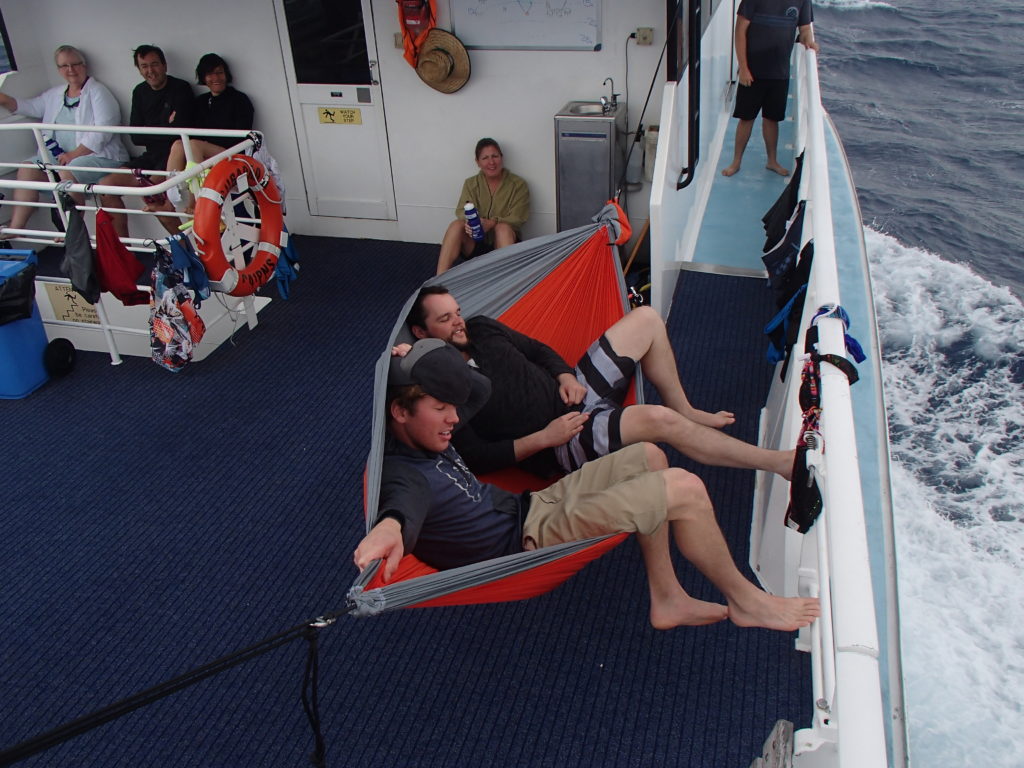 The guys did two more dives on the second day and then they were signed off to start doing more adventurous dives, like night diving. We were split in different groups for the second night dive, but both groups were hunting for the local sea turtle, Brian. Brian hangs out at a dive site called Gordon's on the Flynn Reef. I'm not sure how old Brian is but he was massive; about two metres long and just as wide, with his flippers.
Brian is active through the day but usually sleeps in one of three spots. The dive instructors guided our night dive and we eventually found Brian sleeping under a coral overhang, his favourite spot. It was here that I got to meet up with Dave and Branden for an underwater fist bump. It was so cool to be diving the Great Barrier Reef with them!
The rest of our dives on the third day were on the Flynn Reef. The corals here were the best and I got to do some more diving with the guys. We saw some sharks cruising around in the daytime as well as some smaller sea turtles. One of the turtles took a keen interest in Dave and swam right up to him. The Great Barrier Reef truly is a bucket list experience and I would recommend it to anyone.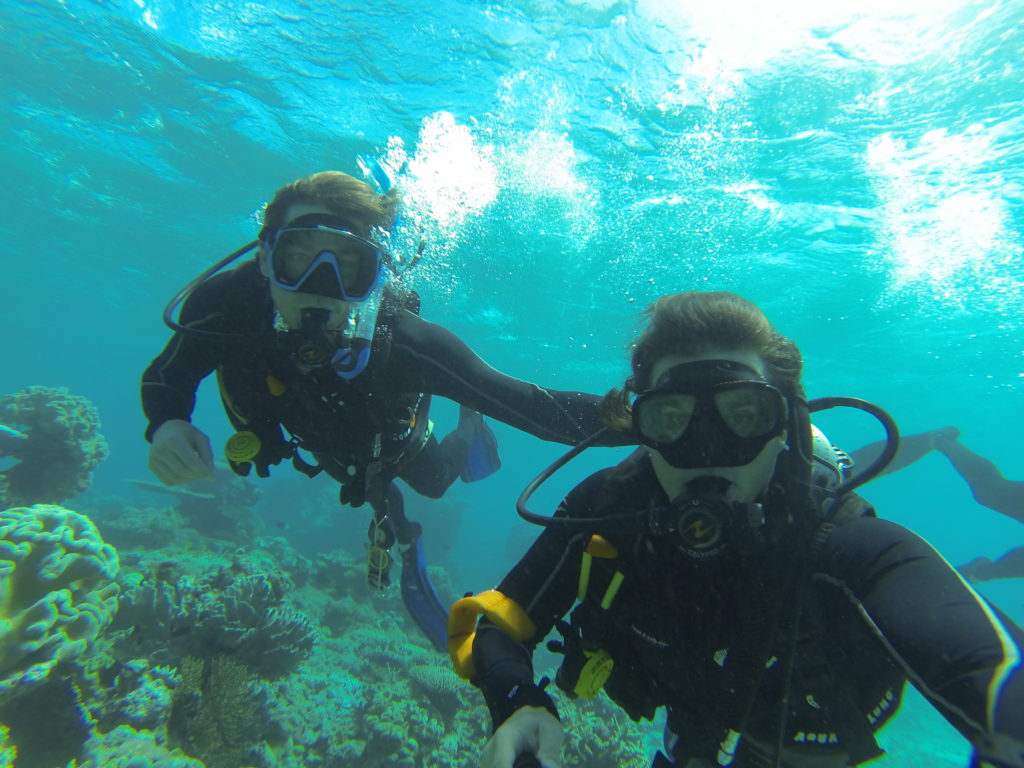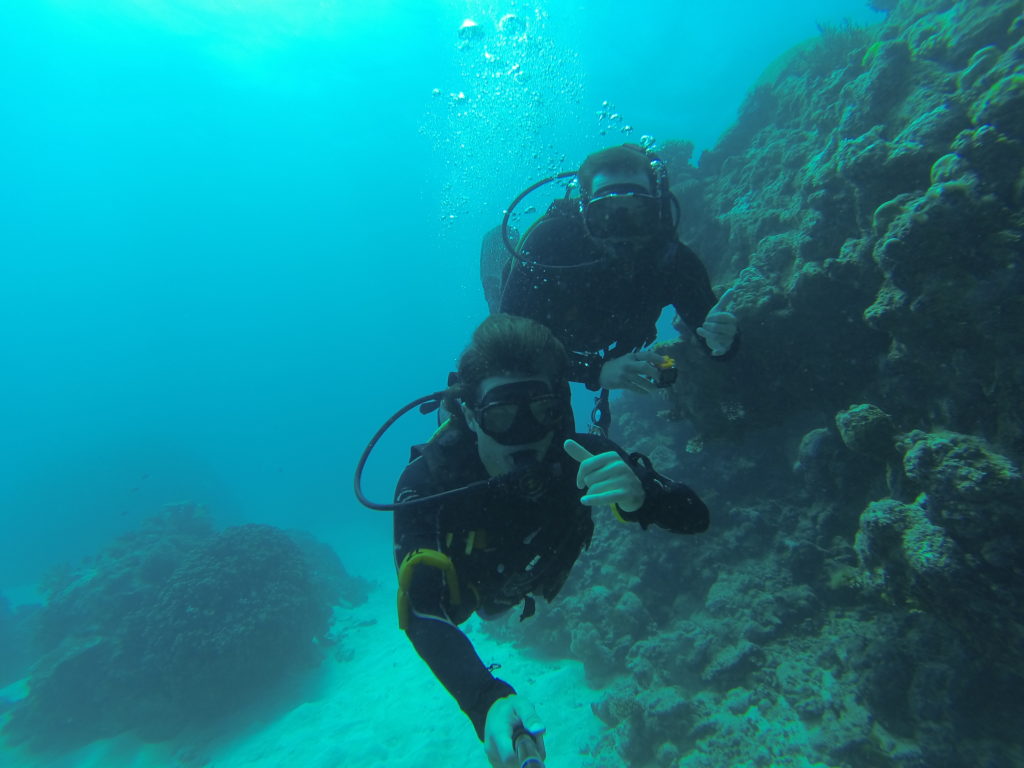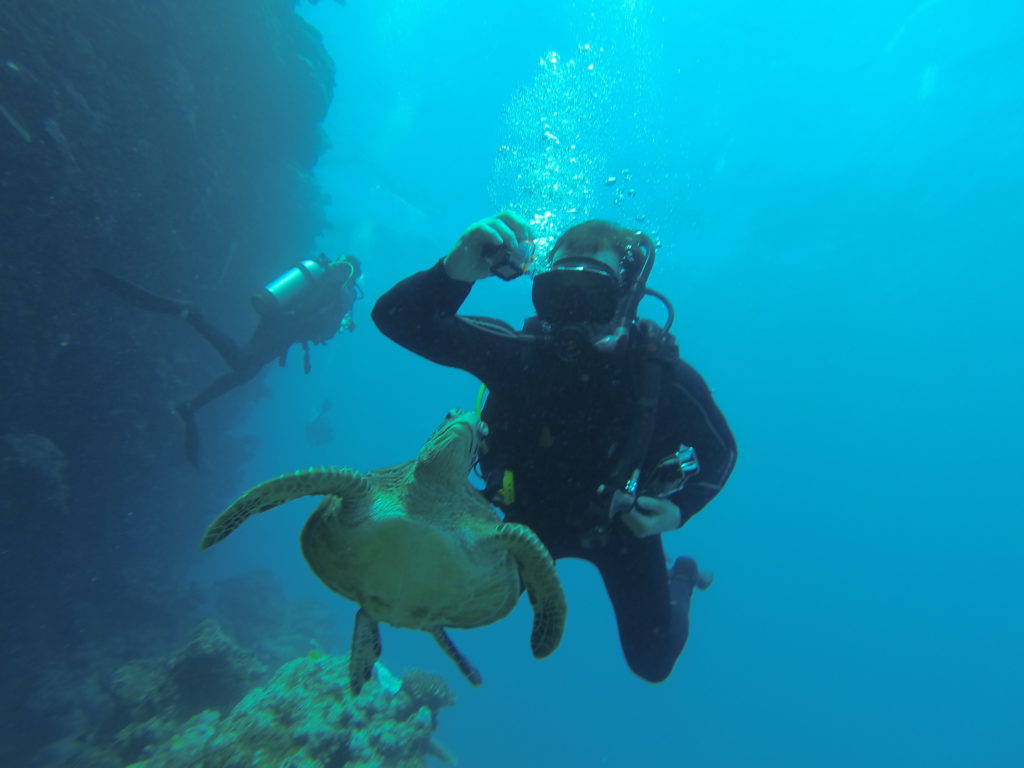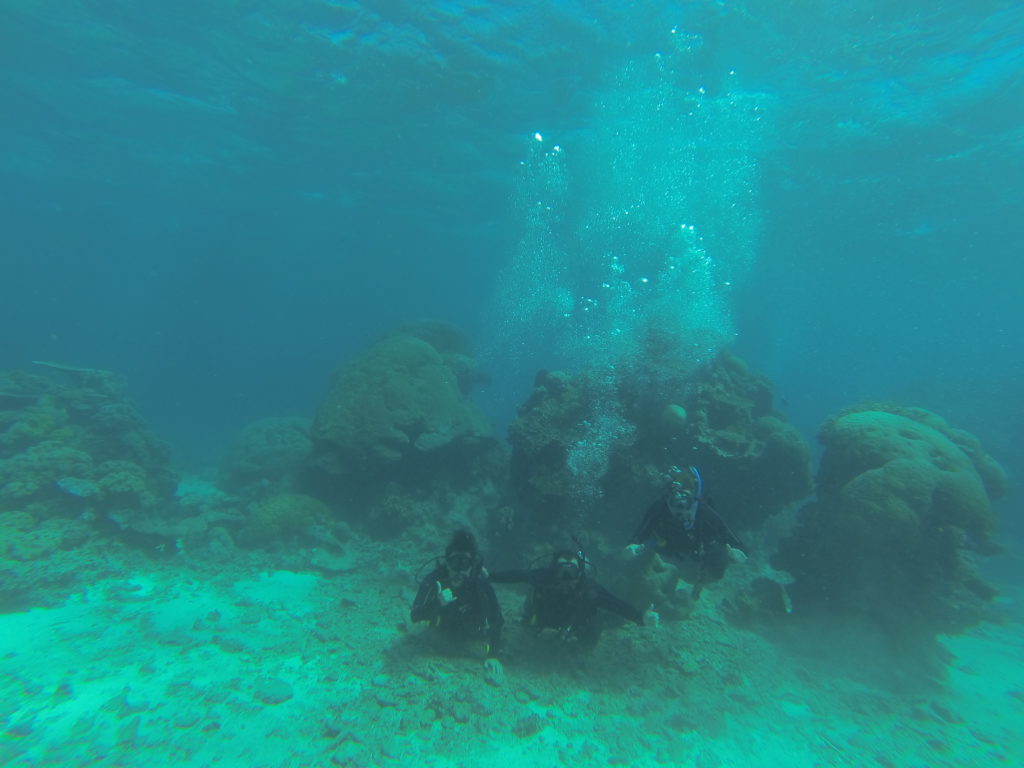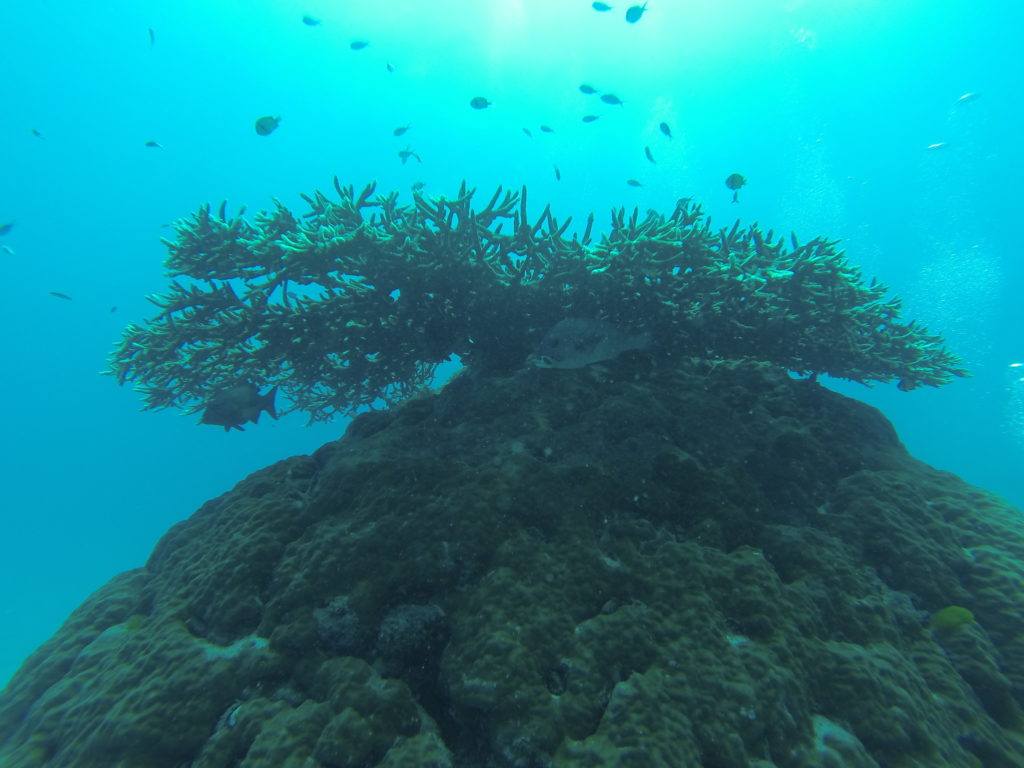 By 4 pm on the third day, we were back on dry land, which felt weird. I was used to a rocking boat or being in the ocean, so walking on flat land was a bit of a struggle for the first hour. We had a group dinner that night and took the opportunity to thank our instructors for all their help, out on the Reef. I can't wait to return.
This was only the beginning of the trip though, there was much more that we had to pack into the next week. The plan was to hire the campervan and spend a week driving from Brisbane to Sydney. This all changed the next day as we were killing time in Cairns, waiting for our flight. We had no plan to kill time and ended up stumbling into a tour booking agency.
We explained our rough plan to the booking agent to see if there was anything cool that we could do between the two cities. He threw us a curve ball and pulled out a brochure to Fraser Island, which is four hours north of Brisbane, in the opposite direction from where we were heading. Branden and I had never heard of Fraser Island, but Dave's eyes lit up. Someone had told him about Fraser Island before he left Canada and they mentioned it was a must-do.
The tour was a 3-day/2-night adventure on the world's largest sand island. The highlights included:
Camping on the island
Driving 4×4 vehicles through the sand and along the beach
Swimming in crystal clear lakes
Bush walks and many more cool sights
The original plan allowed for seven days to complete 1,000 km (10 hours) of travel down to Sydney. By adding on Fraser Island, we were going to lose four of those days and have to cover 1,200 km (14 hours) down to Sydney. This went against my planning nature, but Dave was adamant that it was going to be an amazing trip. After a quick team meeting, we decided to go for it!
We landed in Brisbane later that day and started making our way up the coast. The rental agency were kind enough to give us an upgrade on our campervan and gave us a huge 6-berth camper, instead of the 4-berth camper we had booked.
We thought this was awesome until we stopped for lunch in the little surf town of Noosa. As we drove in, the tree branches were scraping on top of the camper and the parking spots looked to have been made for Mini Coopers. I had to park at the end of the parking lot where I could take up two spaces. This made things tricky but added to the adventure in my opinion.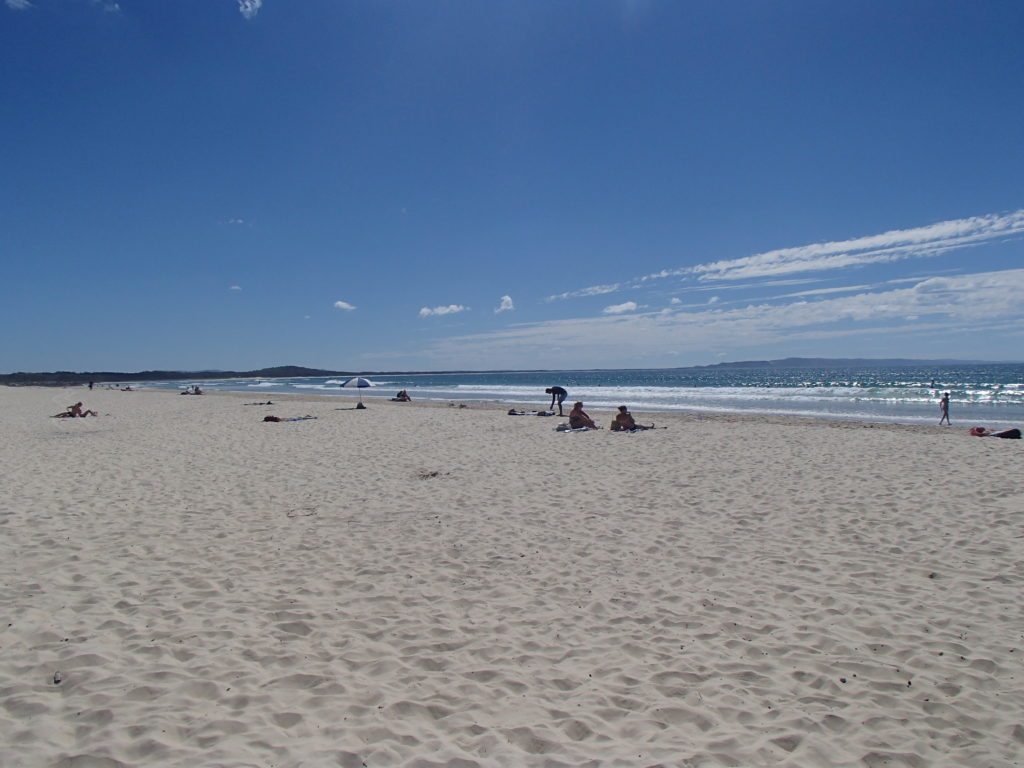 We arrived in Hervey Bay later that evening, just in time for the briefing of what we were getting ourselves into the next day. There was not much on the island, so we were told to bring what we needed from the mainland. There were lots of European backpackers on the trip and they fit the stereotype of being organised and prepared. Their packing lists included things like sunscreen, bugspray, sandwich bags and enough food for three days on the island.
We had jumped onto this trip last minute and I was tired of planning, so we set off to get some supplies. Our list included a carton of eggs, a kilo of bacon, a bag of hash browns, a couple boomerangs, a football, some pool floaties, a toy helmet, about 150 beers and nothing else. These were far from "necessities", but we knew we would have a good time with all these toys and beer.
The first day we had our fair share of driving through 4×4 sand trails and along the beach.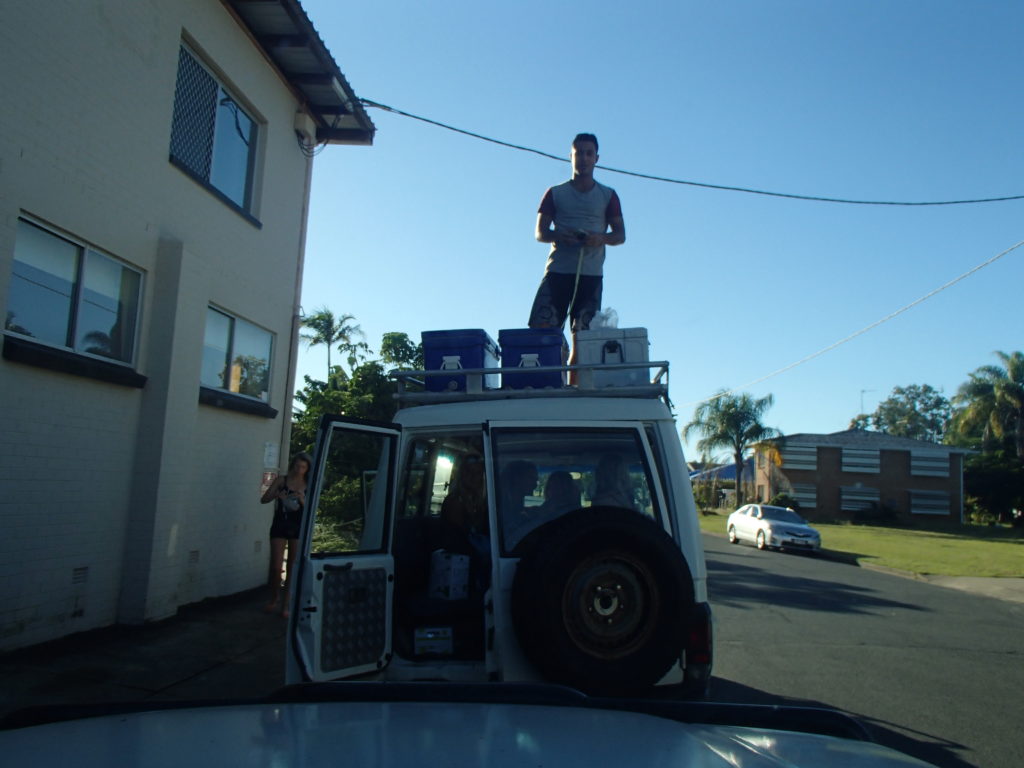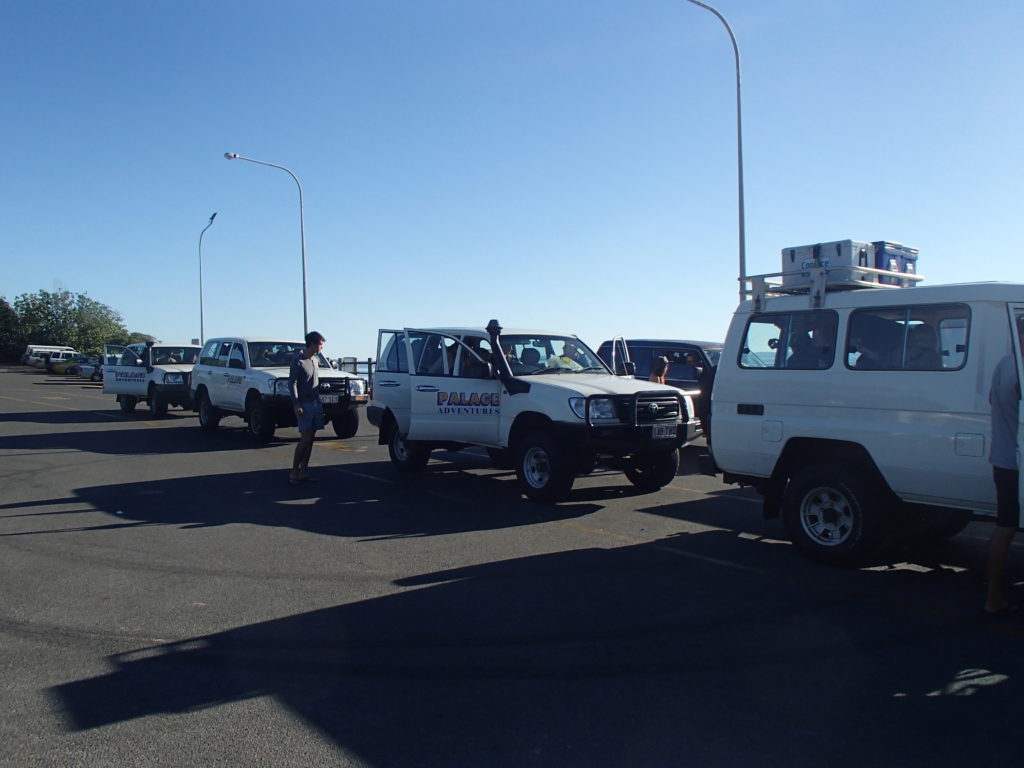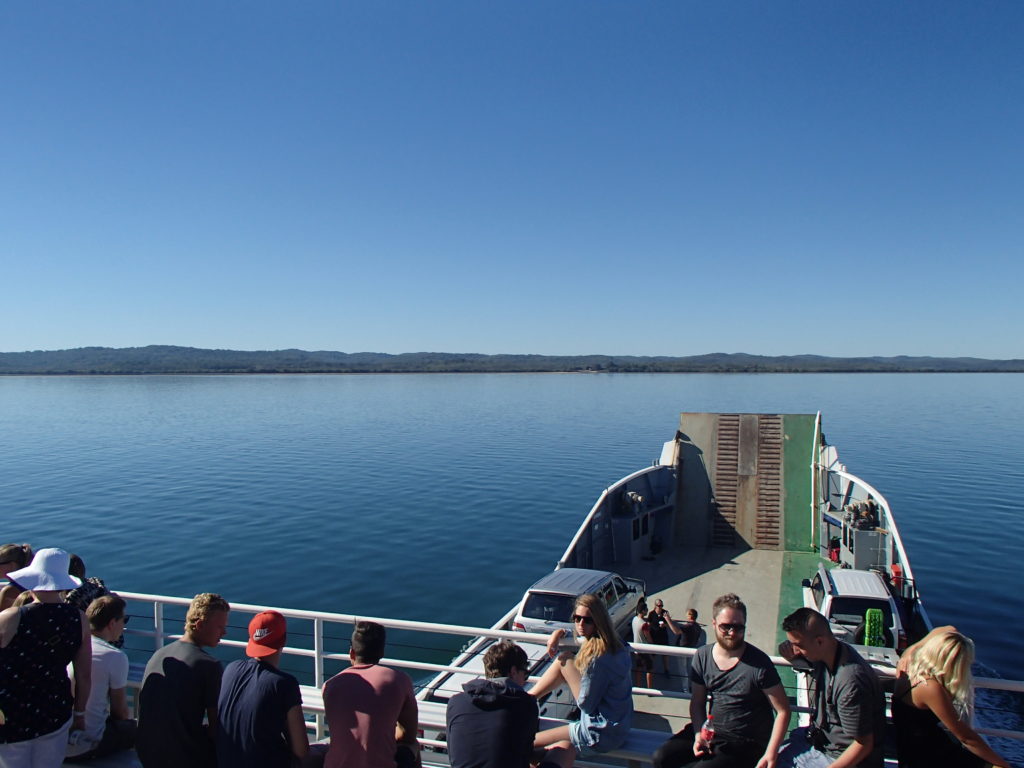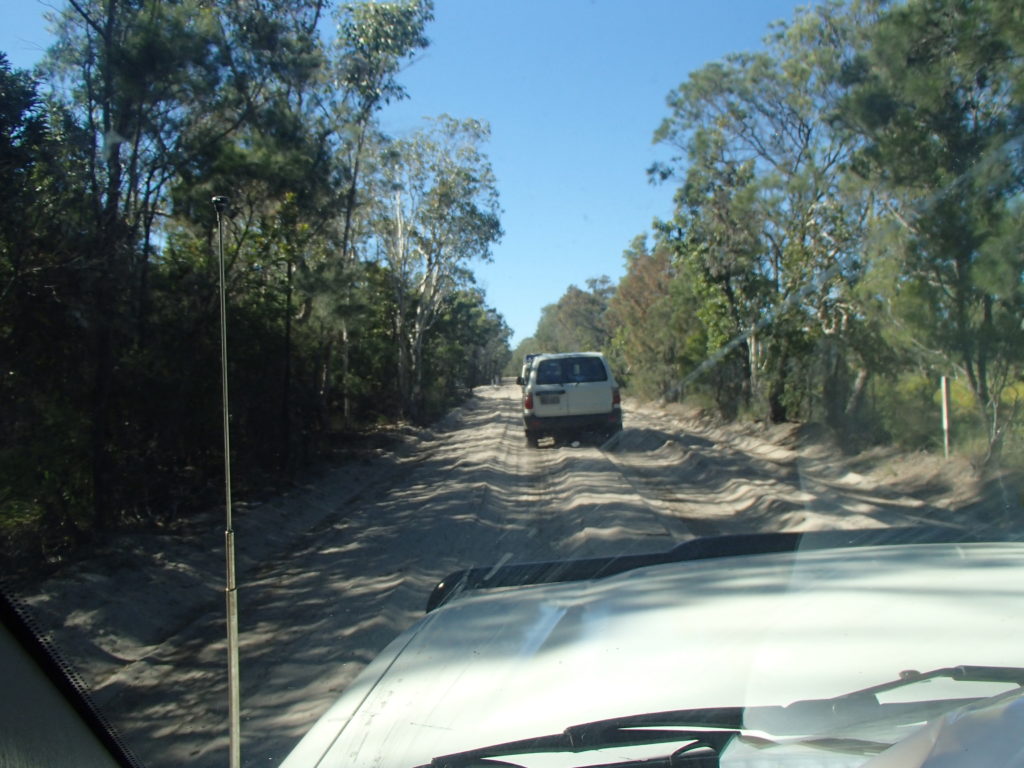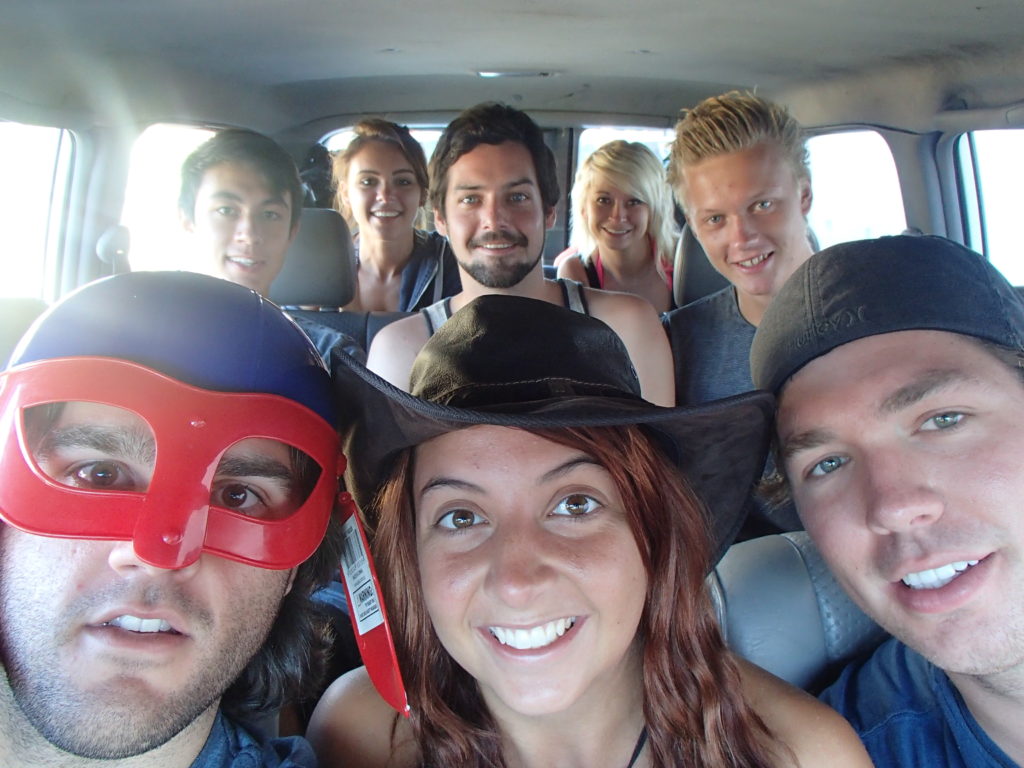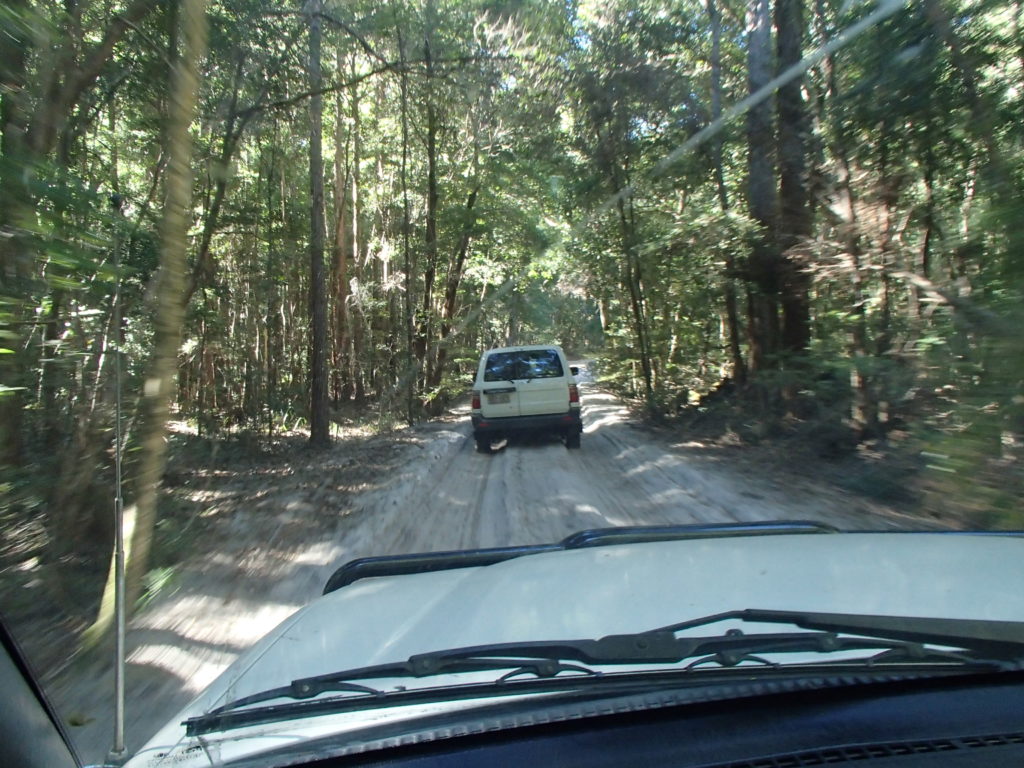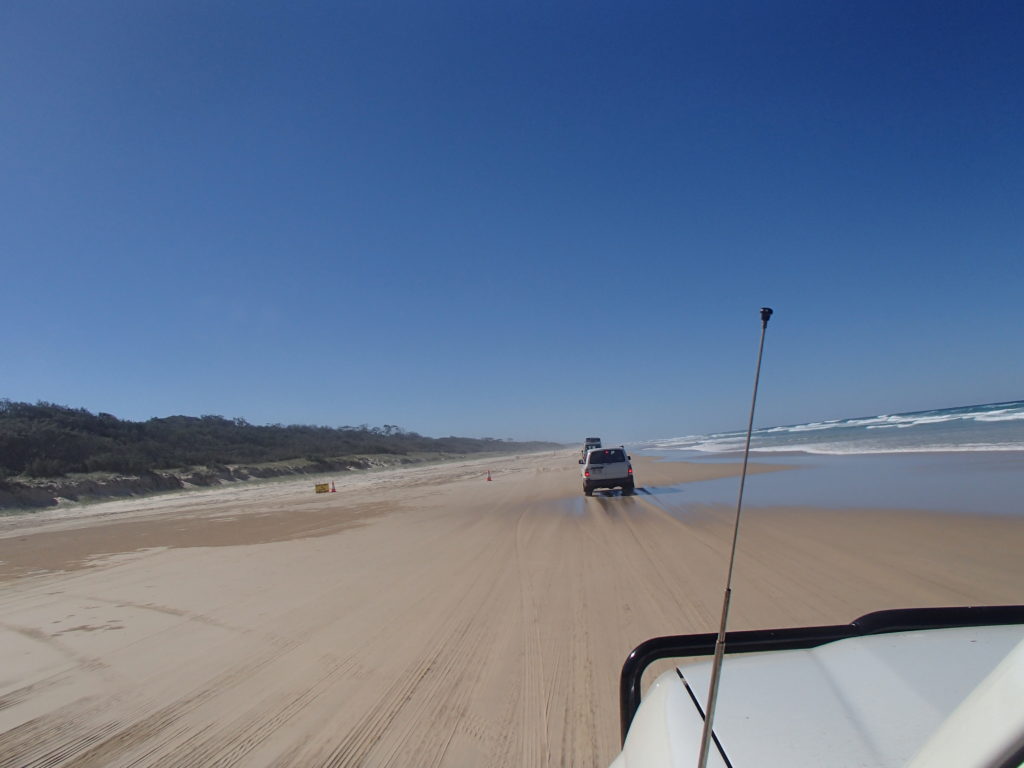 In the afternoon we went to Lake Wabby to cool down. They keep tourists from swimming in the ocean because it is a tiger shark breeding area and the numbers are plentiful. It didn't bother us because the lakes on Fraser Island are stunning. Lake Wabby was dark in colour but super clean and refreshing. There were even little fish that would come to eat the dead skin off your feet if you remained still.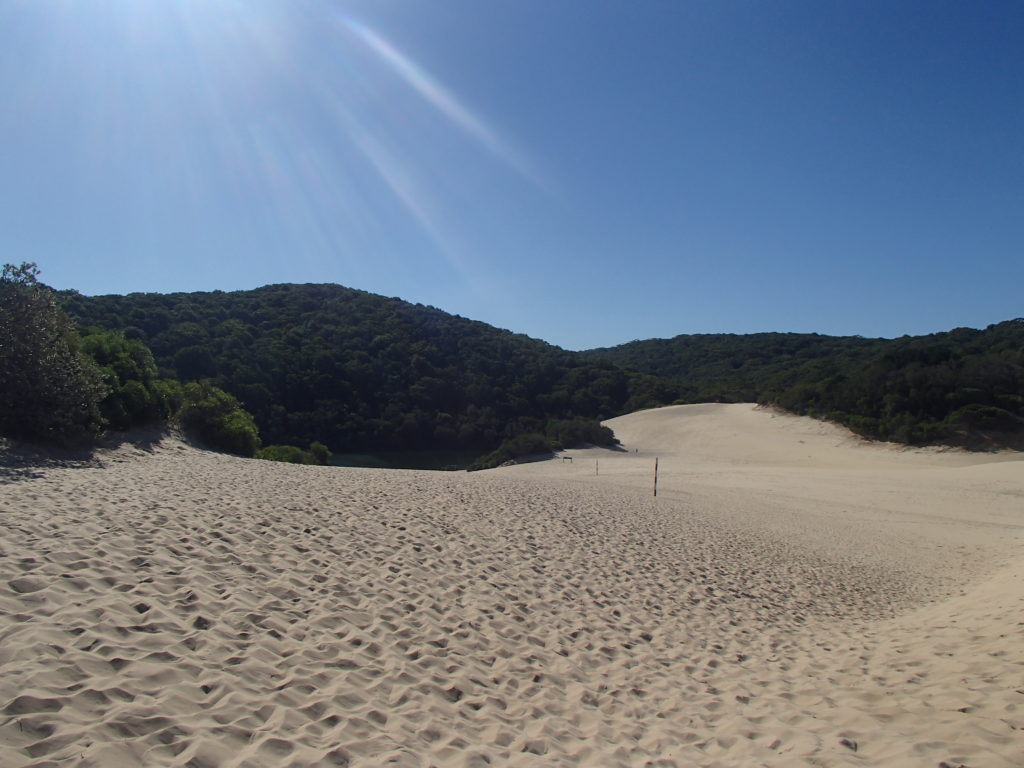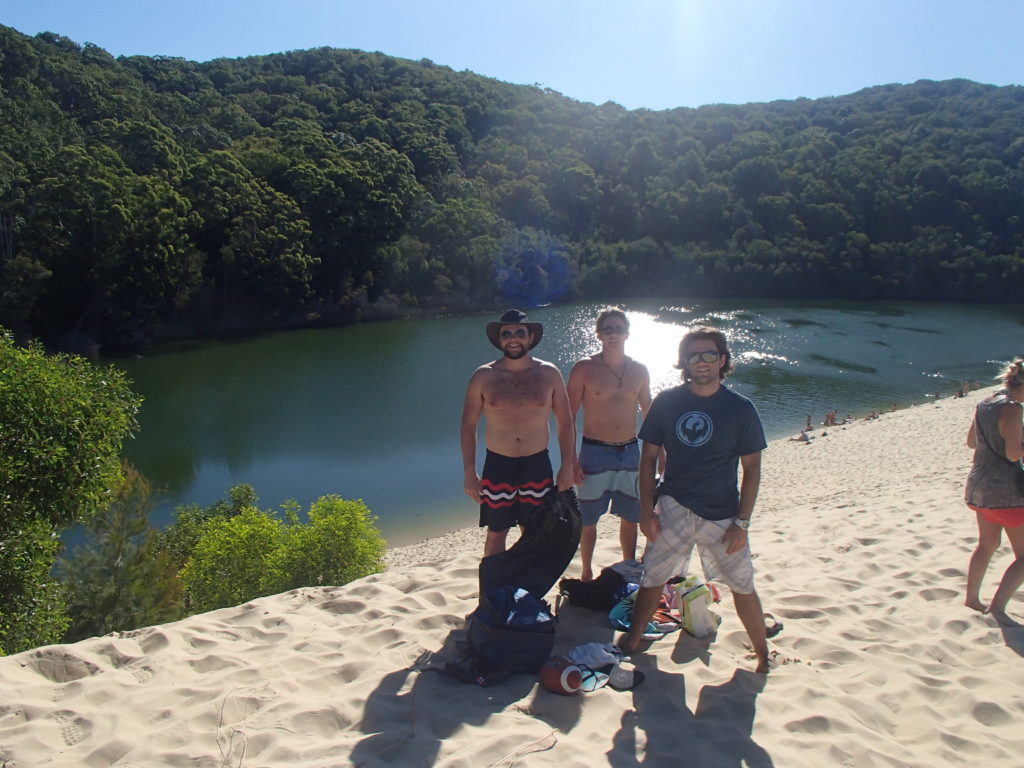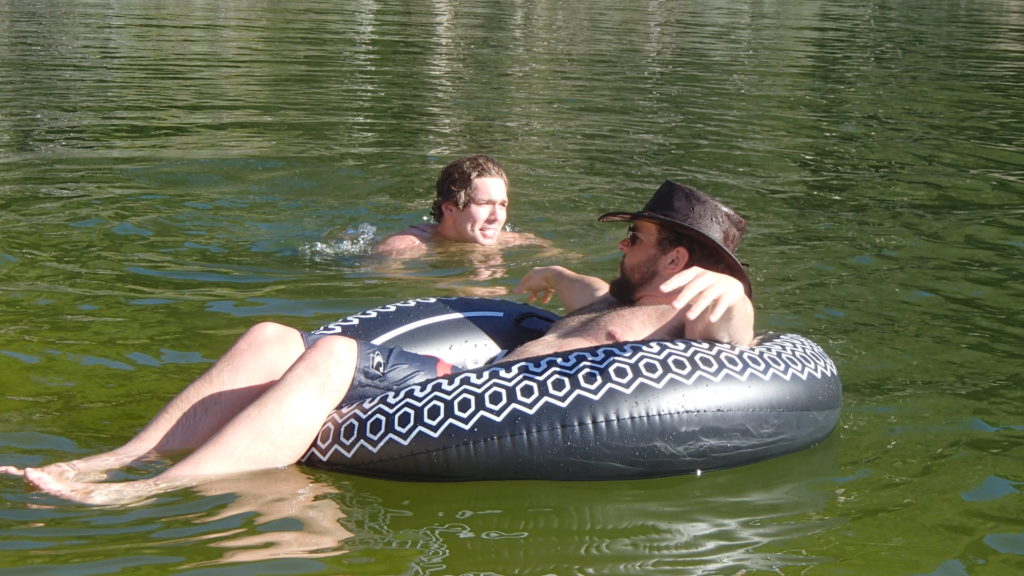 After our trip to Lake Wabby, we made camp for the night. Our lack of food was a bit of an issue, but we shared beers in exchange for a meal, which got us through the night. We were all set for breakfast though, and most of the camp was jealous with our feed that we cooked up on the BBQ. We made it count though because we had nothing for lunch, except for beers.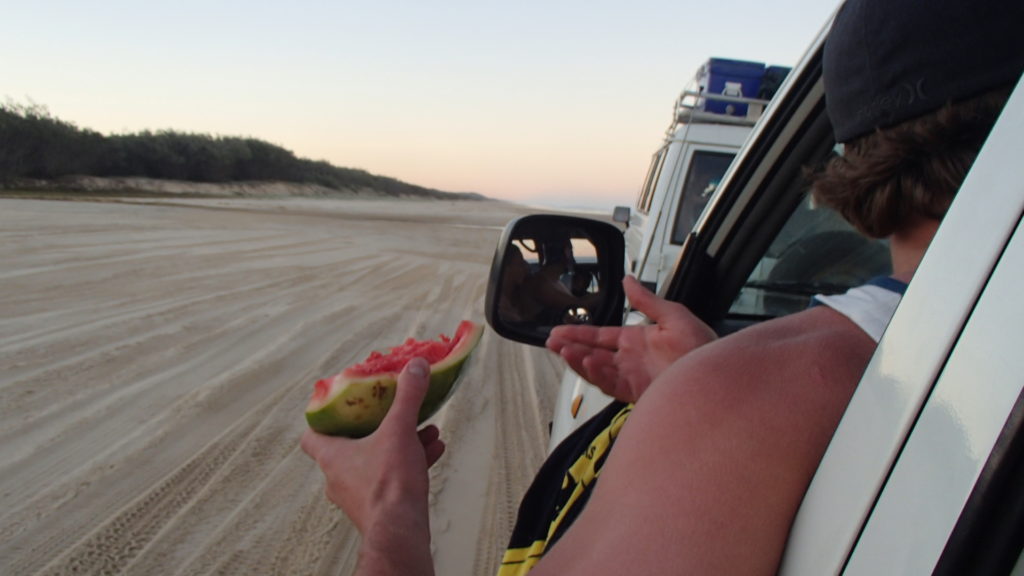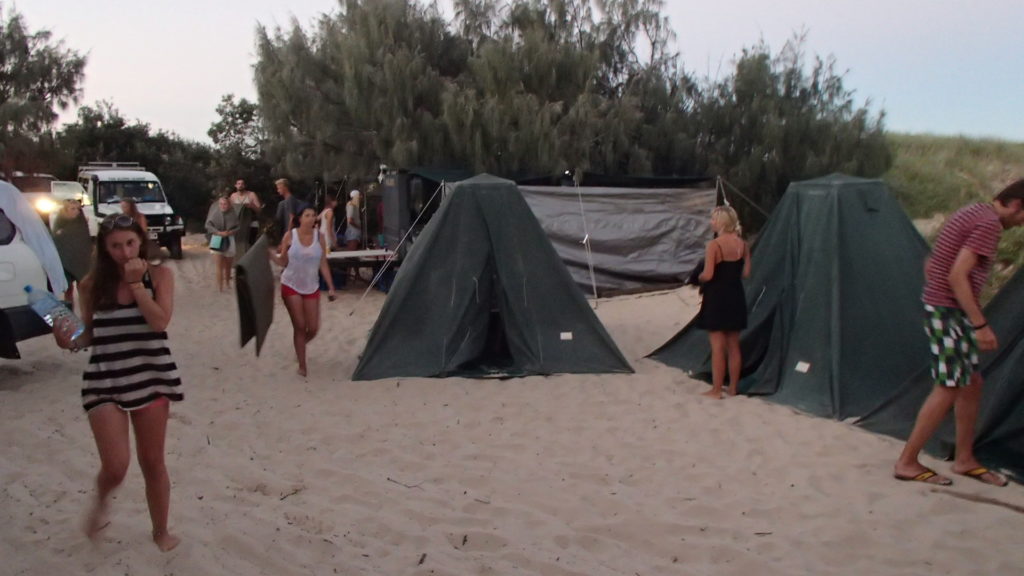 The next day we went up to the northern part of the island to Indian Head and the Champagne Pools. The views from Indian head were stunning and we could see some sharks cruising around in the waters below. It was definitely good advice to stay out of the ocean.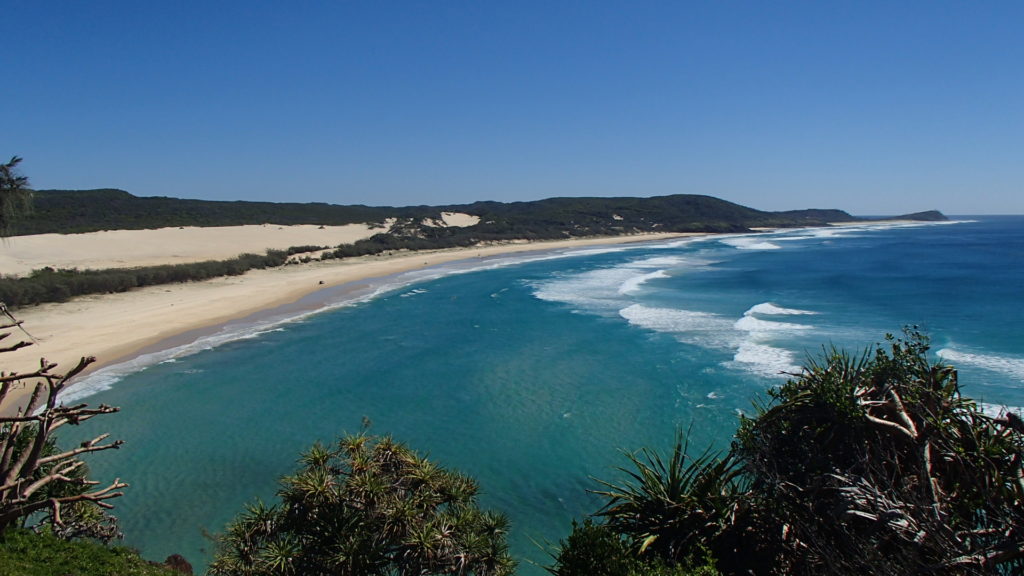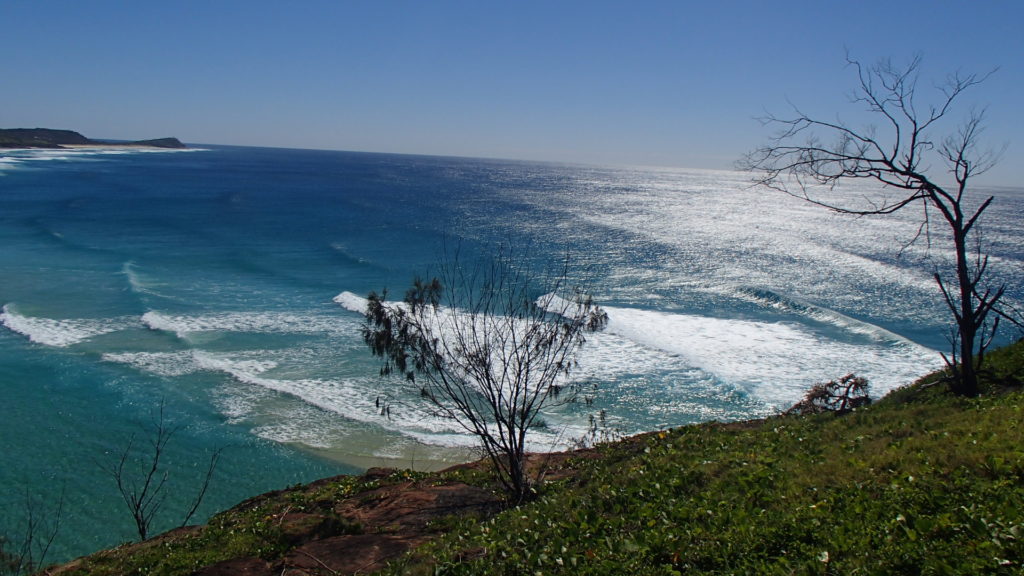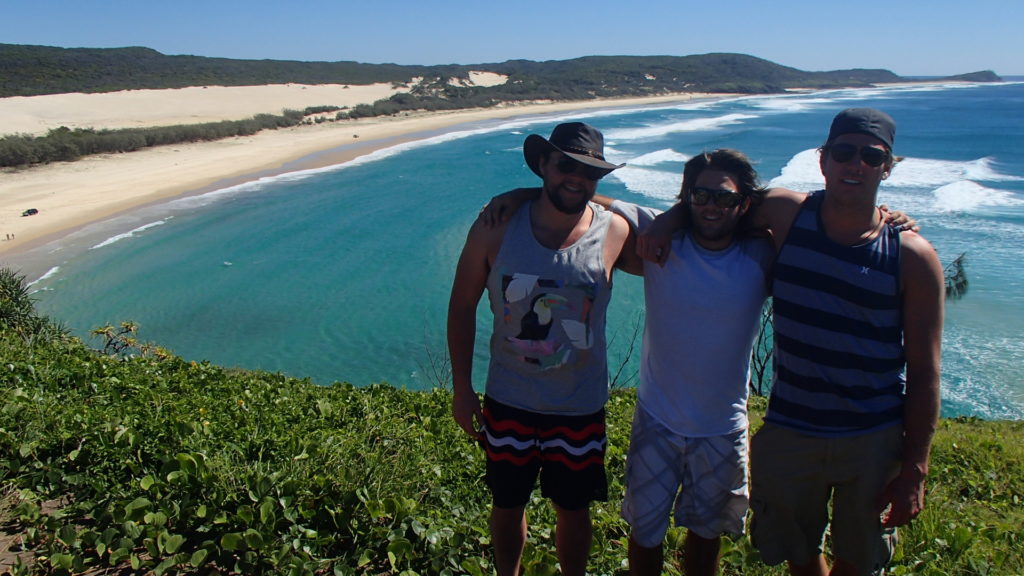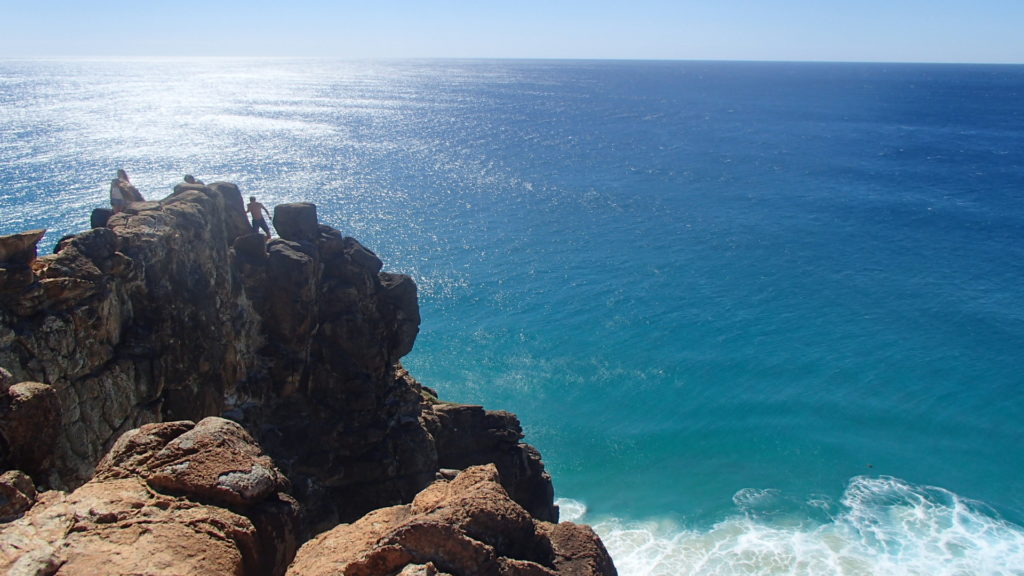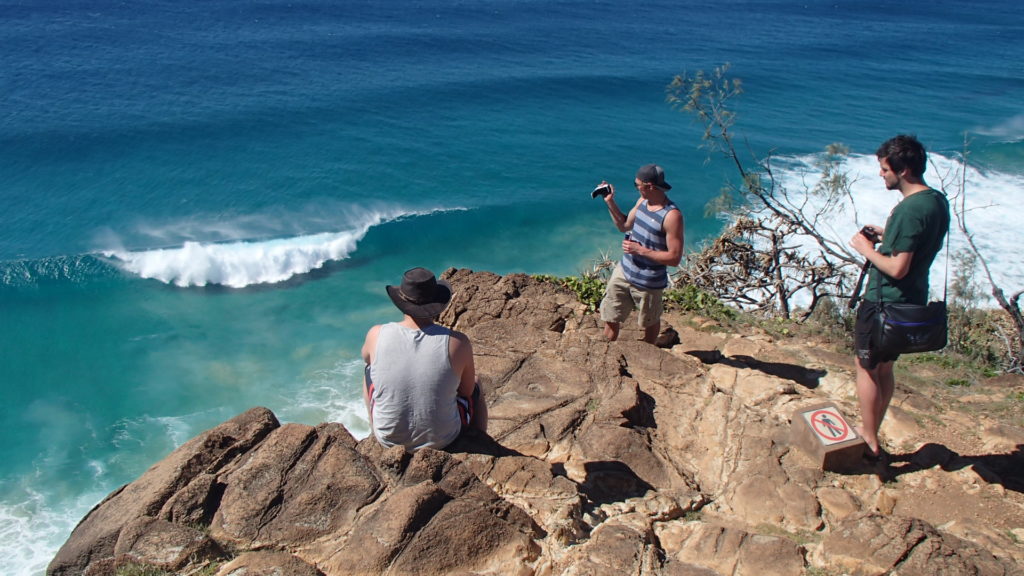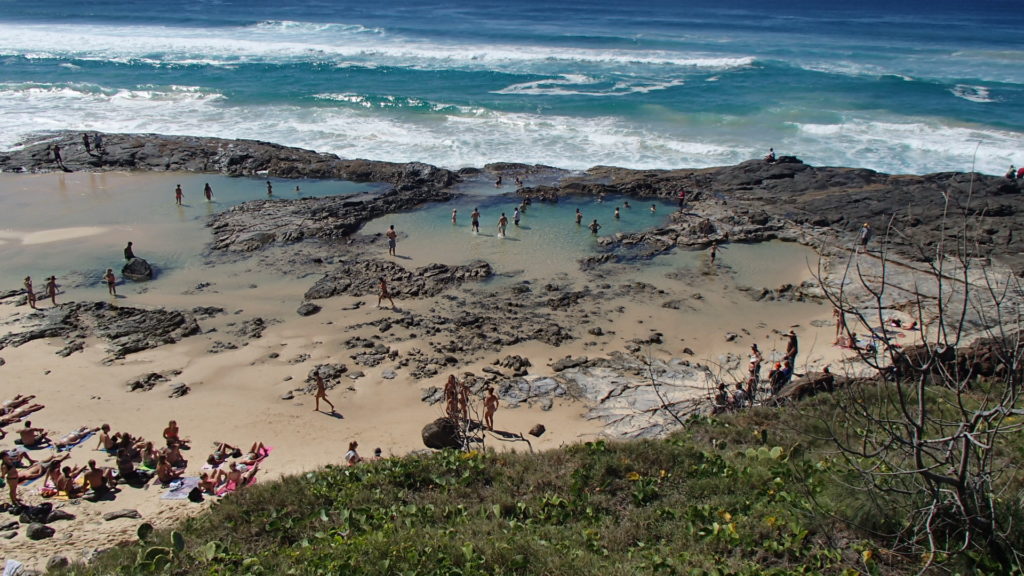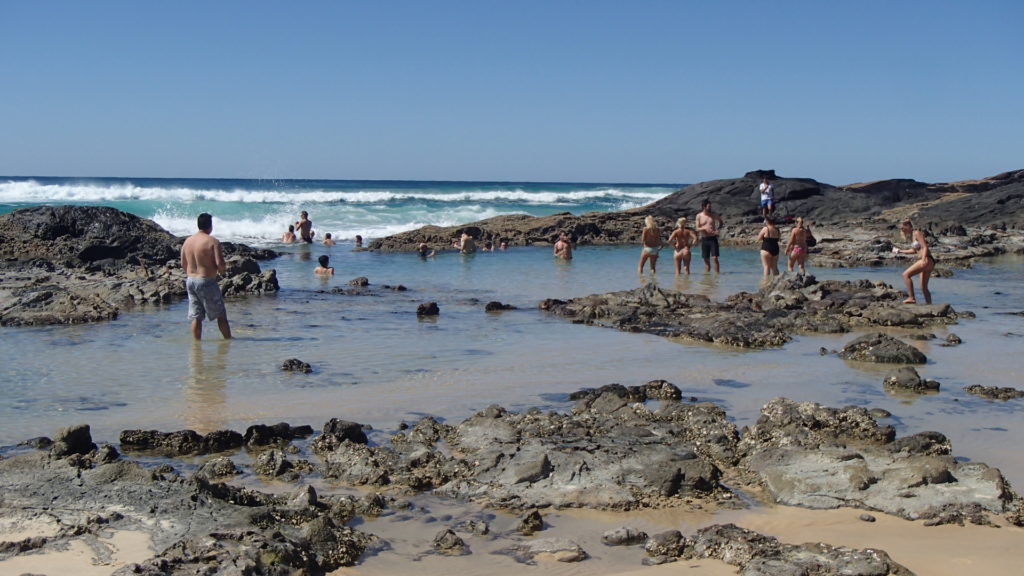 On our way back down the beach we checked out the shipwreck of the S.S. Maheno, which was wrecked by a cyclone in 1935.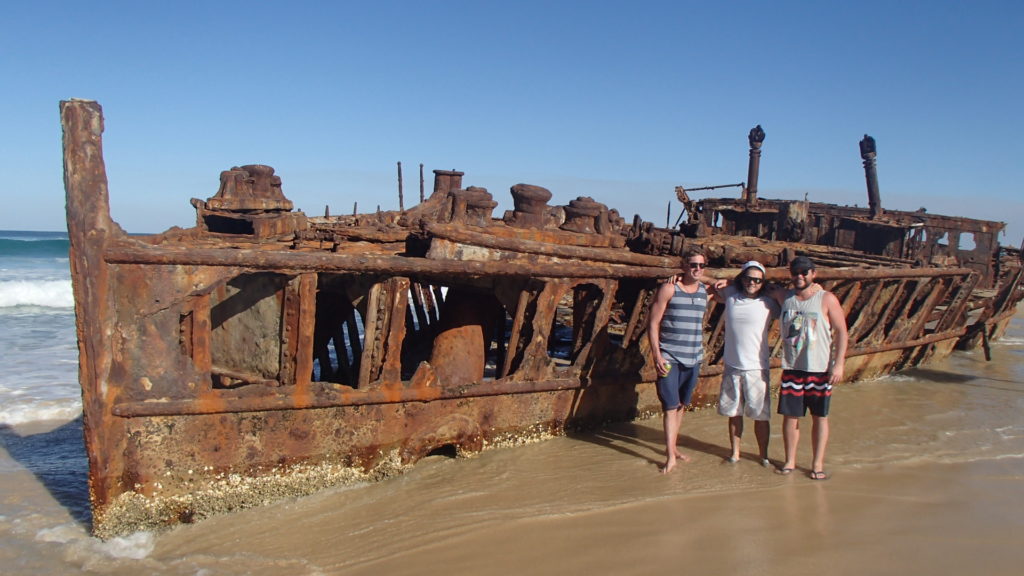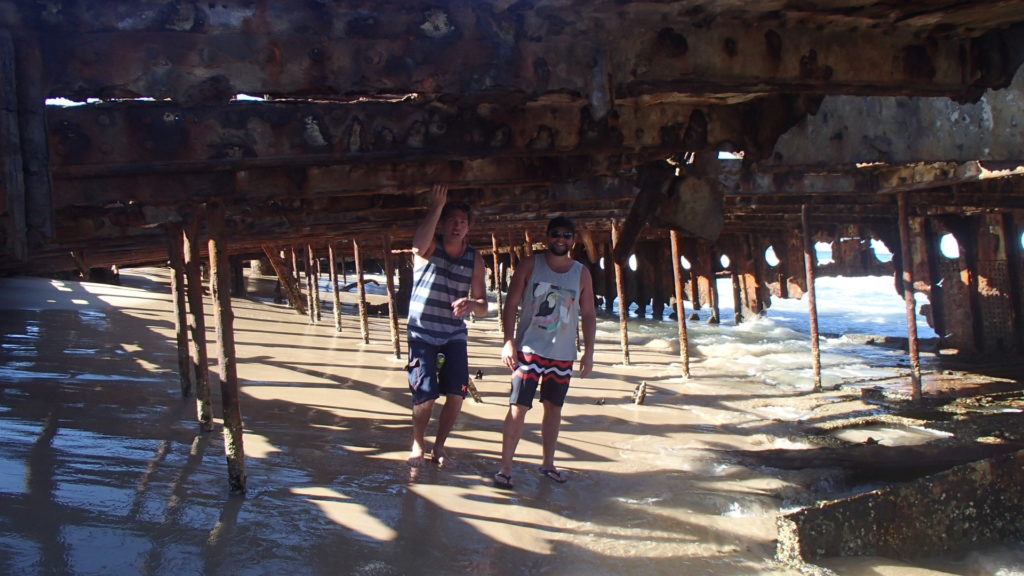 Then it was on to Lake Mackenzie, which is one of the most picturesque lakes I have ever seen. The beautiful shades of blue were amazing to see as we emerged from the bush trail that led to the lake.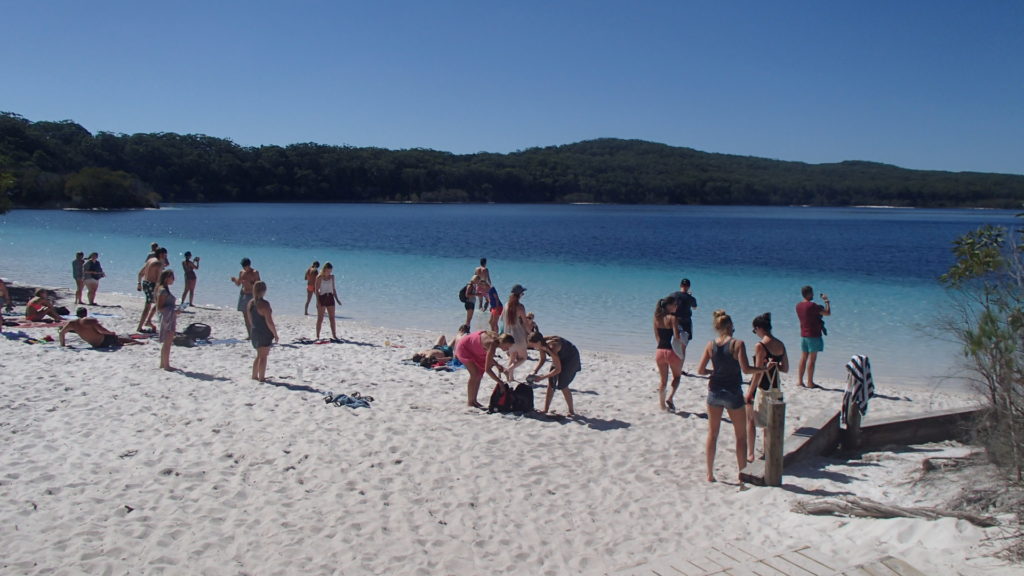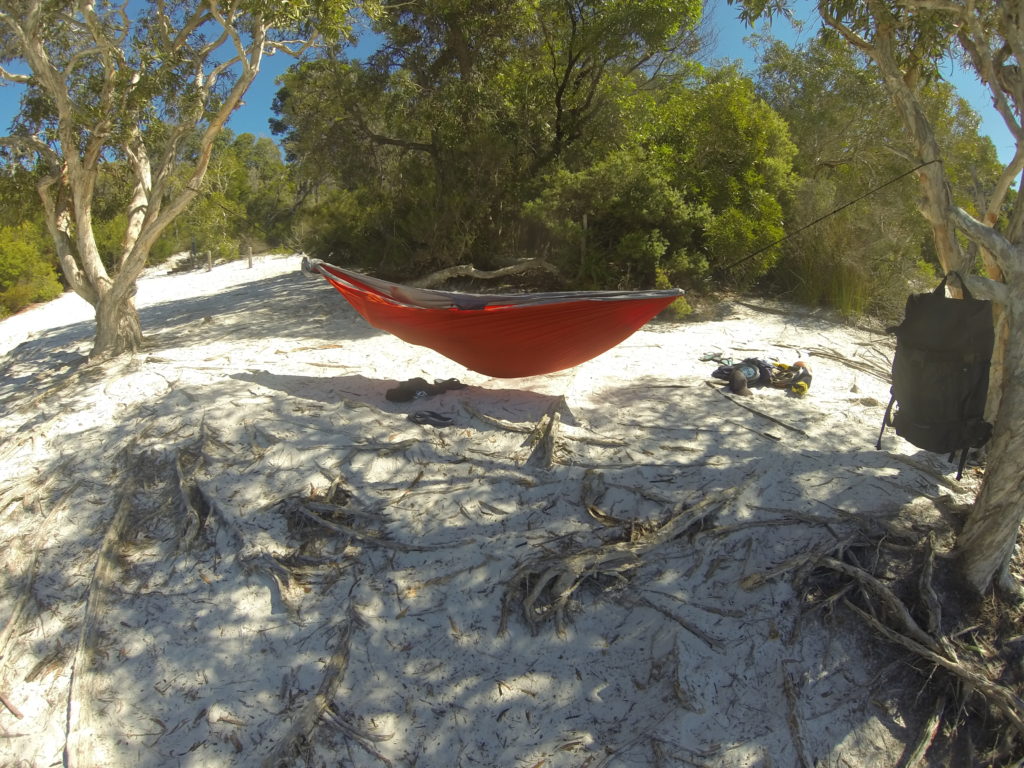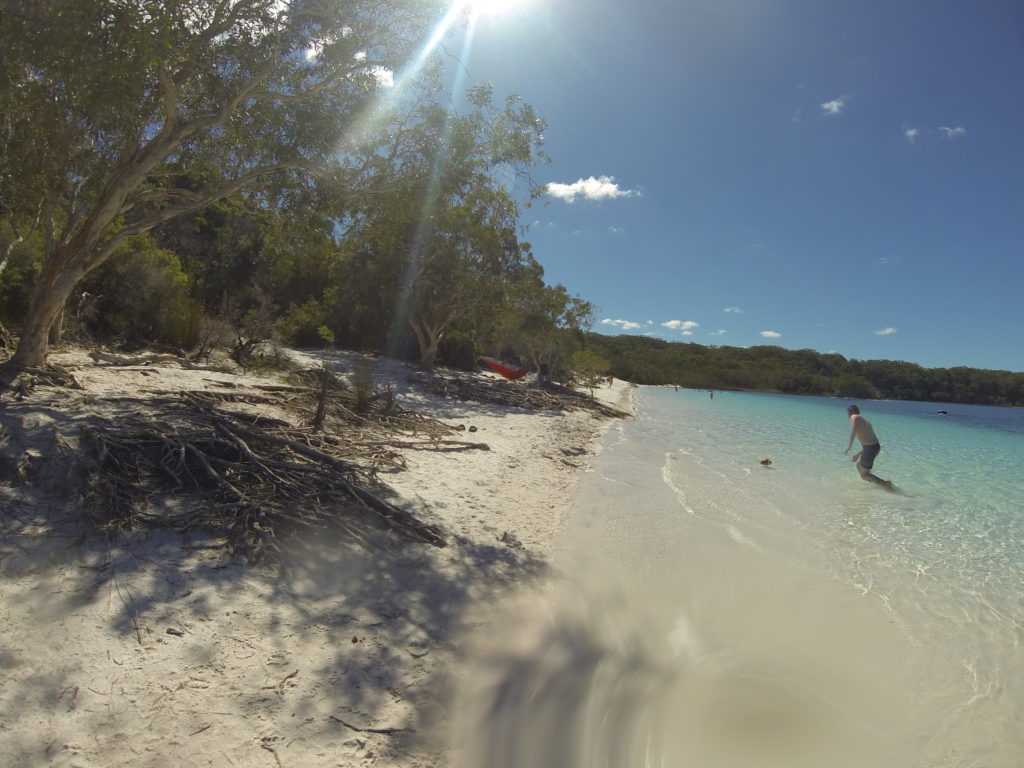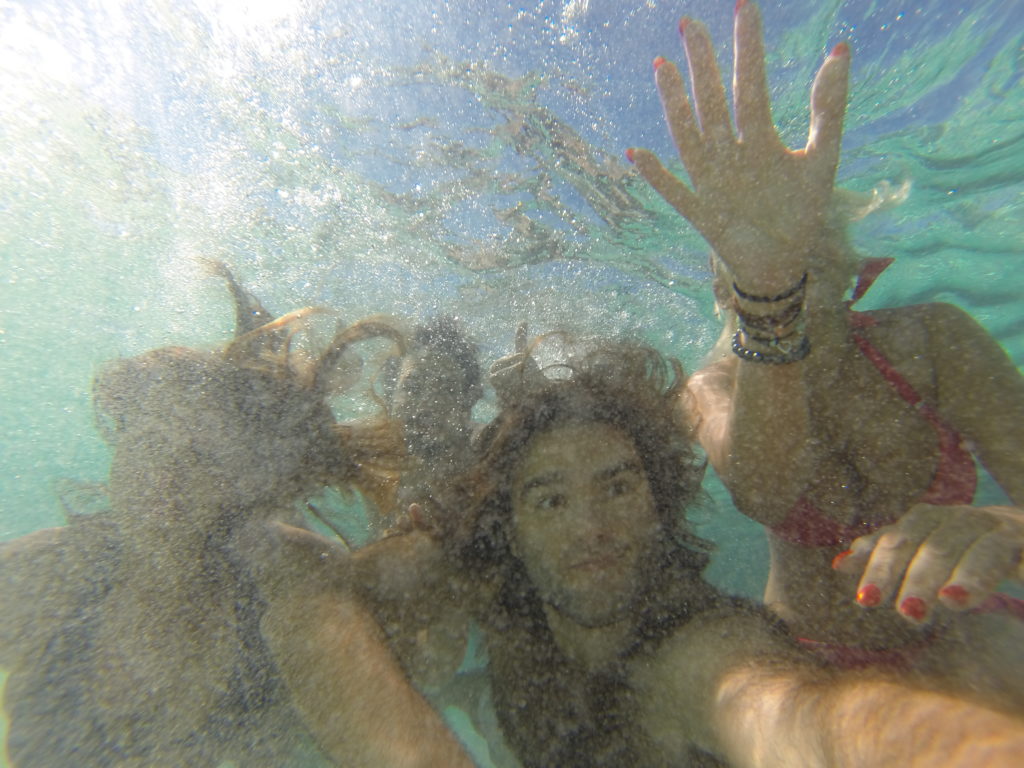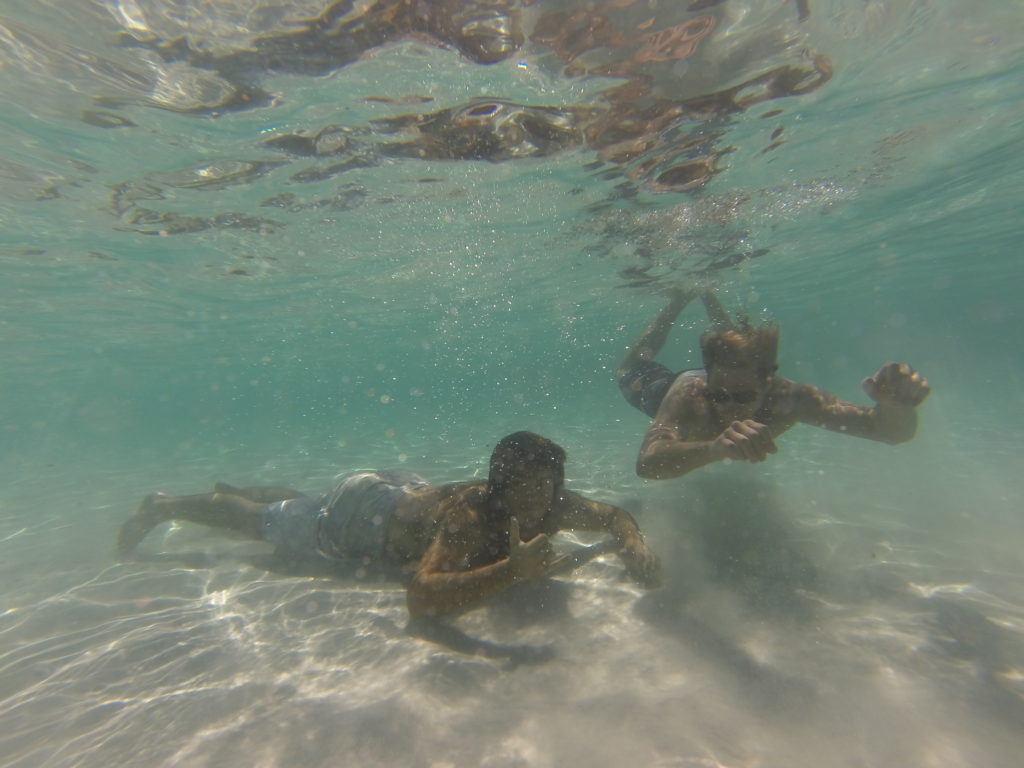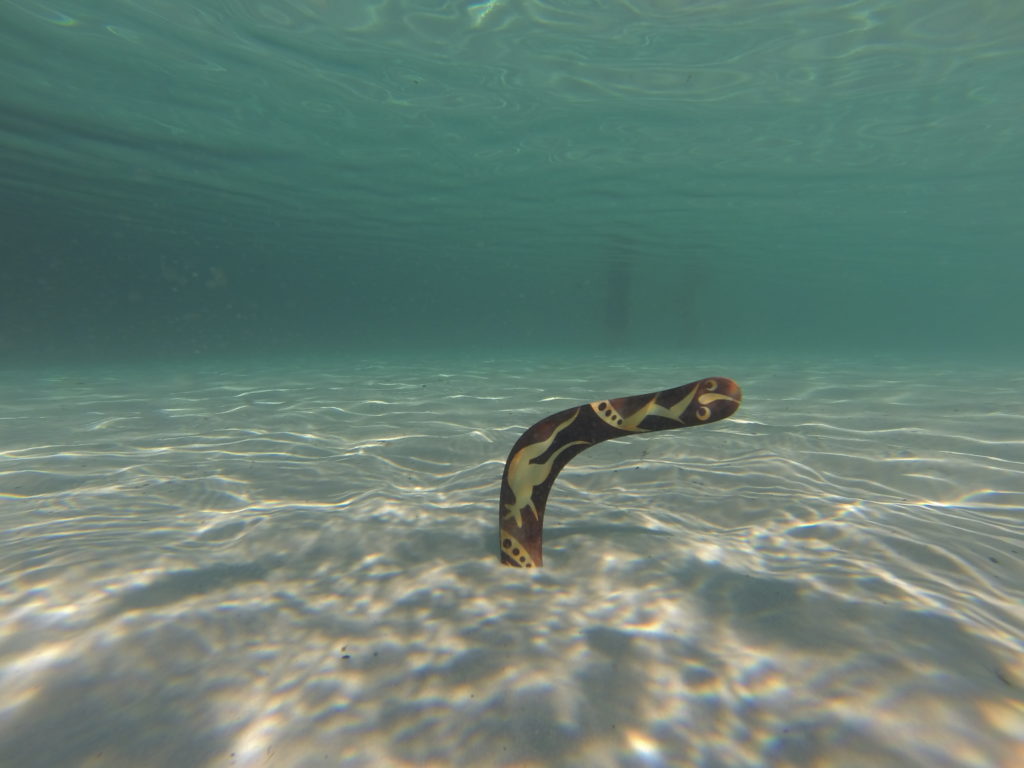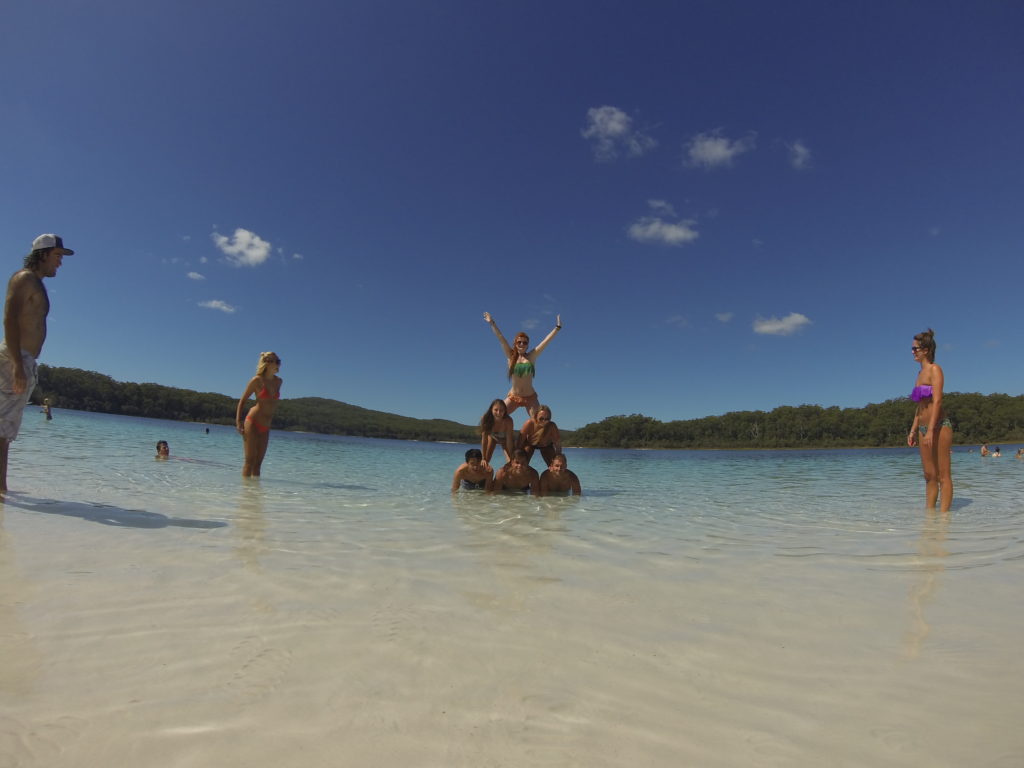 The last night on the island was filled with great banter and bartered meals. The group we had on the tour was awesome and it definitely added to the trip. I think we were all a bit sad to be back on the mainland the next day, but we saw some wild kangaroos in a field next to the highway, which cheered us up. I thought it was pretty cool to see them in the wild, like seeing bears in the wild in Canada.
At this point we only had about three days to get to Sydney and there was a handful of things we wanted to do along the way. The bucket list adventures continued as we drove though most nights to get to destinations on time. My posts over the next few weeks will relive the stories of these three days and the items I crossed off my list.
Have you been to the Great Barrier Reef or Fraser Island? Let me know in the comments below.
Make sure to read my next post, [#12 Lesson] Balance Between Planned and Unplanned Adventures, which discusses the lesson learned by completing this item. Want to be notified when it is posted? Subscribe below.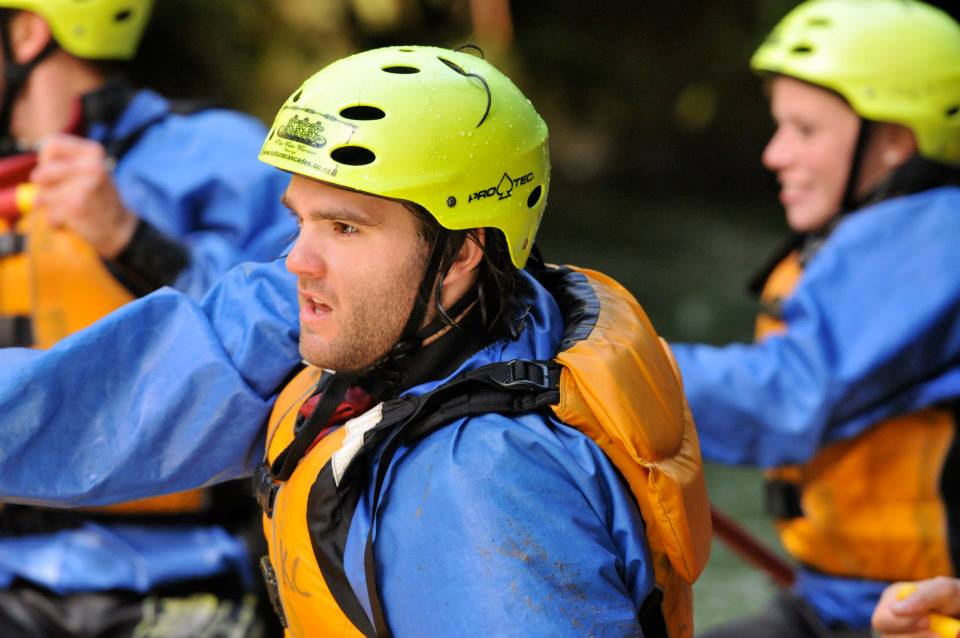 Dave has been on a mission, since 2010, to cross off the 100 items on his bucket list. The stories of his adventures are complimented by life lessons learned along the way and his travel tips are unique to his experiences.