This bucket list item was completed on 28th April 2015 at Australia Zoo, Beerwah, Australia.
This blog post picks up where #12 Scuba Dive the Great Barrier Reef left off. After doing the Reef, we did a 3-day tour on Fraser Island, which meant we had very little time to get all the way down to Sydney.
Another bucket list item that I had planned for this trip was to hug a koala bear. Australia Zoo was started by Steve Irwin and his wife Terri 50 years ago and is praised for being one of the best zoos in the world. I did my homework before leaving on this trip and knew that this would be a good place to do a koala encounter.
Australia Zoo is conveniently located an hour north of Brisbane, which meant we had to go right past it on our way back down from Fraser Island. It was getting late in the afternoon by the time we made it back to our campervan and I knew it was a 3-hour drive to get down to Australia Zoo, so we filled up the tank and hit the road.
We grabbed some dinner on the go and managed to get to the small town of Beerwah before the sun went down. We found a quiet street to park the campervan for the night, so that we could get up in the morning and go straight to the zoo.
It was good that we went to the zoo when the gates opened, to avoid the crowds. The koala encounter was only at set times so we had to kill a couple hours around the zoo beforehand. Not like this was a hard task; the zoo is immense and there are so many animals to see that you do not typically see in North American zoos.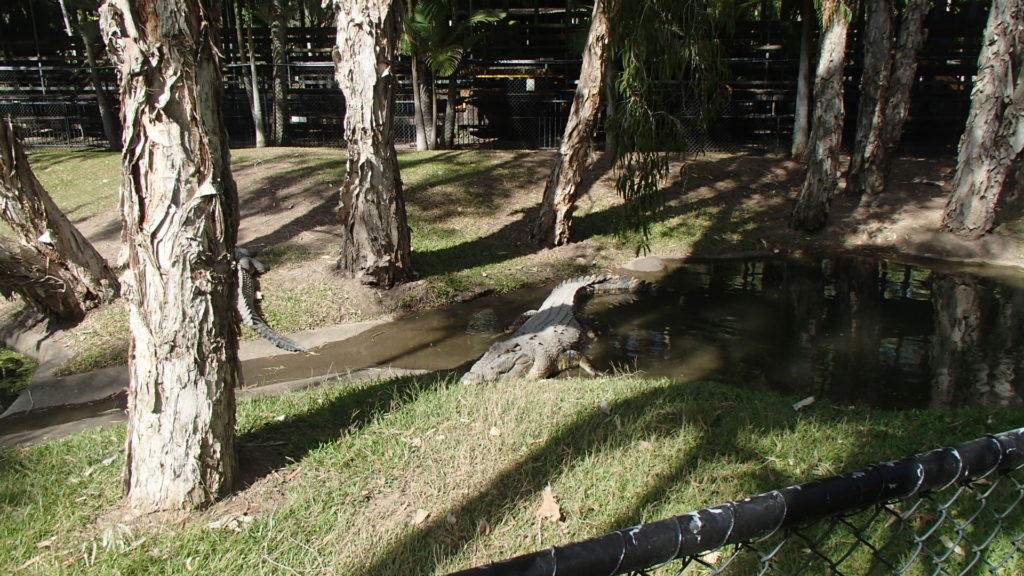 Although we had just seen the kangaroos in the wild, coming back from Fraser Island, it was cool to go to the kangaroo sanctuary where they were all relaxing, out in the open. They are very tame and not much harm to humans, so they allow people to walk around with them. Branden even bought some roo food and we got the chance to have them eat out of our hands.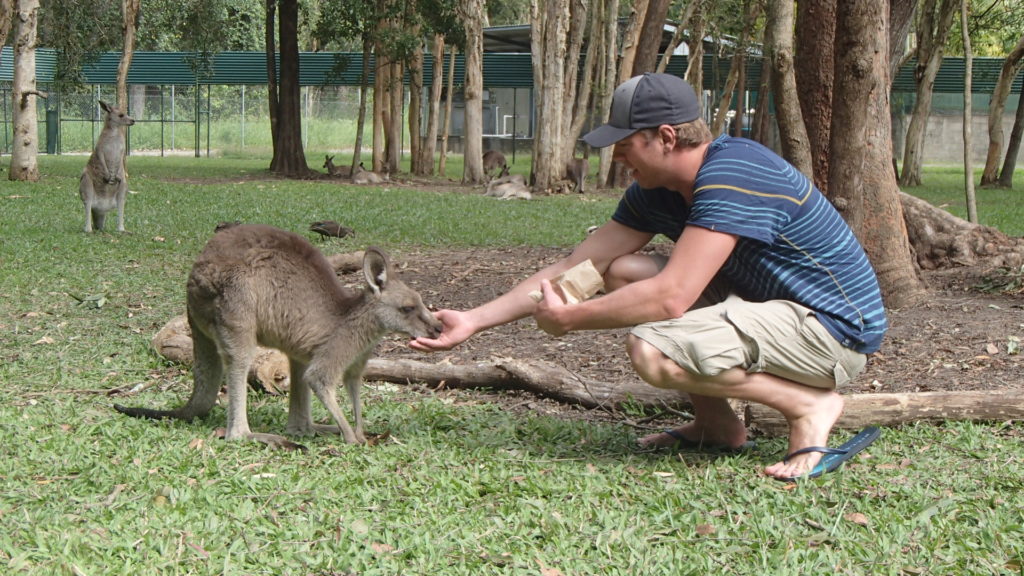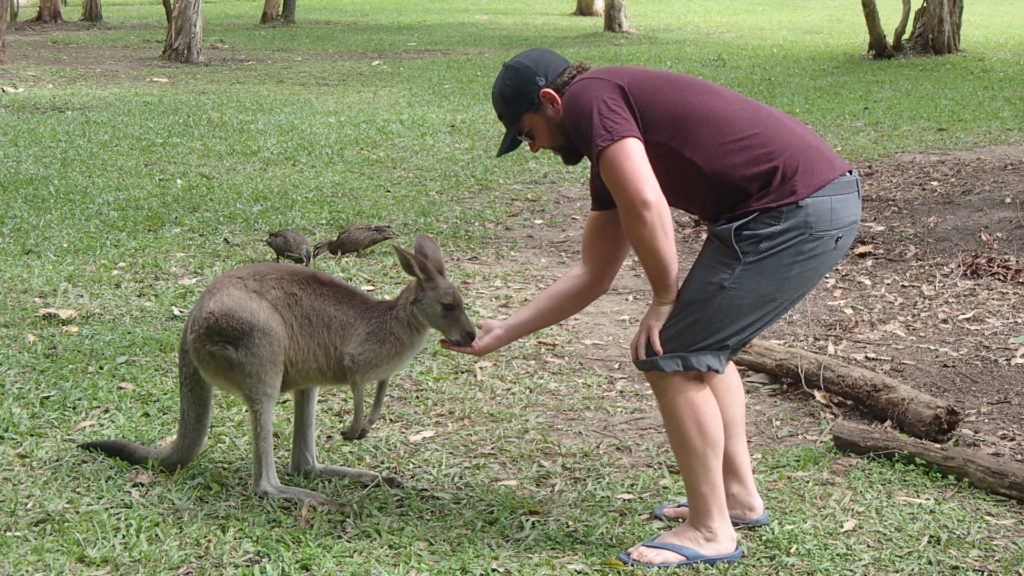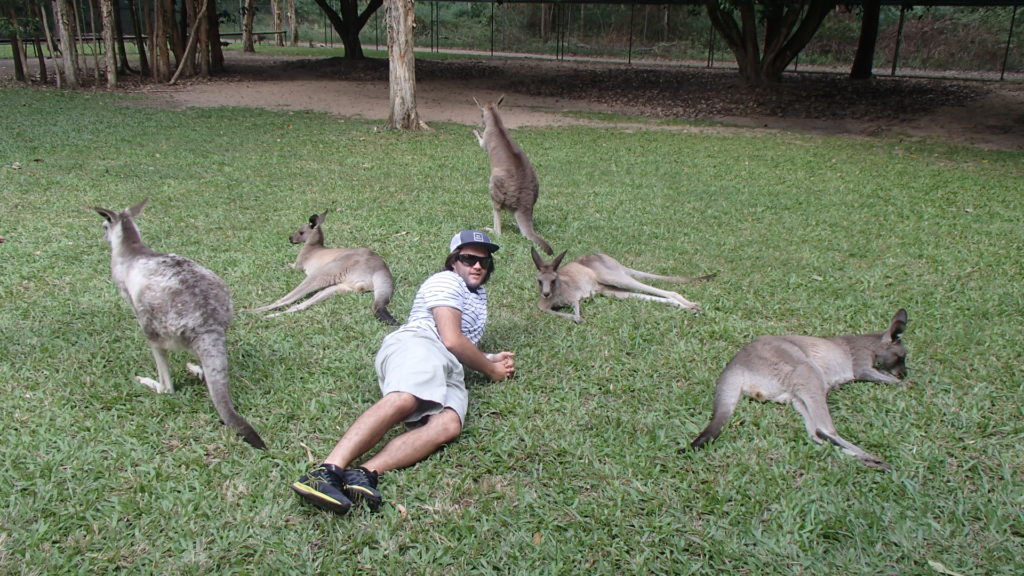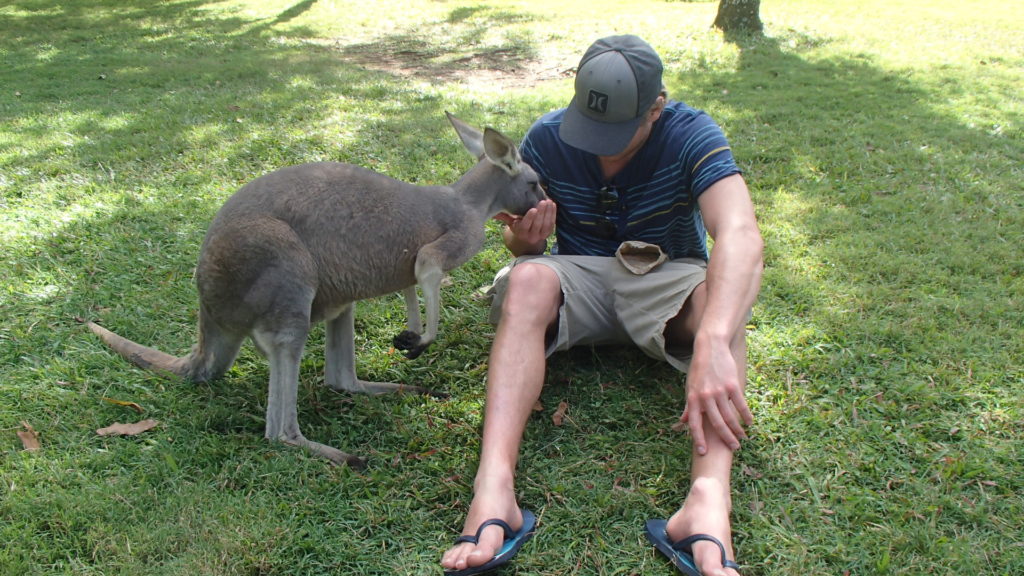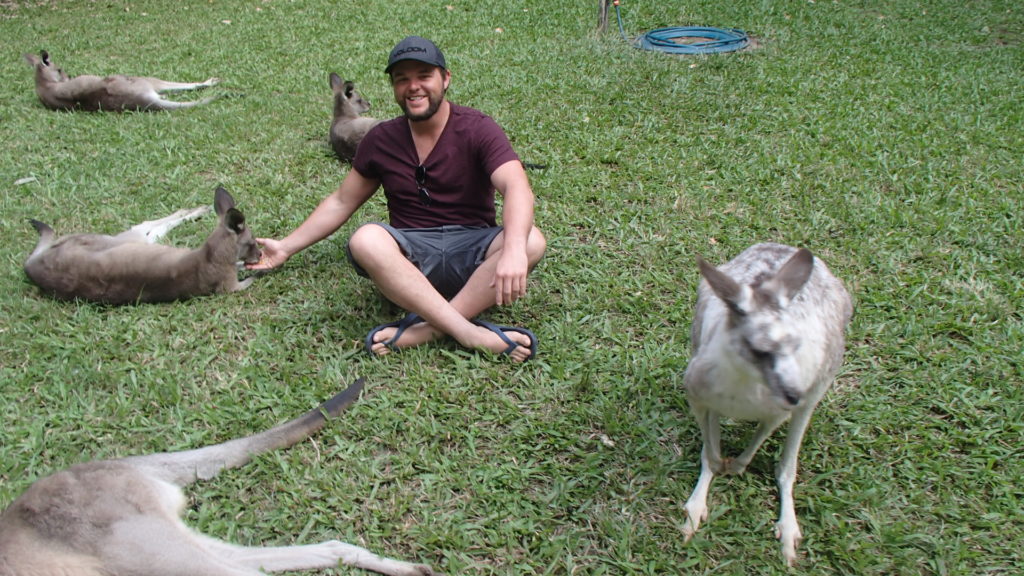 I thought it was just so cool to watch them move around up close. I knew that they used their tail to help manoeuvre, but they can use it to support their whole body weight. Their tails are a lot stronger than I thought.
After a couple hours of cruising around the zoo, it was time to head over to the koala area for my encounter. Dave and Branden had skipped the encounter and continued browsing the zoo. There was one other person on the encounter with me and we were both pretty excited to hold a koala. The zookeeper gave us a quick briefing about holding the koalas while her assistant brought one over.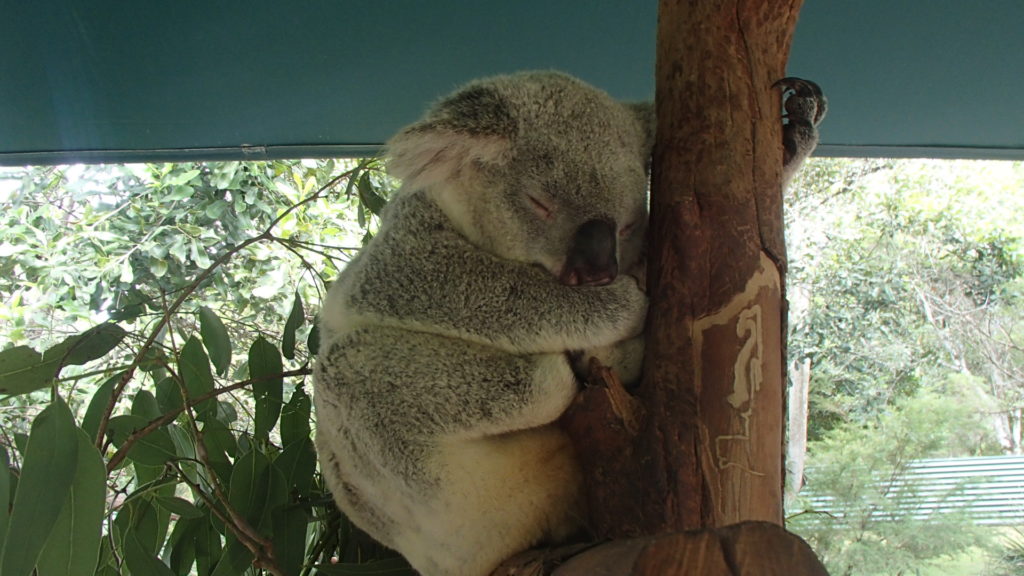 The assistant passed the koala to me and showed me how to hold it, not much different from holding a small child. Koalas are very docile creatures and very chilled out.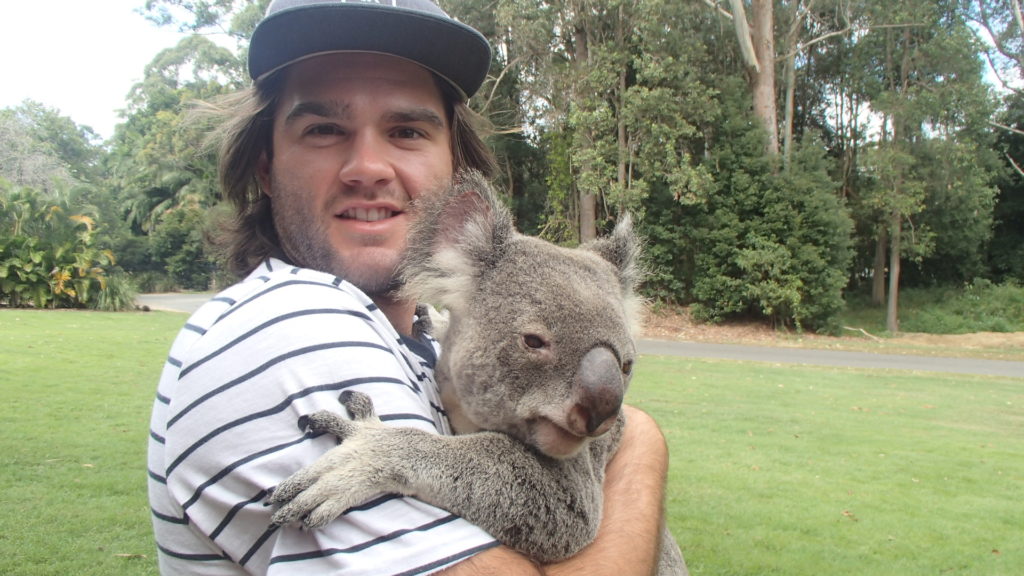 Once he was in my arms, he never tried to escape or get away. However, there were three distinct things that I noticed after holding him for a while. First, I noticed the smell. They spend so much time in the eucalyptus trees, eating the leaves, that they constant smell like eucalyptus. This wasn't a bad thing as the smell of eucalyptus is quite relaxing.
Second, he was always looking around inquisitively. I asked the zookeeper about this tendency and she explained that koalas have exceptional hearing. So while I might not have heard something interesting in the next sanctuary over, he did. His ears would perk up and then his big eyes would focus off in the distance. It took us a few tries to get a picture with him looking toward the camera.
Third, their claws are very sharp. Perhaps he thought I was a tree, but even though I was supporting his weight, his claws were digging into my upper arm. It wasn't painful, but hard enough to notice.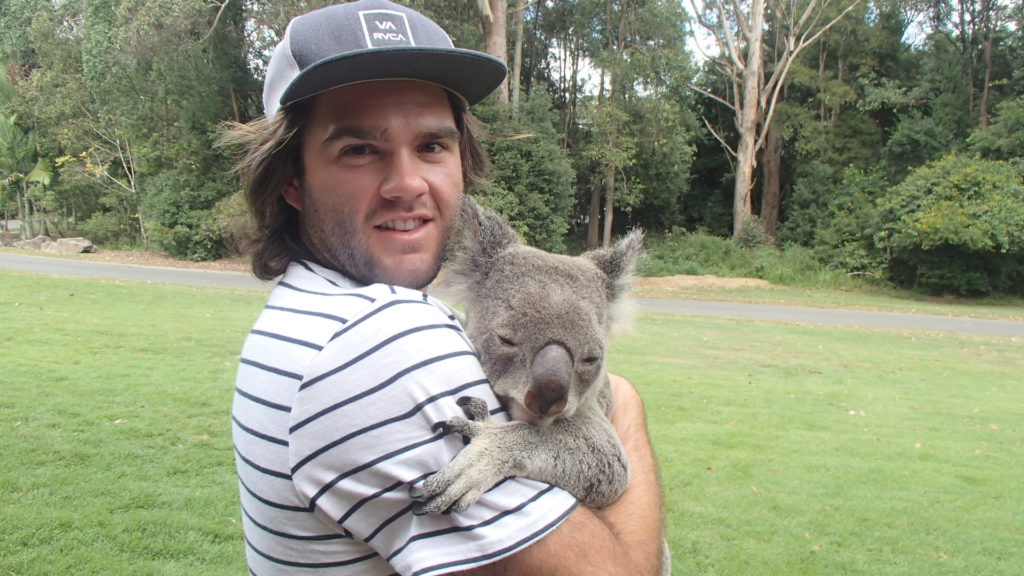 During the encounter the zookeeper continued to talk about koalas and gave us some fun facts. Although koalas love eucalyptus, there is not much energy in the leaves. By the time they climb around the tree to find some leaves and have a feed, they're ready for a nap. She told us that koalas can sleep for up to 18 hours a day and are usually only active for short periods of time.
Overall the koala encounter was a cool experience and I'm glad that I put it on my list. Even by mid-day we had not seen the whole zoo so we continued over to the Africa section where they had giraffes, rhinos, elephants and many others. I had never seen these animals before so that was an awesome experience as well.
We could have easily stayed there a bit longer but the clock was still ticking and we were still very far away from Sydney. We continued down through Brisbane and kept heading south, in search of one more bucket list item to cross off my list. Keep an eye out over the next few weeks for the next adventure.
Have you hugged a koala bear? Where did you do it? Let me know in the comments below.
Make sure to read my next post, [#66 Lesson] Relaaaax, which discusses the lesson learned by completing this item. Want to be notified when it is posted? Subscribe below.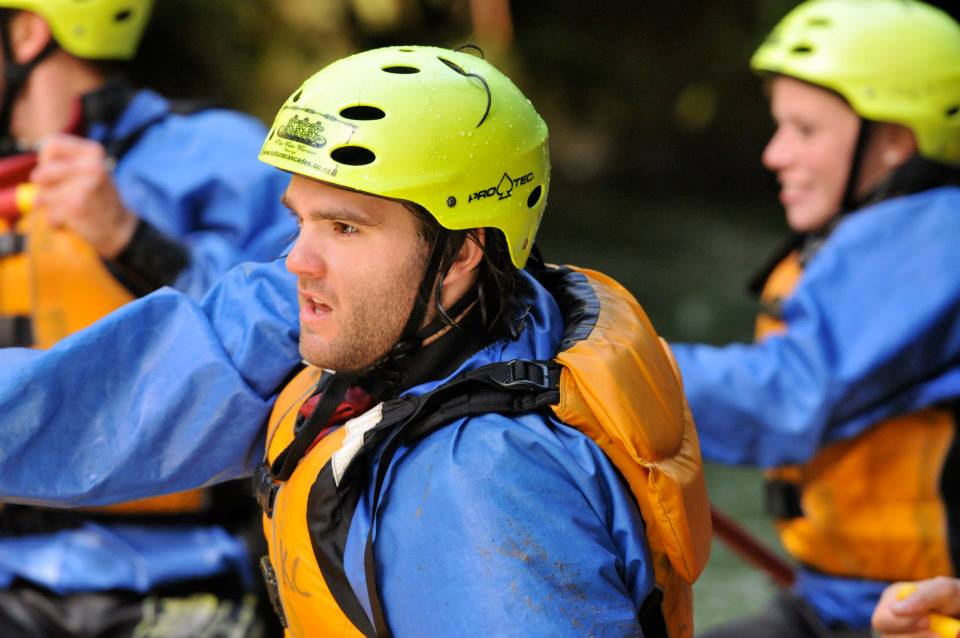 Dave has been on a mission, since 2010, to cross off the 100 items on his bucket list. The stories of his adventures are complimented by life lessons learned along the way and his travel tips are unique to his experiences.