This bucket list item was complete on 15th July 2016 in Venice, Italy.
During the same skydiving holiday in Italy to Grand Turismo, mentioned in my previous post #90 Go to Pompeii, I had this bucket list item in my back pocket. My main purpose for the holiday was to jump out of airplanes as much as possible and I was successful at this by completing 104 jumps in three and a half weeks. The weather in Fano was ideal for jumping and consistent almost every day, which is how I was able to complete so many jumps. However, I had hung out around enough dropzones and knew enough about weather patterns to know it could not last forever. Or at least one side of me was hoping that would be the case.
I was dealing with an internal struggle between two sides of me. The skydiver side of me wanted to wake up every morning to the same sunrise, jump ideal conditions all day long and then sip vino rosso and eat pasta as the sun went down. The adventurer side of me wanted the same perfect days but was hoping for a two-day weather forecast that called for rain in Fano. This brief patch of rain would mean no jumping for a couple days and would allow me to go to Venice for the night without feeling guilty that I wasn't jumping.
Furthermore, I was also hoping that the same two-day stretch would be forecasting sun in Venice. It was a fairly specific scenario that I was hoping for, but since I was relying on hope I decided to hope for my ideal scenario. The internal struggle wasn't between good and bad or right and wrong; it was about trying to do two activities at the same time without having to compromise one for the other. I found this quite funny because both sides of me were trying to ensure I had a great time on this trip. It was a win-win, how could I lose?
I arrived at the dropzone on 5th July and proceeded to jump in ideal conditions for the first week I was there. I was getting plenty of jumps in each day and the skydiver side of me could not be happier. Each night when I arrived back at the B&B, that we were all staying at, the adventurer side of me took over and checked the weather forecast for the next few days. Finally, the forecast for 15-16th July was predicting rain in Fano. I quickly checked the weather for Venice, which was predicting sun. How lucky could I be? I was hoping for this exact scenario and it was going to happen.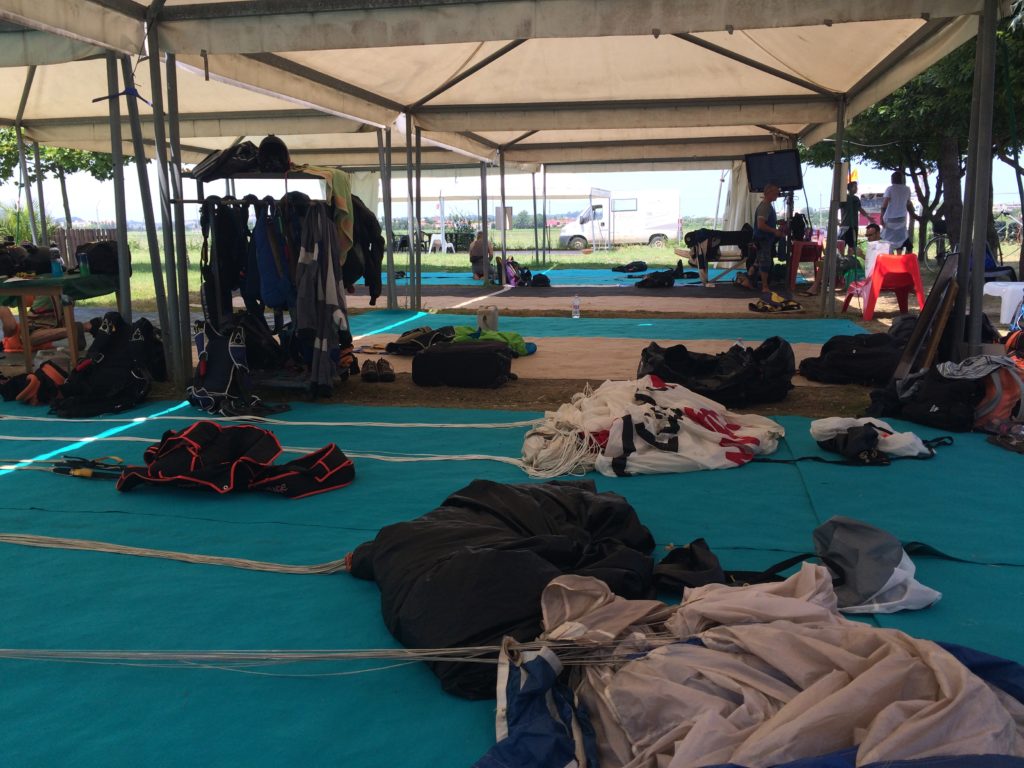 Before leaving for Italy, I exchanged many messages with my friend Bindi. I met Bindi in New Zealand, early in my skydiving career at a time when she was just getting back into the sport after a long hiatus. We worked well together as I was a novice and she was a bit rusty from her lack of currency. Bindi lived in Australia and I lived in New Zealand so our messages usually consisted of how excited we were to see each other again and to get back up in the sky in Italy.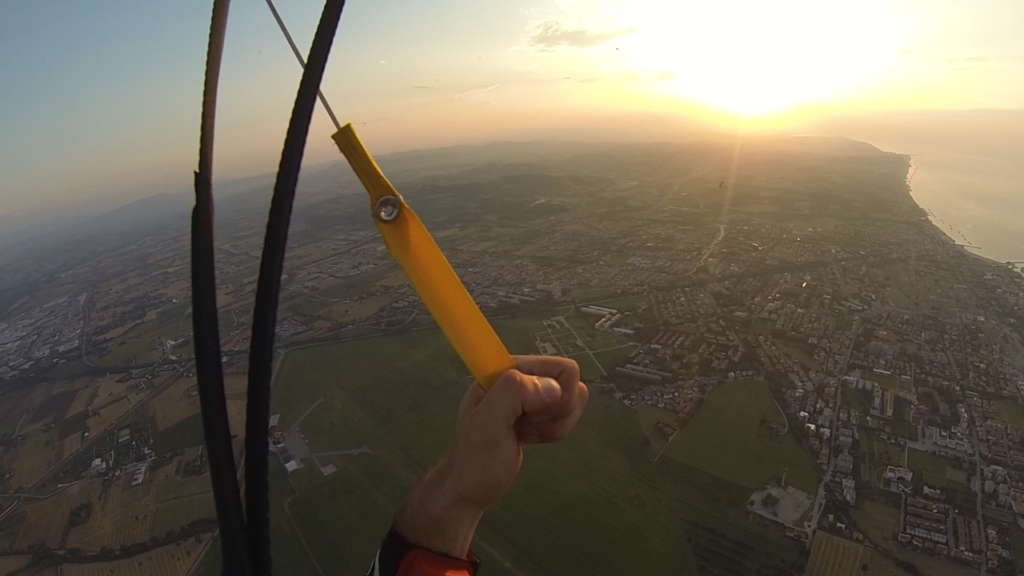 Bindi had always followed what I was doing with my bucket list so I let her know that, during my time in Italy, I was planning on going to Venice to ride in a gondola. Bindi loved the idea and expressed her desire to join me on the adventure if the timing worked with her arrival. Bindi was scheduled to arrive at the dropzone on 14th July, which meant that her arrival was going to fit into the Venice adventure perfectly.
Bindi arrived as planned and after receiving her dropzone briefing and orientation I let her know what the weather forecast was predicting. I was mindful that she had just arrived at the dropzone to jump but all signs were pointing to these two days been the best for us to go to Venice. She agreed and we went down to the Fano train station, later that day, to buy tickets for the next morning.
Coincidentally, a couple of Bindi's friends from Australia were travelling Europe and she remembered they had mentioned they would be in Venice at some point in July. Bindi sent them a message and their response detailed that they would be arriving in Venice on July 15th, the same day as us. Also, they had already secured an apartment in the city and offered us a place to stay for the night. My initial bit of hope was turning into pure elation as the scenario I had dreamed up began to play out, better than I could have imagined.
We hopped on the train in the morning and set off on our four-hour journey north. We slowly made our way out of rain and into better weather as we moved up the Adriatic coast. Upon arriving in Venice, shortly after 12 pm, we were welcomed by perfectly sunny weather. We were both excited to have arrived in Venice and since we were on holiday, the first thing we did was go and get a beer.
We took our beers with us as we strolled through the streets, looking at all the trinkets in the stores and some of the fresh produce that vendors were selling. At one point we walked over the Ponte delle Guglie (Bridge of Spires), which spans the Cannaregio Canal. The bridge is located a short distance from the intersection of the Cannaregio Canal and the Grand Canal. As we walked over the bridge I noticed a few gondolas tied up along the canal, awaiting passengers. I noted their location in my head but we kept exploring and drinking our beers.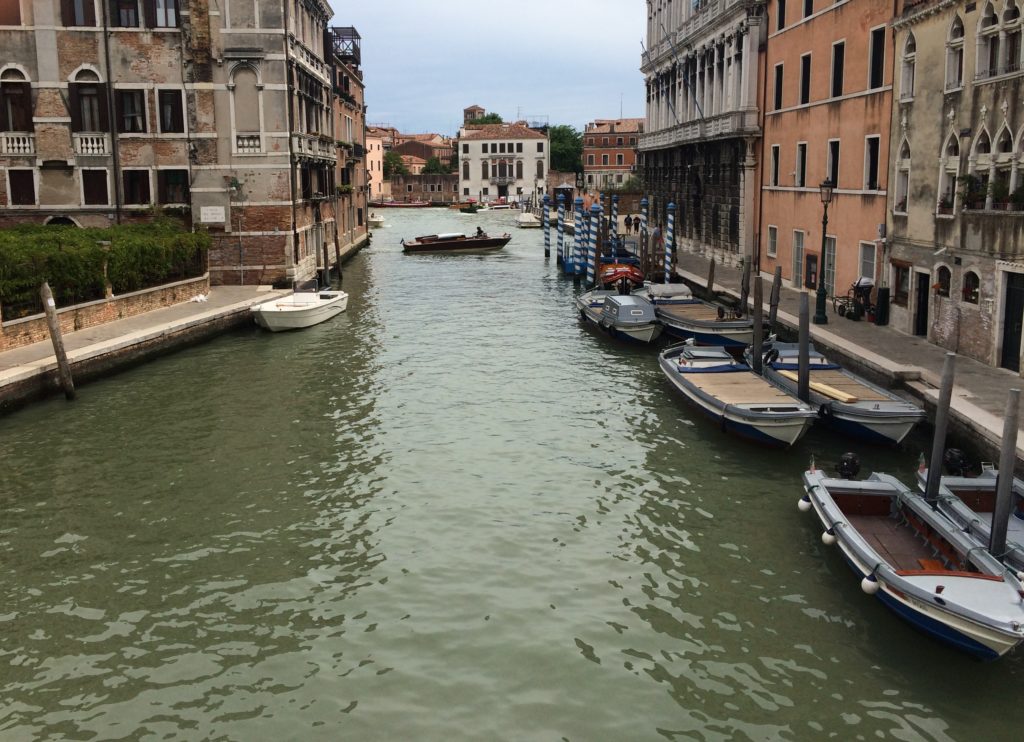 Venice is a lovely city, but unless you have a good sense of direction and are quite savvy with a map, be prepared to get lost. We kept moving in the direction of the apartment and checked out many side streets that led down to the Grand Canal, to find the best place to hop on a gondola. In the end we came to the conclusion that the gondolas we had walked past at the Ponte delle Guglie appeared to be the best launching point, so we turned around and began to retrace our steps.
As we walked back toward the Ponte delle Guglie we stopped at one of the vendors and each bought a sailor's hat with "Venezia" stamped on the front of it. If we were going to do something a stereotypical tourist would do, I wanted to look like a stereotypical tourist. After getting the hats we stopped and bought a couple more beers to have on our gondola ride.
Upon arriving back at the canal we approached a gondolier, Adamo, and asked him how much it would cost. We learned that the cost is dependent on a couple of things; one was how far you wanted to go and the other was whether you wanted to go one-way or return. Adamo recommended a 30 minute loop, which would take us across the Grand Canal, through some side canals and return to our same starting point, for €80. We agreed to his plan and hopped on the gondola.
The trip was amazing! He took us into the Grand Canal, past Casino di Venezia and explained how it is the oldest casino in the world. He then steered us through numerous little side canals and pointed out interesting sites and filled us with historical facts. Adamo also explained a bit about himself, such as how long he had been a gondolier, why he enjoyed it and that he was an independent owner/operator.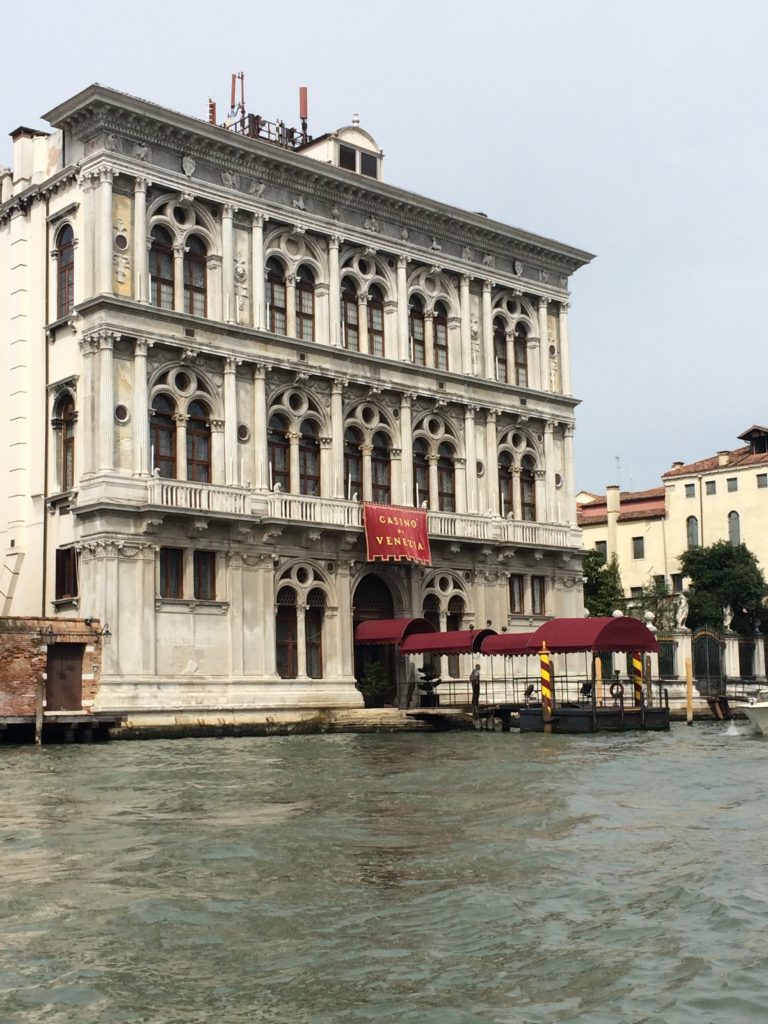 At one point we went past a parking garage, the exact one from the opening scene of the remake of The Italian Job, which came out in 2003. I recognised it instantly and was delighted to have seen it. He went on to explain how it is the only privately owned parking garage in the city. I enjoyed the whole experience and it was better than I had imagined.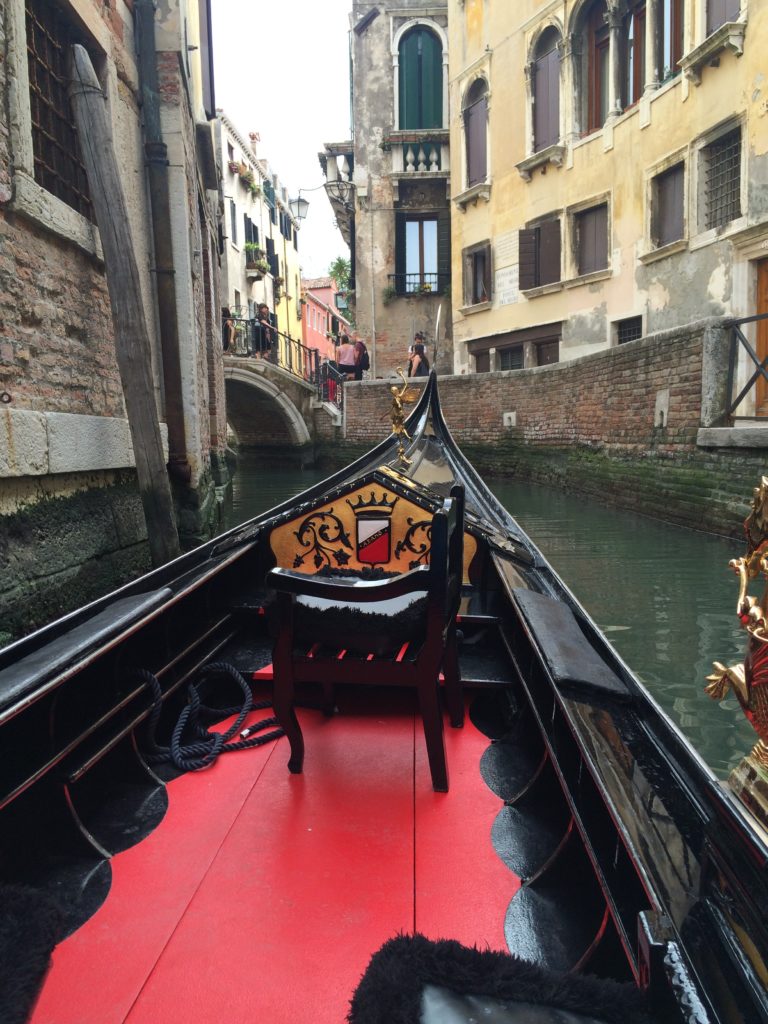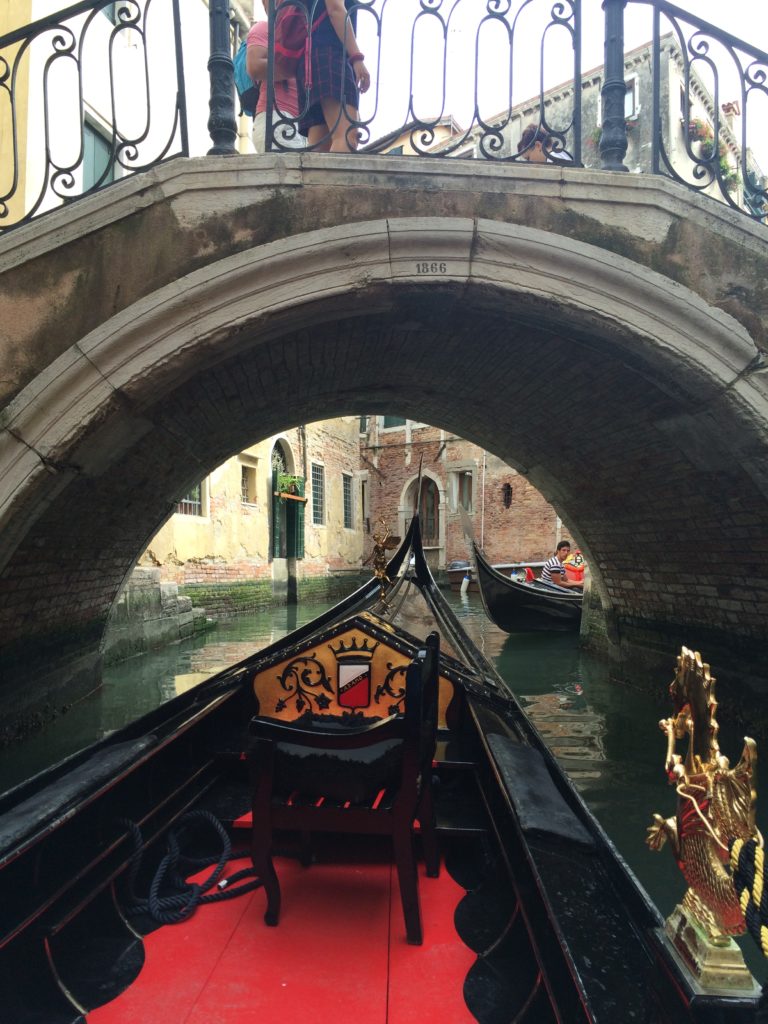 After our gondola ride we made our way to the apartment and met up with Bindi's friends, Yvette and James. We threw our bags down, exchanged pleasantries and all decided another beer was in order. While drinking our beer we discussed where we should go for dinner. Coincidentally, a place that caught my eye earlier was directly beside where we hopped on the gondola. Bindi had noticed this place as well so we decided to go there.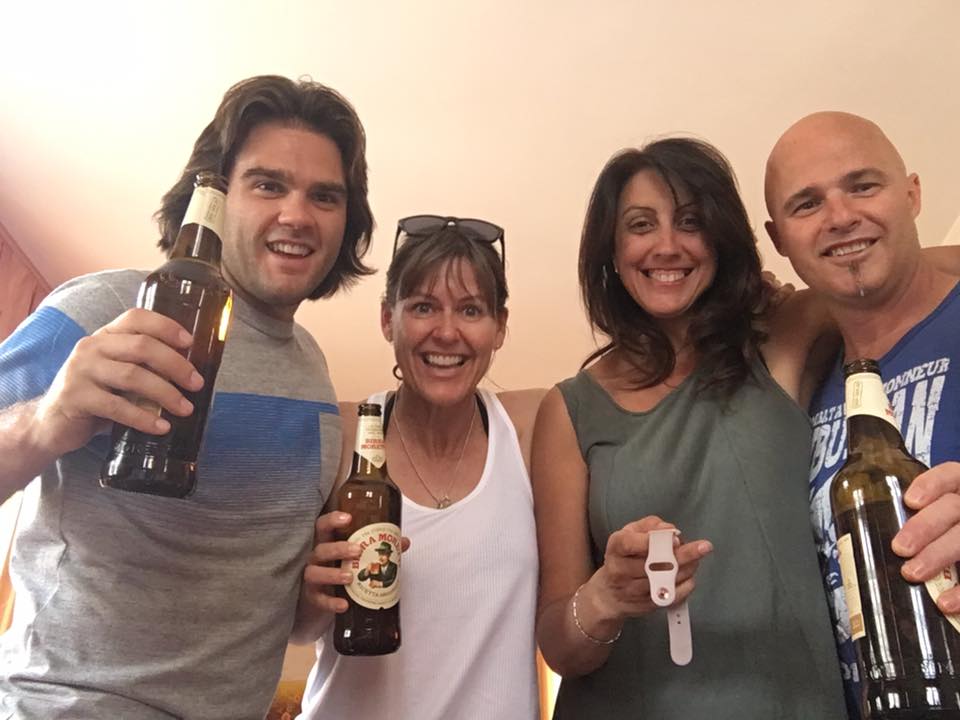 However, it was only 5 pm and that is far too early to have dinner in Italy so we came up with another idea. We decided to leave the apartment and have our own personal pub crawl as we made our way to Ristorante Alla Pallazzina. We stopped at four different bars along the way and sampled at least one of the beers from each of their selections. If you have been keeping count, we were up to quite a few beers at this point.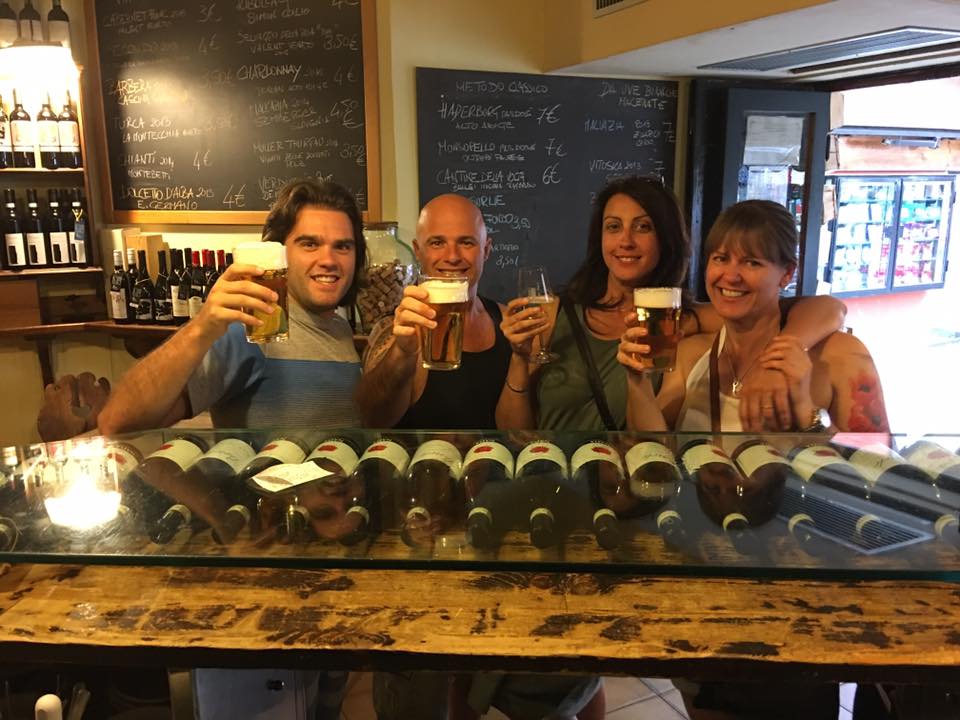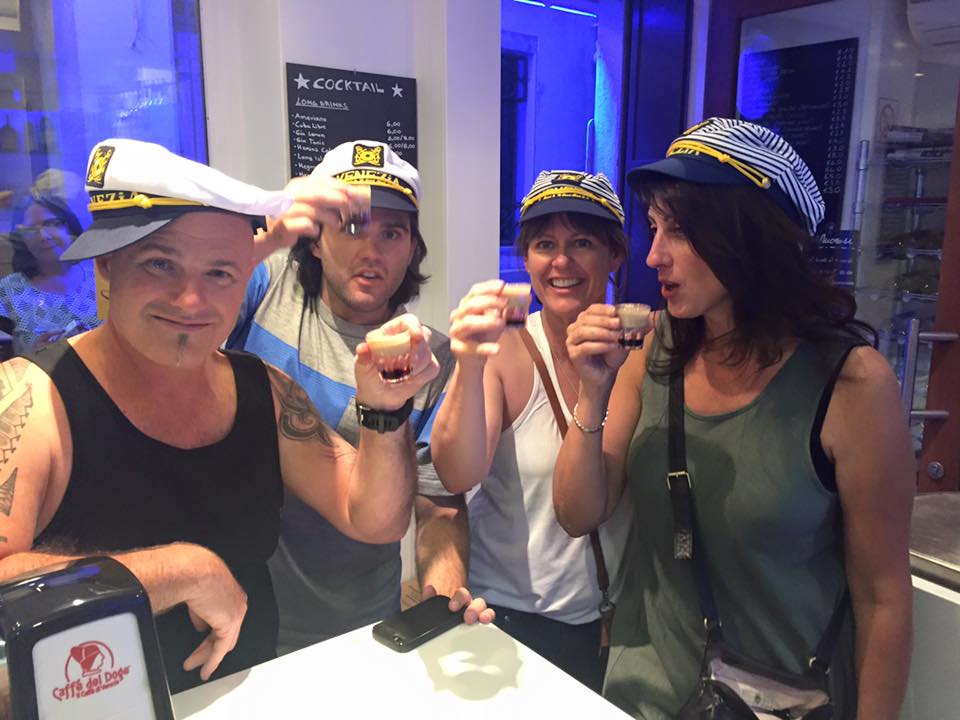 We finally arrived at the restaurant around 8 pm and were seated at a table. We ordered some wine and sampled a couple of platters, along with some other small meals. The food was delicious and did us some good, considering how many alcoholic beverages we had consumed. During the meal Bindi and I explained to Yvette and James how great our gondola experience was earlier that day. We thought if we were lucky, Adamo would be outside when we left.
After we paid for our meal we popped our heads outside to check if he was there and sure enough he was. He was delighted that we wanted to come for another ride with him. A group decision was made to buy one more bottle of white wine from the restaurant and they were accommodating enough to let us take some of their wine glasses for our trip. We asked Adamo to take us out for another 30 minutes but we wanted to go on a different route from the one we had taken earlier. He agreed, and we each paid €20, so that he received the €80 he was owed.
We hopped in the boat and proceeded to drink our bottle of wine as Adamo rowed us around the canals of Venice. As he did earlier in the day, Adamo steered us through tiny canals, past points of interest and filled us with historical facts but our state of awareness had diminished compared to our earlier trip, which Adamo had also recognised.
We arrived back at the restaurant safely after our 30-minute trip and, once again, we had a great experience but this time was different. Adamo helped us off the gondola, made sure we had all of our belonging and then requested the €80 we had promised him. Confusion set in amongst the four of us, as we believed that we had already paid him before the trip started. I remember an initial feeling of guilt coming over me because I thought perhaps we forgot to during all of the commotion, but I was sure we had.
We began looking at each other and questioning whether we had actually paid him. Although we were intoxicated we all recited the same coherent story; three of us gave a €20 note to Bindi and then she pulled another €20 note from her wallet and paid Adamo. He staunchly denied the idea of this scenario occurring and requested that we pay him the money he was owed. It didn't take long for the mood of the conversation to change once we realised what was actually happening; we were being hustled.
Adamo realised we were intoxicated and tried to trick us into paying him a second time. Luckily we were aware enough to know that we had paid him and what he was trying to do was wrong. The conversation turned into an argument as we refused to pay and Adamo refused to back down from the lie he had undoubtedly been caught in. It wasn't until Bindi unleashed her inner Australian and told Adamo very sternly that we were not paying him because he was trying to scam us.
He never admitted to lying to us and said, if we didn't want to pay, there was nothing he could do. His tone made it sound like a few tourists were taking advantage of a pour gondolier. It was too bad things had to end like this. A greedy gondolier ruined such a great experience and we were all left with a bad taste in our mouths.
Have you been to Venice? Did you have good experiences or bad ones? Let me know in the comments below.
We were lucky enough to avoid being scammed but this experience taught me a valuable lesson. Make sure to read my next post, [#23 Lesson] Keep Your Wits about Yourself When Travelling, which discusses the lesson learned by completing this item. Want to be notified when new blog posts are uploaded? Subscribe below.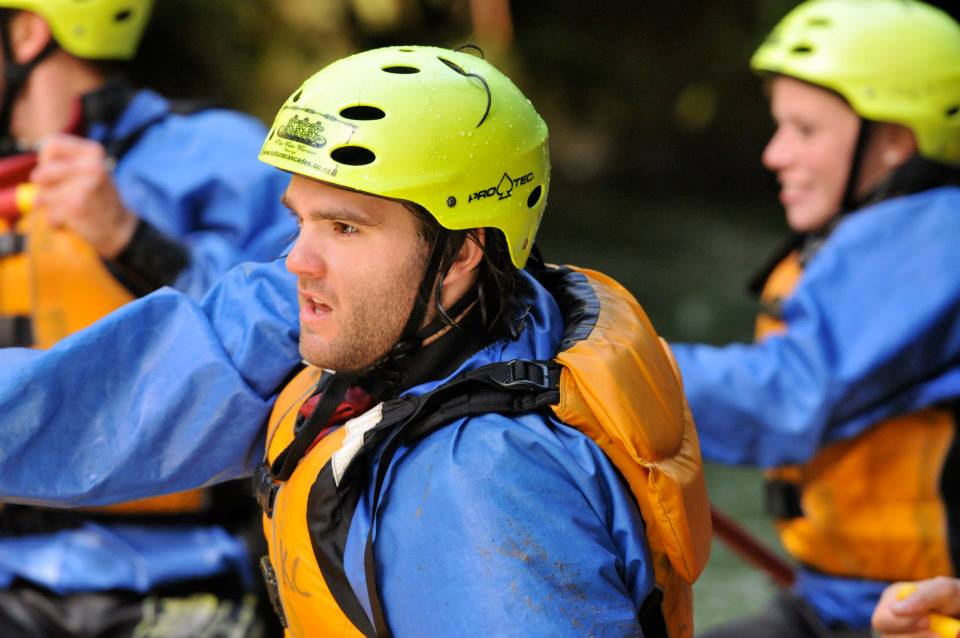 Dave has been on a mission, since 2010, to cross off the 100 items on his bucket list. The stories of his adventures are complimented by life lessons learned along the way and his travel tips are unique to his experiences.