This bucket list item was completed on 31st December 2012 in Las Vegas, Nevada, USA.
After I started working on my bucket list, my friend Kyle was inspired and began working on his own bucket list. I described the process that I followed, which was enough to get him started. He began his research and started adding items to his list. One of the items he had on his list was to compete in the World Series of Beer Pong (WSOBP), which is held in Las Vegas each year.
The 2013 tournament was scheduled for three days beginning on 2nd January. One night in March of 2012, Kyle and I were having some drinks with our friends and began talking about the WSOBP. One thing led to another and we made an impulse decision that we were going to register and attend the tournament in January. I slapped down my credit card and booked us in. That was it; we were going!
In September, we had just started our Fall semester at university and Kyle and I were living one block away from each other in Halifax. By this time we had fabricated a beer pong table that was regulation size and purchased official WSOBP sized cups to help us practice. The official cups are only slightly smaller than a typical red Solo cup but it makes it much more difficult. Kyle had his own apartment and for the next four months we dedicated our weekends to "training".
Almost every Friday night consisted of playing beer pong and some Saturday nights as well. Kyle and I always played on a team and we would go up against any of our friends that we could get to come over each night. My friends Cory and Cody were a couple of regulars and helped us train each weekend. Training was always fun but a distinct bell curve was noticed with our skill levels throughout the night. We would start off a bit rusty because we were out of practice. Then we would get into a rhythm and began to play well, sinking shots fairly consistently. However, once the alcohol began to play catch up, our motor skills began to diminish. Eventually we would just call it quits for the night because we were not getting any better.
We were playing multiple games each night because the format of the tournament would have us playing six games over each of the first two days. We wanted to train our beer pong endurance abilities to prepare for the tournament, or at least that was how we justified it.
After months of training it was time to hop on a plane and head to Las Vegas to compete. Our tournament began on 2nd January but the entry package only included accommodation for the night before, not New Year's Eve.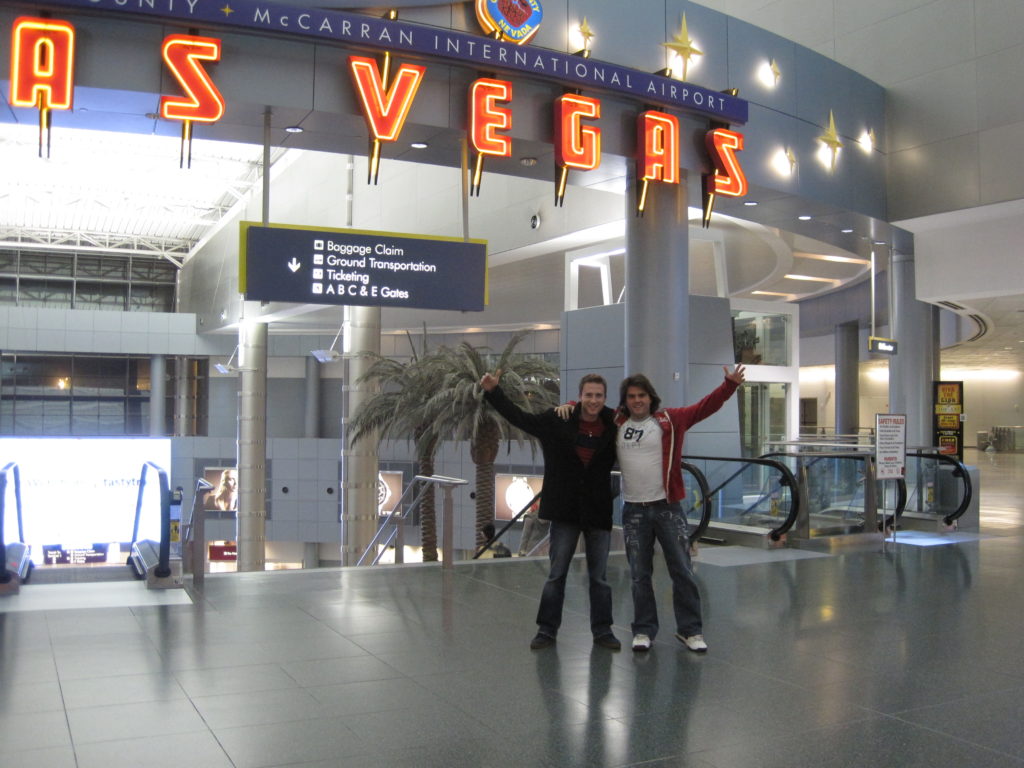 There was absolutely no way we were going to pass up the chance of being in Las Vegas for New Year's Eve so we booked our flights to land in Las Vegas that evening. When we started training in September I searched the Internet for accommodation on New Year's Eve but there was not a single room available in the whole city. We had never been to Las Vegas but we knew the city never slept so we committed to experiencing Las Vegas through the night and checking into our room the next day.
Our flight arrived into Las Vegas around 8 pm and we made our way to the Flamingo Hotel, where we would be competing and staying for the next four days and nights. We explained our situation to the reception staff and they were happy to hold our bags for the night as we experienced everything Las Vegas had to offer.
On New Year's Eve the strip is completely barricaded off so that pedestrians can walk around freely and not have to avoid cars. There were thousands of people packed on the strip and the atmosphere was electrifying. As we walked the strip we saw all the sights that were familiar to us from movies and TV shows. Caesars Palace, the Bellagio and Paris with the replica Eifel Tower were in front of us in real life. It was such a cool experience to simply be in Las Vegas but knowing that one of the things on my bucket list was to gamble while I was here, I decided I wanted to do it immediately.
We walked up the front driveway and past the famous fountains of the Bellagio on a mission to get to the roulette tables. Blackjack has the lowest house edge of any casino game and craps is second. I had never played craps before and wasn't about to start in Las Vegas. I had played blackjack a few times but my memory of basic strategy was a bit rusty and I didn't want try my luck at remembering on the fly. Roulette was my preferred game and it has a decent house edge. I had played roulette quite a few times in Halifax and researched it quite a bit so it was the game that I felt the most comfortable playing.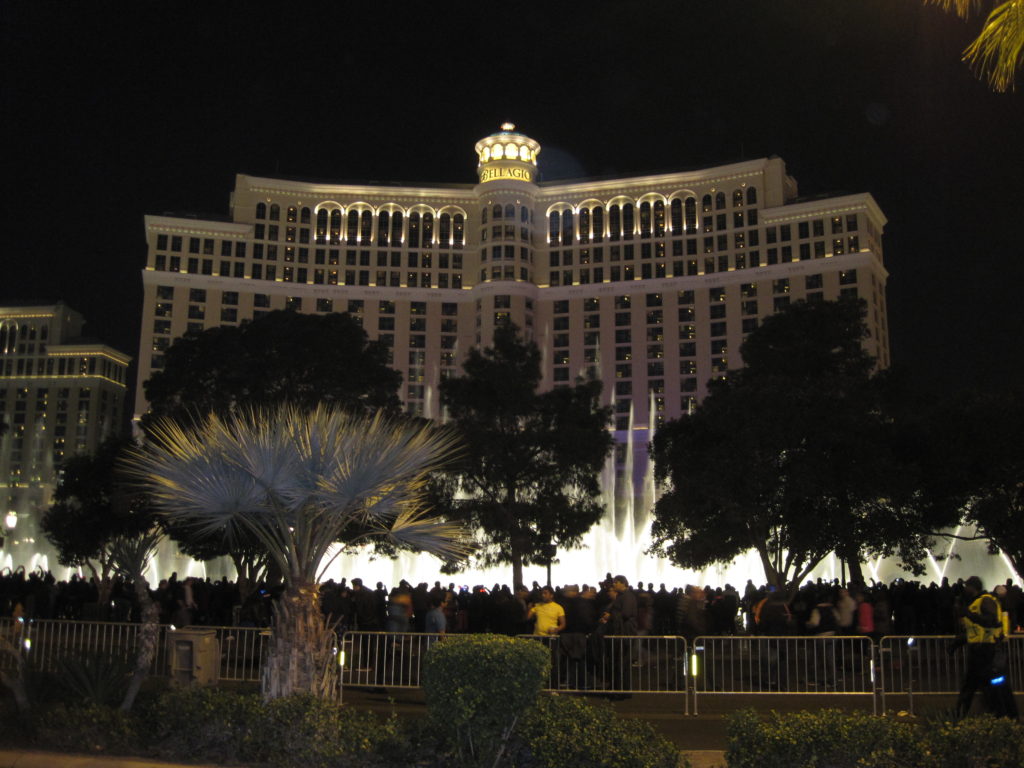 As I began to scope out the roulette tables I realised I was on a whole different level at the Bellagio. I usually played the $10 minimum bet tables in Halifax and could turn $100 into $150 or $200 most times. The lowest tables I could find were $25 minimum bet.
I wanted to limit myself to my regular $100 to be responsible, despite what the minimum bet was. This proved to be silly as my $100 disappeared in a matter of minutes. I was actually quite sad as I was hoping that my first gambling experience in Las Vegas would have gone better. Regardless, I could cross another item off my list.
I left the Bellagio with my tail between my legs as we walked back out to the strip. Kyle could see I was a bit bummed out so he went to a vendor located outside Paris and he bought us each a plastic Eifel Tower, which stood about half a meter tall and was filled with a mix of red juice, vodka and other alcohols. This seemed to ease the pain of losing $100 so quickly. That was the first of many drinks that we consumed that night and also the $100 I lost gambling was only a fraction of what was contributed to the Las Vegas economy that night.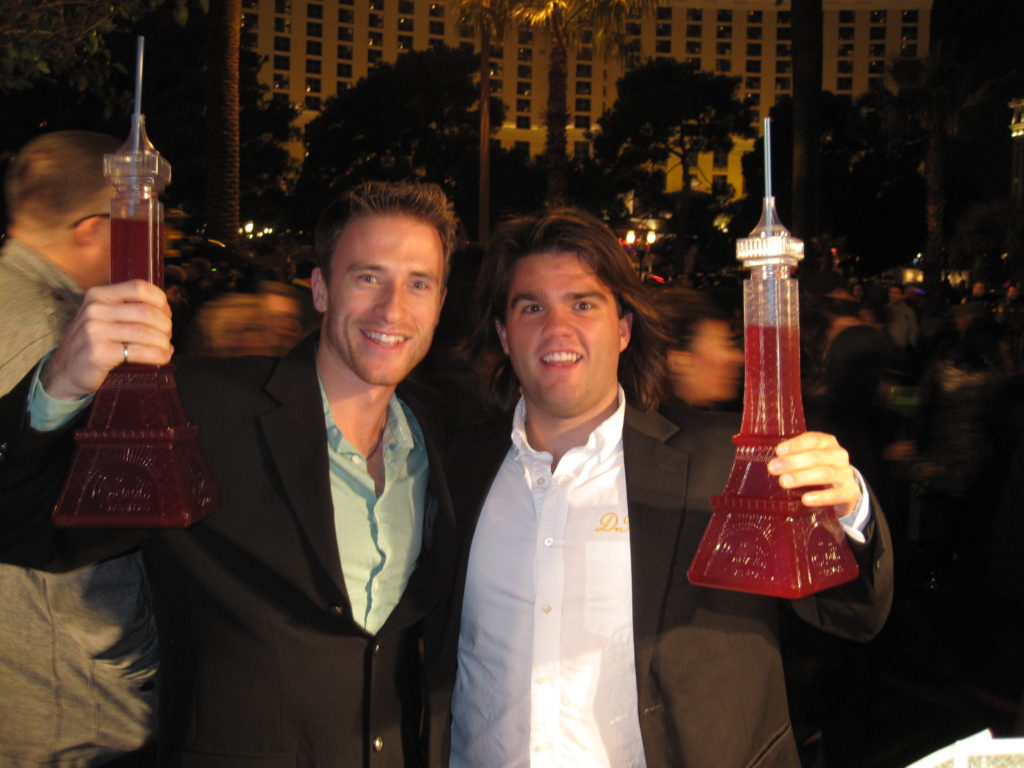 Unfortunately, due to the supreme law that governs Las Vegas, also known as "What happens in Vegas, stays in Vegas", I am legally bound and unable to share with you the events that unfolded that night.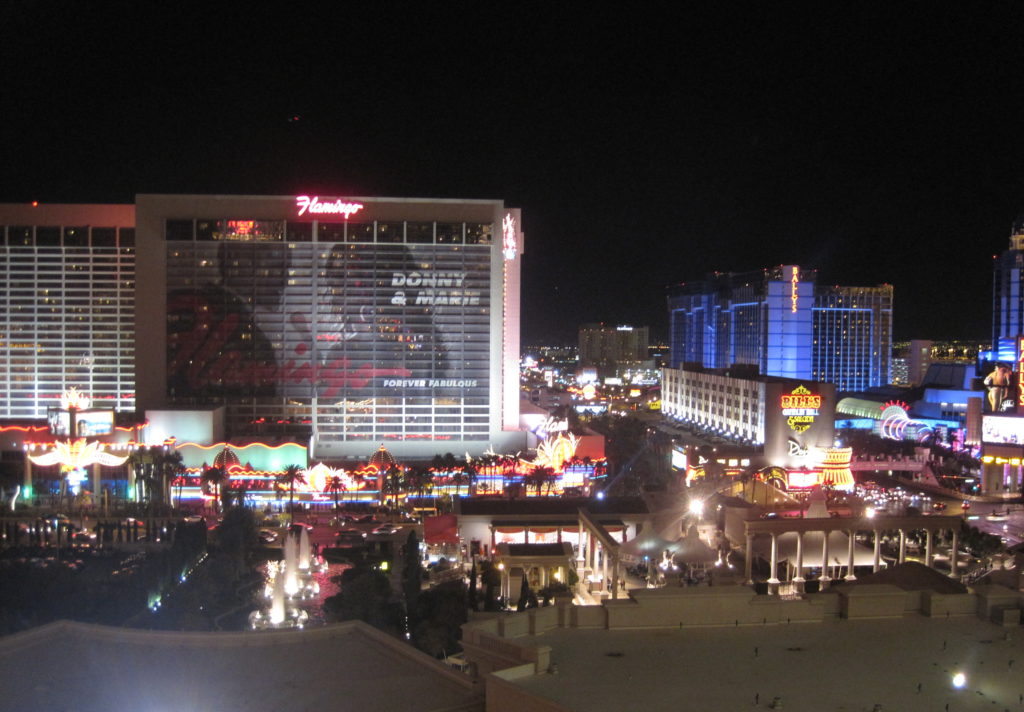 We were eventually able check into our hotel room at 1 pm the next day after completing our registration for the competition. A majority of our time was spent sleeping until our first game that was schedule for the following morning.
In the morning we donned our costumes, which consisted of shower caps, bathrobes and slippers. Our first game did not go well and we were handed a defeat fairly quickly. The rest of the day was spent between the convention hall and hotel room as our six games were spread over several hours. The games were spread over such a time so that people did not become intoxicated, as we experienced during our training in Halifax. However, the long day of playing games and running around the hotel was exhausting and we were both shattered by the time the day was over. The day ended and we had a record of 0-6. The Americans took beer pong much more serious than we did and it showed in the calibre of teams that competed.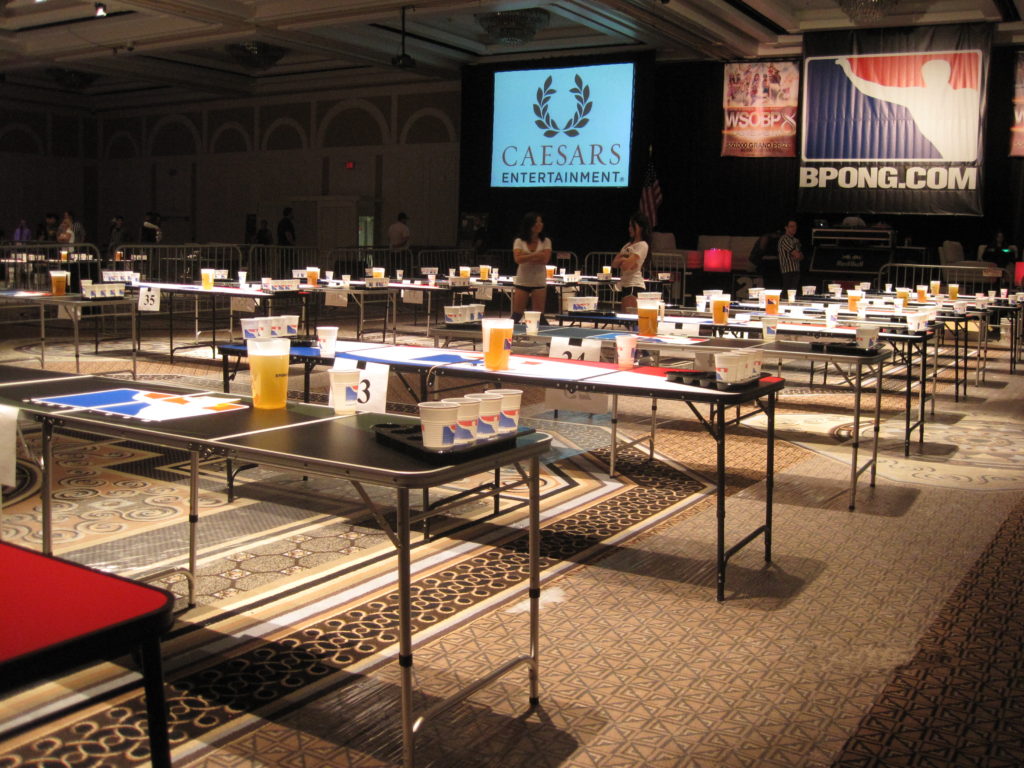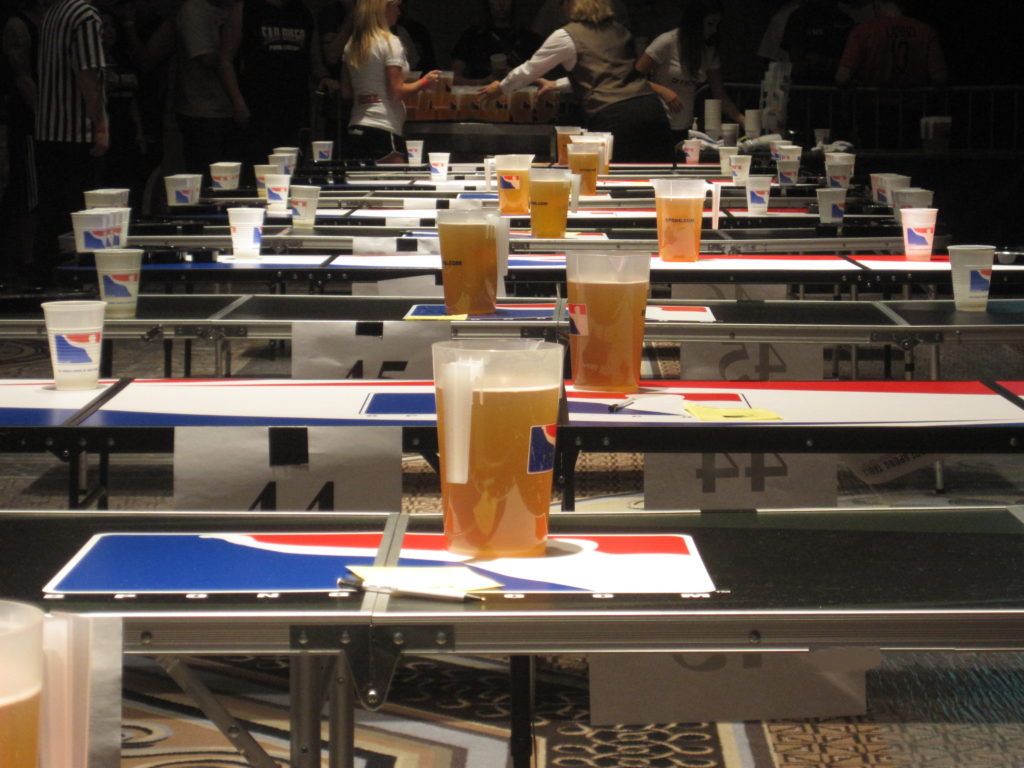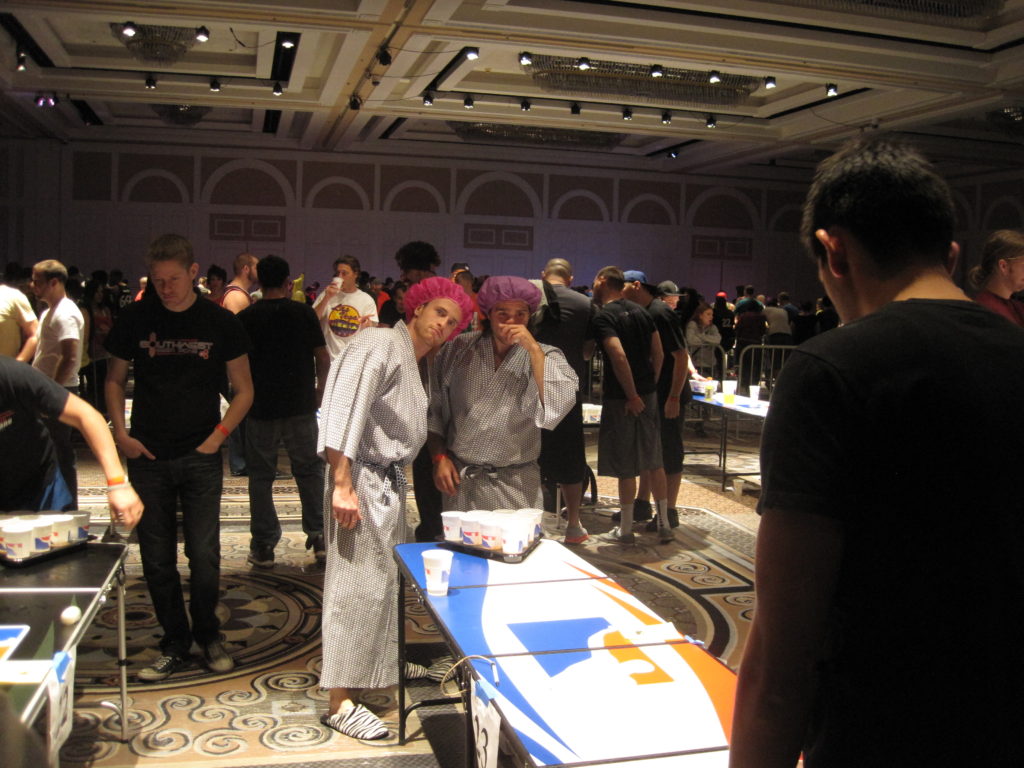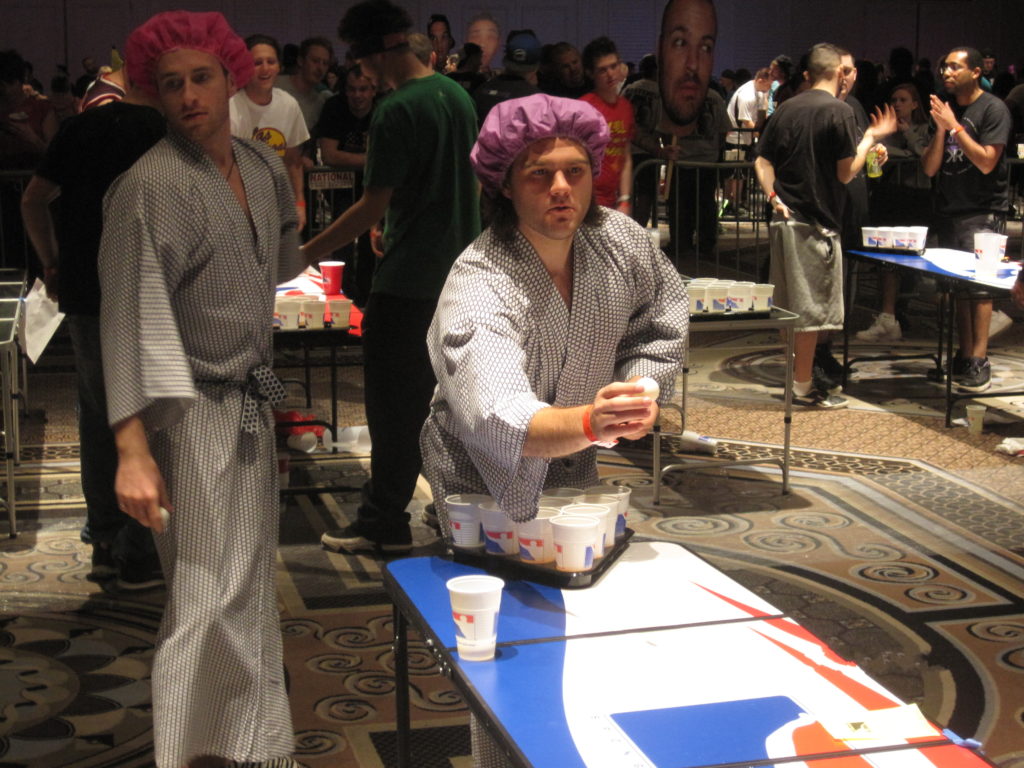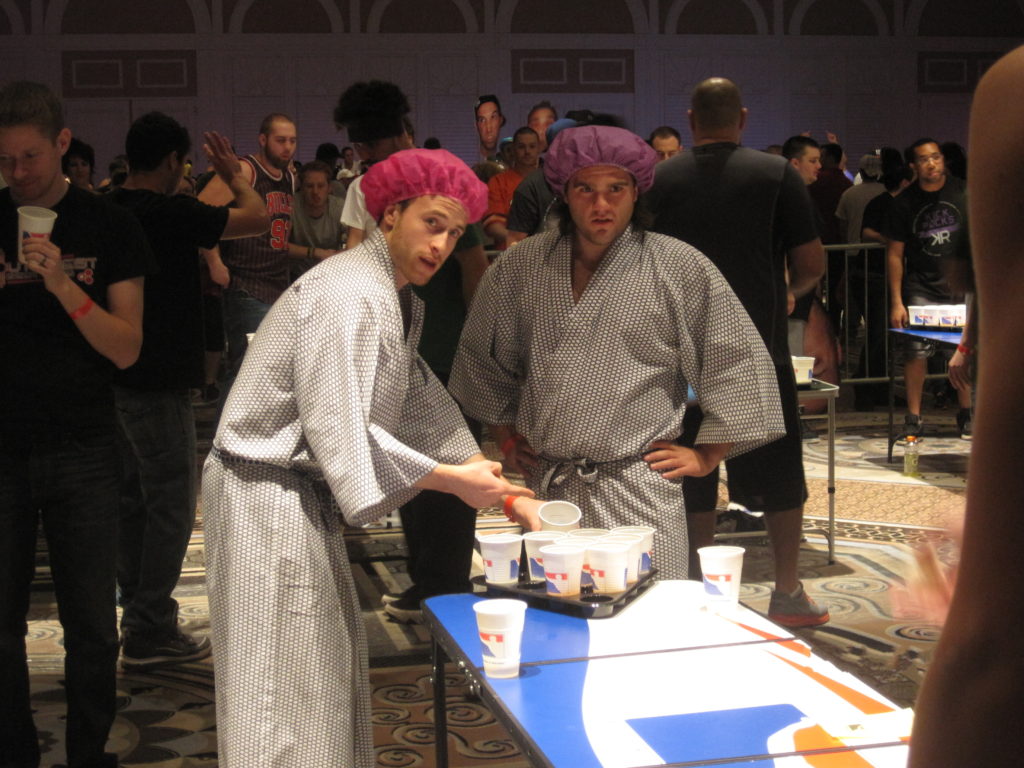 We began the second day with a record of 0-6 and doubled it to 0-12 by the end of the day. We showed up and gave it our best but unfortunately we were not good enough to win a single game and did not make it to the third day of the competition. The teams were much better than we expected and in hindsight, perhaps we should have "trained" more. It was a long couple of days but it was an incredible experience and well worth the adventure to compete in the event.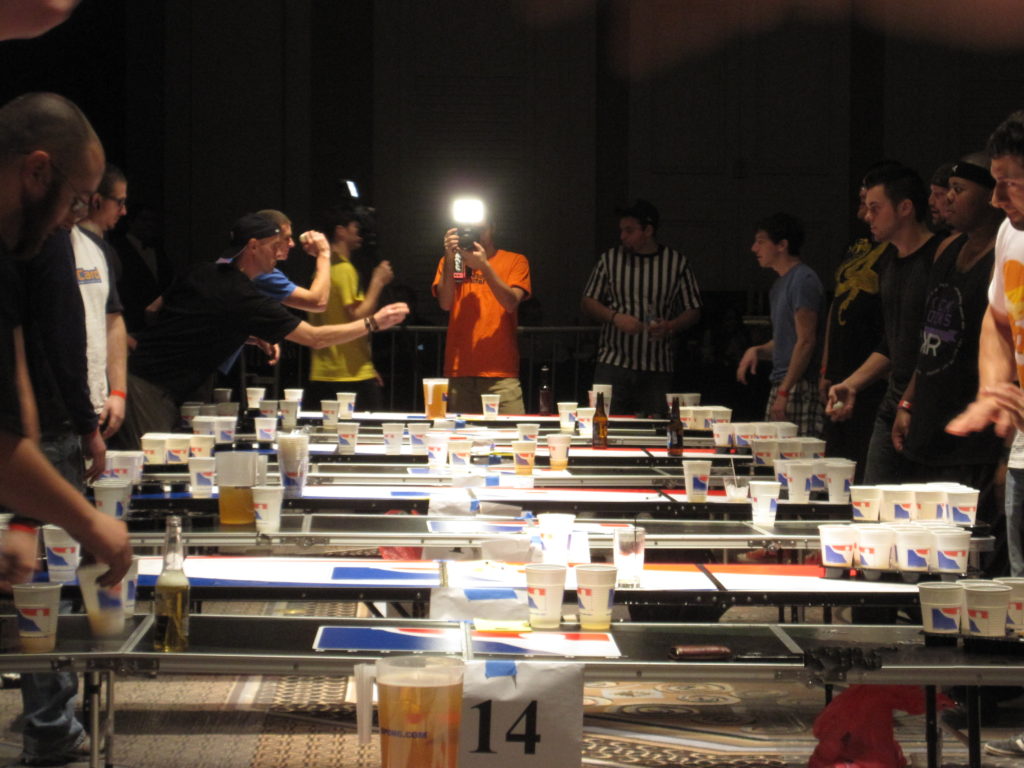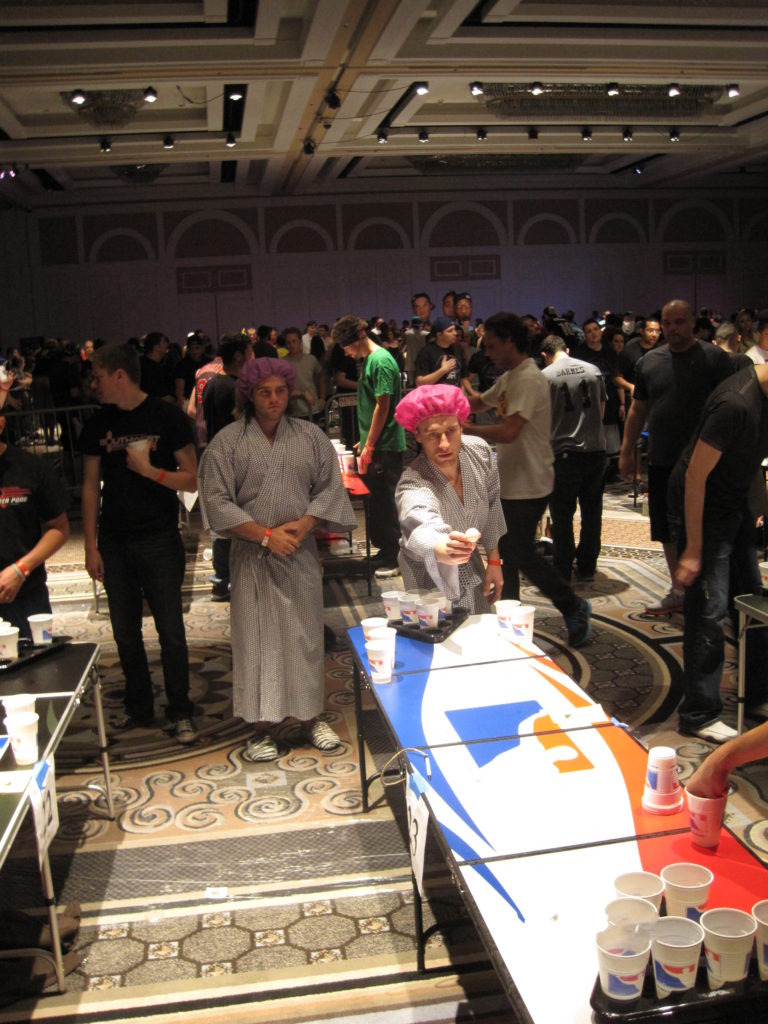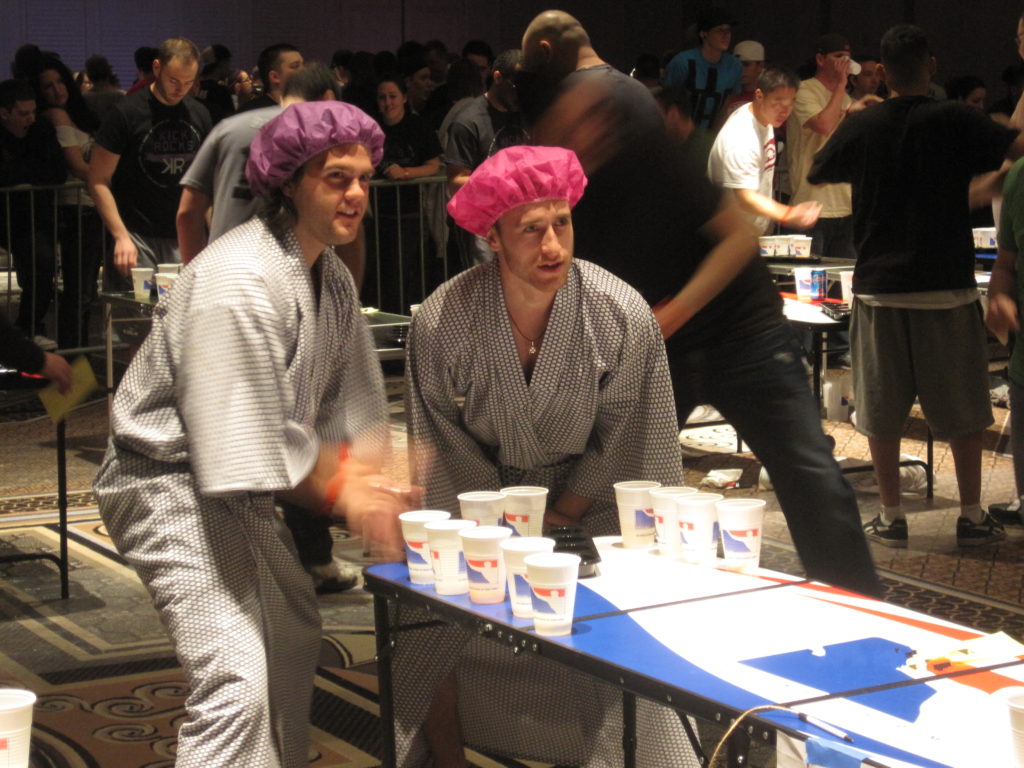 After the second day of the tournament was over, Kyle and I had the evening to relax. We decided to explore the strip a bit more and then ended back at the casino in the lobby of The Flamingo. I was reluctant to gamble anymore as my first experience had gone so poorly and I had already spent a lot of money on the rest of the trip.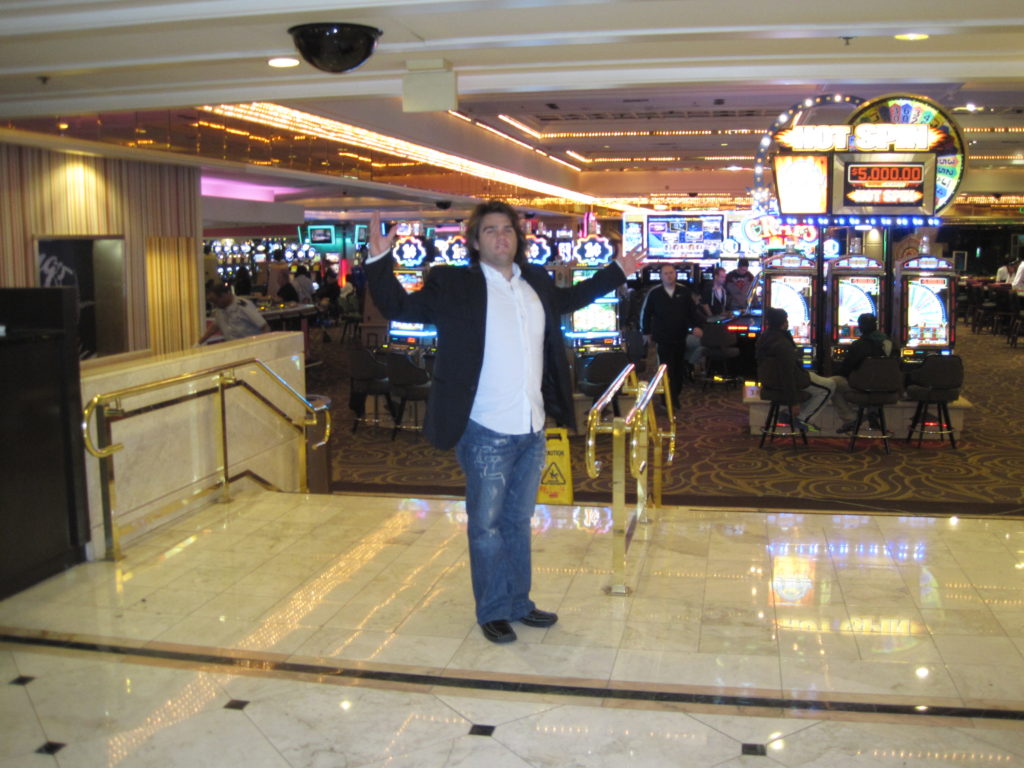 Kyle had not gambled yet and he wanted to do so before leaving Las Vegas so he sat down at a poker table. It was not a traditional poker game against other opponents; each individual played against the dealer, similar to blackjack. I watched for about 45 minutes as Kyle played and he was doing very well. Eventually I decided to try it as well. We continued to play for just under two hours and by the time I was done I had won a total of $160. In the end, this brought my Las Vegas gambling total back up to +$60 and I was leaving as a winner, not a loser.
Las Vegas is a wild place and if there is ever something you have dreamed about doing, it can be done in Las Vegas. There are so many experiences to offer that I was able to cross off three other bucket list items while on this trip.
Have you been to Las Vegas? Let me know in the comments below.
Make sure to read my next post, [#26 Lesson] Gambling is Called Gambling for a Reason, which discusses the lesson learned by completing this item and the other items I completed on this trip. Want to be notified when new blog posts are uploaded? Subscribe below.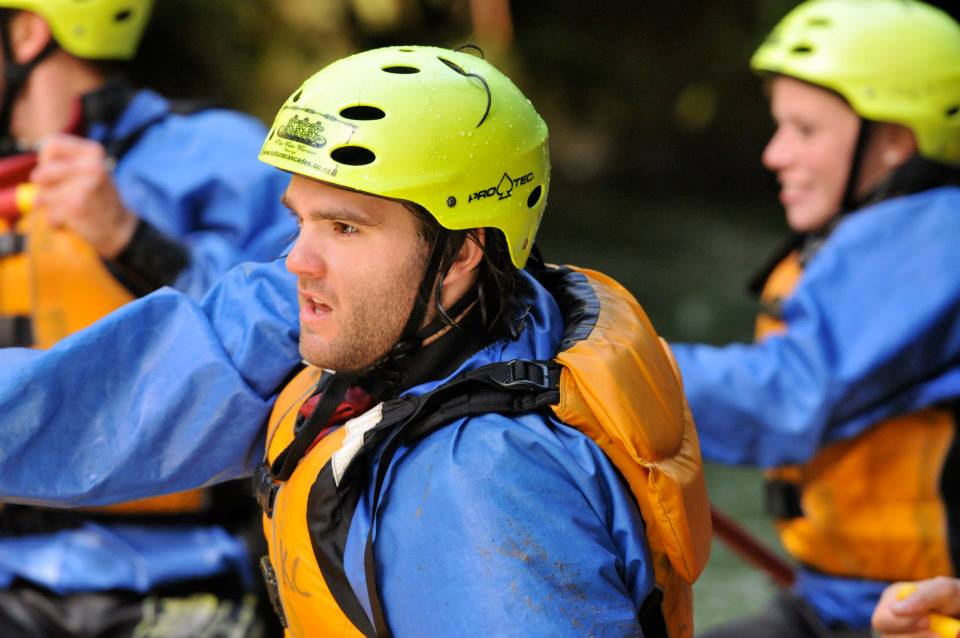 Dave has been on a mission, since 2010, to cross off the 100 items on his bucket list. The stories of his adventures are complimented by life lessons learned along the way and his travel tips are unique to his experiences.